Peanut Butter Doggo Treats
A Foray into Homemade Goodies for My Dog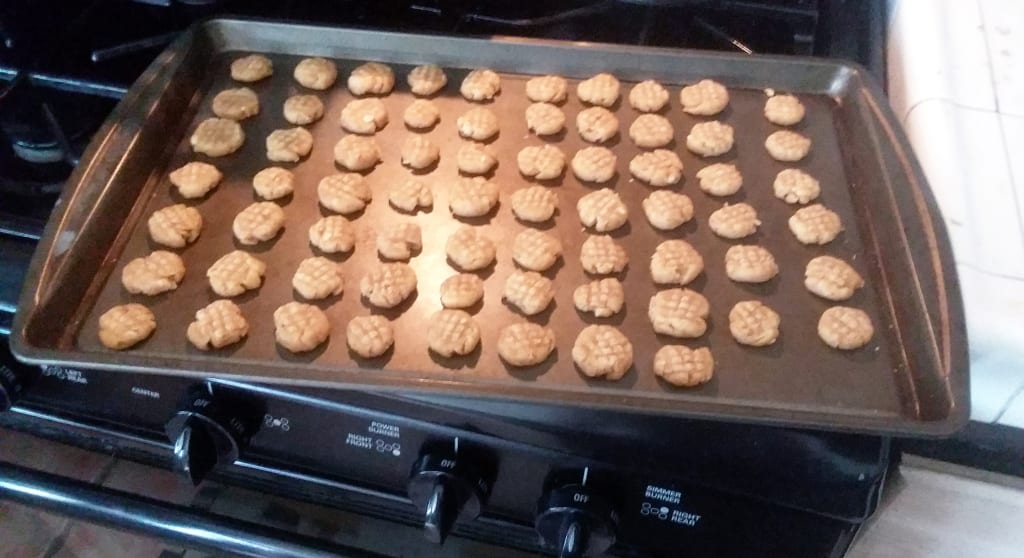 My dog, a sweet little ten-pound terrier, was nearly out of treats (GASP!). I do not currently have a car, so grocery visits are limited to a need basis when it comes to forking out for a Lyft. I debated ordering via Amazon Prime, but I often read recipes online for dogs, and decided to try my hand. Worse case scenario, they suck and I order them anyway, right?
So I located a recipe that had simple ingredients to start with. I will get fancy later, now that I know I can manage doggie baking. I selected a recipe from puppy leaks, written by Jen Gabbard.
You can check out the original recipe here.
Since my dog is small, I decided to halve the recipe. This was a good call, as it made a whole cookie sheet full, more than enough for my little one. I don't know if these go stale, but I'd rather not risk her not wanting old ones and wasting them.
I preheated my oven to 350, and started mixing. Now here is where I am a silly person; Jen recommends to not use crunchy peanut butter. Did I listen? Of course not. I saw her finished version looked nice, and decided not to open the brand new jar of creamy and use the already half-empty jar of crunchy. This is a mistake, and here is why: crunchy is drier than creamy, and as a result the dough is dry, making it harder to work with. It also has dry peanut lumps that make sticking together a problem. I ended up having to add a little extra water, and even so, I think it could have used more. Next time I may even go ahead and use a second egg, even though I halved the rest of the recipe.
Jen recommends using a cookie cutter. I wanted bite size treats for a very small dog. Cookie cutters are simply too big. Jen does recommend using a shot glass for smaller treats, but I don't drink so I don't have one—plus I think even that may have been a bit too big.
My answer to this small issue was to pinch off little pieces of dough, roll them into balls and cross press them with a fork like human peanut butter cookies. This worked amazing, and allowed me to make treats the right size.
Perfectly Bite-Sized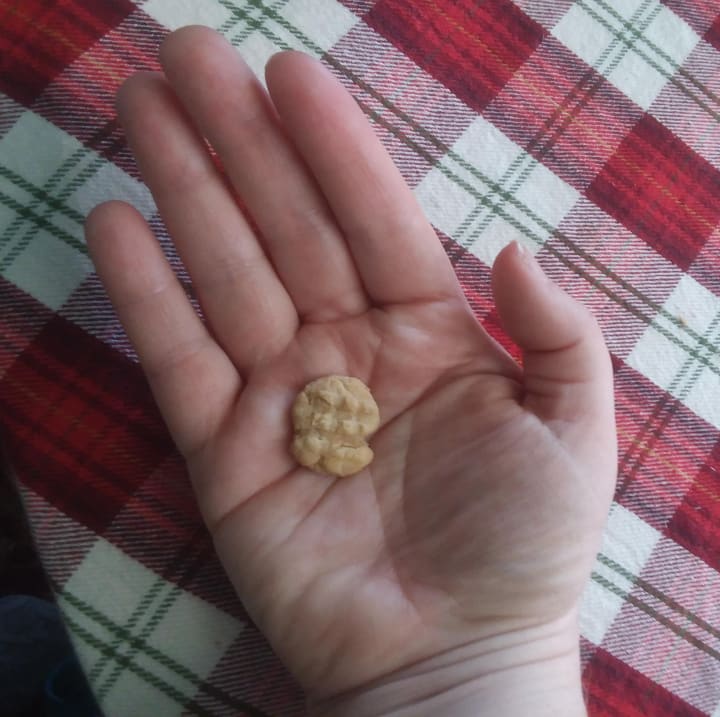 Jen baked hers for 20 minutes, but hers were sized up for a larger dog, so I started at 10 minutes. They were close when I checked, so I rotated the pan and baked 2 minutes more, which was just right. Overall, 12 minutes with a turn halfway through is recommended.
They were hard right out of the oven, so I transferred them to a cooling rack. They cooled quickly, roughly ten minutes.
Then came the fun part. Does my dog like them?
YES!
She gobbled down two right off the bat, and would have eaten more if I allowed it. So it seems simple biscuits are a win. I will definitely make this recipe again. I put the remaining cooled treats in a Ziploc, and left them on the counter. No need to refrigerate.
The Finished Product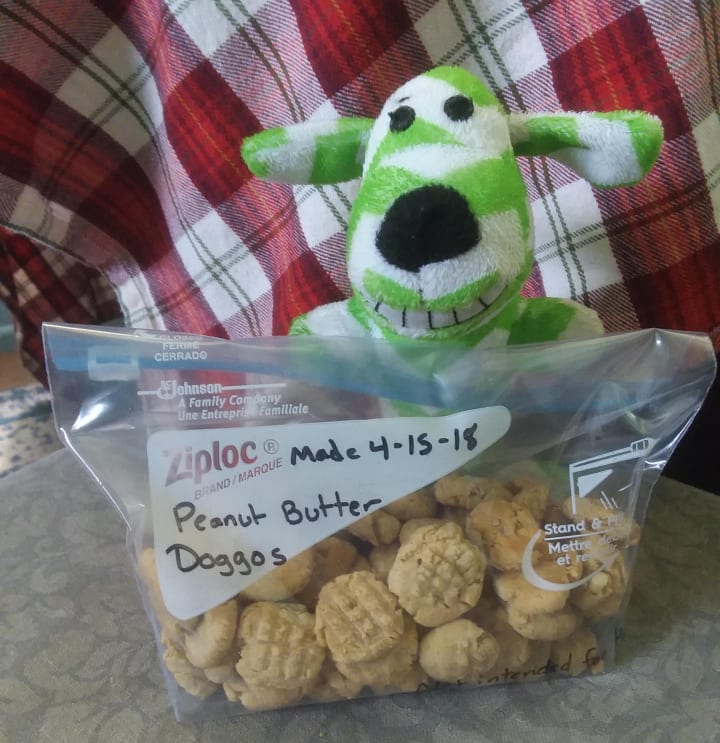 INGREDIENTS:
1 cup flour
1/4 cup creamy peanut butter
1 egg
1/8-1/4 cup water
DIRECTIONS:
Preheat your oven to 350 degrees
Blend flour, peanut butter, and egg together until mixed.
Slowly add water in, and continue to blend until dough is malleable and mixed. It should stick together well without being tacky to the touch. (If it is, just sprinkle in a pinch of flour. No biggie!)
Pinch off small pieces (slightly smaller than a quarter is recommended for small dogs) and roll in your palm.
Arrange balls on cookie sheet close together without touching. Cross press with a fork, just like human cookies. Dough should not stick to the fork.
Bake 12 minutes, turning after 6 minutes.
Cool treats on rack. Store in container or plastic bag. Refrigeration not necessary.
Spoil the holy hell out of your fluffy sweet little doggo buddy, but not too much; overweight dogs have joint pain.
pet food
About the author
Sant is a poet and author. She writes on a variety of subjects from her own personal journey to fictional tales. She recently moved back to California from Chicago. She is very grateful for your readership, and would be thankful for shares.
Reader insights
Be the first to share your insights about this piece.
Add your insights