Partly A Dog
Living My Passion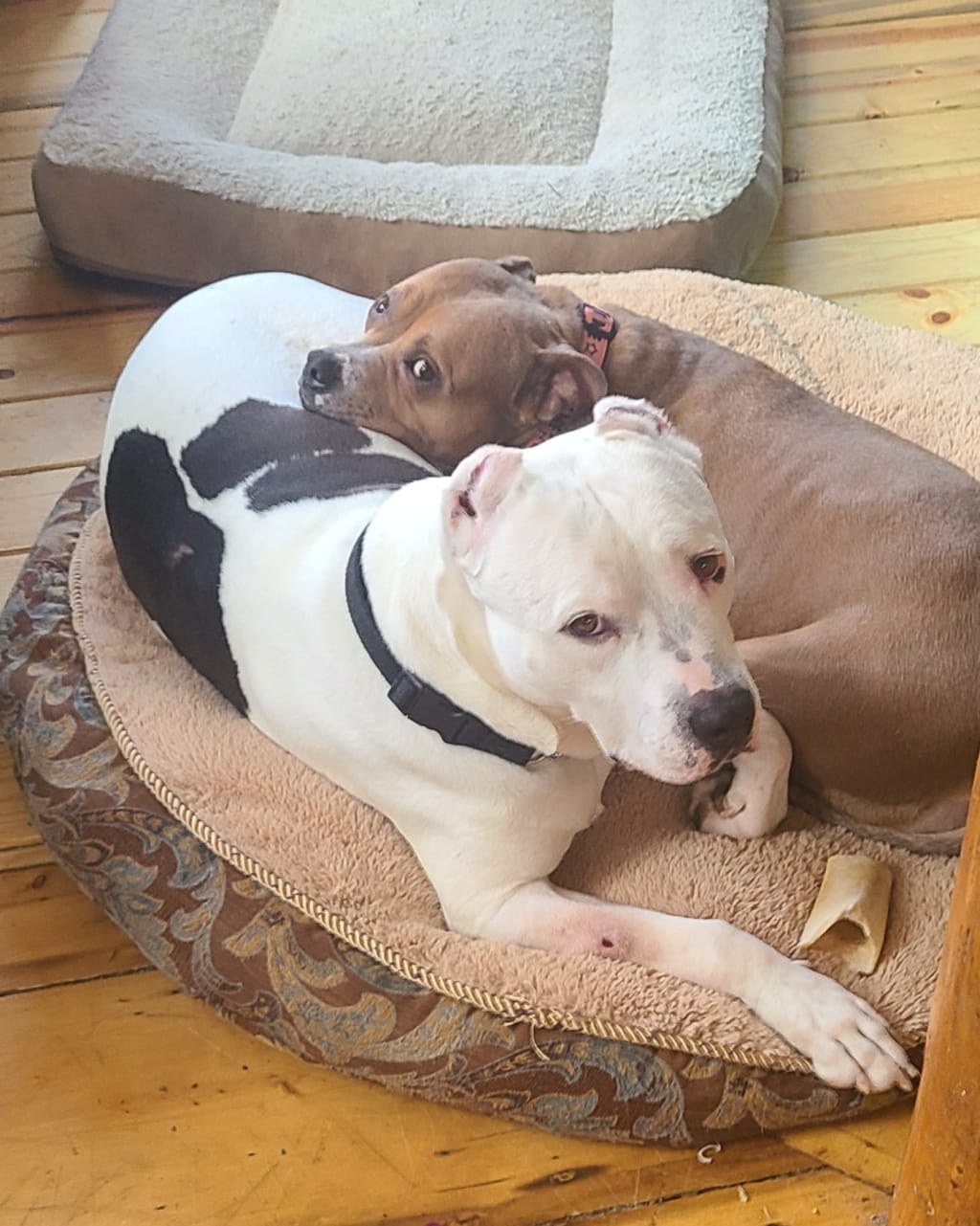 Artie and Layla, previously both dog aggressive, now bonded
"In order to really enjoy a dog, one doesn't merely try to train him to become semi-human. The point of it is to open oneself to the possibility of becoming partly a dog." -Edward Hoagland
I was five years old when my mother presented me with my first pet, Oliver, a delicate pomeranian puppy who came to me on Christmas morning. His entire leg and paw was wrapped in a cast, as he had fallen off the bed in my aunt's care while awaiting our introduction. It was love at first sight and it fascinated me how he used his cast to knock on doors, a habit he carried through his 14 years of life, long after the cast had been removed.
Perhaps it started before then; no way to know. A picture exists of me at less than two years of age, taken through the glass door of my parents' mountain cabin miles from the world. It depicts a doe, head bowed, nose inches from mine. It appears for all the world as though we are having a silent conversation. Another photo taken around the same time shows me gently holding a pigeon. The bird looks relaxed and I have a serene look on my face, a wiseness decades beyond my toddlerhood. There have been various stories shared by family members through the years of my unusual connection with non-human animals, wild and domestic. I have always known that sentience lies all around us, even before I could define that word. We are all connected, all one, but have forgotten how to understand each other. So although I took a circuitous route, I found my calling in helping people understand their dogs.
Initially, I taught the simpler things such as how to get a dog to obey without bribing him with treats, and the basics of body language. But fairly early on, I was called and subsequently referred for canine psychological issues such a separation anxiety and aggression. It wasn't long before rescue organizations began reaching out regarding their unadoptable dogs. Two decades later, I also evaluate dogs who get in trouble with the law and am an expert witness in those court cases in jurisdictions throughout my state. I have helped end breed ban restrictions and have had input on pet animal legislation in my state.
At one point midway through my career, I opened my own rescue facility. However, six months in, my once-smooth face now creased with worry lines, I realized the best way for me to save canine lives was through the behavioral work I had been doing for other rescue groups and individuals. We dissolved our rescue even before our licensure was complete, but it was a rewarding endeavor that provided invaluable knowledge. While I haven't kept count, it is likely that close to 1,000 dogs have avoided euthanasia with my intervention, either through my personal rescue or behavioral work for others.
Friends and strangers call regularly regarding mental and physical issues In their dog companions. While I'm not a veterinarian, 95% of the time I can accurately diagnose a health issue and refer to any number of compassionate vets when necessary. I am constantly studying the latest canine science, though it has forever seemed like common sense to me.
It has been requested of me countless times over the years to helm some sort of dog related media channel, and I hope in future to have time to do so. Until then for those who choose to listen, I advise a revisiting of nature. Afraid of spiders? View macro photos online and you may see them in a totally different way. Our human senses are so limited; did you know some plants scream when they are cut? That trees have a hierarchy and communicate with each other? In your own home, dogs, cats, birds, even fish express themselves. I once had an employee at my doggie daycare say to me about a dog, " I wish she could tell me what she's thinking so I could know what she wants." I replied, " She can tell you. She wishes you could understand her language." Look at the non-human animals, the plants and trees around you without preconceived notions. Listen to what they have to say. You and the world will be better for it.
I don't know how I've always understood animals, but I do know it stems from something greater than I am. Generally when discussing my work, my passion, I use the pronoun "we" , because I know these abilities are not solely of myself. I would gladly welcome a time when my services are no longer needed because man and the rest of nature have reconnected. Non-human life is not lesser. It is simply different