Out of the Igloo
How I came to become a pet owner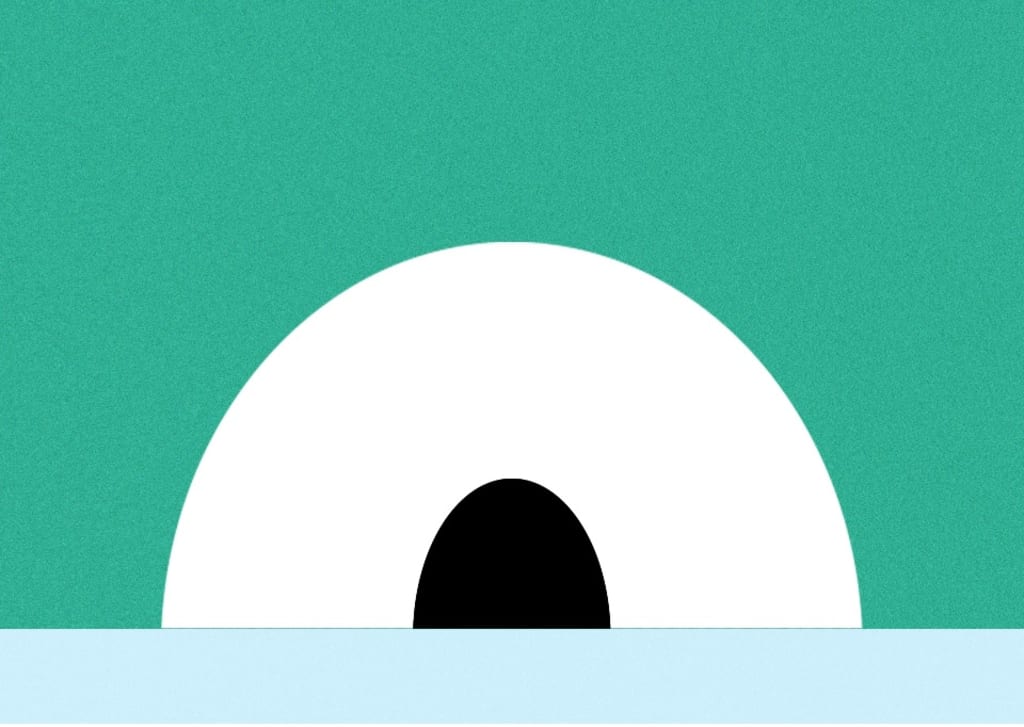 I realized that the odds were stacked against me for owning my own dog when you considered my track record – every house plant I had ever attempted to keep, dead. The herb garden on my windowsill, dead. The little vegetable garden in my back yard, dead. Cactuses had been unable to survive in my household. I had even managed to kill my air plant, one of those alien-like things that you only have to mist with water once in a while.
Still, I reflected as I looked through the sliding glass doors to my back patio, I wanted a dog. I had grown up with German Shepherds. When I had left for college, the only animal life I came into contact with had been the bugs in my first studio apartment. Now, years later, I was still without a pet, but I was living in a rental house that allowed animals, and I had a large, fenced-in back yard.
The time, I reasoned, had come.
I lived in a fairly suburban area at the time, and the county animal shelter was an hour's drive into the country. I didn't mind. I was determined to adopt a dog from the shelter, rather than buy one from one of the big-box pet stores in town. I had looked at the shelter's website from time to time, at the pages of its current tenants. Some had gotten my attention, but they seemed to get adopted so quickly, the furry faces on the site were always different.
I resolved, then, to just go the shelter on Saturday and see who was there. I had a feeling that waiting there would be the dog for me.
So sure was I that this was going to happen that I stopped at the aforementioned pet store along the way and bought a dog bed and food dish. I was committed to going home with a dog that day.
The shelter was a cinderblock building, painted in fading pinks and yellows, off of a secondary road at the edge of town. It was July and Southern hot. There were no other cars in the lot, and I thought for a moment that the place might be closed. Then I heard through my lowered window the yaps and barks of many excited canines.
The place was indeed open, and the lone staffer was friendly and accommodating. She took me on a brief tour of the facility, walking me by the cages, both inside and out.
There were all sizes and shapes, mostly pit bulls or mongrels. The staffer, Jenny, asked me what sort of pet I was looking for.
"I want the dog that nobody else wants," I told her. "Old, broken, crazy, whatever. That's the one I want."
She got a funny look on her face and led me back to the front desk. I thought she was going to tell me that I had the wrong mindset for pet ownership when she indicated a large, odd shape in the corner of the room.
It looked a little bit like an igloo made of heavy mover's blankets. There was an opening in the blankets at one end, but from across the room, I couldn't see inside.
"That's Bo," Jenny said. "He's been with us for a while now."
I crossed the room, bent down and peeked into the opening of the makeshift igloo. I could just make out a medium-sized black dog in a cage, all the way in the back. He was humped over so far, he looked like a question mark.
"What's with the setup?" I asked Jenny, indicating the igloo.
"We have to keep blankets over his cage," she informed me. "If he sees anyone, he gets the shakes." She looks sadly at the igloo and tells me the rest.
Apparently, Bo came from a house with two other dogs, both bigger and much more aggressive than him. I would soon come to find that they had taken to nipping at his haunches, resulting in a chewed look to the fur there, as well as a few outright bald spots. On top of that, his owner had both slapped him around some and not fed him regularly, so his shyness was understandable.
I also knew that this was the dog for me.
"I'll take him," I said.
Jenny nods but doesn't look enthusiastic. "You might want to spend some time with him first," she says.
"Okay," I agreed, "and then I'll take him."
"Are you sure?" she asked, now looking a tad more hopeful. "I mean, he doesn't have many social skills."
"That's perfect!" I exclaimed. "Neither do I! We'll get along great!"
Jenny fetched a leash from behind the desk and offered to let me take Bo for a walk outside. I readily agreed, and she opened up the front of the blanket igloo. She practically had to climb inside to hook the leash to Bo's collar. He cringed and, as prophesized, shook like a leaf.
I saw that I was going to be taking him for more of a drag than a walk, but we managed. His tail remained firmly tucked between his patchy legs the whole time, and he looked like he wanted nothing more than to retreat back into the dark sanctum of his igloo, but we managed.
Taking him back inside, I repeated my conviction that Bo should come home with me. A little paperwork later, and it was a done deal. I was now a pet owner.
That was five years ago. The hair grew back on Bo's hips and he gradually sat up straight. Today, he's the stereotypical dog that looks longingly at the front door when I'm away and who goes berserk with happiness when I come home, as though he can't believe that yes, I actually came back this time.
He's been there with me through some of my happiest times and through some of my saddest, my good and constant friend. He's at my feet right now as I write down this remembrance, happy, I think, and free from his life in an igloo.