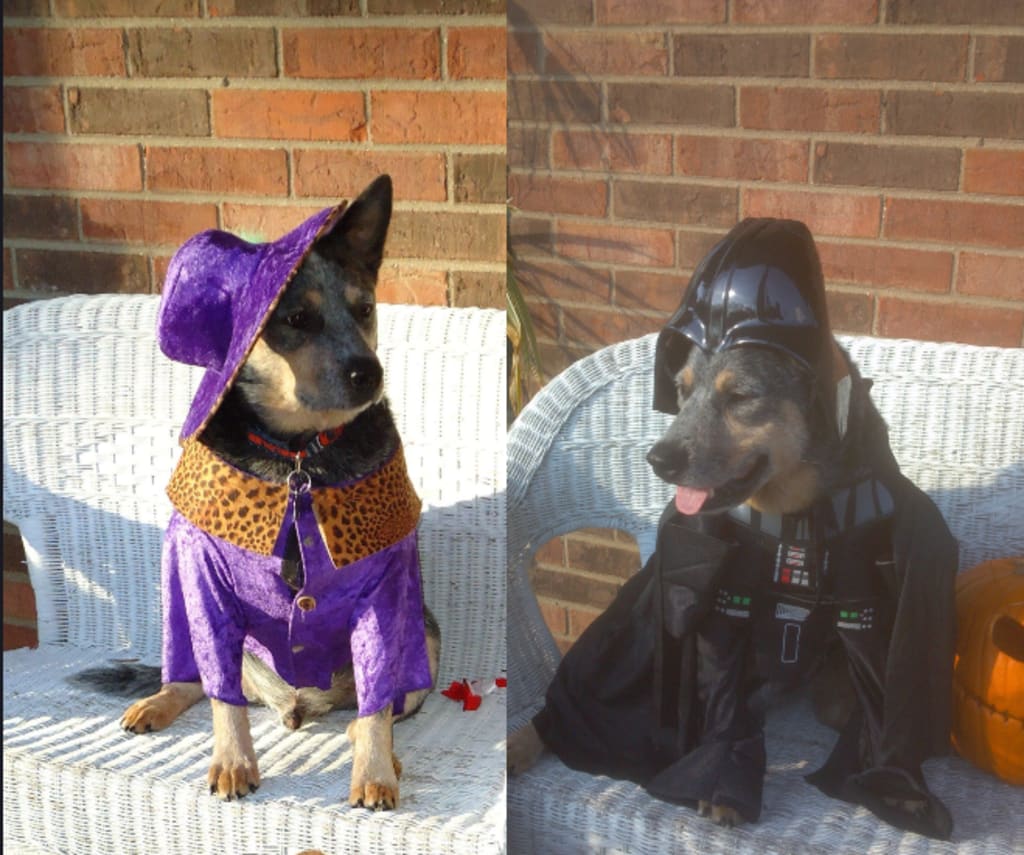 Zip in his most popular costumes. Wicker Bench. Halloweens circa 2004-2015
Let me tell you about the goodest boy you'd ever meet. His name was Zip.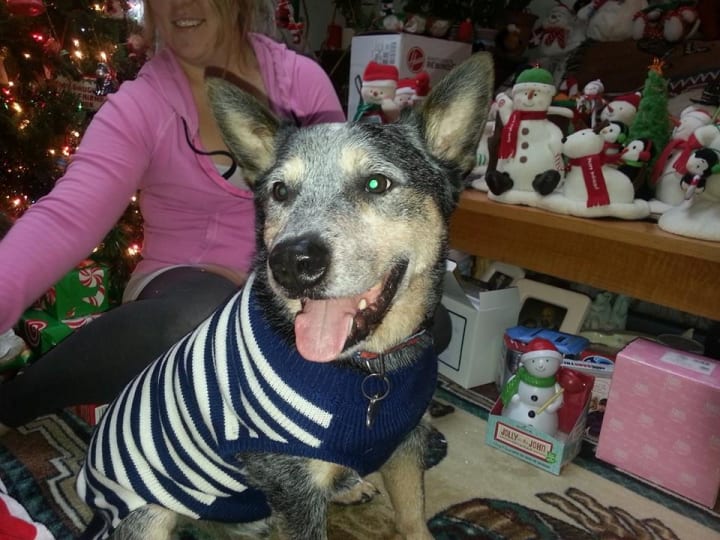 Zip was my family's first Australian Cattle Dog (Blue Heeler), and the dog that would forever change our lives. My Dad saw the breed in a movie and fell in love, so my parents took a road trip to Tennessee and adopted him as a young pup. He was bred to be a show dog, but didn't have a 'winning' stance, so was returned to his birth home. I don't recall how my parents found his adoption listing, but I can tell you that regardless of his inadequacy to win trophies, he was definitely always a winner in our eyes.
Zip quickly became the focal point of our lives, and proved to us each and every day just how intelligent he was. He knew each of his stuffies by name, and would retrieve whichever one you asked him for. He would fold up his leash and take himself for walks. He learned new tricks with little effort, and seemed to understand us when we talked to him about anything. Seriously. You could have a full blown conversation with him and he'd sit, listening intently with what looked like years of wisdom behind his puppy eyes that stared back into yours with full understanding. And he wanted to spend every waking minute with US, his people. We had other dogs, but he preferred our company.
Zip was like the little brother I never had, and would let me dress him up in everything and anything I could find. He wore hats, scarves, shirts, socks, pants- you name it, he wore it. And I really do think he loved it. He would strut his stuff when he had a new outfit on.
The bond that Zip and I had was strong, but nothing compared to the bond between him and my Dad. Zip WAS another son to him. My Dad and Zip were inseparable, and I had never witnessed a bond quite like the one they had. They even went everywhere together. Zip was somewhat of a local celebrity at the bank and the Ace Hardware Store. Sometimes we wouldn't know where they were, and would find them watching a movie in the garage together. They were best friends. And yes, Zip really did watch the movies, too.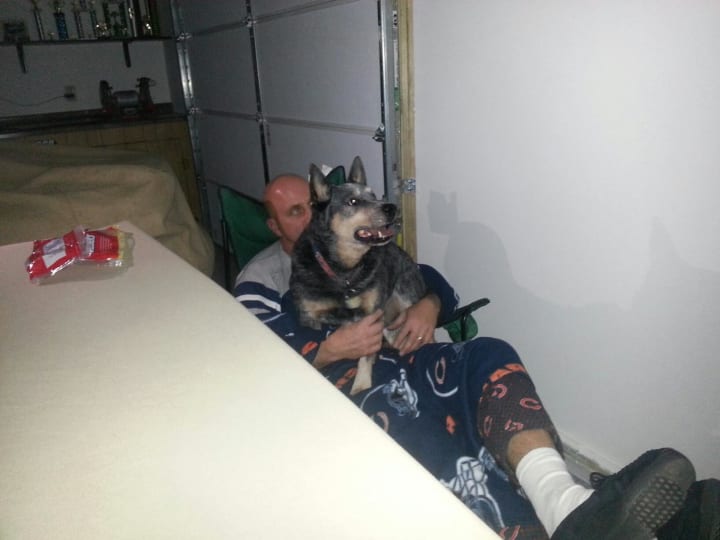 Though Zip has now passed over the Rainbow Bridge, one of our most fond memories is of Zip on Halloween. My Dad was always home before my Mom and I on Halloween, so he was always on candy duty. He would sit on the front porch with the candy bowl, and Zip right by his side. Now if you remember earlier I mentioned I always made sure Zippy was clad in the fanciest of garb, and Halloween was no different. He wore many costumes for his important job of candy guard, and he took it very seriously. His most famous costumes were his purple suit and Darth Vader, and he pulled them off like no other.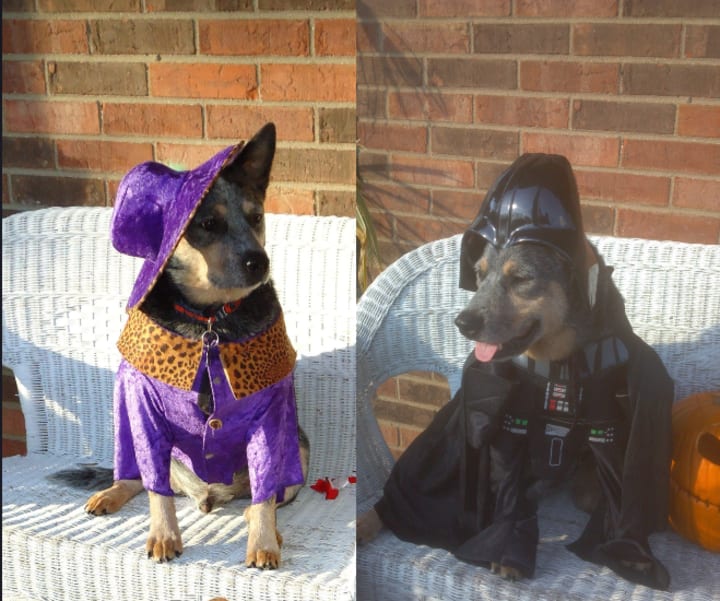 Zip was a people-dog and absolutely loved watching the kids trick-or-treating, so would sit on the wicker bench next to my Dad and help pass out candy. Occasionally, he would even get a special treat delivered right to him from a friendly neighbor. He always sat, so proud, watching all the fun, and being a Halloween staple for the neighborhood. The kids couldn't wait to see what costume Zip would be wearing each year. It was always the best part of the day- coming home from work to see my little pup in his fabulous costume entertaining the trick-or-treaters.
Now, Zip on Halloween is a distant, but still fresh, memory for us, but he will most definitely never be forgotten. And no other pup will ever make Halloween as magical as this good boy did.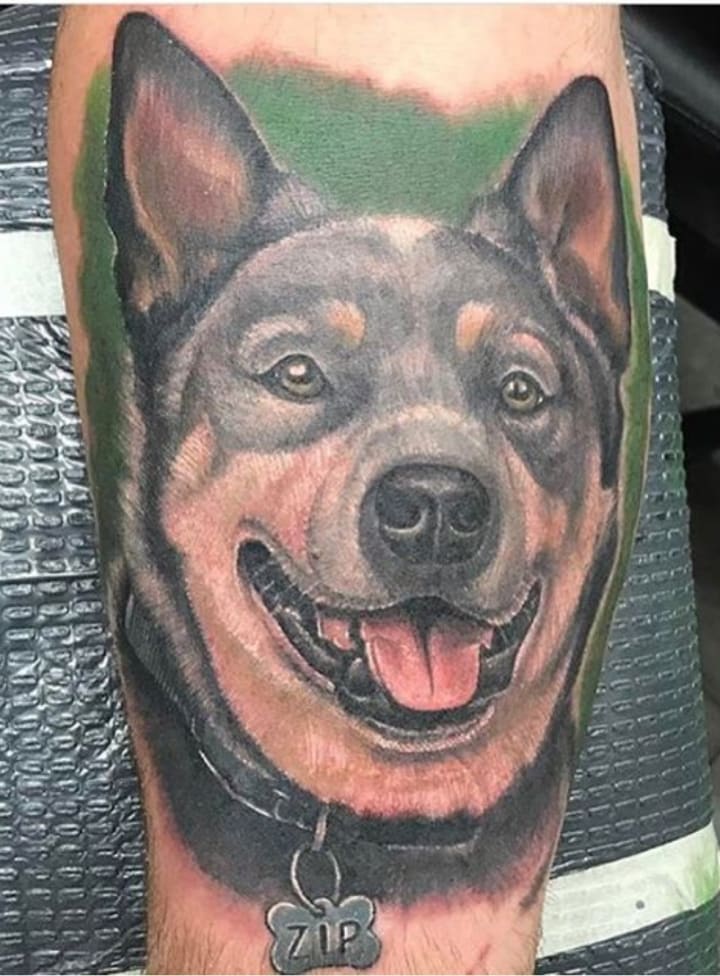 dog
Mother of 2-Writer-Crafter-Dreamer-TV binger-Movie lover-Space nerd-dinosaur connoisseur
Receive stories by Ashleigh Riley in

your feed