Our Rescue Girl Roxy…
Adopting a rescue dog...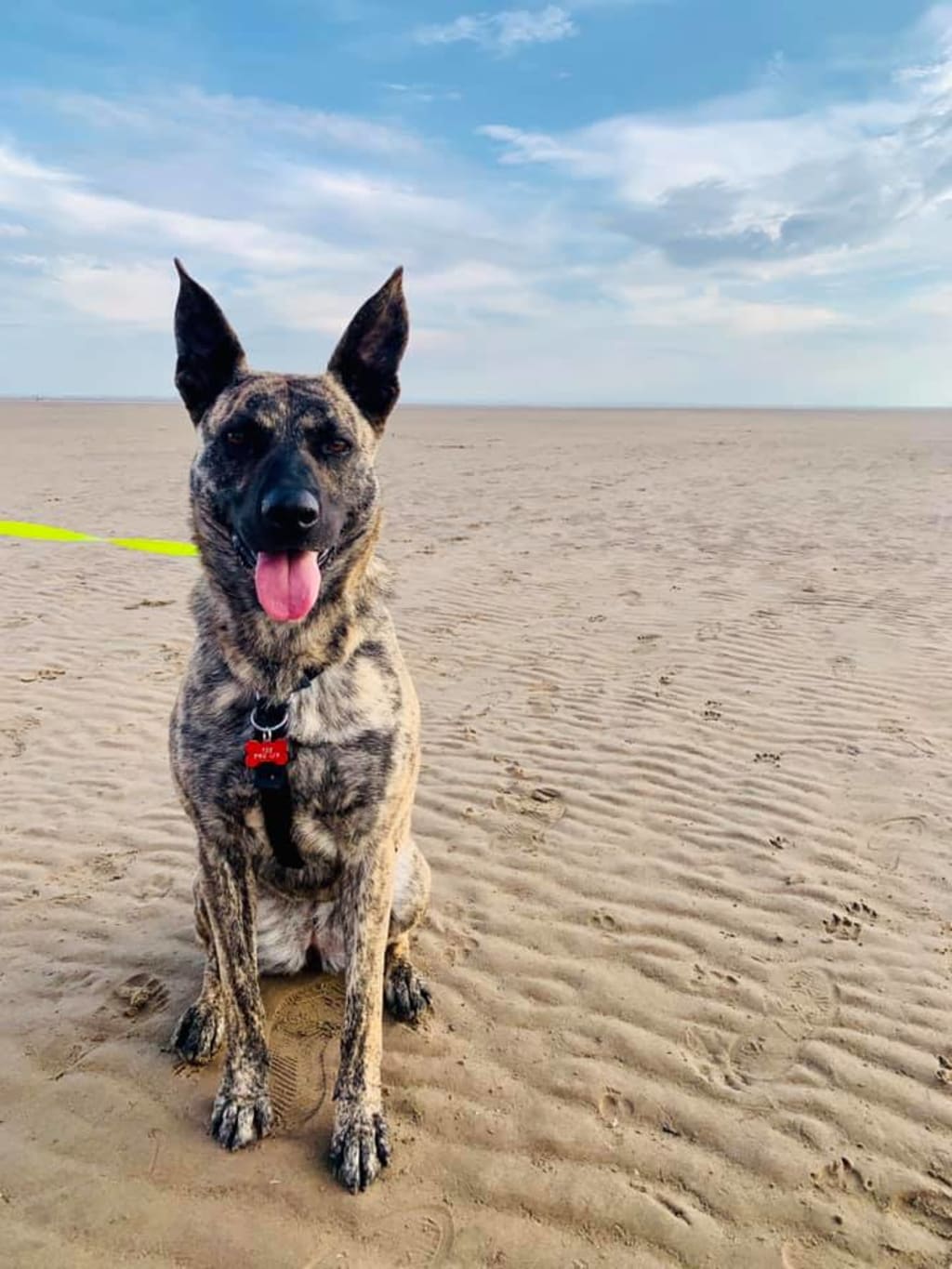 2 months ago, my partner and I took a trip to a local rescue centre to visit a sweet looking lurcher x "German shepherd". She instantly melted our hearts, we met her at her outside kennel where she excitedly jumped and bounced away as the staff told us her story.
Roxy is 3 years old and has been in rescue centres for around 2 years of her life. We don't know why she was originally given up, but we do know that over the last 2 years she has been rehomed in a couple of different situations.
The 2 that stand out the most are when she was rehomed to a family with a pointer type dog, when playing and working out pack boundaries and where she fitted in, she pinned the other dog down. The family returned her instantly not understanding that this was natural, they even said there was no malice or aggression in it. Just given back without being given a real chance.
The other instance she was rehomed to a family with no other pets, the man liked to go running with her… he only ran with her. So, when his wife took her out for a walk she pulled and wanted to run. They took her back.
We regularly kept watch over the dogs staying at this particular centre and my Girlfriend would say to me "oh dear, Roxy's back again", her description on their website was typical of a Lurcher cross, energetic, stamina for days, loves to play, keen to learn. I find it difficult to understand people who do not research the breed and understand the relationship they are entering when rescuing a dog.
We met her on the Saturday, took her for a walk. She walked beautifully, calm and by our sides. When we got back to the centre she walked straight to her kennel and almost showed us around, "here's where I sleep", "here's where I eat". It broke our hearts. The next step was to see if she would get in my car and let us take her out for the day.
She jumped into the back of my old Vauxhall Corsa like she had known it for years, sat down and eagerly awaited her journey. She travelled fantastically, no jumping around or trying to get in the front, just sat and observed, listening to my awful singing no doubt. When we got home, we walked her around our garden on her lead so she could check it out and make sure she was safe. After about 15 minutes, her lead was off and she was asleep on our laps on the sofa watching RuPaul's Drag Race.
She was perfect.
We took her back to the centre that evening and she cried her little heart out as we left her in her outside kennel. "Don't worry Roxy, we'll be back tomorrow" my other half called out as we walked away. And we were, unbeknownst to Roxy she had a big challenge to pass the next day. Going on a walk with my partners Dad's Bulldogs (George; American Bulldog, 9, also from said rescue centre and Olive; English Bulldog, 3, mad as a box of frogs, had her since puppy). We regularly look after these 2 and visit them so the three of them had to get along for us to commit to Roxy.
We met on neutral ground; a local park and walked for a short while (George has arthritis), they sniffed each other, George and Roxy had a little growl at each other but nothing sinister just figuring each other out. They all walked fabulously together. My Girlfriends Dad gave Roxy the once over, checked her ears, paws etc (very knowledgeable chap), he deemed her in great shape. We were all sold.
So to make it official we had to get dog tags for her collar. It's the law in the UK so we knew that to be able to go back to the rescue centre and leave there with Roxy as ours we had to have tags with specific information on. Swiftly got it sorted and drove back to the rescue centre to get the paperwork signed.
We had done it. Finally, after years of saying we would get a dog, we had done it.
I am determined to keep writing about Roxy's adventures, she's been with us for 2 months now, so I have plenty to write still. Maybe people will read this, maybe they won't.