Our 10 Favorite Cute Chicken Coops!
Even our chickens should live in style, right?
Chickens are such a fun addition to any backyard or small homestead; they can provide us with eggs, meat, and teach our kids about raising animals, responsibility, and nature! But above just owning chickens, we really think that they should live a comfortable life as well, at least as much as we can help it! That's why we LOVE when we see unique and beautiful chicken coops on Instagram and Pinterest.
We've scoured the internet and found these 10 SUPER CUTE chicken coops that we just had to share with you!
Boxwood Avenue's Cottage Style Chicken Coop
This chicken coop is so cute and so simple! Put it with that gorgeous farm view and the beautiful tree, and this is a scene we could stare at all day! I love how this actually looks like a real house! I'm sure these chickens are excited every day they get to go inside this cute coop.
You could easily add some chicken wiring around this coop as well if you aren't able to have your chickens out free. Or expand this design if you have a bigger flock.
Jess's Charming and Adorable Chicken Coop
How cute is this chicken house? That baby blue door is beautiful and we love the seasonal decor! Wouldn't it be fun to decorate a chicken coop for all of the seasons and holidays?
Heather's Cape Cod Style Chicken Coop
How gorgeous is this fun chicken coop? We love how much it actually looks like a little home! Can we move in?
The barn doors on the side are just too cute and that little steeple at the top on the roof adds so much charm!
We also love the hanging citrus tree that extends over the coop. It makes us remember that even our domestic chickens are part of the beautiful natural world around us!
Wild Feather's Farm Perfect Farmhouse Coop
Okay, who else now just loves the idea of decorating their chicken coop just like you would your own home? This Fresh Cut Flowers sign makes the coop look so much cuter and inviting!
We would love to go visit Wild Feather Farm and see this coop in person, plus the rest of their gorgeous farm! We really recommend checking out their page for some serious inspo!
Erin's HUGE Chicken Coop For a Whole Flock!
Have you ever seen such a big chicken coop? This coop has more than 900 sq ft of run space, which makes her flock of about 50 chickens very happy!
The styling of this coop drives home the farmhouse feel, with the black and white color scheme and those wreaths on the barn doors!
Erin has a BUNCH more amazing and cute shots of the coop on her Instagram page, go check her out!
Brooke & Steve's Dreamy Chicken Coop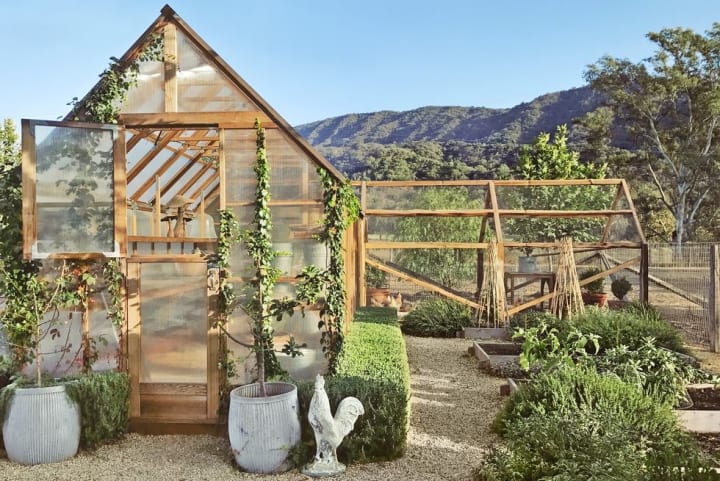 This is such a unique design for a chicken coop! I think that the somewhat transparent walls really make this building seem more spacious, plus the chickens probably feel more comfortable while inside being able to see what's going on outside the walls.
This design really reminds us of a greenhouse, wouldn't it be fun to combine a chicken coop and a greenhouse with this kind of design? Oh the dreams we have!
Kellye's Cute Chicken Coop & Garden Combo
How perfect is this setup that combines the chicken coop with the garden? Just make sure your chickens don't get a feast of your fresh garden veggies!
We especially love this chicken coop as we are BIG on a holistic approach to gardening and farming. Chickens, if they aren't eating your fresh tomatoes, can be a GREAT natural addition to your garden. They are fantastic compost shredders, and eat many of the pests that would be harmful to your plants.
Penny's Fall Fun Chicken Coop
This chicken coop just screams FARMHOUSE CHARM to us! Penny at Happy Days Farm has the cutest Instagram feed, you definitely need to check it out to see more than just her awesome coop! The steeple on the top of the coop is a great touch, and I'm sure those chickens would love to get inside one of those yummy pumpkins!
This Magical Forest Cottage Chicken Coop
We've never seen a more fun or more magical chicken coop that this one! This looks straight out of a fairy tale!
If you are aiming for more of an English cottage feel around your home/farm, then this idea for a coop would be perfect!
The Tiny Coop from Henny Penny Hen Houses
If you are a fan of the tiny house trend, than you'll fall head over heels for this cute coop! Perfect if you only have a few chickens, this little one won't take up too much room in your yard and it will still look super cute!
Which chicken coop was your favorite? Make sure to check out each owner's Instagram page for more details and to see more beautiful shots of their homes!
Please note we do not take credit for any of the photos here, we link back to the owner's Instagram page or website whenever possible.