Supported by Ollie
Ollie's Human Grade Food Delivery Was A Hit With My Picky Golden
I'm sure I'm not the first dog mom to go through a ton of trial and error with their four-legged baby. But, if there is one thing I know for sure it is that with the right tools it gets easier!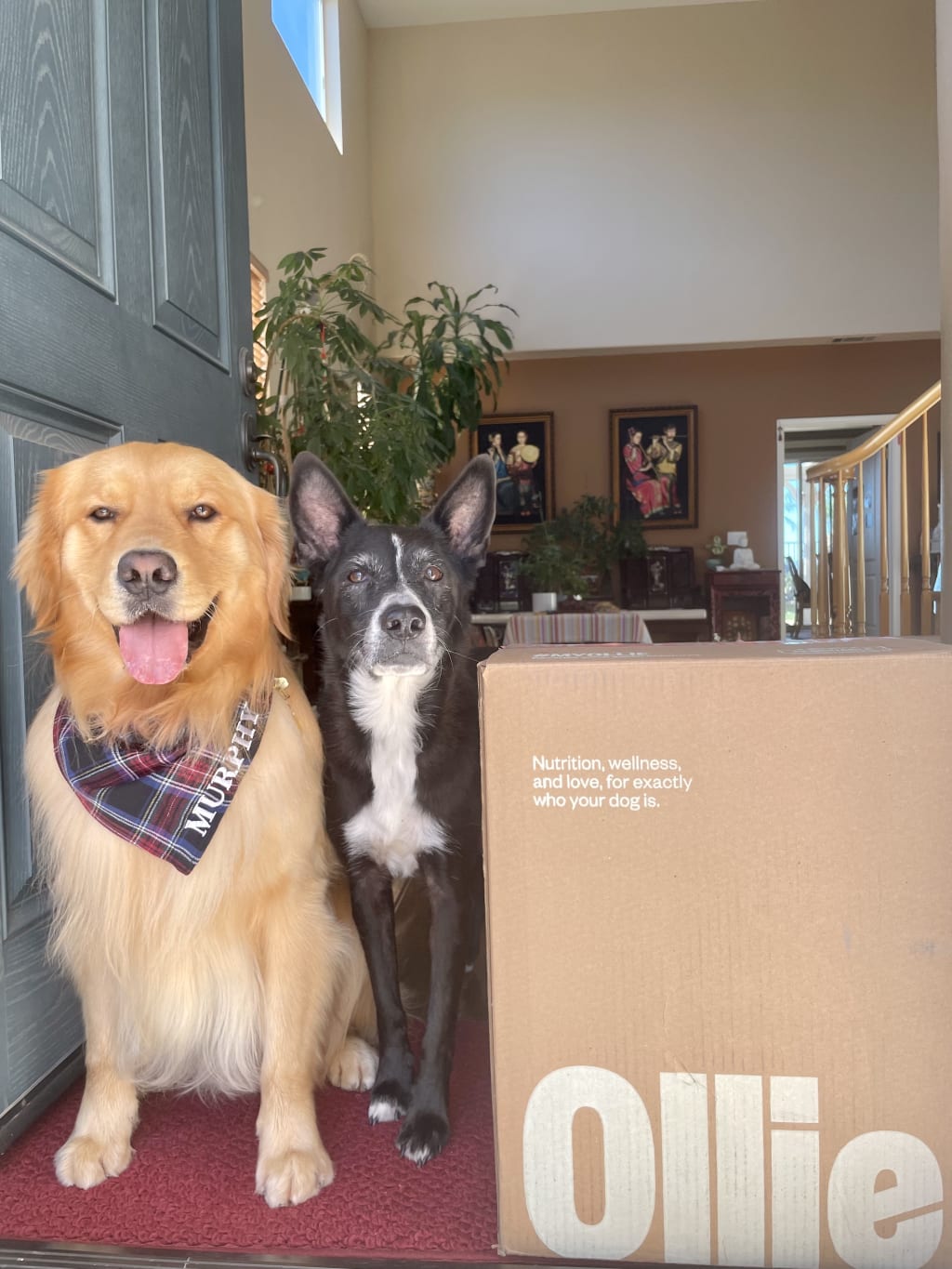 The thought of getting a new puppy is both thrilling and terrifying! Thankfully, these days we are not alone in our efforts to create the perfect home for our furry bundles of joy. A bit of research, and a lot of patience is all you need when raising a puppy. Some of the hardest things to manage when bringing home a new pup are:
Finding the healthiest, most nutritious foods
Creating a balanced outside-time schedule
Making sure they're staying out of trouble (This is a tough one)
Did I mention food already?
That's why, in this guide I want to share my experience with my picky, and hilariously goofy Golden Retriever, Murphy. And, I'm sure I'm not the first dog mom to go through a ton of trial and error with their four-legged baby. But, if there is one thing I know for sure it is that with the right tools it gets easier!
Discovering The Holy Grail of Dog Food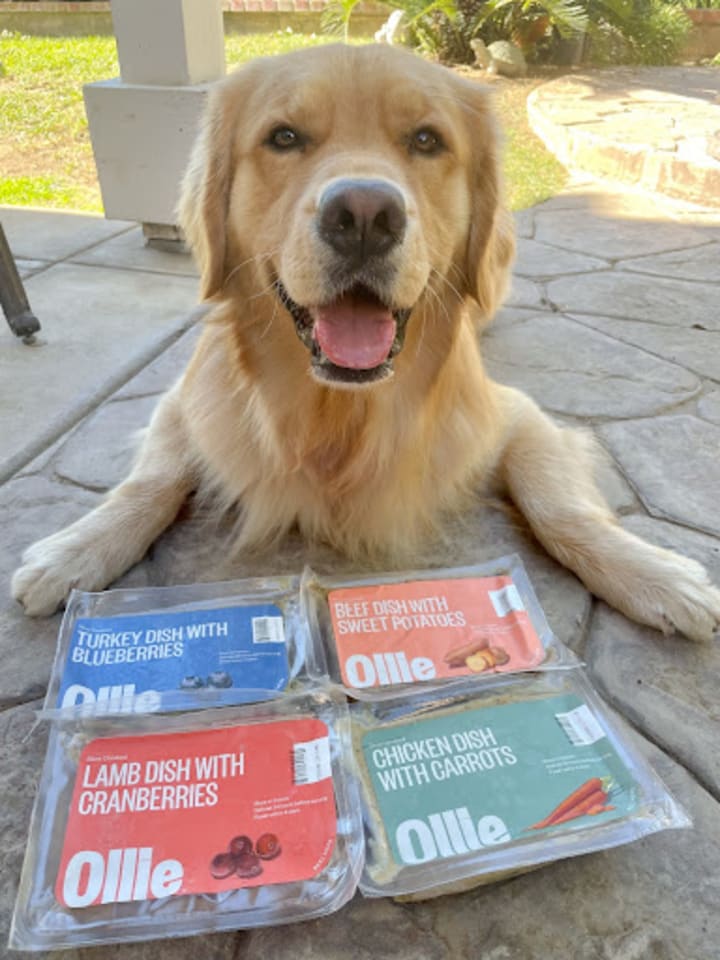 Murphy never wanted to eat his kibbles unless I bribed him with dinner table scraps or treats mixed with his food. I had family dogs prior to Murphy who were fed a bland kibble diet but they despised their food unless we added chicken or broth to entice them. I didn't want to raise Murphy the same way so that he was conditioned to only eat his food if we spiced it up, nor did I want to confine him to a mealtime experience devoid of enjoyment. I wanted to make his relationship to food fun, delicious, and nutritious.
I was torn between wanting to feed a raw or cooked diet but I knew I did not want to feed kibble. By the time Murphy came home, I still wasn't committed to a meal plan for him and went with the breeder's suggestion for kibble (despite my objection). As I expected, Murphy detested it. He didn't want the kibble that we were feeding him and I was stuck adding in additional treats and flavoring to persuade him to eat. I decided I wasn't ready to put Murphy on a raw diet (let's get real — it's raw meat and something I'm not used to handling), and decided to move forward with a home-cooked meal made with love and real ingredients.. But, with my busy schedule and ever-growing to-do list, cooking Murphy's meals became a rather daunting task.
This is when I decided that something had to change.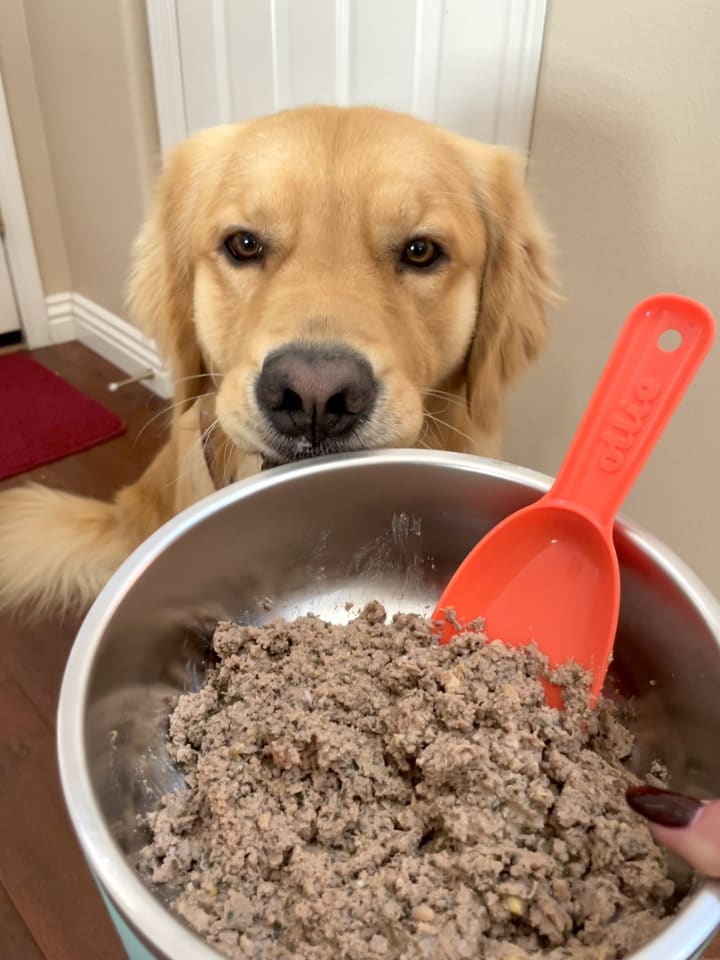 What started as a simple Google search, led me down a deep hole of questioning all sorts of things like:
How can I be sure that Murhpy is getting the correct amount of nutrition?

What hidden chemicals are found in packaged dog foods?

How will the decision to subscribe to a meal delivery affect my budget?

What if he doesn't like this food either? Will I have to cook all of Murphy's meals?
After a long and tedious search I finally found the one.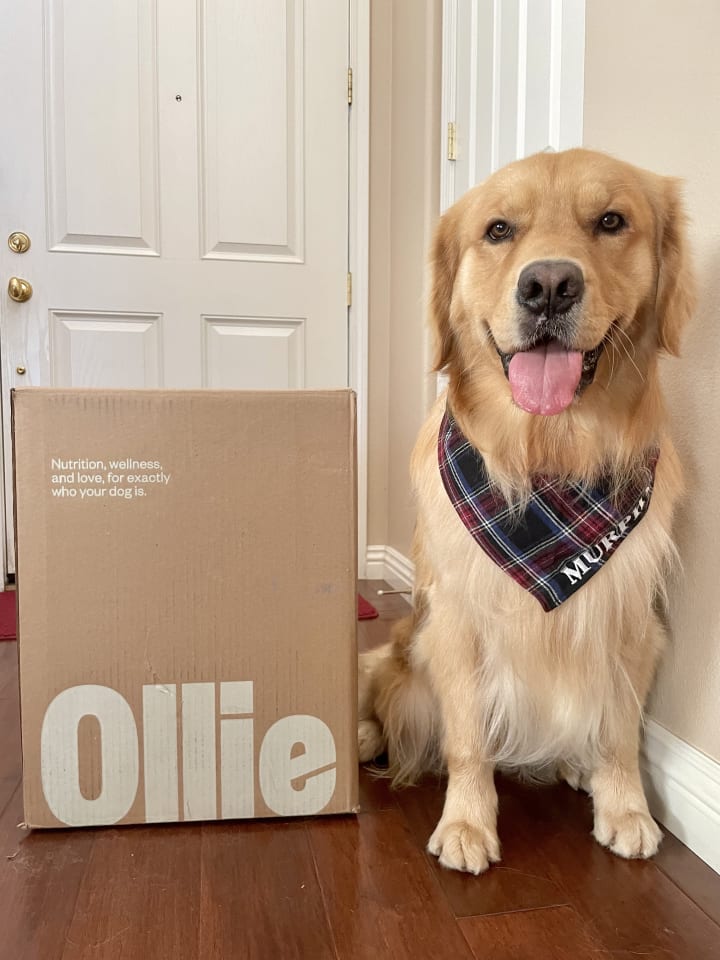 I was so excited to start Murphy on a new diet that would be complete, balanced, delicious, and convenient but I had no clue where to start. Eventually, I stumbled upon Ollie after seeing ads online and having a few friends recommend the brand. What attracted me the most about Ollie was not only their promise of human-grade, fresh dog food that was nutritionally balanced and complete with real ingredients, but it was delivered fresh to my door as needed!! And, best of all, Ollie offers custom meal plans that are tailored to Murph's weight, age, breed, activity levels, and also take into consideration any allergies he may have. I mean wow. Can it get any better than that?
Here's how Ollie works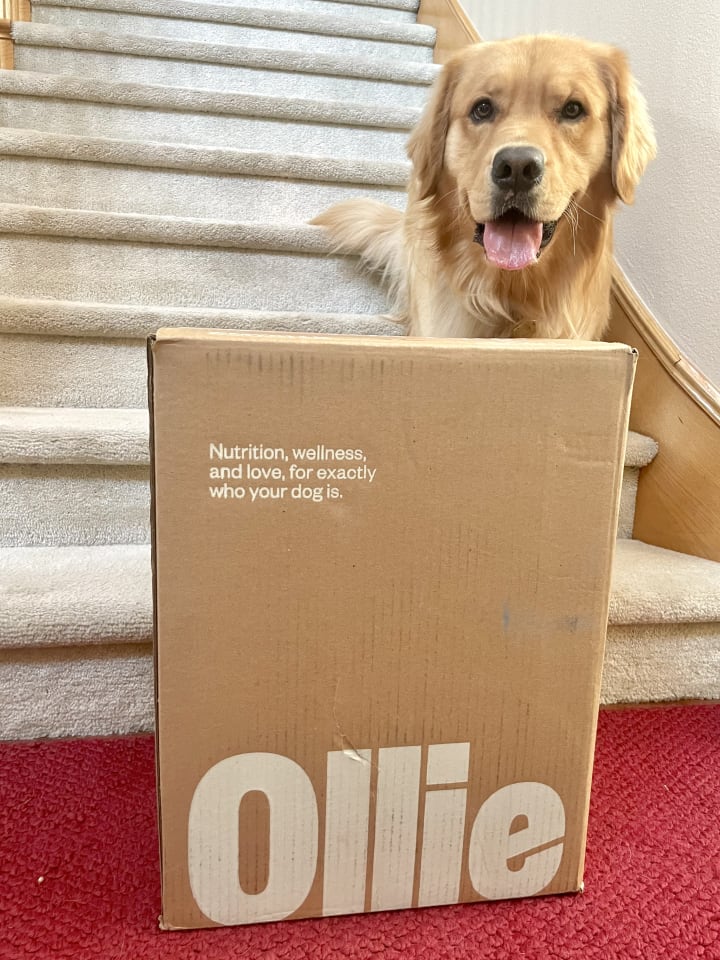 To get started on Ollie I just went online and signed up for my Ollie subscription. During sign-up, I was asked a series of questions about my dog's age, weight, breed, activity level, and health, including whether he has any allergies.
I could select one, two, three, or all four of the recipes. For Murphy, who is a big boy...85lbs big, Ollie meal options ranged from about $30 to $40 per week, depending on which recipes I chose. I opted to try the beef, turkey, and lamb recipes. Having the four recipes as an option allowed me to rotate the proteins, which keeps Murphy constantly excited about mealtime.
Then, once I was all set up, I received an immediate email confirmation. Ollie also sent me the estimated delivery date and a notification when it had been delivered. This is perfect for my busy schedule, because I can adjust the delivery if it's scheduled for a day where I won't be home (plus, there isn't too much to be concerned about if I am not home when the food arrives — the box is packed with ice and insulation to keep it cold up until midnight).
My first box arrived right on time with pre-portioned cold meals in vacuum-sealed packs. My first box contained an airtight storage container, serving spoon, and booklet that explains how to store the food. It can be kept in the freezer for up to six months or thawed in the fridge for up to five days. I also received custom feeding guidelines and directions for gradually switching from my dog's previous food to Ollie — which we had no difficulty with! I love that they are pre-packaged and portioned to how much he needs to eat in a day. I no longer have to use a kitchen scale to portion out his meals and the container and scoop included in the package makes it even more convenient and easy to feed his meals. My boyfriend loves that we have a separate container to hold his food and spoon so that we don't mix it with our own containers too.
Did I mention that packaging is beautiful and very easy to store?! Murphy is hands down the coolest dog on the block. Whipping out his meals in public definitely makes me feel like the most hip dog mom in town.
Ollie Changed Murphy and I For The Better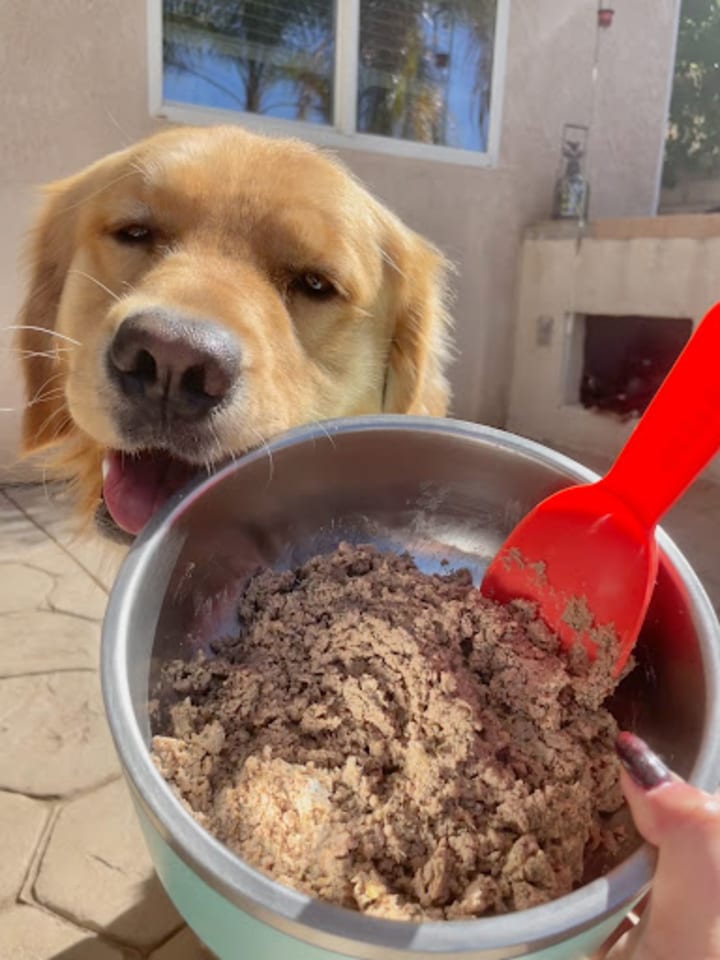 We've been using Ollie for some time now and love the quality and convenience that Ollie provides. For me, I love the convenience of fresh dog food delivered straight to my door, ease of customization, portion control, and quality ingredients. Murphy is an 85 pound Golden Retriever and it was also getting hard to buy dog food in bulk at the pet store so I love having his food delivered straight to my home. I also love seeing Murphy excited for his meals especially now that I can easily feed a different protein for every meal. I could easily feed him the chicken dish for breakfast and then beef for dinner and then the next day it would be lamb for breakfast and turkey for dinner. Murphy is always so excited for his meals now! His sweet doggy eyes glow up in anticipation.
I hope my guide on feeding my picky Golden has helped you make dog parenting a little easier. Our furry buddies offer us so much joy, and love, getting them a meal that they're excited for is the least we can do in return. So, what are you waiting for? Make the change your pup will thank you for today!