Not A Turkey, But A Peacock
Why I'm thankful for this feathery friend, who has kept residents of a New Jersey town connected during a pandemic.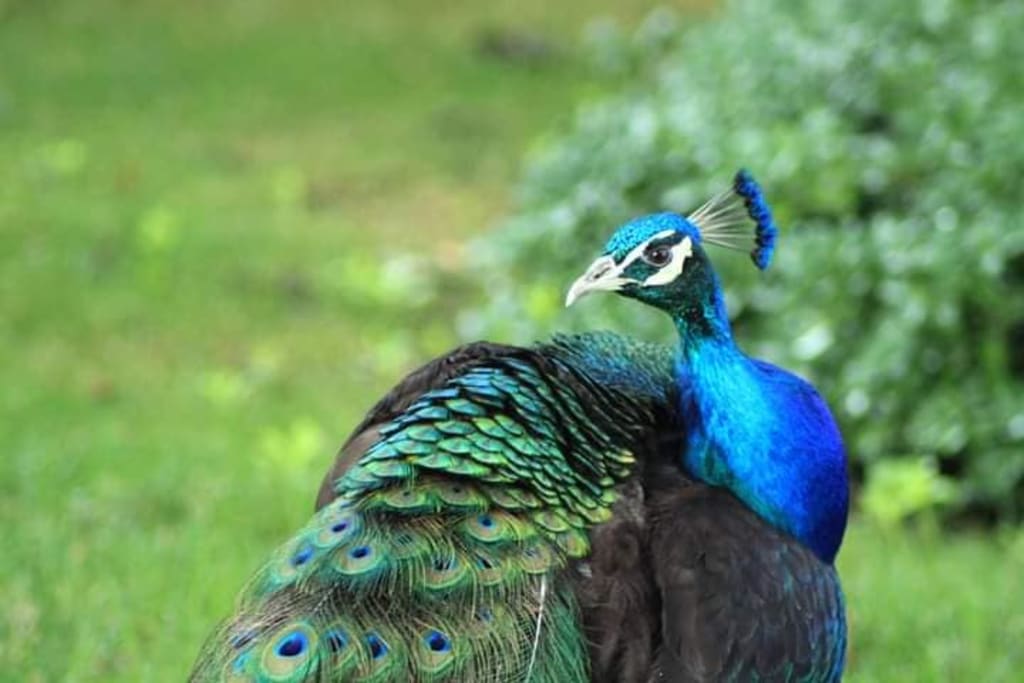 A photo of "Mr. Peabody," taken by Carol LaBianca
This Thanksgiving, some folks may be grateful for the fresh turkey on their dinner plates as they eat away the stress of a crazy year. As for me, I'm thankful for another bird with distinctive feathers and an incredible personality.
His name? Mr. Peabody.
It was early July when my brother and I first learned about the Bayville peacock. A neighbor on our street, Gina Jacoby, posted a Facebook photo of the big, gorgeous bird strolling down the sidewalk. I was eating a PB&J sandwich at the time, and almost spat out my food when I first laid eyes on him. What was a peacock - a native fowl of South Asia - doing in our tiny northeastern US town?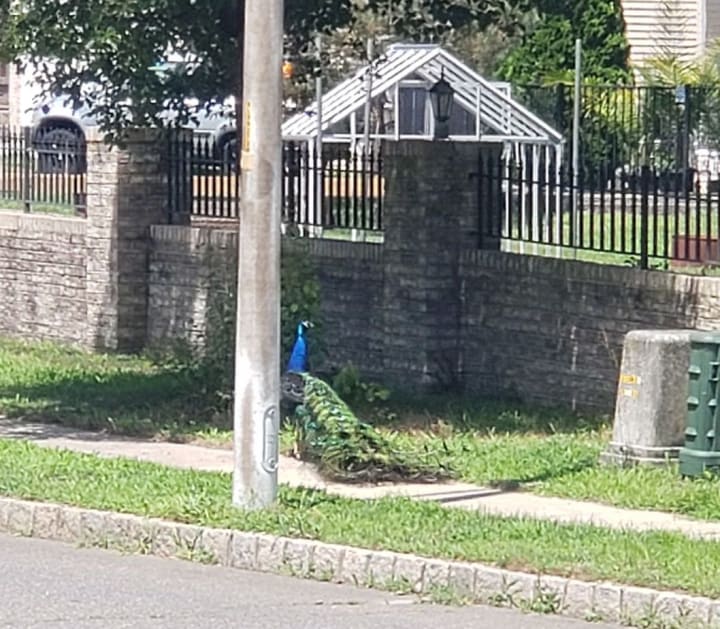 Since Gina's picture had been uploaded thirty minutes prior, I put on my shoes, bolted out the door, and walked to the spot where she had seen him. I was too late - the peacock was long gone. There were more roads ahead of me and forest to my right, so it was impossible to know where he had trekked. After Gina messaged me some details on which direction he'd walked, my brother and I drove around the suburbs to try and find the bird. But alas, he was hidden well.
When I got back home, my mother told me she had phoned our grandmother, who also saw the peacock in her neighborhood the week prior. I did some research and discovered something incredible. Not only were there articles about the iconic peacock, whom the internet had named "Mr. Peabody," but also a Facebook group dedicated to tracking his whereabouts.
He's appeared on several street corners and rooftops, yet always stays within the borders of our town. Ironically, one of his favorite hangout spots is Pheasant Drive.
I noticed most Peabody sightings were recorded in 2020. I got curious. Why were people suddenly documenting the bird? How had he arrived in Bayville? And amazingly, why hadn't anyone called animal control on the little guy?
Mr. Peabody's Beginnings
While Mr. Peabody's true origins and age remain a mystery, people in Bayville have been spotting him for five years. Townsfolk used to keep his existence a secret, but he's gone mainstream this year due to the pandemic. Because more people are staying home, he's easier to find.
Some claim Peabody is an escapee from the Popcorn Park Zoo, but the wildlife refuge has repeatedly claimed they aren't missing any peacocks. Others think he may have come from the Six Flags Safari (a drive-thru experience where park guests can see wild animals), but it's unlikely, since Six Flags is thirty miles away from Bayville.
One thing for certain is that Mr. Peabody's name came from Bayville resident Jim Guido Giffoniello. The peacock lived in his backyard for about a week, then moved on to other houses.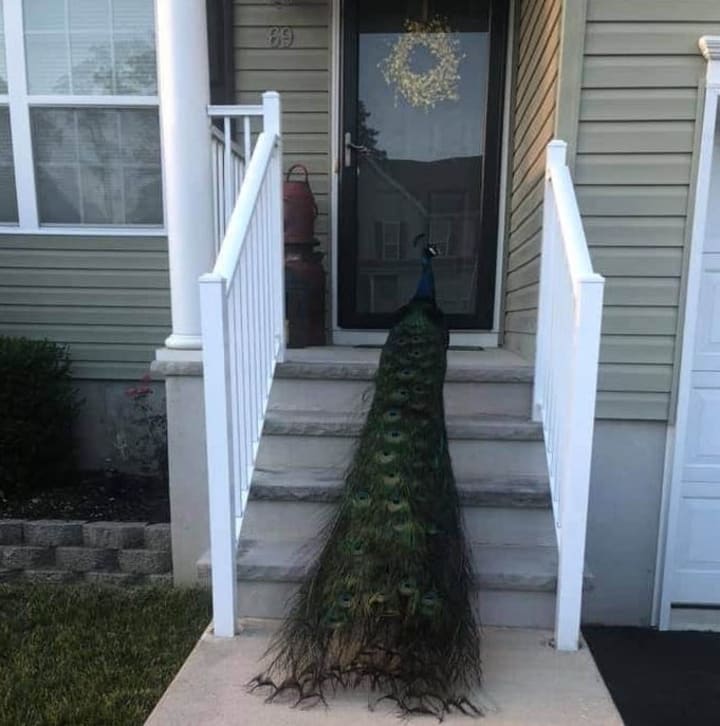 Peabody is not the first peacock to be spotted in the Garden State. Because there are no laws banning people from owning peacocks in New Jersey, it is believed hundreds of them are kept as pets - typically on larger estates. In 2013, there was another male peacock roaming the streets of Union County, in upstate New Jersey.
But unlike other rogue peacocks, Peabody's built himself an esteemed reputation. Experts say it is a good idea to keep a safe distance when you see a peacock in the wild. Males can get especially aggressive if they feel intimidated. However, Mr. Peabody's temperament is strangely calm for a bird of his kind. While he's trekked all over Bayville, he does come back to the same properties for food and quiet places to sleep.
He's walked around schools, cul-de-sacs, and hopped over fences without causing much of a disturbance. Many have remarked he's incredibly photogenic, and doesn't mind getting close to a camera. He's quite the poser.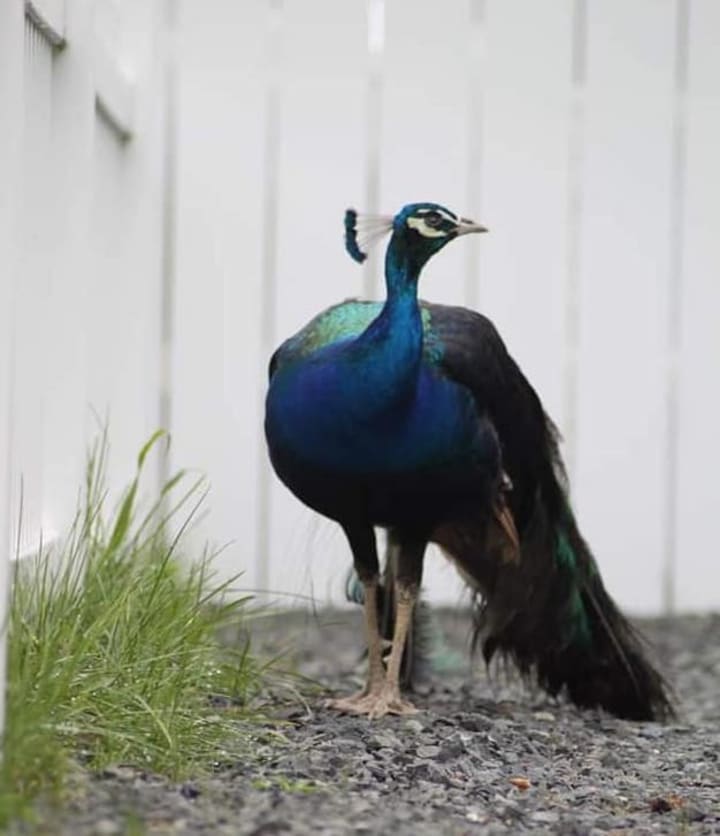 A Peacock During A Pandemic
I am so thankful for Mr. Peabody's daily appearances throughout 2020. He's spread so much cheer in the short time he's gone public. Personally, I think he's boosted our small town's morale in a time when we've needed it most.
Many in Bayville put in great effort to stay home as much as possible during this pandemic. Peabody sightings have been a wonderful incentive to stay in. Not only is it fun to watch him stroll across your backyard, but if you aren't home, you could miss him. Most of his sightings have been reported in suburbs, after all.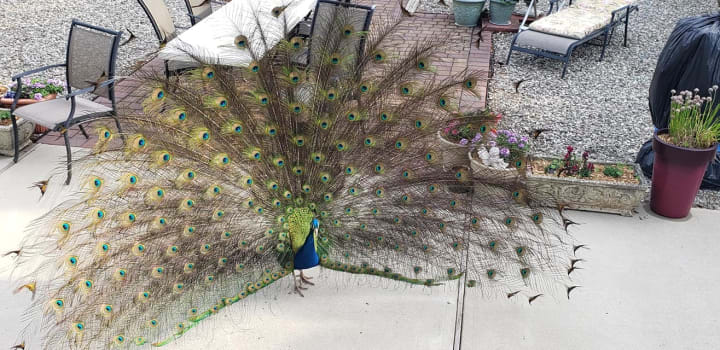 Additionally, Peabody's presence has forced the people of Bayville to work together in order to keep him safe. Through the Facebook group, Where is the Bayville Peacock, Bayville residents have been able to track his whereabouts, as well as share helpful PSA's about keeping him away from dogs and moving cars. The Facebook page has been a great way to stay connected with residents amidst a pandemic pulling us apart.
One thing people love to share about Peabody is his favorite grub. Peacocks are omnivores, meaning they can eat both plants and tiny bugs from off the ground. Mr. Peabody seems to be particularly fond of blueberries and birdseed. He often visits the Peterson household to get his daily dose of the latter food. Below is a video Brian Peterson uploaded to the Facebook group on November 12th...
The Facebook group also allows residents to express concerns about the bird's health. Around August, members noticed Mr. Peabody's illustrious tail feathers were falling off. People were afraid he had been attacked by an animal or caught a disease, until someone found out he was just molting for the fall. Recently, members have worried about Peabody's ability to keep warm during the winter. Although he's managed to stay alive for five years, talks of a small shelter have been brought up.
For some reason, the Popcorn Park Zoo refuses to rescue the celebrity bird despite numerous calls from residents. Until he can receive proper care from animal experts, us townsfolk have a responsibility to keep him alive. He's basically our mascot now!
I'm thankful for Mr. Peabody this year because he's given the townspeople of Bayville a tremendous amount of hope, cheer, humor, and inspiration. In a way, the peacock is a microcosm for 2020 itself: totally out of the ordinary, but gradually accepted. Peabody is a beautiful reminder that goodness can stay alive despite all the hopelessness we saw this year. What makes me really happy is that children of Bayville are particularly fond of the bird. This year has been extremely difficult for kids to cope with, but Peabody is a welcome distraction amidst chaos.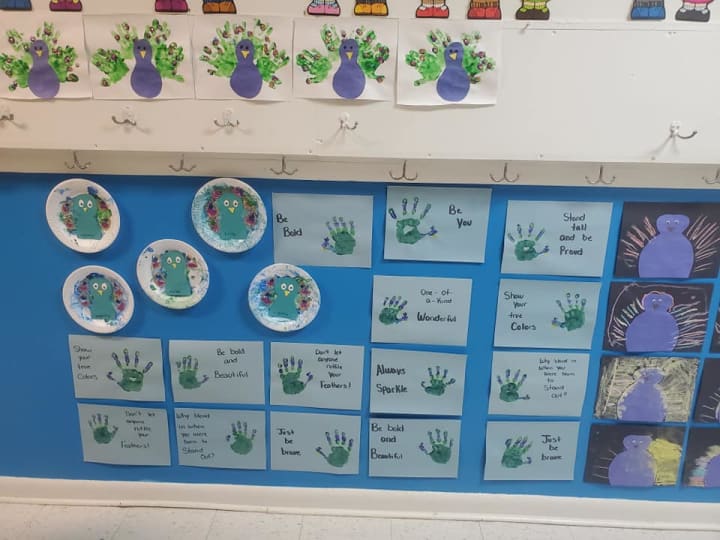 2020 has been a terrible year, dear readers. But despite the peril, stress, and darkness, I hope there is something beautiful and bright you can be thankful for this holiday season. I'm just happy Bayville got a peacock instead of those crazy murder hornets.
Hope your Thanksgiving's a happy and safe one. Enjoy the turkey! Gobble gobble! (Or as peacocks would say, AAAHAAAAA!)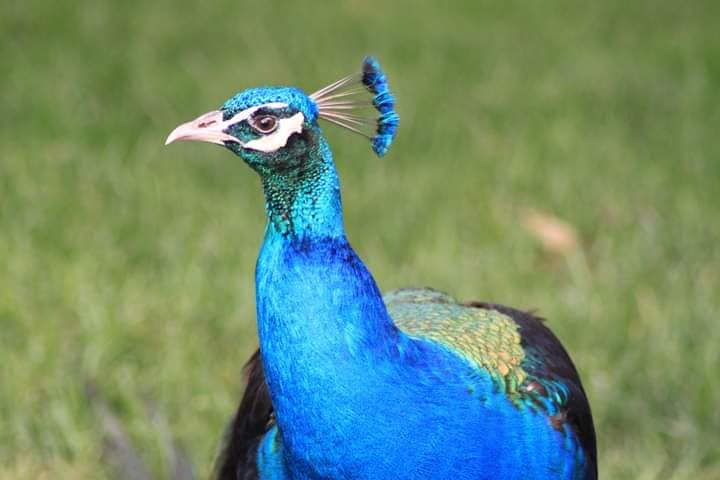 _____________________________________
Author's Note
Thank you so much for reading! Leave a heart on this article if you think Mr. Peabody is the most beautiful bird in the world. If you enjoyed this story and would like to read about more wacky happenings in my hometown, check out my piece, Why Bayville, NJ is a Stephen King Town. If you're craving more cute animal pics and would like to learn about another charming creature living in Bayville, definitely read my award-winning story, My Groundhog, Ciabatta.
If you'd like to keep up with Mr. Peabody, make sure to join the Facebook Group! Also, if you'd like to reach out to me, you can find me @katyisaladybug on social media.
Until next time,
- Katy <3