My wild stallion
photo captured in 2017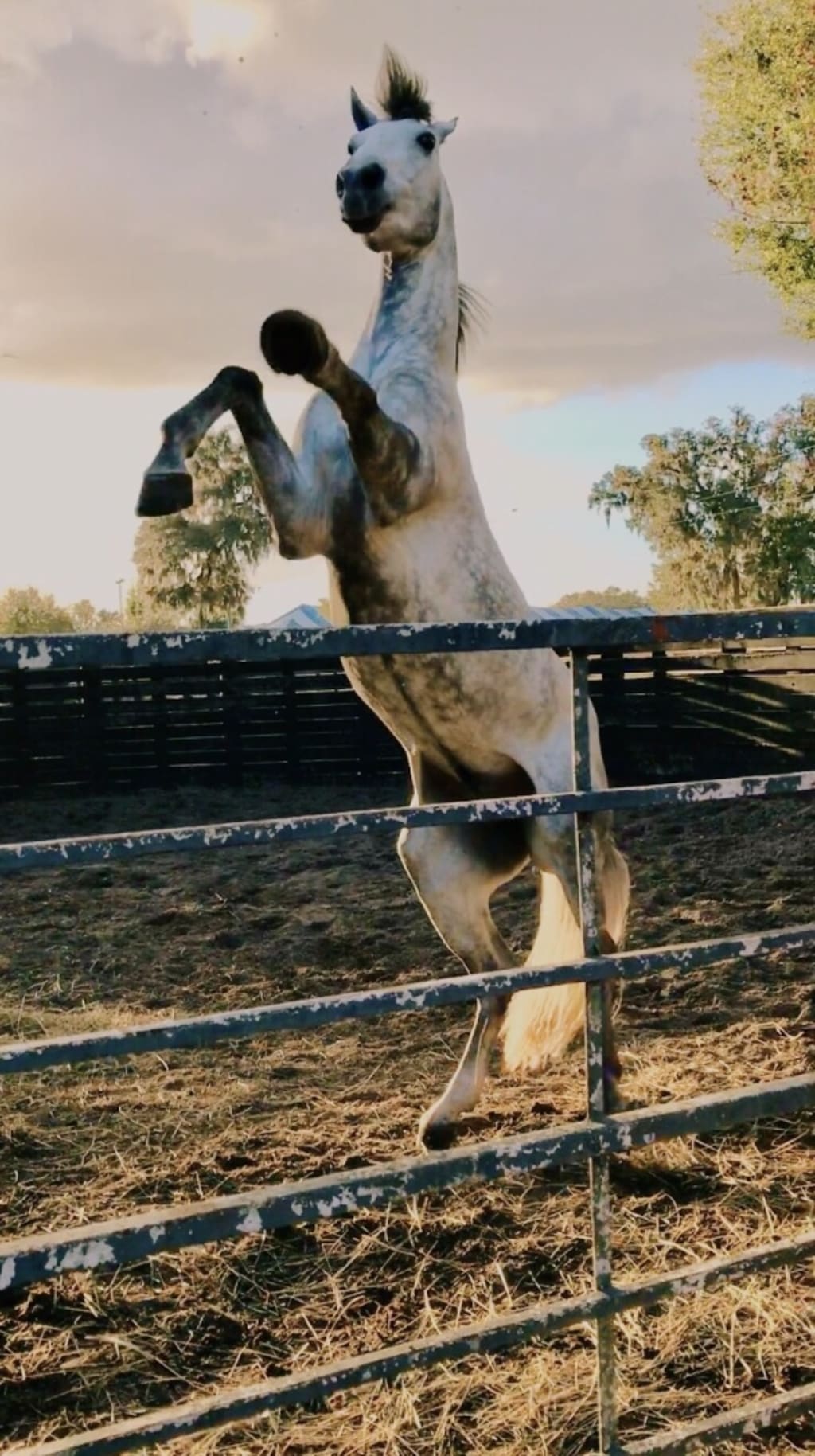 I don't know if the quality of this photo is good enough to win, but this was such a phenomenal moment to capture I wanted to share anyways. I've had my stallion since I was 14 years old and he was 5. I am now 21 and he just turned 12.
This horse is my whole heart and soul. We've been through everything together. We grew up together. He's taught me the most important life lessons- those of unconditional love, patience, balance, growth, peace, perseverance, strength, joy, and the list goes on.
Some days we butt heads. Imagine this exact pose (in the photo), yet being directed at you, the front hoof missing a collision with your head by mere centemeters and a few heartbeats. [disclaimer- that instance was NOT taking place in this particular photo!!] Arguments due to boundary issues, weather changes, testosterone-induced natural killer instinct stallion drama! When the vet examined him before we purchased him, he told us the dangers of owning a stallion, the precautious nature we must uphold when managing one. He said, "Now... you can't turn this one into a pet!!!!" Though his sentiment was more than valid, he couldn't have been more wrong. I've never experienced such grace and divinity from any being on this planet, whether human or animal. He is a very sublime soul at his core. On my darkest days, he is the only thing that has kept me hanging on. For many years he's been the only reason I've been able to get out of bed. I'm diagnosed with an array of mental health conditions, and though I grew up in financial privelege, unfortunately experienced extreme traumas at a young age, throughout my childhood/adolescence and adult life as well. No matter how low my will to live has been, he has been my guiding light through every moment. It may seem silly from the outside looking in, to say that about a horse. I am eternally grateful to have received a gift so sacred. This horse has taught me more about believing in something higher and having faith than any religious doctrine ever could.
I love this picture of him. Here he stands, in all his glory and power, letting his inner freedom shine through, captured through a camera lense in one fleeting moment. When life seems empty, and my mind is so dark I cannot see anything, I see him. I hope everyone finds something in their life that they are able to channel that light through, in the way that I am able to channel that through him.
There is something about horses that is so captivating. Humans and horses have been in relationship with one another since the beginning of time, all the way back to horses being the main concept depicted in the art of the Ice Age era.
Being able to work with a stallion, an animal that is so inherently wild and instinctual to this day, is such a life changing, definitive experience. This animal, who could quite literally kill me at any instant (he's made that clear MANY times), lets me ride around on his back, even jump 5ft jumps (his father was a horse on the 2000 Olympic Showjumping team and he passed along that talent)! He also lets me hold his head while he lays down and sleeps and take multi-hour naps in his stall. Or if I'm having a panic attack and can't breathe he lets me sit in his stall and just cry and pet him. To be able to have such a serene and eternal bond with such a dangerous, powerful animal is beyond words. He taught me how to grow into the person I am today and showed me who I want to become. He taught me how to fall in love with life again, every aspect of it, and how to see the beauty in everything.