My Voyager Cat Crew
How I found my new pets.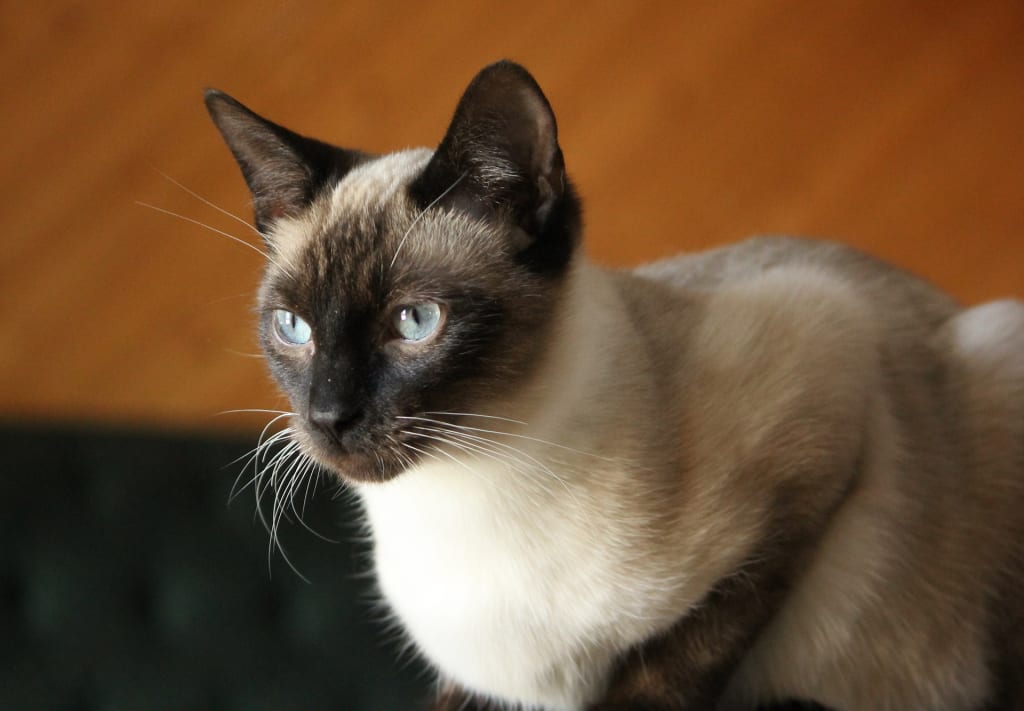 Chakotay (All images by Dorothy Hansen)
April 2020
After my dear old dog and cat died from illness in late winter, I decided that I wouldn't go looking for a pet. Instead, I would simply wait and see what happenstance would bring me. I decided on certain rules. My pet would need to be under 30 lbs so that I could lift him/her easily in a medical emergency. I would probably have a cat so any dog I might adopt must get along well with small animals.
July 2020
A couple of older dogs had become available from a breeder/trainer. When I met them at a park the eleven year old guy stole my heart. He was calm, friendly, gentle and had a special charisma. Oh how I wanted him! But at 80 lbs he didn't meet my guidelines. Heart and head fought for a day and I reluctantly followed my head.
August 2020
One summer day I was reading an ebook on my back deck when a black and white cat appeared. She came up to me and accepted petting. Her belly was so big I was sure she would have kittens any hour. She visited me several days over a few weeks so I decided this was a sign that I was meant to adopt one or two of her kittens. I promised her that I would keep at least one of her kittens and hoped she had a calico girl for me.
After two or three weeks she stopped visiting and I wondered where she had gone and whether she had had her kittens yet.
Wearing my face mask, I walked to the dairy farm up the road because I knew cats were a necessity to keep rodents from eating the food meant for cows. I spotted the farmer's mother who lived next door to the farm and was known for feeding strays. I interrupted her flower watering chores to enquire about the black and white Mama. We looked around the yard for a while and observed some cats but not my feline friend.
After our unsuccessful yard search the farming family arrived home. I mentioned Mama cat and to my surprise, the farmer found her in his barn, still pregnant. I announced that I wanted a kitten, especially a calico if she had one since I had always wanted one. They agreed to this and said that since I had seen her several times, she might have her kittens in my yard.
While we stood around at six foot distance, chatting about cats, I spied a kitten running through the yard. He appeared to have dark pointed markings like a Siamese. I managed to pick him up and fell instantly in love. Did the family intend to keep him? Would they be willing to sell him to me? They agreed to give him to me - no charge - and would deliver him to my home after a couple of days once they had dewormed him.
They said if you change your mind about him, we will take him back. Only later did I learn why they would say that.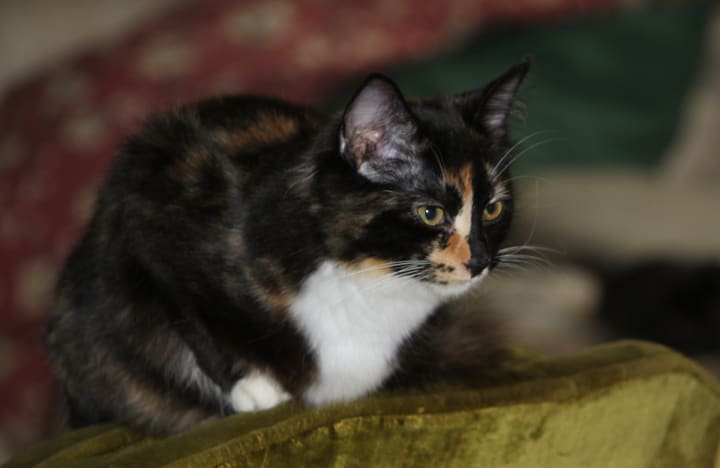 Two days later Chakotay hadn't been delivered so I returned to the farm to see what was happening. There was a hitch. Chakotay and another kitten were close friends, always playing together. The farm folk were concerned that he would be unhappy without his pal. Could I take them together? Of course I could. Since I had decided that my Siamese would be named Chakotay, naturally his girlfriend had to be Janeway.
They came to their new home and the adventure began. Wild kittens! Bouncing everywhere, leaping on tables and counters, racing up and down my hallway, crashing into my legs when I walked between rooms. Chakotay started leaping from the floor to my back to the upper closet shelves or the oven hood. He was a bad influence on Janeway who soon learned to do the same but unlike my boy, she didn't retract her claws when landing on me. Ouch!
Then they began their terrorizing via knocking everything to the floor, including a three lb. bag of apples. Naturally, the smaller items went missing under furniture. I have a list of things I still haven't found after months - how do kittens hide things so well?
Meanwhile Mama cat had her kittens somewhere. When they were about four weeks old I found them exploring the grass beside my deck. One was a calico! They ran under the deck if I tried to approach. Taming them would take time. Over the next three weeks the kittens gradually became used to seeing me sitting on the deck and petting Mama cat. They explored the deck and suckled from Mama only a few feet from me. That didn't mean I could touch them - oh no!
It was now October and the days and nights were getting cold. I didn't want their little bodies to suffer freezing night temperatures so I had to get them inside whether they liked it or not. I managed to grab calico girl and took her indoors. She hid behind the furniture and refused to let me see her. The next morning I encouraged Mama to visit me indoors and grabbed one of the black kittens. Calico gal and black kitty nursed happily. Later in the day, Mama cat walked in and out several times, encouraging her babies to follow her indoors where they could all be warm. Success at last. Everyone was safely inside.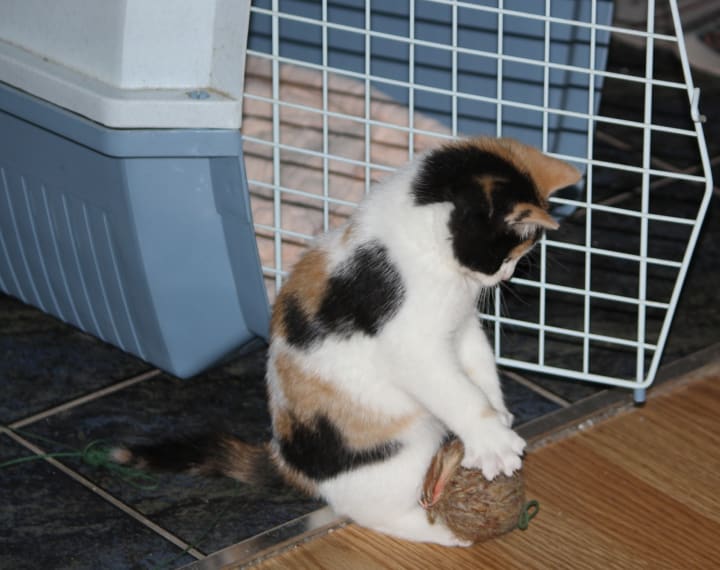 Over time, the kittens were weaned. I kept calico gal, named her T'Pel and spent time getting her and her tortoiseshell sister tamed. Gradually they got used to being carried and petted. The farm family took the remaining kittens and looked for homes while I sought a home for T'Pel's sister.
My nephew and his wife considered adopting Miss Tortoiseshell but she was wild and couldn't be captured. Much more taming was required to even get a good look at her.
After a few weeks I heard from my sister in Quebec. Her grandson Riley, my nephew's younger son, was thinking about getting a cat. We connected by messenger, I sent photos of the cute kitten. He visited to pick her up on a trial basis. Just like the last time, she would not leave easily. She jumped out of his hands, ran and hid under my bed. I sent Chakotay into the room to calm her down and was able to put her in the soft crate when she jumped on my bed. We double checked the fasteners and she was on her way to a new home. Perhaps.
Once she spent a little time in her new home, she settled down and Riley named her Stella. She has been a calm and playful kitten for him since mid-December.
My three are a rowdy bunch, always finding mischief to get into. You know those stories about cats eating their deceased owner? This is the first time I've had cats that I believe would do that. Their sharp bites on my fingers when I'm holding food is an omen. I have to keep movable items hidden lest they fall victim to kitty "knocking to the floor" urges. I continue to seek lost items. We are a happy family.
Oh yeah, my original chosen one, T'Pel - she is the sweetest, most cuddly kitty of them all.
Reader insights
Be the first to share your insights about this piece.
Add your insights