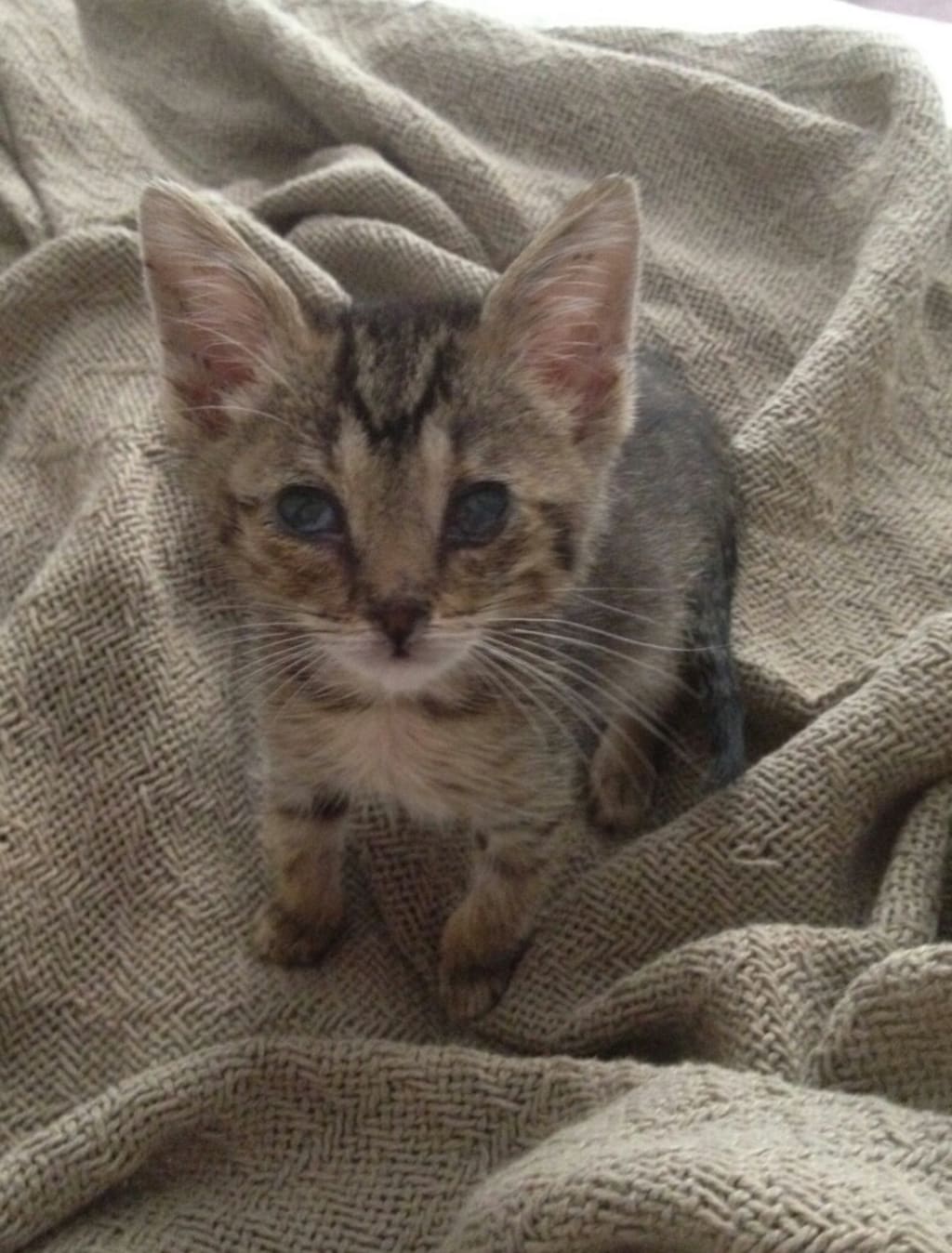 My daughter died. This statement met with several blank stares so I stopped saying it. But that didn't make it any less real. I never had a human child but I did have a precious daughter with four legs and fur. I had a cat and her name was Baldrick. She was my daughter for six and a half years. I cherish every moment I got to share with her.
She came into my life at just a couple of weeks old, yelling her head off and needing a lot of care. So, I found a doctor she and I could both be comfortable with and trust. I learned all about feeding and bathing as well as proper bedding and safe toys. I woke up during the night to prepare her bottle and make sure she ate enough and kept it down. I celebrated moving from bottle to soft foods to solid foods. The vets had listed her outlook as guarded which means they weren't sure she would make it. But she was a determined little kitten and I was just as determined that she would live.
She needed very little encouragement or direction to use the litter box correctly which was a relief. I had heard stories of cats that needed to be taught this and I wasn't sure how to potty train a cat. The first time she jumped off the bed, my heart was in my throat until she turned and looked at me all proud of what she had done. I was afraid she had shattered every bone in her tiny little body. Later she took her favorite toy and went to take a nap in her bed.
I took her for her checkups, got her all her shots and kept an eye on her growth and weight. My little girl was growing up before my eyes. I was a proud cat mom. I took so many pictures and videos that she sometimes would hide when she saw me pull my phone out.
I taught her right from wrong and had to give her a time out when she misbehaved but luckily those were rare. I had no privacy, especially when using the bathroom. She always demanded my attention. On those rare mornings I wanted to sleep in, I would wake up with a face staring into mine or be patted until I woke up. At least she came to understand me when I asked for just a few more minutes of sleep. Five minutes later she would be patting me again.
When I got a divorce, she was a discussion as far as custody and care. I got full custody. She had her likes and dislikes as far as music and television viewing. She was scared of the dark. She greeted me when I came home from work and listened as I told her about my day.
When she didn't feel well I worried. When I got the worst news any parent could get, inoperable cancer and only a few months to live, I cried in another room so she couldn't see.
My whole focus became her and her happiness. We watched the shows she enjoyed and cuddled together. I introduced her to Disney animation and she really watched the movies with interest. We listened to the music she liked. I got her some of favorite treats. And when the time came, I was with her.
My daughter died. We did not share a language beyond that of love but I was her Mama and she will forever be my precious little girl. Not every child is human but love isn't defined by blood. Grief is real no matter the loss.
If you like what you read, please consider leaving a tip to help support my writing (and my two other cats).
About the Creator
Writing can be therapy, insanity or both. Here is my mind, my dreams, my fears, my thoughts, my life laid bare to share with you. Enjoy the journey into what is at once my blog, diary and world, and don't forget to tip your guide.
Reader insights
Be the first to share your insights about this piece.
Add your insights