My Dog Buddy!
Why I like adult dogs.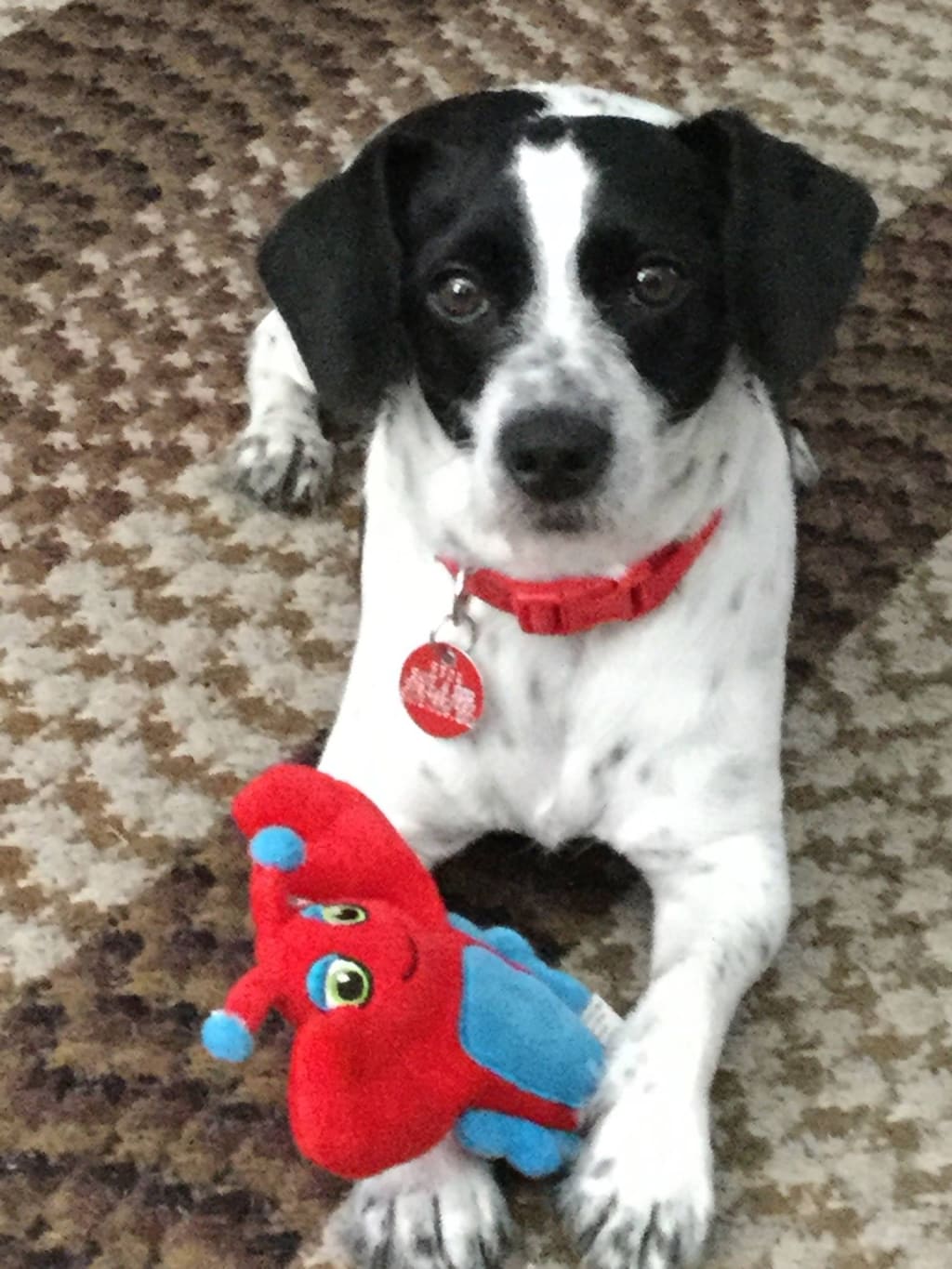 Buddy shortly after he was adopted.
My dog Buddy is a rescue dog. We are not sure how old he is, or what his pedigree is, but he's cute as a button. As near as we can figure he's a Jack-A-Bee. That's a cross between a Jack Russell Terrier and a Beagle (like Snoopy). He's fuzzy like a Jack Russell, he has a very fuzzy snout with hair that sticks out everywhere and gets in his food or whatever he's got his nose into. He also has very fuzzy feet; they almost look like clown feet. When I first saw him I could really see the Jack Russell in him. Now he looks more like a Beagle.
How did we wind up with Buddy? Well that's an interesting story. Two thousand and sixteen was not a very good year for us, Bill's Mom told us that she was sick in October or November of the previous year with Cancer, and in January, Bill's Mom passed away in her sleep. At that time we had a dog named Christine who was an Italian Grey hound. Very cute, but my husband spoiled her something wicked. She had a bad heart. Needless to say on the fourth of July weekend we lost her, too.
This was a very hard time for both Bill and I. Bill was spending so much time at his mother's house just getting it ready to sell. He didn't want to keep it, but I told him he should get it done before the next school year or it would never happen. He was thinking that Christine would be a good distraction for him. However, plans are never what you think are going to happen, it just does happen, and you have to go with the flow.
When Christine died, Bill said that he wanted to wait for another dog. I saw what this was doing to him, and I knew another dog would make him at least a little happier than with no dog. But he wouldn't budge. So I started looking at dog profiles online. They have those now. Kind of like dating profiles, only for lonely dogs in need of homes. I saw this one profile that I really liked and showed it to Bill. We filled out an online profile, and went to see that dog.
That dog was not Buddy. Bill went on the site and happened to see Buddy's profile, and he had me read it; so we asked to see both dogs. The dog that I originally had found was Roxy and she was a Corgi. I am not a huge Corgi fan, but her profile was really cute, and a whole bunch of other people say it too. There was a line out the door for her. Poor little Buddy only had us visit him, but we both liked him, and we said that we were interested in bringing him home. The next day we went back to Save-A-Dog and brought him home!
Now it hasn't always been easy. I don't know what his life was like before we got him. I don't know how many places that he has been or was taken from. He was very skittish, obviously he thought he was going to be tossed out at any opportunity. It took us almost two years before he realized that we were his human parents. That we loved him, and we would always be taking care of him. It has been a long road, and we notice that he is very territorial. He tends to be very aggressive toward people when they get up if they have been sitting. But he's OK if you are sitting down. He won't bother you.
He is also a little obsessive compulsive when it comes to his travel crate. We find that when we are packing the car, if we put the crate in the car with him in it, he is fine. Otherwise he goes ballistic. He throws the worst temper tantrum ever. It is the most bizarre behavior I have ever seen.
All in all I would have to say that I would get another adult dog through a shelter. My puppy days are long behind me now. I love my little Buddy. He is a great walking partner. He loves to go on walks. His little idiosyncrasies make him that much cuter. Bill and I love him to pieces, and I wouldn't have it any other way.
dog
My name is Angie, I live in Massachusetts.
Receive stories by Angela Lutton in

your feed