My crazy-fluffy cats: Blu & Lun
| Blu and Lun |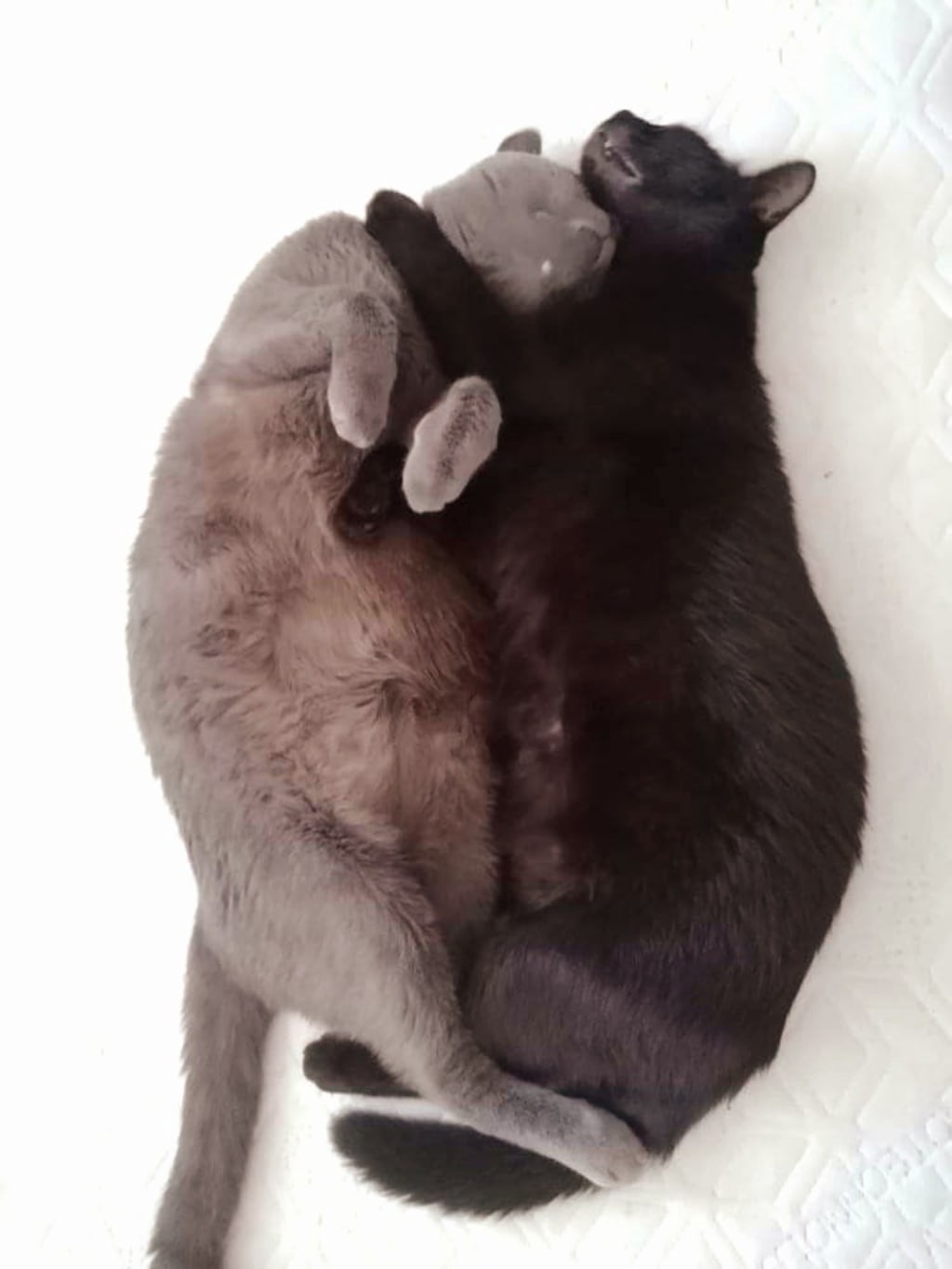 Did you ever think that was possible a real true love between a dog lover like me and two fluffy balls like them? Well, that happened…So let me tell you our story: Claudia and I adopted two cats ( at first, I was skeptical because I never 'liked' cats) and we decided to name them Lun and Blu. They become, shortly, the light of our lives, even though they can be a bit mischievous at times. But this is what makes them special. I've always been a dog lover, since childhood. I still have 3 dogs at my parents' house but I never thought I would be able to make a connection with cats similar to the one I have with my dogs, especially with my little puppy Daisy. So let me present to you two crazy 'retards'.
Hi, my name is Blu. Can I have a cup of tea?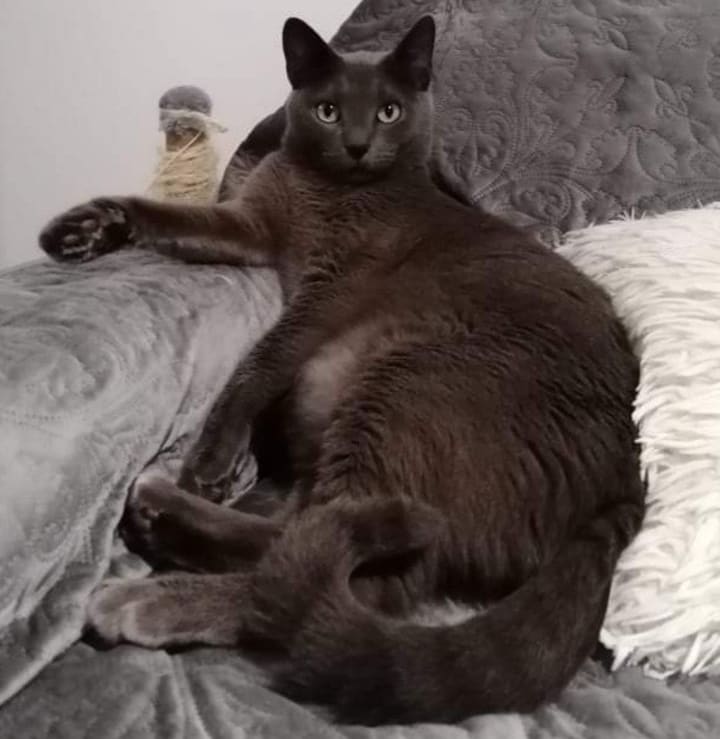 As you can see, from his pose, he thinks is a human being. I won't disappoint Blu by letting him know the truth. Or will be happier knowing he has actually 9 lives? Blu is a little ball of energy who loves to play with string. He is Russian Blue (well, now you understand why we choose this name for him-was hard :P) and I love him as bad as his sharp knives, from his cute paws, can hurt. And that is bad, believe me! He's always after me, wherever I go. I can't walk straight because of him. Maybe he is teaching me how to maintain my balance when I m drunk? Or he is hoping I'll fall down? The second one sounds more valid. He is royal and charming, patient and wise. He likes his belly rubbed and will purr (or meow) while doing so. He is very talkative in the morning and eats a lot of food. This fat butt has 8 kg…Maybe because of his big heart? Oh, sorry. Fluffy, not fat (maybe he will read my article). He likes to play with his brother or with toys by chasing them or rolling around on the floor and wrestling with them. Known for his soft, silky fur and winsome personality, Blu will surely brighten up your day. He loves to be brushed and spend time on your lap. While staying on your lap, out of a sudden, you'll feel a big rock hitting your chin or nose. Your eyes will get wet right away. This is because of his big love for you. And you'll appreciate that wild love. At least pretend. Blu likes to look out the window, which is why I bought him a window seat. He is talking with any kind of bird. Looks like he wants them to be his friends. Or meals. Not sure yet. His purr may help soothe the soul. He loves the attention, and he'll make an excellent companion for the times when you need a little comfort…and sweet pain. But love hurts, right?
Hi, my name is Lun. I am a big fan of Batman!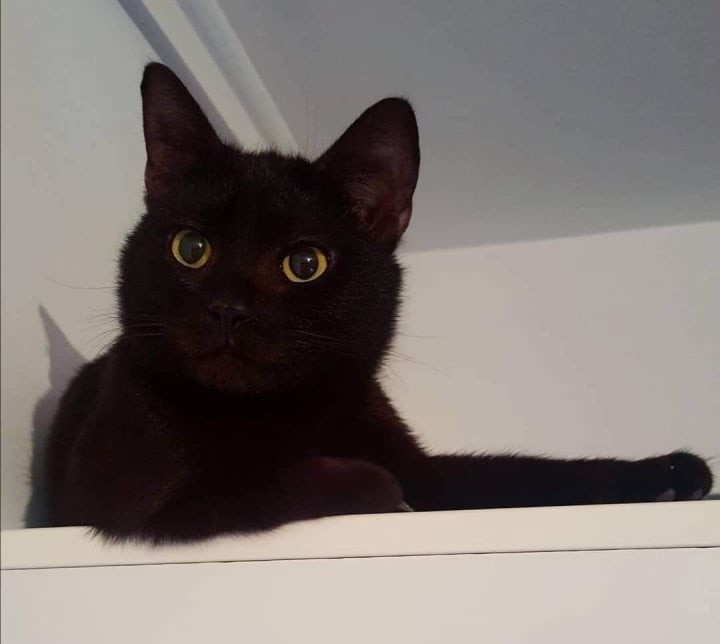 He has a sadder story than Blu. I found him on the streets, he was sick, dirty, hungry but still with a big spark in his cute eyes. I was melting right away! I knew from the first second that he will be mine. He put a spell on me just looking into my eyes. I saw his sadness, I felt his pain, but at the same time, I knew that his little heart will love me purely. He is shyer than Blu, but also more 'warm'. His purr is loud, like a tractor, but with some special softness in his 'voice'. He is not too talkative as his little brother, but when, rarely, meow you hear it as a thunder sound. His voice is special, a combination between a sweet baby voice and an old hard smoking woman voice. Sometimes is a trouble-making cat. This is because he keeps his old habits alive. He loves searching in the garbage. And of course, my heart won't let me 'kill' his pleasure and I keep the recycle bin around. Even if I have to clean after him a few times per day. We know, old habits die hard. 
He loves to hunt any kind of insect and play with them (before becoming his food). Maybe is a kind of cat cooking. He loves to sleep on your neck while you watch TV and play video games. Is enough just to touch him with a finger and he will start purring so loud! Is so sweet! The most interesting thing about him is that he likes to sleep anywhere, even on top of my keyboard when I'm working. Or especially then. He also likes to help me cook and clean up. He can clean in a second a full plate of food. Clean or steal…You know, old habits. He likes to be on top of things and is often seen "surfing" on top of doors. Sometimes, he gets hurt because he ends up slipping off, but he never seems to get hurt. Maybe he is smarter than his brother and knows he has lives left. He is a busy cat always on the go, but when he wants to relax he loves to lay in the sun in front of the window. His black fur loves sunshine and gets super hot in seconds. Sometimes I am afraid he will become a flame!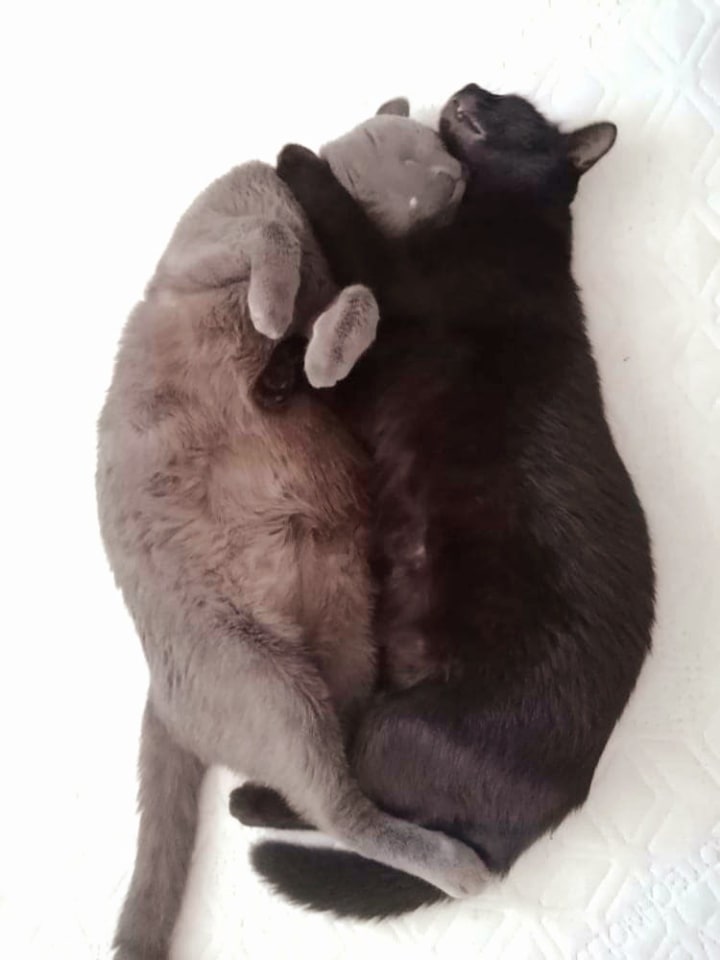 My girlfriend is the one who got me into them. I never thought I'll be able to feel this way towards them. I swear they're amazing pets! Cats make me feel relaxed and good when they're around. I can't imagine a more adorable pair than Blu and Lun, my grey and black cats. They play together well, giving each other affection and being sweet and protective towards one another (though occasionally vying for supremacy of the favorite armchair).
Their favorite activity is to 'annoy' me when I have work on my laptop like when I write articles or to steal food from my plate when I'm not careful.
Why do we love our cats so much? Because they teach us what unconditional love is. Not unconditional, but you understand what I mean…Some tuna fish unconditional love. Well, they're soft and fluffy to cuddle with. They're cute and silly and they make us smile. They're always there for us when we need them for a cozy cuddle on the couch, or when we need someone to play fetch. What could there possibly be to say about two of the most adorable cats in the world? We love Blu and Lun to the moon and back!
Sometimes I and my girlfriend feel like we forced these sweet boys, Blu and Lun to live with us because we think that we don't deserve them. People, generally, don't deserve pets. We're animals.