My Cats Are Weird
How to Deal with a Pet Cat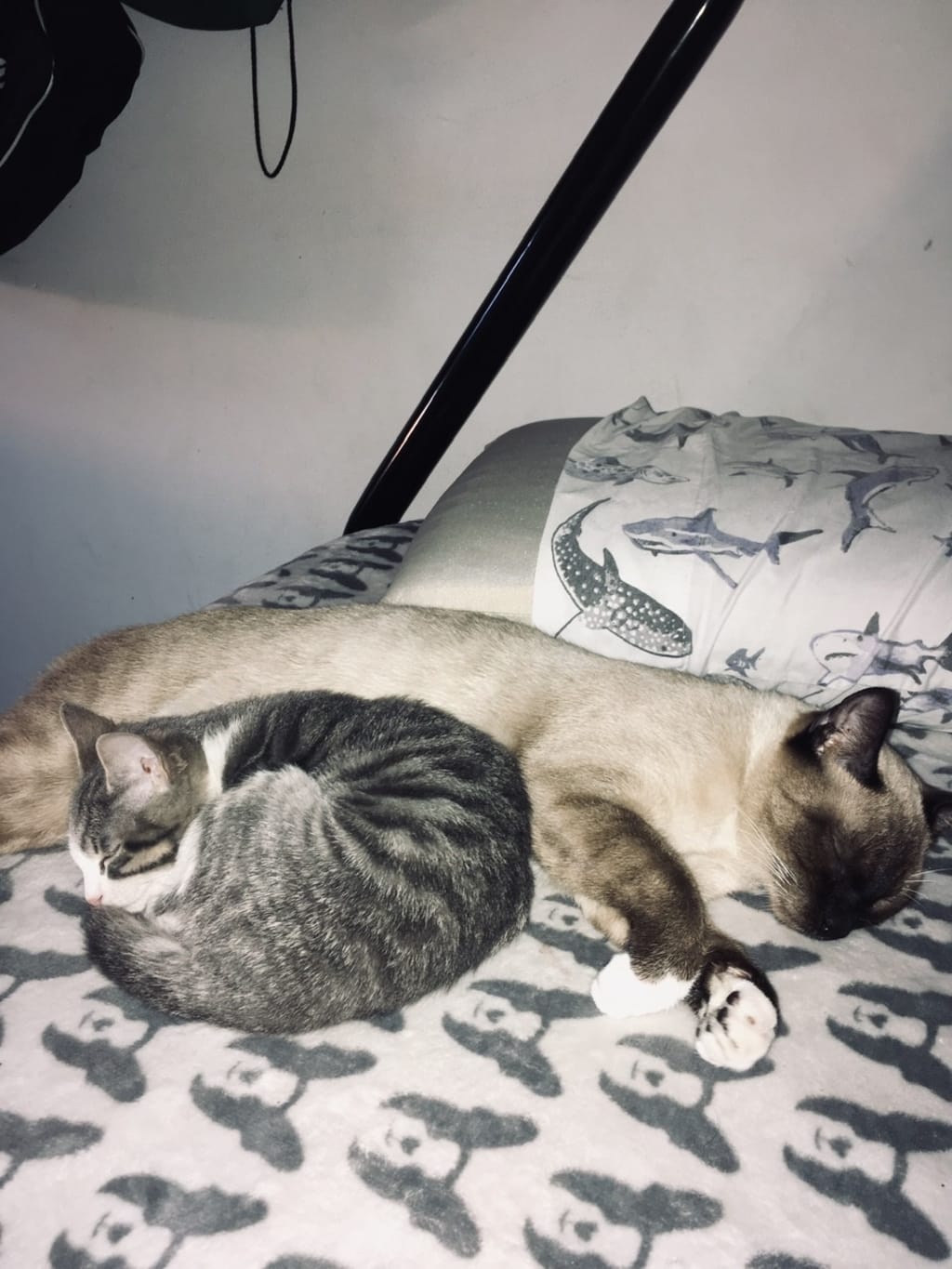 I never really understand cats when I was younger. I thought they were either mean or lazy, and for the most part I believe that to be true. For all the attempts I want to get to know these species, they either hiss at me or just walk away to sleep or eat whatever they pleased. As I decided to not have any pet cats whatsoever, my fate had other plans for the unexpected arrival of two cats. One of them named Benjamin and the other named Klyd. I thought my life just got worse, but instead I got used to them. So I'm writing this as a self-reflection that my cats can be weird, yet these are my weird cats and I love them dearly. So I hope for those who want to get a pet cat needs to know the responsibilities and lengths to have sweet cats cuddling with you and respecting you.
Now then, the first thing you need to do with a pet cat is to make sure they get what they need, not what they want. Cats are like us when we're children, as when they are young they want everything hand it to them. They will try to persuade you by these two simple ways. Their first way is to be cute. Trust me on this when they know how to act near if they have a want. They'll approach you slowly between your legs, and when you look down they start to purr as they cuddle your legs. Some pet owners are weakening from this, yet they are few who will not fall for it. If a cat sees that you're not amuse by their cuteness, then they will move to their next step. This next step is simply to meow as loudly as they can. They know a cat needs an owner's attention to get their wants, by any means necessary to them. Many cat owners will instantly do whatever they can to silence their pet cat to get what they want. After hearing the examples of cats being like a child, your action is to make sure they don't get spoiled in any way. If you don't spoil your cat to a point they will expect you to give them everything, then you're making them less bossy around you. Just give them want they need at the approach time. Because of it, you have made your cats well behaved and they won't try to bother you with their pointless wants.
Next, you need to be aware of what your cats need to entertain themselves. Let me tell you that cats love to get their little paws onto some item, or object easy for them to scratch and claw. If they see a floor mat, or your favorite shirt laying on the floor, then make sure you are ready to see ripped fabric. In order to prevent any collateral damage in your own household, give them a toy or a ball of yarn for them to play. They mostly enjoy objects that was made of fabric, which makes sense since they like to take their claws out when they want to mess with a toy. To add on to this statement, make sure you get to share some time with your cat. They'll enjoy being around you even more if you're the one to make them have fun.
Last, but not least, you need to make sure they are getting a good hygiene. So far, you need to make sure they are bathed from time to time, get the right amount of food and water they need so they won't get obese, and make sure they use their litter box. Cats are afraid of water when you tried to wash them, so you must make them feel calm and comfortable to have an easy bath. For the amount you need to put food, make sure you aren't burying them with cat food. This will make them greedy and spoil, so just give at least two third of a cat bowl. As for the litter box, many owners must be cautious if they are changing it after their pet have done their little business. Unlike dogs if they need to get rid of their bodily waste, cats' bodily waste will be close in the litter, in doing so will build an awful scent on the litter box. So just in case it's time to clean the litter box, be prepared for the worst. And with that, you will be fully ready to take great care of a cat if you decide to have a pet cat.