My Biggest Fear
To My Cat, Snickers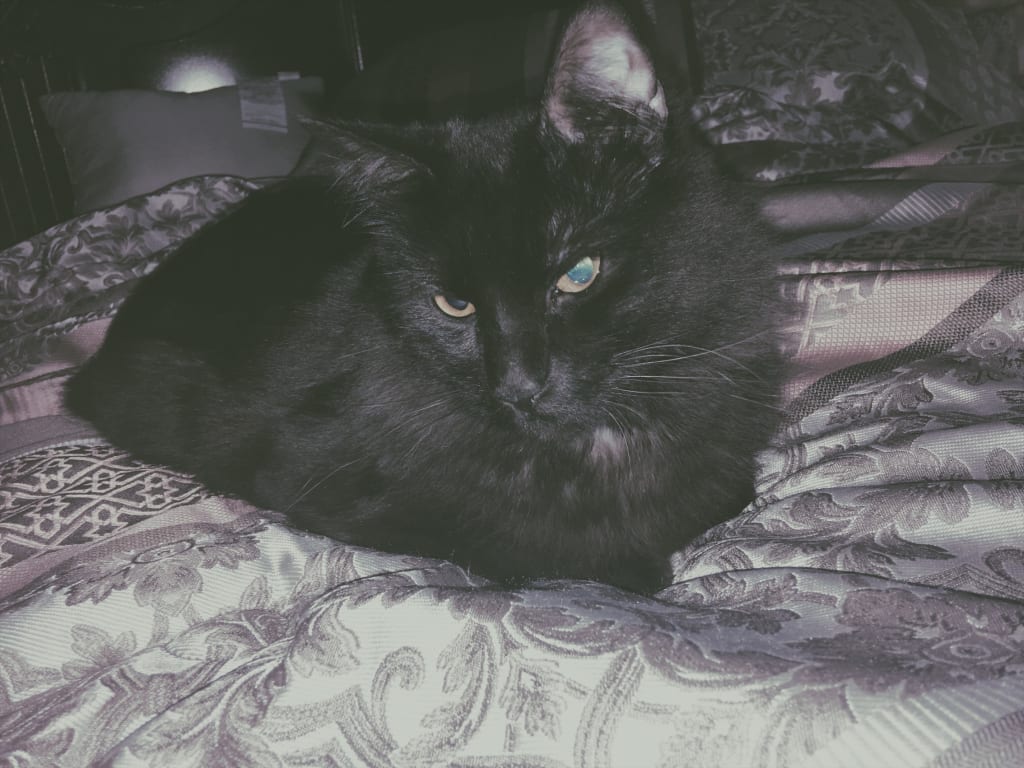 Right now I have a total of three pets, a four year old dog named S'mores, a three year old cat named Sundae, and lastly I have the sweetest one year old Little Manx cat named Snickers. Of course I love all of my animals, and they are all well taken care of, but I find myself most attached to Snickers, maybe it's the way he trots, or maybe his backstory is the reason i'm a crybaby for this cat.
Back in October of 2017, while walking to school there was a tiny, little, scrawny cat, I didn't even realize how tiny he used to be until I compared his pictures from now. He was about the size of a palm, or maybe two palms put together. There were little kids playing with him, so I assumed he belonged to them, but then their parents came outside and started telling them that they had to leave, and after that I heard a series of Pouts and cries "Can we keep the kitten?" Followed by the dad's "Sorry, but the kitten is dirty and we don't know if it's sick." I've never been so happy to hear a parent tell their kids "no" to something. They left with frowns on their faces, because they couldn't keep their fury little friend. I walked over to where the kitten was standing, looking back on this I thought maybe I should have found out if he belonged to someone, but I doubt that he did, at this point he was my kitten. I played with him for bit, but I did need to make it to class so I tried to walk away, but I realized something: with every step I was taking, so was he, like a little shadow. Speaking of shadow, that would have been a cute name, but that's beside the point. I couldn't take him to school with me, so I decided to make him follow me into some bushes that were behind the apartment and I managed to get him to stop following me. Now the only thing on my mind while walking to school is getting back to to see my new little friend.
Once i'm back at home the first thing I do is open a can of tuna so I can go outside and yell "Here kitty, kitty, kitty" like a maniac. After yelling and looking through about every bush I could, my neighbor came out and asked if everything was okay. This isn't even my cat and yet here I am panicking because I had lost him. I told her my encounter with the tiny black kitten I had befriended early, she told me that she would keep an eye out for me, and let me know if she found him. It had been a while now so I went inside and told myself that he'll show up soon, it crossed my mind that maybe he actually did belong to someone, but the way he was looking, if he did belong to someone, they weren't taking very good care of him. With that, the guilt I felt with maybe potentially taking someone's kitten had went away. Hours have went by now, every now and then I would go outside to look a little, and still no luck, and then I heard I knock at the door. It was my neighbor holding a kitten.
After going to the shelter and never finding the right cat for me, all it took was a scrawny little kitten to follow me around to find the sweetest, most playful, if even a little annoying, cat. He's only one, but I know Manx cats don't have quite as long as a lifespan than other cats so I'm going to make sure he has the time of his life.
cat
About the author
Reader insights
Be the first to share your insights about this piece.
Add your insights