Must-Have Toys for Large Dogs
If you own a large dog and are unsure what toys they would enjoy, you should check out the must-have toys for large dogs.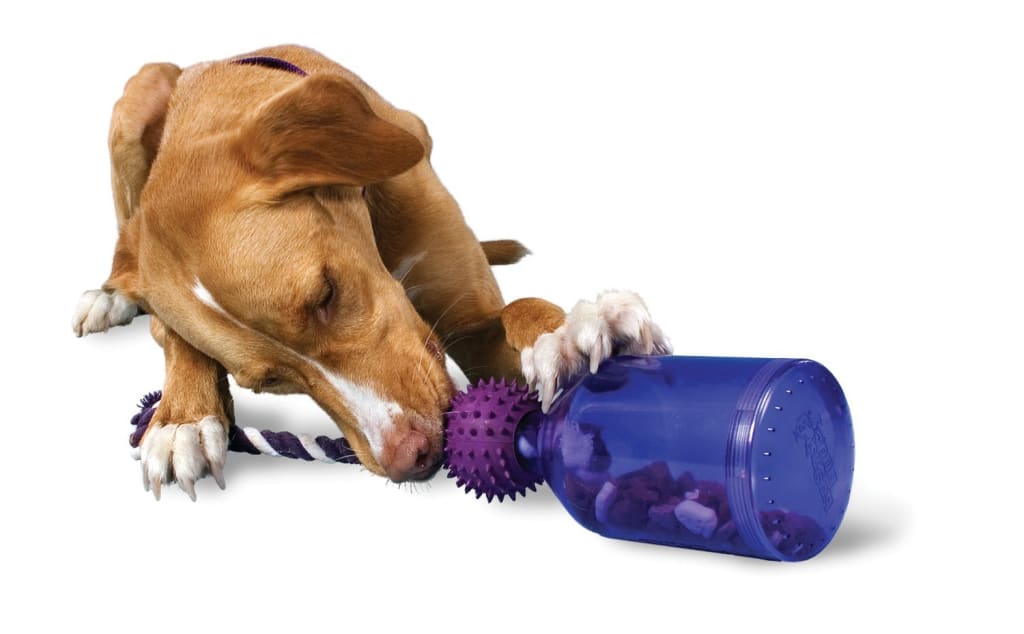 Large dog breeds, such as Labrador Retrievers, Golden Retrievers, and German Shepherds, are playful and have a need to always be entertained. It can be difficult to find the perfect toy for your dog without doing some research. Based on your dog's mentality and the size of the dog, these toys have been deemed as must-have toys for large dogs.
There is no need to walk mindlessly into a pet store anymore unsure of what toys to buy for your dog. These toys are guaranteed to keep your pet happy and occupied based on what they're made of, the noises they make, and how they allow your dogs to get treats. After buying these toys, your dog will no longer be bored. These toys will keep your best friends mentally alert and physically active.
This chew toy is ideal for a large dog who is still in the process of teething. The different textures of this toy will keep your dog occupied. Instead of biting you or pieces of your furniture, the dog will be too busy biting this chew toy. The Nylabone DuraChew Toy can help promote dental health too. Your dog will be happy with this toy because it can relieve any pressure they feel in their teeth and allow them to have fun.
This is one of the best and most loved toys for large dog breeds since it is made of tough and durable material and provides dog treats. People who already have the Kong for their dogs will be even more excited about the kong extreme. This toy will keep your dog occupied for hours. You can fill this toy with dog treats, freeze it, and then serve it to your dog. Your dog will love the challenge of getting the dog food out of the toy. Also, the frozen sensation of the food will feel satisfying for their teeth. This toy is excellent when teaching your dog how to behave and conditioning them.
This large bone is meant for rough and rigorous chewing. This safe and simple toy will keep your dog entertained for several hours. Dogs who love to chew will be overjoyed with this toy. Also, owners will no longer have to worry about their dog being destructive because this bone will keep their attention.
This rubber chew toy is meant for large dog breeds who have a strong desire to bite down hard on something. This is one of the most enjoyable toys for large dogs because they can munch down as hard they desire on the rubber and work on having good dental health. This durable toy will last dogs a while and can easily become one of their favorite toys.
This toy is specifically made for games such as tug of war. Your dog will love biting on one side of the toy while you pull the other side. This toy is made of rubber and is intended to be chewed harshly by a dog. The rings make this toy easy to throw and can easily keep your dog entertained.
This alligator toy is cute and squeaks. What more can you ask for? Your dog will, of course, love the noise from the toy and its soft texture. This is one of the most exciting toys for large dogs since the alligator has more than 30 squeakers. The dog will never be bored hearing the various noises the alligator makes. Also, the size of the toy makes it easy for dogs to chew and carry in their mouths. After dogs are done playing with this toy, they can easily lay in bed with this stuffed animal.
This safari monkey is an adorable friend for your dog and a great chew toy. This toy is one of the most compelling toys for large dogs. It is able to withstand a large amount of chewing. The monkey has a tough body so your dog can bite down hard and work on their dental hygiene. The downside of the chew toy is soft making it perfect for cuddling.
This toy is a fun puzzle for dogs to keep their brains healthy and active. The dogs need to figure out how to move the dog treats from the center of the maze to the end. It will force your dog to think more abstractly and keep them focused while enjoying treats. This is one of the most rewarding toys for large dogs because they can be occupied for hours and stay nourished by getting treats. It is important to make sure that you only put kibbles or dog food in this toy. There are some foods, such as grapes and chocolate, which are extremely poisonous to dogs. This maze will satisfy dogs who get bored easily.
This dog toy is meant for dogs who love to play aggressively and want treats while playing. This toy is designed to be knocked into walls and be hit. However, the toy is not entirely chew-proof. Therefore, you should not allow your dog to put this entire toy into their mouth and start chomping down. Large dogs will love hitting this toy with their noses and paws and being rewarding with treats.
This glow-in-the-dark ball is made of rubber and meant for rough and aggressive dogs who love to play. This is one of the most invigorating toys for large dogs because it keeps them engaged with the bright color of the ball and allows them to get exercise by playing fetch. Also, there is no need to worry about your dog getting hurt because this toy is resistant to heavy chewing.
dog
toys
I'm passionate about writing and traveling.
Receive stories by Jessica Herring in

your feed