Mr. Mystery Starts for Home
. . . and gets a new name!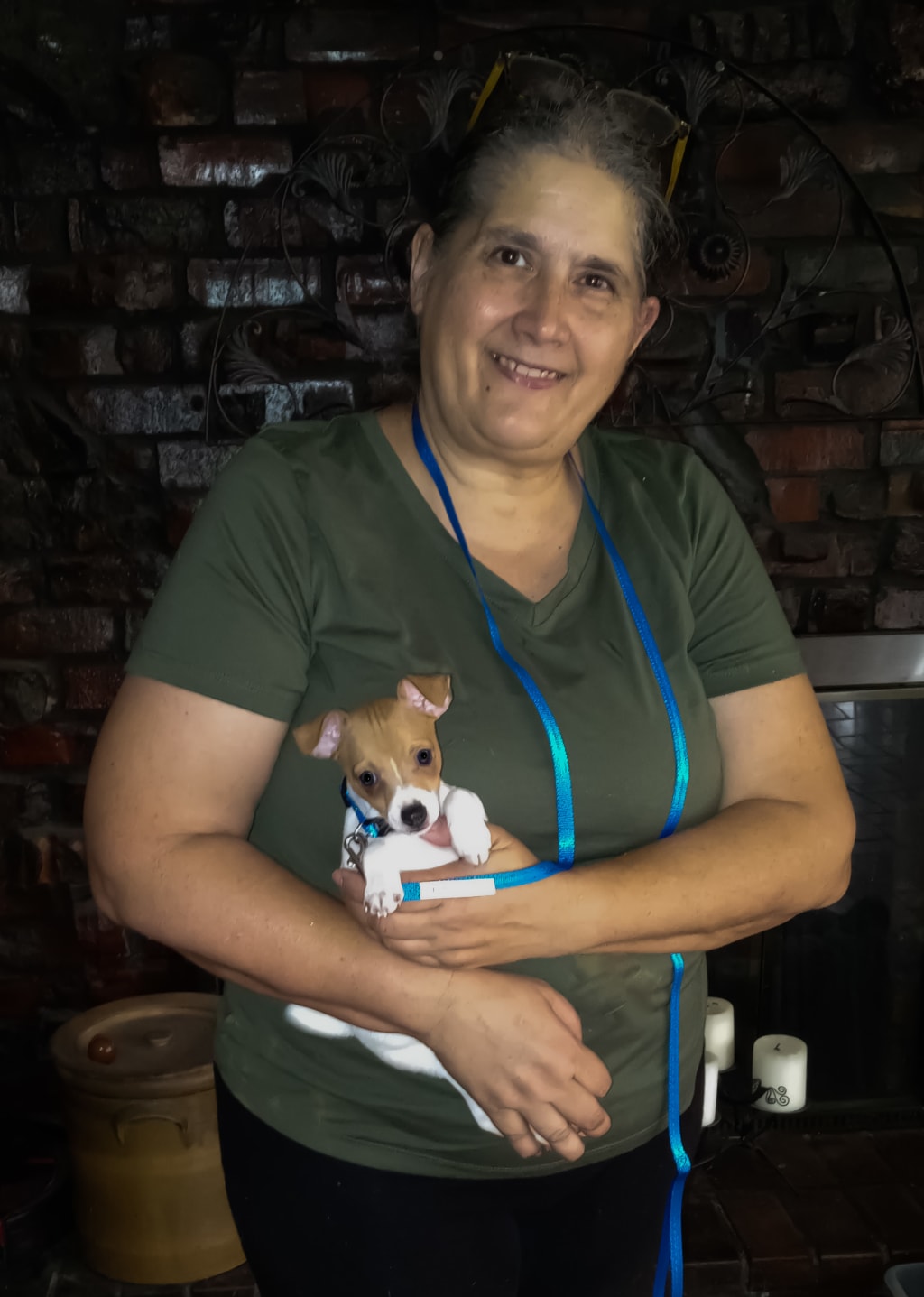 Taking a Treat
After spending almost a week at the dog show, Kathleen was more than ready to come home! She piled Mr. Mystery, Yuma, and Feather into the car and began her long drive. Any trip over an hour or two is hard on a puppy (and his tiny little bladder), so she made several stops to take him out and walk him. He walked on the lead as if he was born to it, stopping to potty as needed. Good boy! By the time she drew close to home, Kathleen was very excited about him. We customarily call each other at the end of a long drive, anyway, allowing the other person to "talk us home" so that we don't have an accident from drowsiness, but this time all she could do was tell me more about the little guy.
"He's so smart!," she told me. "He's such a laid back, quiet boy!" I reiterated how I thought "Damien" was the wrong name for him, based on everything we were finding out about him. As someone who trains her dogs for several forms of competition, it's important that I feel comfortable with my dogs' names. Not only do they have to sound right to me, but they have to carry when called out across a large obedience ring. The best names are comprised of one or two syllables and are easy to yell out at any pitch or volume. I hadn't met him yet, so I couldn't pick a name based on his responses or his behavior. I needed to wait until I got to Kathleen's house later in the week.
"You need to pick one soon," she said. "The little widget needs a name."
Widget!
"I love it! We can call him that until he 'tells' us what his permanent name is going to be," I said.
I liked it almost enough to keep it, but I needed to keep the door open in case he changed my mind. We were no closer to a registered name, but we hung up satisfied that he was going to be "Widget" for the time being.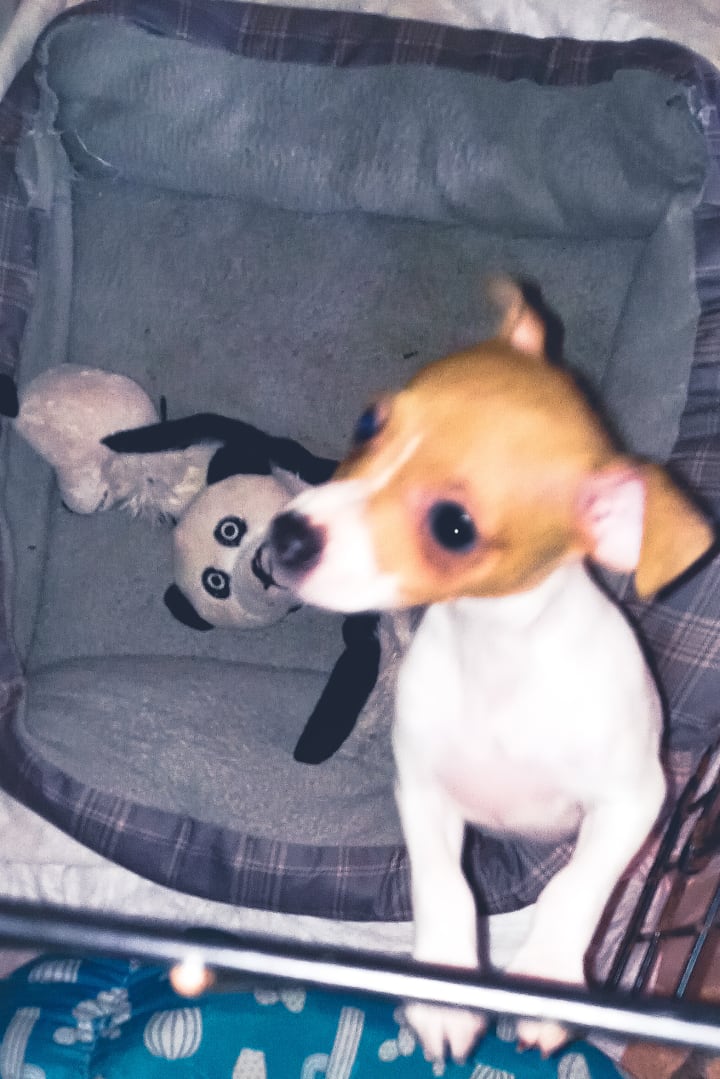 Mr. Mystery--now Widget--settled in at Kathleen's house as if he had grown up there. Because Toy Fox Terrier puppies are so small, it's necessary to keep them safe from accidental harm. Kathleen has brick floors and four adult TFTs, so she decided to put him in another exercise pen. His luxury accommodations included his own bed, lots of toys and chew treats, and all the food and water he could consume. Being in an exercise pen allowed him all the freedom of movement he could want, which was supplemented by in-the-house play time when the "big" dogs were outside. His love for untying shoelaces expanded to tugging on toys and a rope toy Kathleen put in his crate. Based on that information, I decided that one of his training rewards would be a tug toy.
Just a few days later, I found out for myself how smart, quiet, and laid back Widget was. He was a whirling dervish if left to his own devices on the floor, but he was definitely eager to snuggle and to be loved when he was picked up. He was so wiggly and affectionate that it seemed Widget was the one to run with. All that remained was the choice of a registered name and "Widget" was not suggestive of one. We decided that there was plenty of time before he would need the more-formal name that would appear on any or all of the title certificates he would earn. I could settle in for a few days and simply enjoy getting to know my puppy.
dog
About the author
I am a writer, an editor, and a writing contest judge. I have had pets all of my life, but my family did not get our first dog until I was five. I currently have dogs, cats, dairy goats, quail, and chickens on my homestead.
Reader insights
Be the first to share your insights about this piece.
Add your insights