Mr. Mystery Starts for Home
At the Dog Show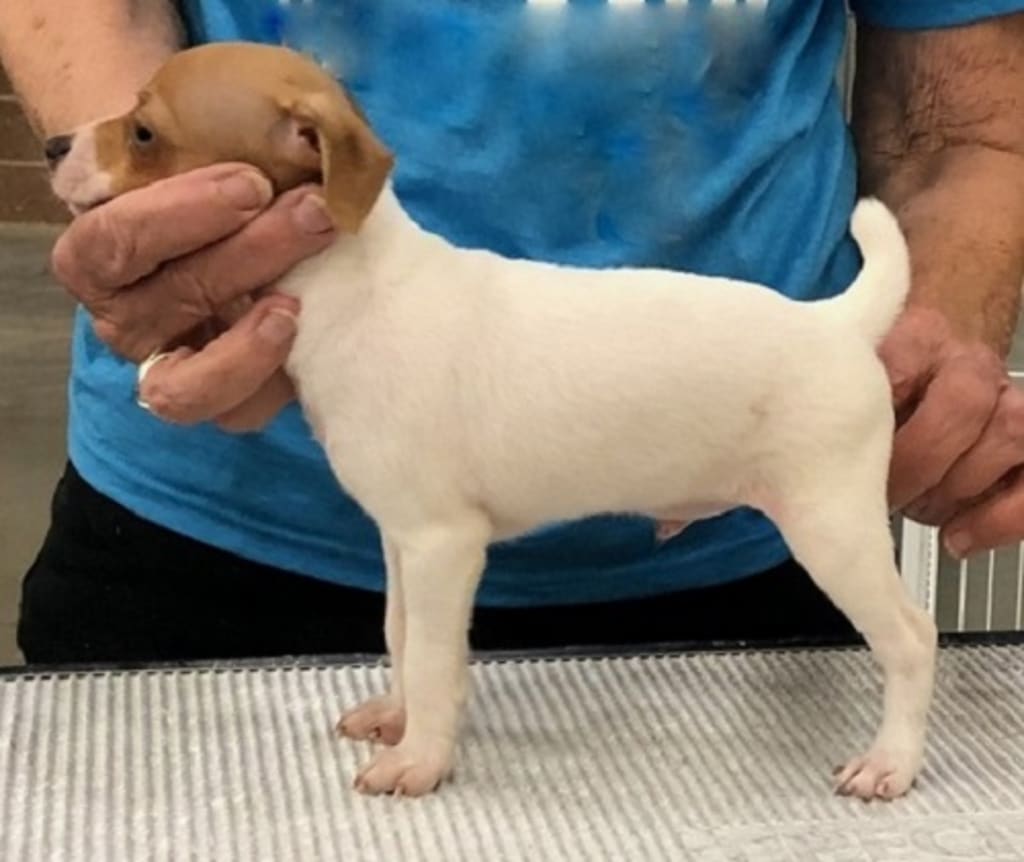 "Stacked" at six weeks of age.
Mr. Mystery was born in the upper Midwest. I live in SW Mississippi--that's a long way for such a tiny little guy to travel! My friend Kathleen, his breeder, and I devised a plan that would make travel a little easier on him. He would leave his birthplace with his breeder and would stay with her at a five-day-long dog show that was just a few hours from her home. They would meet Kathleen there, where she would spend that time getting to know him. He would then travel several more hours to Kathleen's house, where he would stay for a week. After he had been there for several days, I would go to Kathleen's house, where I would stay and get to know him before taking him home. The trip to my house would be the longest stage, but by that time we figured he would be a first class world traveler and take the new move with ease.
According to his breeder, Mr. Mystery made the several hour trip without making a peep. Step one of becoming a show dog, accomplished! Show dogs spend a lot of time on the road, so learning to travel is important. His good behavior was actually a big surprise, given that it was his first time away from his mother or siblings. His first outing as a potential show dog was starting to look really promising!
The first time in a large show hall can be really scary for a little puppy. Ideally, I would not take a puppy to a large AKC show until he was ready to enter championship competition at six months of age. My preference is to bring a small puppy out to a "non-licensed puppy class" at a UKC show. UKC shows are generally much smaller and more relaxed than an AKC show. Unlike the more serious championship competitions, a non-licensed class is essentially a puppy match with ribbons and placements. Puppies get handled a lot and get to trot around the ring like grown-ups, but with a lot more tolerance for cutting up and games when puppyness kicks in. Obviously, this situation was not the ideal one, but Mr. Mystery was unconcerned by that little detail.
Once all of the dogs and gear had been brought to "the set-up," the future show dog settled nicely into a crate. He had a grown-up companion dog for company and snuggle time as his breeder and Kathleen put everything in order in their grooming space. at the dog show for their first day of competition. Being comfortable with the activity and noise at a dog show is, of course, a large part of learning to be a show dog and Mr. Mystery he was able to simply sit back in a crate or an exercise pen and watch the world around him. Over the five days he was at the show, Mr. Mystery learned how to ignore the people and dogs walking by, as well as the noise of blowers, air conditioner condensers, and more boisterous neighbors barking. Being a good little boy, he rarely raised his voice to join in.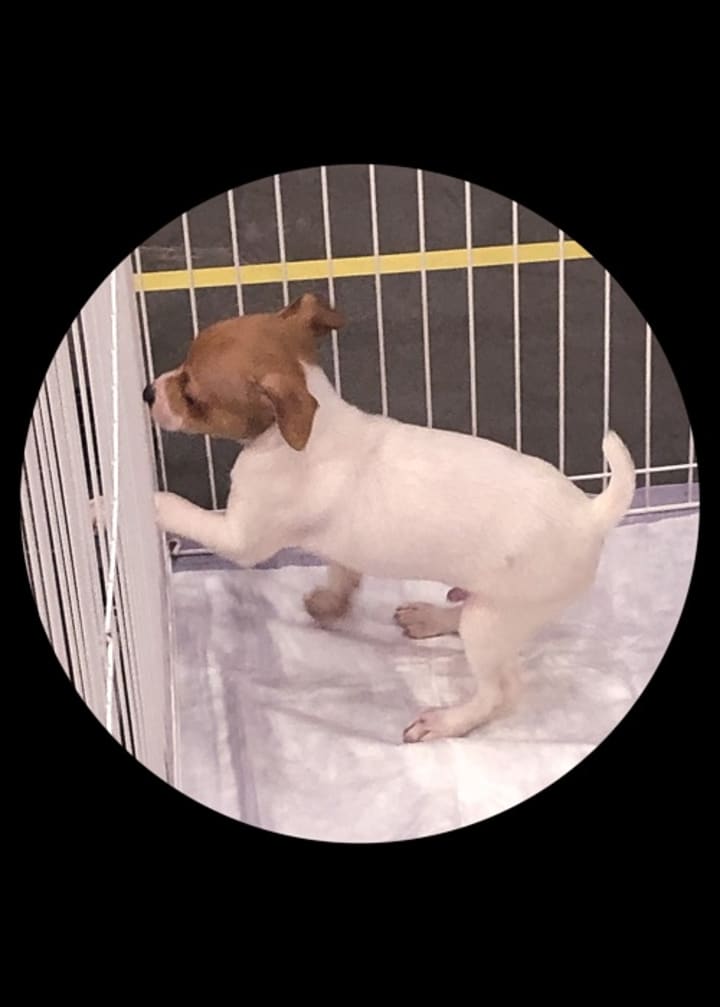 Naturally, being at the hotel is also part of learning to be a show dog. Exhibitors have to be really careful not to abuse the privilege of having multiple dogs in their rooms. For that reason, dogs are often crated unless they are being "exercised," either outside on their leashes or inside on potty pads in the bathroom. Because all of the adult dogs had had about as much walking as they could handle at the show on that first day, they were put in their crates for dinner, while the puppy was allowed to stretch his legs under two pairs of watchful eyes. As you can see, Mr. Mystery was more interested in exploring than he was in his yummy kibble and canned food dinner. Yuma obviously decided that she needed to eat faster as he trots by her crate. You never know when a puppy is going to break in and steal your food! It took several trips back and forth to and from the bowl before he was finished eating, but it wasn't long before Mr. Mystery was ready to pack it in for the night.
The good thing about being a puppy is that you get to score a lot of cuteness points. You get double the points if you're well-behaved and stay quietly where you are put. That can be difficult when you're a smart little guy who wants nothing more than to run and play and untie shoelaces while everyone is crashing and burning around you. But if you're going to be a show dog, you need to learn these things.
Good night, Mr. Mystery. See you next time.