Misha
More than just a pet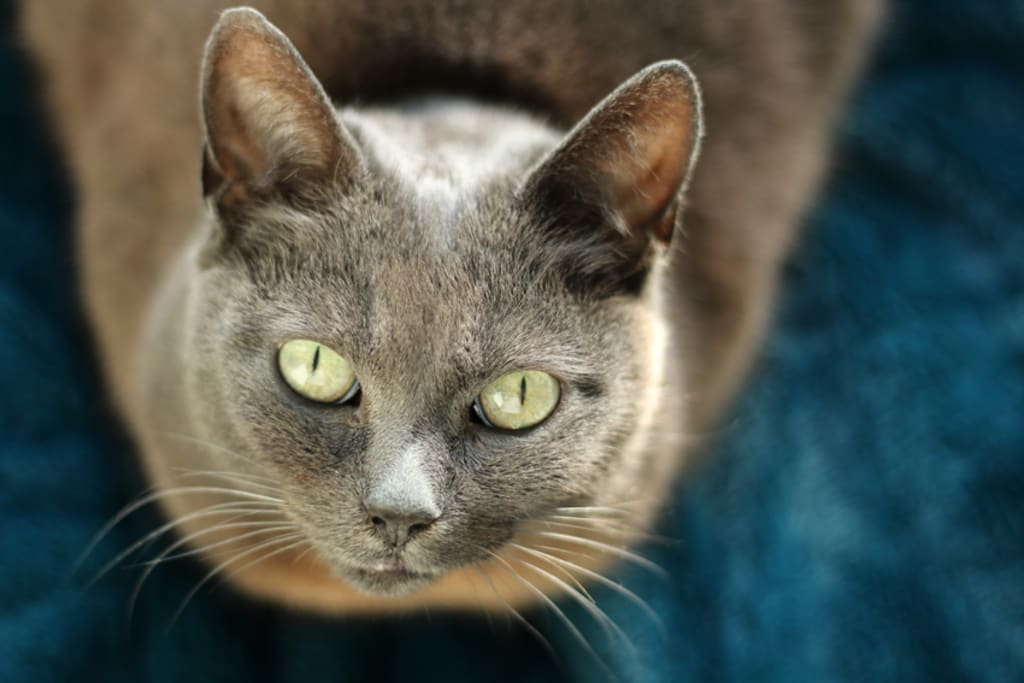 This is Misha. She is not my pet; not my belonging. She is my companion, my muse, my beloved family member.
A rescue cat, her life had a difficult start. I try not to think too much about her life before as it saddens me to think of someone treating such a sweet-natured little creature so harshly, but her fear of humans and just about everything else suggests that she was far from as adored as she is now.
Abandoned at six months with her own little brood of feral kittens, at least her troubled time was fairly brief. Terrified of even her own kittens at the time, now all she knows is love. Cats are so often misunderstood; thought of as aloof, unappreciative and incapable of love. But this gentle soul who welcomes me at the door, constantly seeks out my company, and quietly taps my hand to ask for an arm to be wrapped around her, paints a very different picture. Often she purrs if I even just glance at her, signalling that her need for me is as great as my need for her.
As a creative, this beautiful feline (inside and out) has become something of a muse. Whether languishing in a warm, sunny spot or poised to pounce, I love to capture her beauty, at times her clumsiness, and certainly her charm, through art. In photographing her over the years, I've discovered that she is full of little imperfections (aren't we all) though still perfect to me...a wonky tongue, a toe that doesn't work, and most recently the vet discovered her greatest imperfection of all, a failing heart, at just six years old.
The irony of discovering her broken heart (and hence mine) on Valentine's Day never escapes me. The cardiologist's confirmation of hypertrophic cardiomyopathy followed soon after, heralding the beginning of a new chapter in our lives, that helpfully coincided with the onset of pandemic lockdowns and the new normal of home working. Our lives were now to revolve around daily medication and therefore a battle of wits. It's not claws at dawn, thankfully, but more Misha's reluctant conceding to the inevitable: enduring ten minutes of a rather unpleasant tasting cat treat.
For all her sweet and easy-going attributes (this is a cat who never does her business anywhere but her tray, and is amazingly co-operative), prizing her jaw open is virtually impossible. The prospect of using a pill shooter was abhorrent to me anyway – after everything she has been through, it would surely only traumatize her further. However, knowing that cats are fastidious about grooming, I decided that crushing the tablets into a yoghurt cat treat and smearing it on her lips might just work. Surely she couldn't resist the urge to lick it off? And dutifully – though often with a disdaining moan – she does. On good days, fairly quickly; on bad days, painfully slowly.
And it is indeed painful for both of us. I hate having to put her through this daily torture but I know it is a small price to pay for her to lead a relatively normal life. Her cardiologist believes she is blissfully unaware of her fragility, as do I. Over a year down the line, and she is still responding well to the medication. The joy of seeing her brief moments of kitten-like behaviour, as she tears around the house or across the garden, confirm that the little daily 'inconveniences' are worth it.
The pandemic has at least afforded me more time with her, and I cherish every moment. I can't imagine life without her, and yet I know life without her will come sooner rather than later. But for now, as long as I can hear her little engine humming and I see that loving look in her eyes, I know in that moment, at least, all is fine.
cat
About the author
Jazz singer, songwriter, photographer….creative. I like to find the artistry in the everyday, and capture, explore, share in whichever creative medium calls at the time.
Reader insights
Be the first to share your insights about this piece.
Add your insights