Mimo
A sneaky little kitty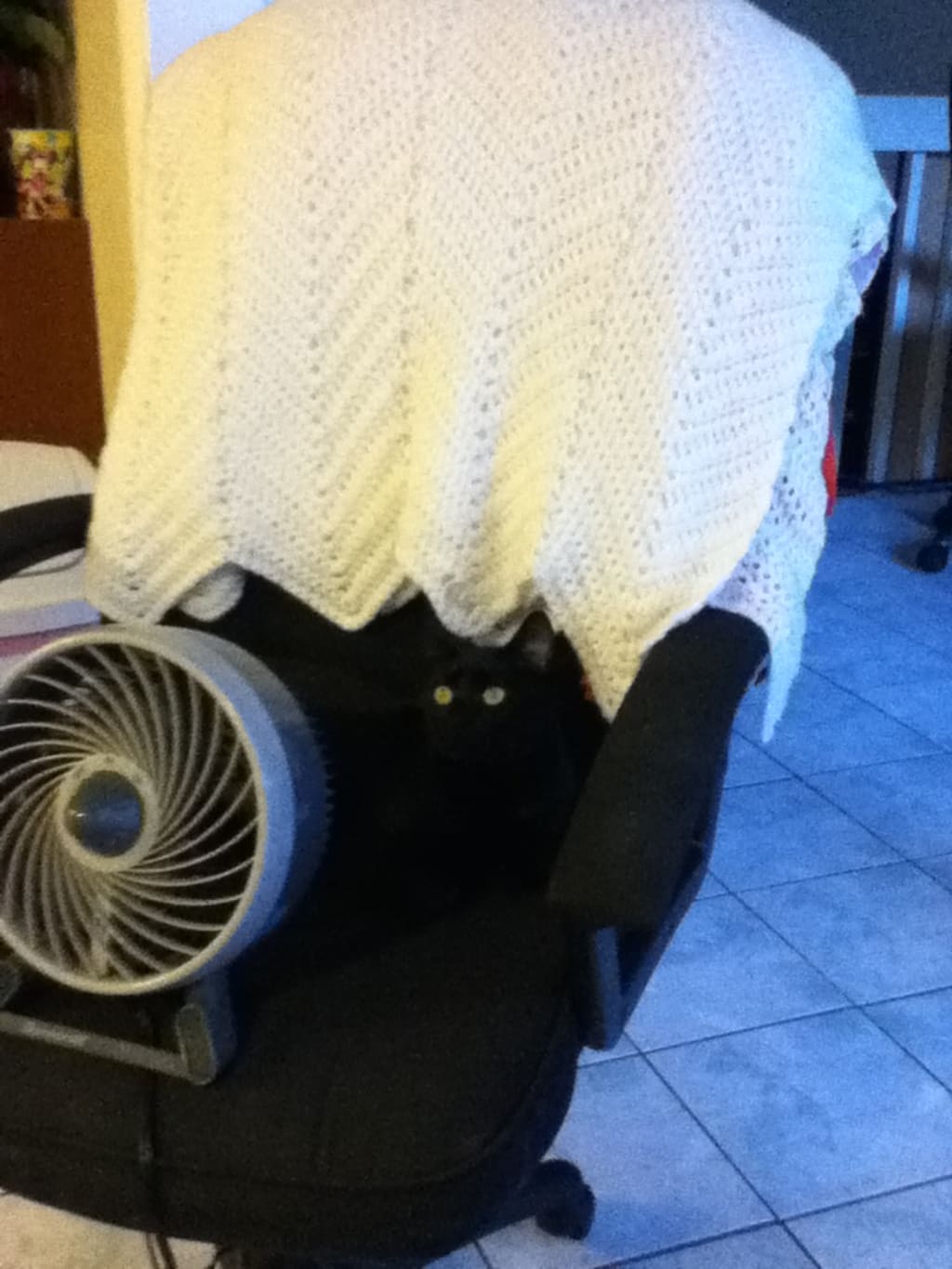 Have you ever had trouble trying to find your cat? If so, you're not alone. I have trouble finding my cat all the time.
Mimo is great at hiding. I got Mimo when she was about a month old and I was starting my freshman year in high school. She was so tiny, I could hold her with my hands cupped together. I adopted her from a shelter. She was a gift for my birthday because my first cat had died several years before and I was ready to have a cat.
It took years after my first cat died before I could think about having another cat without crying. Losing a pet is always hard, but my first cat died a few days before Christmas when I was in 6th grade, and I couldn't take it. It was a bad year for me.
When we went to the shelter to find a cat for me for my birthday, they told us that all the kittens were in one room and they could only have so many people in there at one time. So, I got to go into the cat room and look at all of the little kittens. I picked up a little black kitty with bright yellow eyes. She just watched me, and eventually she fell asleep in my arms.
Eventually I had to set her back down very carefully so that I wouldn't wake her up. All the kittens in the room had numbers instead of names. We looked at the numbers and found hers. We went through all the paperwork, and then they brought me my sweet little baby kitten.
We were living in Hawaii at the time, so I decided to give her a Hawaiian name. We got her home and I found the Hawaiian dictionary. I couldn't decide what to call her, but eventually I found a name that suited her. Mimo is a Hawaiian word that means gentle or soft. Mimo is usually very gentle, and she is incredibly soft. The name was perfect.
Mimo loves to take naps in random and unexpected places. I would ask my family members where my kitten was and they would say, "Good luck finding her." So, I would look around the house. One of her favorite hiding places was the square napkin basket on the table. It was just big enough to hold napkins and she fell asleep in the basket on the napkins. Usually her little head was resting on the side of the basket and that was all you could see of her.
We had a table that could be pulled apart and add a leaf to so that it could fit more people. That meant that there was a little shelf just beneath the table's surface and my little kitty found a way to get on it. She fell asleep there. It took me a while to find her under there since it was so hard to see that spot.
We also had some fake flowers out for one of the holidays. It was in a plastic pot and had a bit of extra space in it. One day I looked over at it and found that the flowers were staring at me. The picture above is another of her favorite hiding places. One night I was home alone and I was trying to find my kitty. I walked into the office and found my moms office chair was staring at me with bright yellow eyes. It was creepy but also adorable.
Mimo is now 8 years old and continues to hide in random places, including sleeping on a giant teddy bear, on top of the refrigerator and inside cloth reusable grocery bags.
If you enjoyed this story, please leave a tip so I can keep getting her favorite cat treats and toys.
cat
About the author
I live in California and I am disabled. I have a number of medical conditions and family issues. The things that always help me get through everything are the different crafts that I do, writing, and the rest of my family.
Reader insights
Be the first to share your insights about this piece.
Add your insights