Meet Jayda!
Service with a Smile!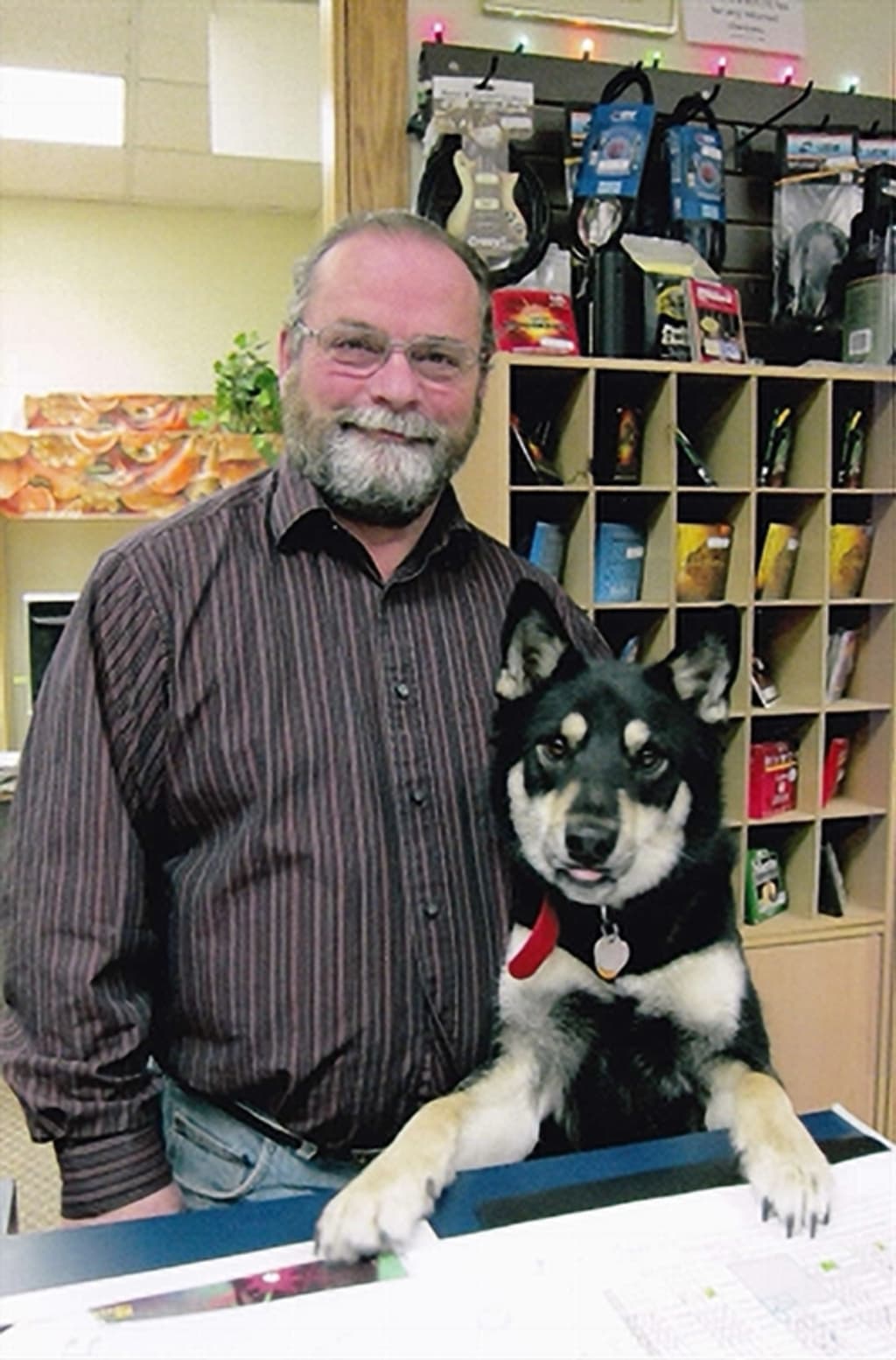 Jayda loved interacting with students and selling music accessories!
Jayda was born at our local Humane Society in January 1998. Her mom, a purebred Chow Chow, was chained to a pole outside of the facility on Boxing Day a few weeks earlier. Jayda and her five siblings were all adopted the very weekend they were able to leave the shelter. Jayda was the only pup who didn't look like her mom; she was the tell that her pureblood mom had a secret rendezvous, likely with a shepherd cross.
Jayda's human dad and I owned and operated a music school and store where we spent most of our time. When we were there, Jayda was there, right from the start. Being only 8 weeks old, she was instantly accepted and adored by everyone who came to Mill Woods Music. When students came for their weekly music lessons, some would arrive early so they could play with Jayda before their lesson, others were reluctant to leave the school without having had a little fun time with her after their music making.
Jayda was a great teacher herself, happy to demonstrate many of the antics that owning a puppy entails – shredded pee pads (spread on the floor just in case), tipped over food and water bowls, disembowelled stuffies, and most especially, how funny it was to simply ignore mom and dad when they worked on her obedience training. Parents of students encouraged us to tell their children everything that was involved with puppy care, wanting us to make it clear to their children that it was a responsibility to own a dog, not just fun and games.
Jayda was a smart girl. After a time, not only did she know our routine well, she also always knew which day of the week it was, which teachers were coming to teach that day, and which students would be there and when. She would anticipate the arrival of people she had the most fun with by standing alert behind her gate and staring at the door, ears and tail erect, just before they were due to arrive. Jayda also respected the fact that the voice teacher, for example, was a little afraid of her so she stopped standing at her gate before she came into the school, seeming to understand that this woman would settle more comfortably in her teaching studio if she didn't say, "Hi, Jayda!" like most others did when they arrived.
Once, the store was visited by a trio of shady guys who were more interested in where our surveillance cameras were than music itself – we sold a lot of musical instruments. Jayda stayed very quiet, alert and observant the whole time they were in the store but made sure they did not see her. It was Jayda's uncharacteristically quiet and keenly vigilent behaviour, as well as the bristling hair on the back of her neck, that alerted my husband to pay special attention to these fellows.
Jayda had a big and important role in our music school. Sadly, this part of her music career ended when she was five; the business closed, and her human dad left us. Music lessons, however, remained an integral part of her routine as I continued teaching out of our new home.
Jayda quickly learned that when I said, "kids are coming", it was time for her to settle in my office behind a new gate where she could keep her eye on everything and continue to interact with the students who enjoyed her company. Not having her human dad around made her extra attentive when new families came to the home for the first time. She was vigilant about my protection, making it a priority on her list of music lesson duties along with sharing her stuffies with her favorite students and howling uproariously whenever children brought their school band instruments to lessons to show me how they were progressing with these. She especially loved singing with one girl's bassoon – loudly! I'm sure their duets were also heard by the neighbours, not to mention the fits of hysterical laughter by all who had the privilege of hearing these performances up close and personal.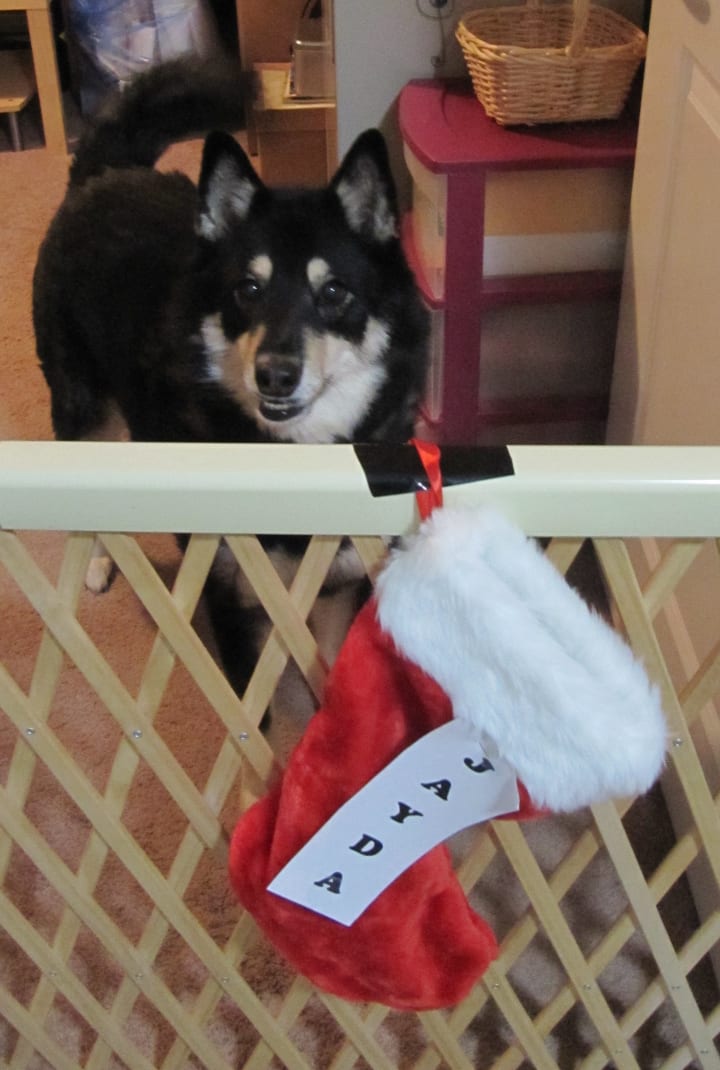 When the coronavirus pandemic turned everyone's world upside down, Jayda and my routine changed as well. Students no longer came to the home studio, instead lessons were conducted online. Once again, Jayda memorized the teaching schedule. Now though, she was very happy to be able to lay at my feet while I taught, rather than be behind her gate. This was important to me as well because by this point Jayda had developed kidney disease and she was able to relax during lessons rather than be attentive to my safety. She continued to guard me from the cat's interferance during lesson time but that was more of a family dynamic than her work routine.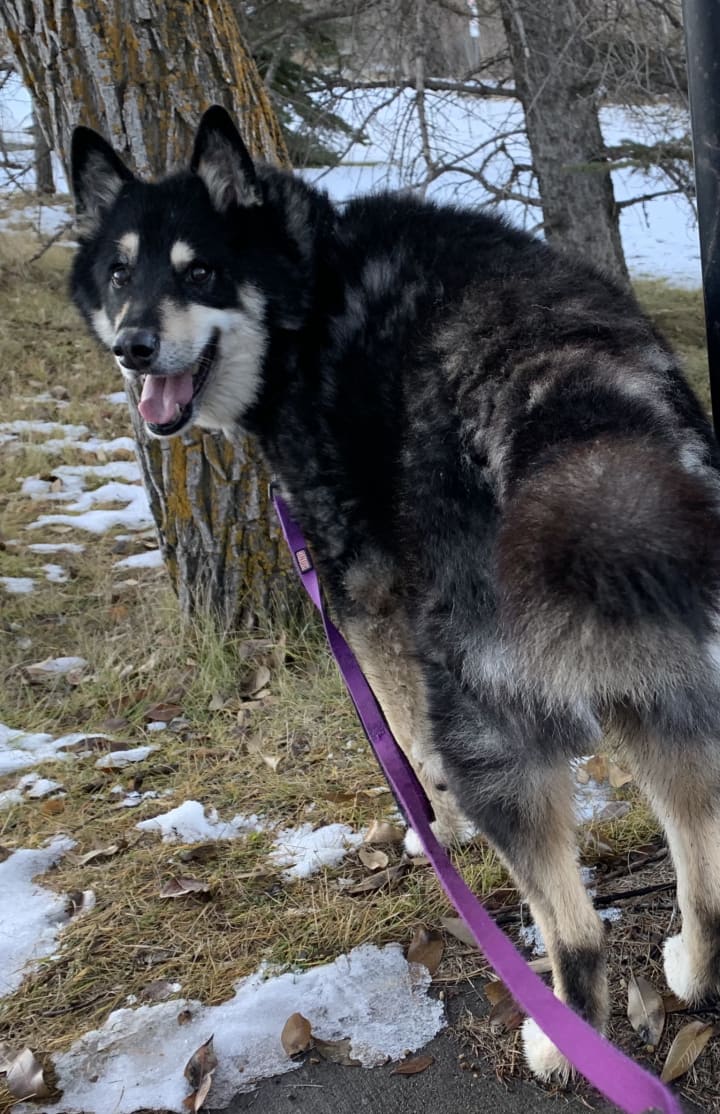 In September of 2020 my furry teaching buddy, personal bodyguard and dearest friend succumbed to her illness and my life was forever changed. I didn't fully appreciate how rich my life with Jayda was until my first morning waking without a crimp in my back from being nudged to the edge of the bed through the night to accommodate her sprawling comfort. Clicking nails on the floors and metal tags jangling against water and food dishes no longer fill the house with her special music. Going for walks alone were unbearable for a long time. I still sometimes catch myself walking with my right arm slightly lifted in front of me as though I'm being pulled by her joy and exuberance for every new adventure life had to offer.
You really don't know the full extent of love until you've shared your life with a dog, especially one with a soul – and smile – as beautiful as Jayda's. This picture of her is how I imagine she will be waiting for me at the edge of the rainbow bridge when it's time for us to be reunited. I'm sure she'll be eager to show me what lays ahead.
dog
About the author
Reader insights
Be the first to share your insights about this piece.
Add your insights