Meet Dottie
Four-Legged Creatures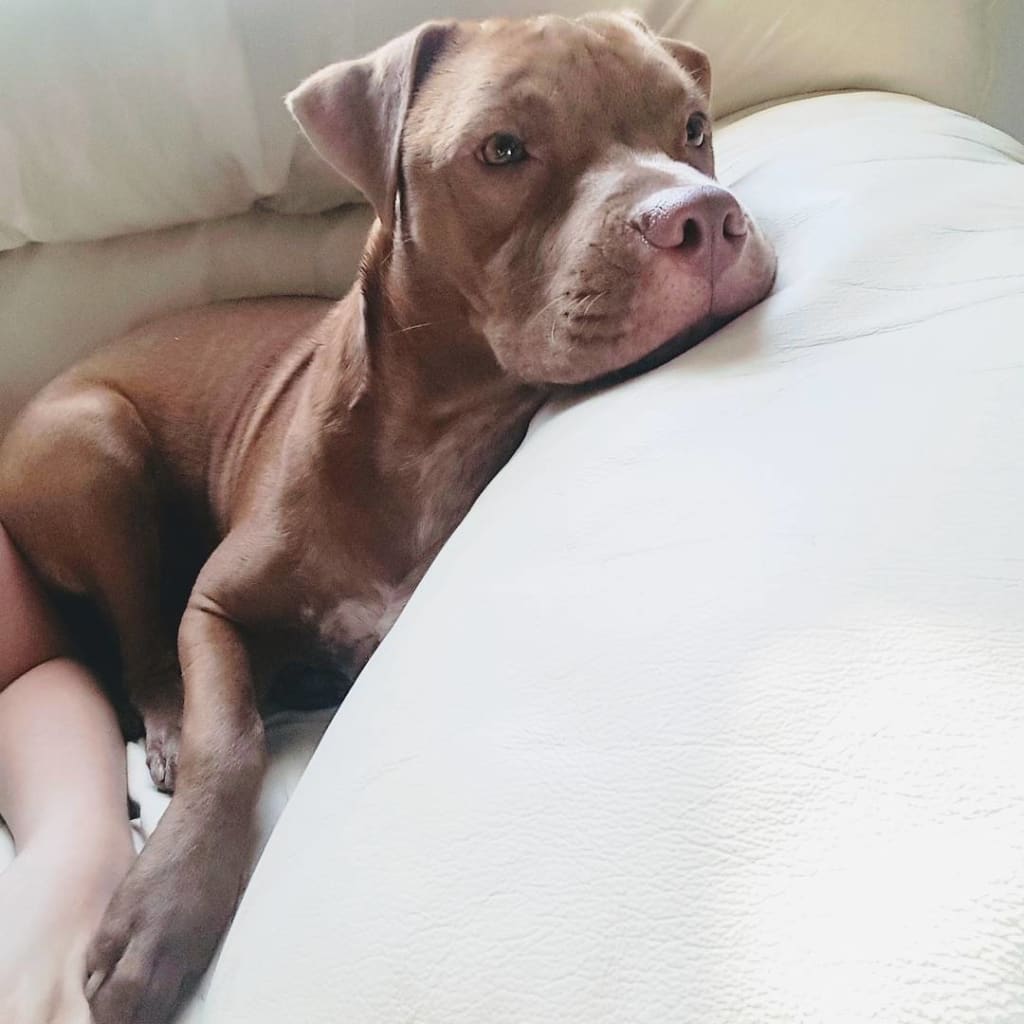 Anxiety. To say the least it's the most powerful emotion any single person can ever feel. Sometimes even unbearable. Four-legged creatures can help any person who feels trapped, anxious and down right sluggish. Everyday I come home and embrace the power of what it feels like to hug this sweet girl. MEET Dottie, my best friend and ultimately the one four-legged creature I've ever owned that can make a bad day, a beautiful one. Dottie was a rescue that came from a seriously down-spiraled environment and was taken in by a family friend, who ultimately ended up letting me adopt her. Dot's almost a year old and we've only had her a couple months, she's loving and probably the biggest teddy bear of a Pit bull you'll ever meet. IF you're anything like me then you'll understand what it means to find a best friend in a dog who has completely changed MY life around and my spouses.
To say the least, I wanted to share how amazing it is that a dog can cure bad emotions, one lick on the face after a long day and BAM... it's like that bad day never existed. I can't help but express how beautiful it is to be able to have a pet that not only came from a bad family and was on the verge of probably ending up homeless, but how awesome it is that she turned my world upside down along with hers. Believe it or not, it's ok to sit and chat with your pet... they may not respond verbally, but they understand you in ways that maybe some humans don't. Life is full of unexpected events and maybe Dottie coming into my life was a blessing and for her she found a HOME and FAMILY that treats her with love and takes care of her. SURE, I may sound a bit crazy for writing an entire post on how my dog changed my life, but wait until it happens to you. This 80-pound beauty is actually licking my hand as I'm writing and not even knowing how her nature has affected my attitude in such a powerful way.
To make this story seem understandable then you have to know the nature of who I am. I'm 28 years old, a bakery manager for a high-end grocery store and a new homeowner. Ive struggled with anxiety for almost three years now, and as life goes on I find myself stressed about the little things in life that I have no control over and the things I do have control over...seems like the term "No Time" takes over. My better half has been a master of trying to understand me and why It seems like I'm always down. I KNOW you're probably thinking, "28 and stressed." I can tell you the many things of my life but I'll save that for later. That's why getting a pet became the ultimate answer in my life. I NEEDED stability and Dottie needed me, probably can say I needed her more.
I decided in 2018 I'll be adventuring Dottie around and letting her see the world. It's a shame that pets stay cooped up in a house 24/7, that they don't get to see the world like we do and maybe while I'm out... I too can catch a break and see life.
WE'RE ready for the adventure.
About the Creator
🐵Dog mom, Bakery manager, life seeker, horror film lover, taken by soul mate, adventurest, foodie to say the least, seeking out long term happiness. Blessed. 🙃
Reader insights
Be the first to share your insights about this piece.
Add your insights