Love More Dogs
Finding joy in four legged fur babies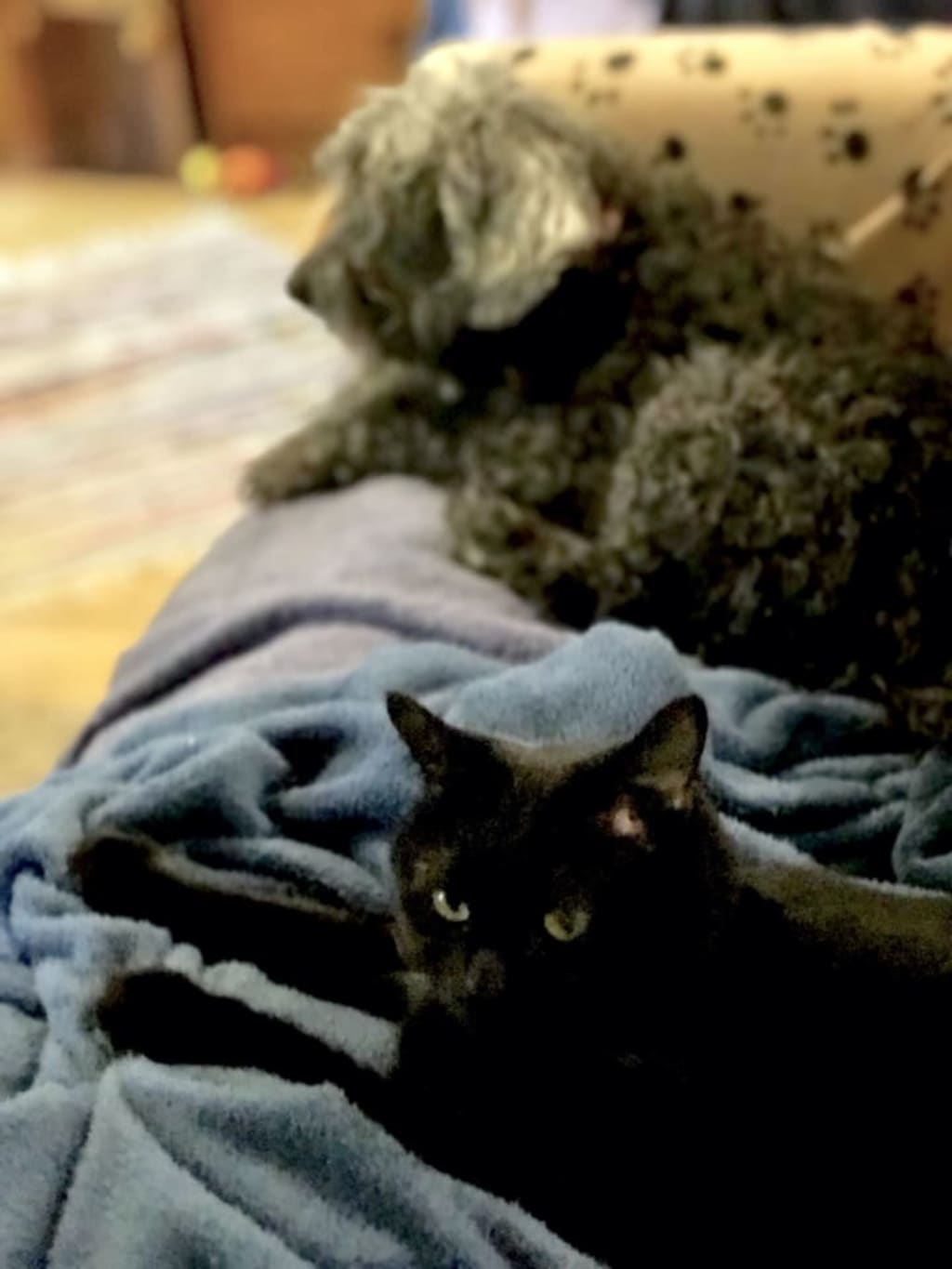 Missy and Clara, 2018
We farewelled our beautiful rescue dog Missy last year. She'd had a good run, and was dearly loved for the many years she spent under our roof.
We've said goodbye to much-loved fur babies before, having shared our lives with numerous cats and dogs, and not having the a canine two legged variety to pamper, the thought instantly turned to further adoption.
However a lack of money due to the lack of a job, combined with my existing mental health condition (which is what caused the lack of work - thus creating a vicious cycle) culminated in the decision to put off adopting another dog until our financial position improved.
Dogs cost money that we couldn't really afford at the time, and the potential for me to earn money from my writing made the future look bright.
Then came the triple hit of 2019/2020.
Dog Day Afternoon Turns To Night
What appeared to be a year with a lot of potential turned into one of the strangest times of all our lives.
As the new year dawned here in Australia, people with asthma couldn't go outside because of the poor air quality caused by rampant bush fires. In Sydney the smoke got so bad it set off fire alarms inside buildings hundreds of miles away.
Flooding rain then raged up and down the east coast (although the longest drought in recent history continues for huge swathes inland), and while the welcome rain helped extinguish the last of the fires, they brought their own misery.
This double whammy paled compared to the impact of COVID-19. The disruptions caused by society doing everything possible to contain the virus spreading has shut down the global economy, and made EVERYONE stay inside.
There has to be a silver lining in all this sorrow.
It made me think of Missy and how ecstatic she would be at the situation. Having the humans around ALL DAY to pay her attention! Tummy pats! Walks! Attention! Doesn't matter what kind - just ATTENTION!
Our little black pussy cat Clara couldn't give a sh*t. She's a cat. That's what they do. They're aloof unless they suddenly deem you worthy of their time. Unconditional love for a cat involves a food bowl and a slave to clean the litter tray.
A dog's unconditional love is just that. Unconditional.
There's joy in both pets, and in all honesty, I am more of a cat lover. But I still find myself looking behind my chair every time I get up to make sure I don't knock a sleeping dog who has fallen asleep behind me while waiting for playtime.
That's where online sharing of other pet lovers fur babies have brightened my days recently. Being locked indoors and having internet is the perfect time to venture into the lives of others thanks to social media.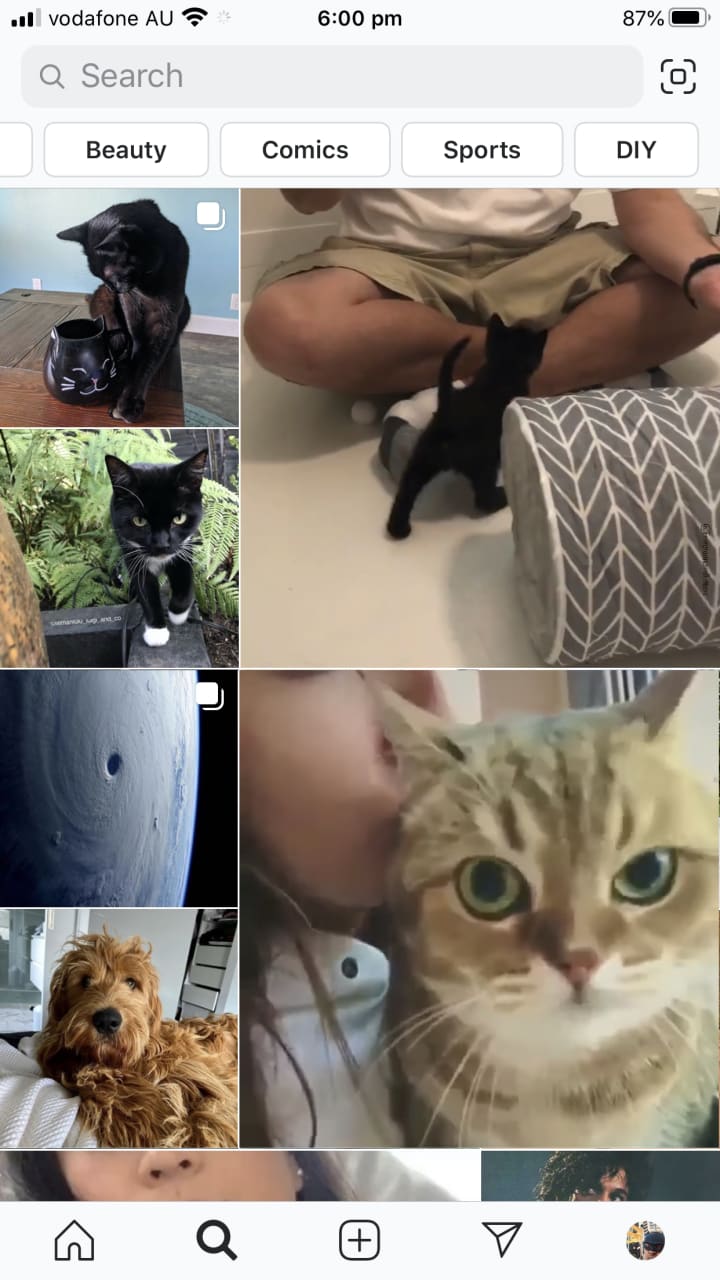 Side-note: Do you think Instagram has algorithms that look at what you like / search for to make it easy to find more? Huh? Do you think?
My Extended Fur Baby Family on Instagram
Aside from numerous black cat accounts, I've recently started following numerous doggies of the most gorgeous natures...
Wolfie is an adorable ball of fluff from Barcelona who has been watching the lockdown from his Juliet balcony. He likes dress ups (no, he doesn't) and running up and down his apartment's hallway - preferably jumping over things. While his owner thinks he needs a haircut, I think he's perfect as he is. Since I found his account, his daily antics have brought a smile to my face, and I really feel he's part of my family.
I was a little concerned at the subject matter Wolfie was thumbing through in this post, and suggested perhaps something more appropriate like The World According to Bob. His human replied that "Up next is How to Get Away With Murder".
Wolfie's human must be massively relieved that he is not a cat with that next on the reading list!
River Dog Jenny is super lucky - she lives by the banks of a river and will often go out on the boat for adventures ... she even goes kayaking! She has a big back yard and there are lots of local walking tracks for her to exercise on. Oh, and there are lots of squirrels nearby to chase. Did you know she loves squirrels? You will! She loves life and is a great reminder to enjoy every day.
This video is one of many that shows the love Jenny has for her humans. Her joy is contagious, and I'm making a royal decree that there should be more of it. MORE JOY!
But why only follow one dog when the world can come together and share their Dogs Working From Home? You've got to jump into the stories of this account to see the best of these pooches. I'm sure there are a lot of bosses out there wondering if their workers are using their time productively, and this account is a resounding YES to that question. It's more a collection of cute pictures, but sometimes you need a pick-me-up that doesn't need a narrative.
Secretly I think this is a photo of me that's had a tail attached. I've got the same glasses, I'm going grey, my hairs always been quite scruffy, and I do like to lounge on the couch a lot.
Ace is a very special dog, you can understand everything he's thinking thanks to the subtitles that play over his IG videos. He does have a potty mouth, constantly barking "Hek" and "Dammit", but you forgive that because you're more concerned his tail is going to either fall off or carry him into the stratosphere like a helicopter. No wonder his humans are thin and healthy - Ace's energetic lifestyle looks contagious!
You aren't allowed to proceed reading my story until you've watched this video of Ace greeting his Grandpa human. Trust me, it's worth it. Sorry about the swears!
Raining Cats and - Um - Hedgehogs?
I still get joy from my cat (I have to say that - she's watching me as I type this and I'm sure she's planning something), and obviously heaps of other cats on IG.
But there is one #CatOfInstagram who has a great life and constantly makes me smile ... Audree (of the Mr Pokee account). This cute little bengal is the sister of an adorable hedgehog named Herbee, and the world is their oyster!
If I didn't include them I'd feel guilty at ripping you off by not including such a treasure!
If you don't get joy from this, I'm afraid I can't be your friend! 😘
Every Dog Has Its Day
I'm sure we'll welcome a new doggo into our lives in the future when things improve.
Until then I'm just going to enjoy what I have: a cat that may or may not be planning to kill me, fond memories of our previous fur babies, and an unlimited number of photos and videos online of others celebrating the joy their four legged friends bring.
To the owners of these beloved pets, thank you all for sharing!
Your photos, videos and stories brighten our days and for that I am extremely grateful 🐶🐱🐹🐰☀️❤️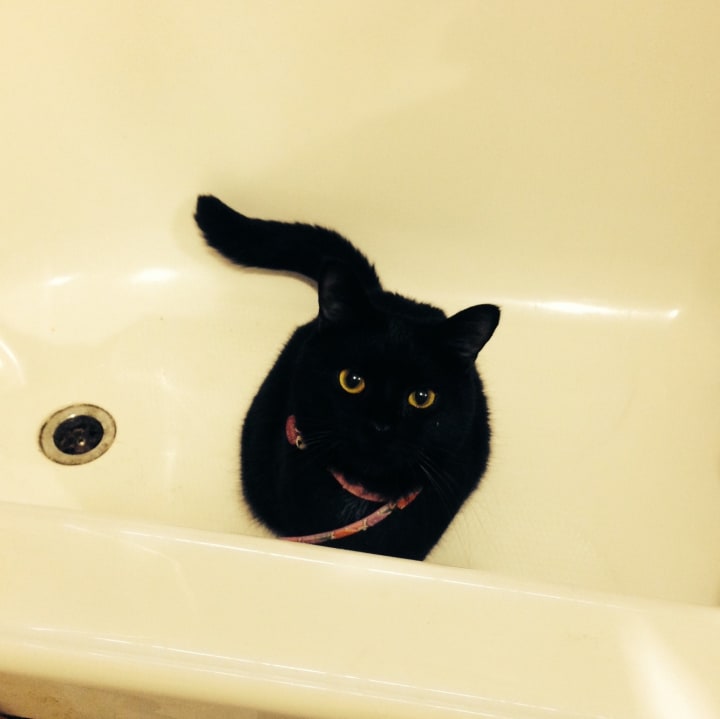 About the Creator
I'm just a simple man, trying to make my way in the universe. Writing flash fiction to amuse, entertain, enlighten & inspire … and Other Random Things.
Reader insights
Be the first to share your insights about this piece.
Add your insights