Little Joey and Khloe
A Tale of Two Cats That Found a Good Home
On the left: Joey. On the right: Khloe.
Not one to gush too much usually, but these are my two adorable little furball additions to the family, Joey (the tabby on the left in the above photo) and Khloe (long hair, could be part Maine Coon on the right in the above photo). Joey is technically my mom's birthday present from my sister-in-law circa September 2017, while Khloe was rescued quite literally off the street in November of 2019. Both of them are absolutely adored and have brought a lot of life into the household.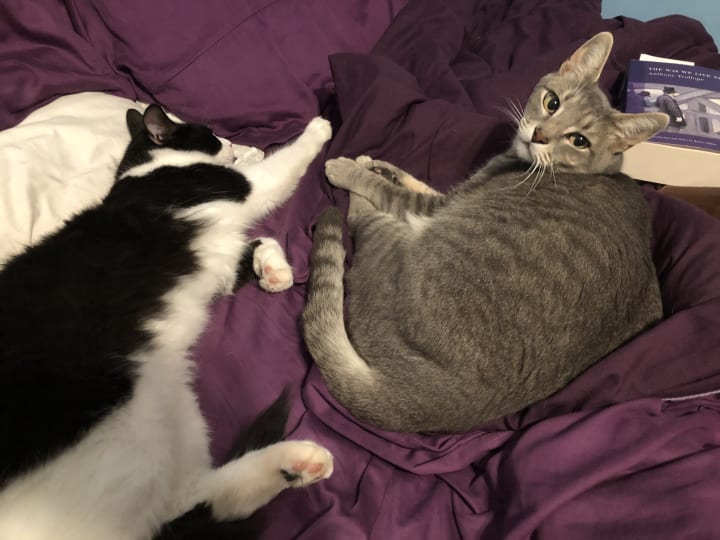 We got Joey was because the prior family cat, Oreo, passed away after roughly 16 years. Oreo was not doing well towards the end of his life and went off into the woods one day, never to return. I think we all knew what was going on there, as this is how a lot of animals choose to go. Oreo was also a stray who had lived under a neighbor's house before coming to live with us. Needless to say, we loved and still love Oreo, and miss him a lot.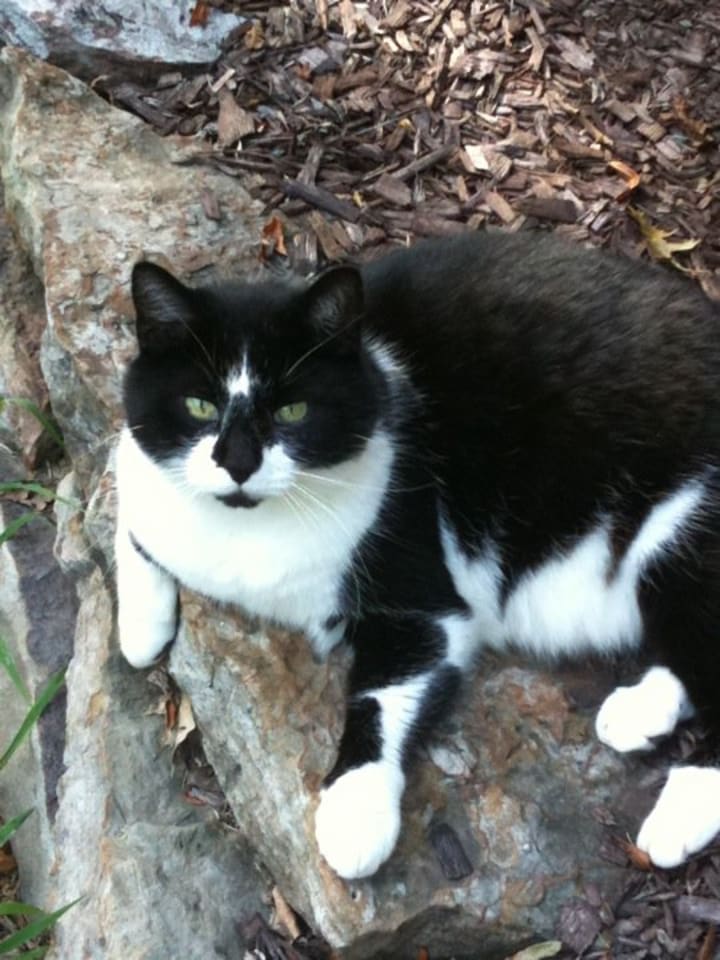 Joey, however, was a rescue from the local Central Missouri Humane Society of Columbia, MO, and given to my mom as a birthday gift by my sister-in-law as well as my brother in order to help get over the loss of Oreo, who had been gone from us for at least a year at the time.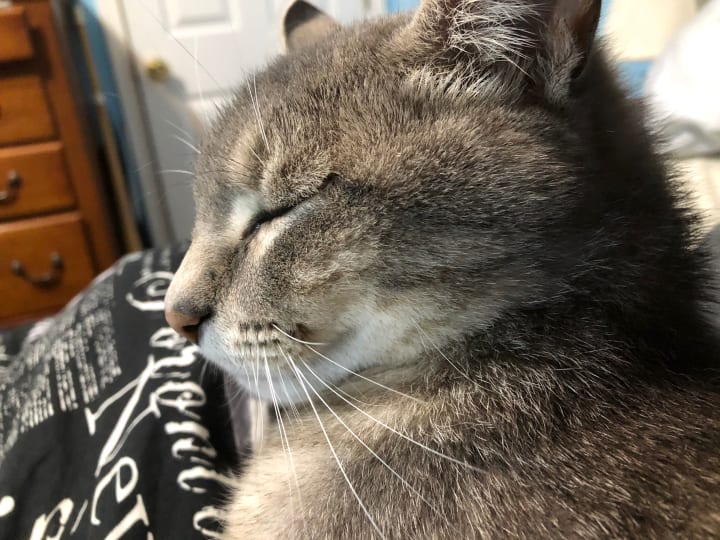 This little guy (who is now a bit of a chonk) definitely livened up the household after Oreo's passing, even though he is quite the introverted kitty-cat. His preferred form of communication involves a lot of purrs and telepathy, along with the tiniest baby-sized meows in case he for whatever reason can't get anyone's attention. He also likes to be my resident coworker while I work from home due to the pandemic and has greatly enjoyed my being at home all this time. If I were to draw a humanoid character version of Joey, I'd picture him to be like that of an exhausted introverted office professional, complete with a slightly disheveled business suit and loosened tie.
Nowadays, as of around November 2019, Joey has become a big brother to our newest addition to the family, Khloe.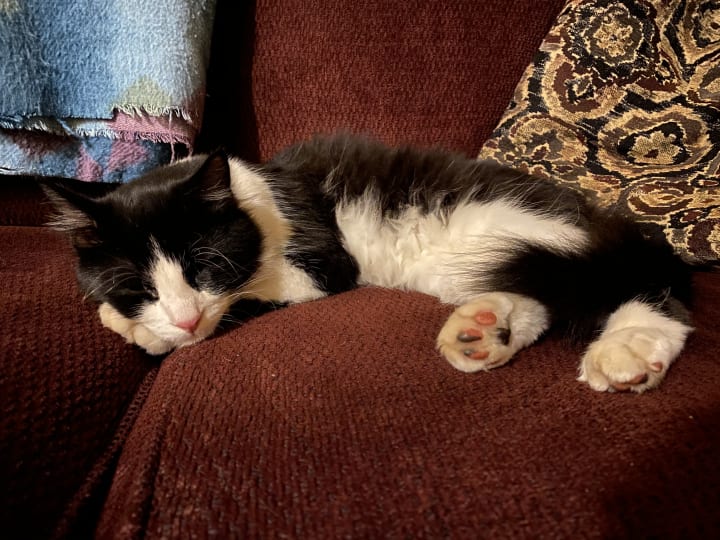 Khloe was rescued by a dear friend of mine, as he was dropped off in front of my friend's apartment in Jefferson City, MO, and my friend could not keep him there due to apartment rules. Therefore, Khloe was brought over to my folks' house that night in order to give him a forever home. We are not sure who it is that dropped him off, but whoever did so, also left with Khloe a bag of wet cat food, as though the poor baby had been abandoned. Something had to be done, so we adopted the little one that night, and life has only gotten better since!
As far as whoever abandoned this precious baby, as the old adage goes...their loss was indeed our gain! Khloe, as with Joey, has a forever home with us!
And, yes, to clarify I did say he--it seems the gender of this cat is in question, as initially Khloe was thought to be female, but then the vet determined him to be male and then billed us for him being spayed instead of neutered...if that makes any sense to anyone here! Oh, well...nonetheless, Khloe answers to Khloe because this is his rescue name, and he seems to love it!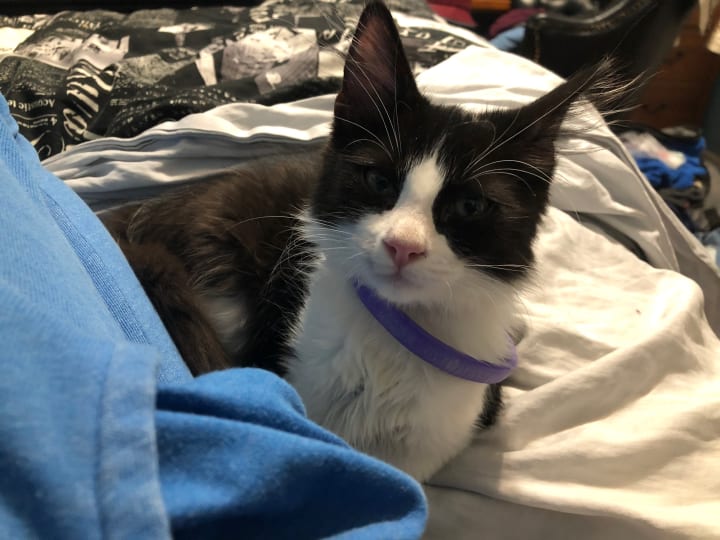 Over the last few months especially, it was discovered that both of them love chasing after the red dot or laser pointer, and are practically addicted to it. Both are also avid hunters, and are constantly catching mice and birds. Both are such snuggle bugs with myself and my folks, and are content to chill out much of the day. They are, of course, quite adamant about their meal times, are are strict with us about their routines. Both of them love to wrestle each other on the floor, which often has me vacuuming up all the fur left behind--ahhh, such sweet siblings!
As far as differences go, Khloe is a total extrovert while Joey is the introvert. It makes for interesting sibling dynamics--Khloe likes to start conversations with people, and will meow and chatter constantly. Joey, as I said before, prefers telepathy, and generally saves his meows for when he needs attention for something. As a result, sometimes the two of them annoy each other, and will start little play fights from time to time.
In short, I consider these two little bundles of fluffy, rambunctious joy my little babies of sorts. Their entry into my life and the lives of my folks left us forever changed, as they both brought youthfulness into the home again. Honestly, I love their seeing their personalities shine more and more as they grow from kittens into full grown cats. However, the fact remains that no matter how big they get, they will always be like little babies to me, they are loved, and this is their forever home.
cat
Jackie Barrows is an artist, a writer, and all around creative soul who enjoys bringing new ideas and stories to life. She wears many hats as a Graphic Designer, a blogger, and Lead Production Artist for R.A.W. Productions.
Receive stories by Jackie Barrows in

your feed