Life With Dogs
How do we do it?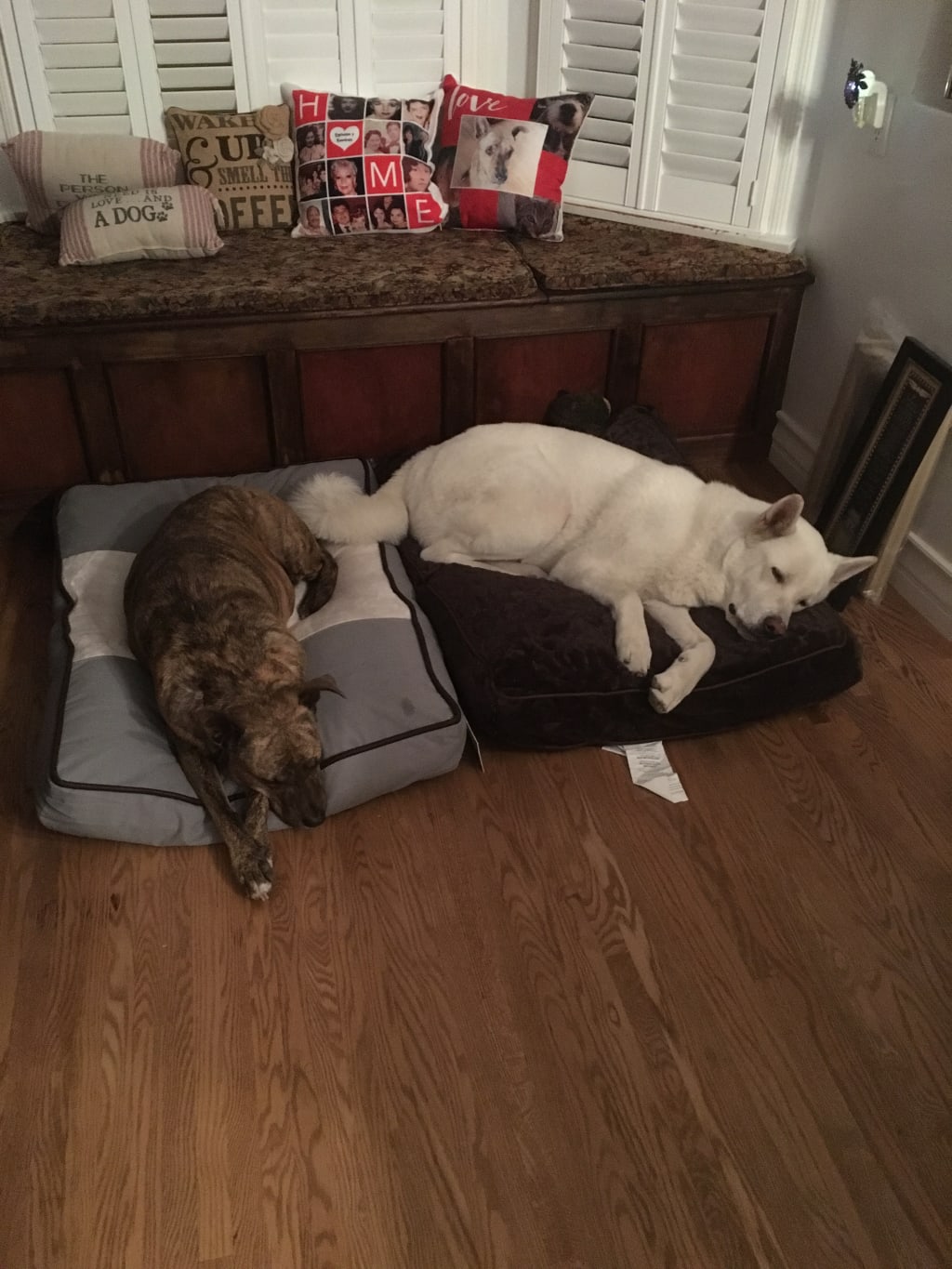 I am taking a brief step away from the "My First Lesbian Relationship" story to tell you guys about our life with the dogs. I've said it many times AND defended it many more times, but Dodger is truly our first child! We have raised him together SINCE birth and it has been the best experience for us. Since moving, we have taken in my grandma's dog, Lola, and that has been interesting and fun at the same time. They are best friends and worst enemies all in one, but it is all love.
So, both Dodger and Lola are large-breed dogs. Lola is a pit bull mix and Dodger is a purebred American Akita. They eat A LOT! I mean they are always hungry and they eat better than we do most days. Usually we spend between $100-$150 per month on dog food for the two of them. This doesn't include treats, supplements, toys or accessories (collars, leashes, harnesses, etc.). That is cheap compared to what we used to spend on food for Dodger alone when we fed raw meat and organs.
We generally feed the dogs Taste of The Wild BUT we have no brand loyalty. As long as the ingredients are pretty decent and there's a good ratio of proteins, carbs, and fiber, then we'll try it (no grocery store brands though!! EVER!). Dodger is not that picky with his food, but Lola is totally different. If she doesn't like the food then she won't eat it at all, and that is when it gets frustrating. We buy two or three of the largest bags of food when we go shopping for them, so her refusing to eat when we have so much food is frustrating. No, we don't go out and buy her a new food just because she won't eat. Whenever Lola gets hungry enough, Lola will eat.
When it's breakfast and dinner time, we have to feed them separate. Not many people outside of the family know this, but Dodger is food aggressive. He will not let anyone or any animals near his food bowl without sending out a warning growl. If you aren't me, Q, Nana, or my mom, stay away. We feed Dodger on one end of our island in the kitchen and Lola eats on the other end. Both know not to go near the other's bowl while the food is down, but it's still safer this way to prevent any fights.
Outings with Dodger and Lola are always fun. Whether it's a quick walk or a trip to the coast where they can run and chase squirrels, it is always eventful. These dogs love to run wild if there's an open field for them to run through. It's always a workout running with them and interacting with them while they're sniffing around, but it's great to see them having fun just being dogs. We yell "squirrel!" and they go running to trees looking up to see if there are any hiding in the branches. TOO cute.
Now onto vet visits... when Dodger was younger, I feel like I was more protective of him and we would take him to the vet for checkups more often. Now, I think the last time we took him to the vet was two years ago to get his shots. Now I may get criticism about this, but I DON'T believe in annual vaccines in pets or myself. I've done plenty of research and antibodies from the INITIAL vaccine stay in the system for a long time. Not to mention, going to the vet for canine vaccines can easily rack up to a $400-$500 vet bill just for one dog and we just don't have extra money right now for that. Plus, Dodger doesn't interact with any animals other than Lola and Rocket.
Overall, life with dogs is great. Does it get hard? Duh! Are there moments where we are overwhelmed? Absolutely. Would we give up the dog mom life? NEVER! It's very rewarding and honestly, animals love and trust their owners harder than most humans love and trust one another. I feel like I personally (can't speak for Q lol) have learned so much through Dodger and now Lola. He was the perfect first dog a girl could ever ask for. That is my number one man!!!!!
dog
26 year old lover, dog mother, and wife.
Follow me on Instagram @_jordanashley94
Follow my youtube channel @thepaynesvlog