Life of a Snake Hustler Part 1
Responsibly Breeding Reptiles Since 2008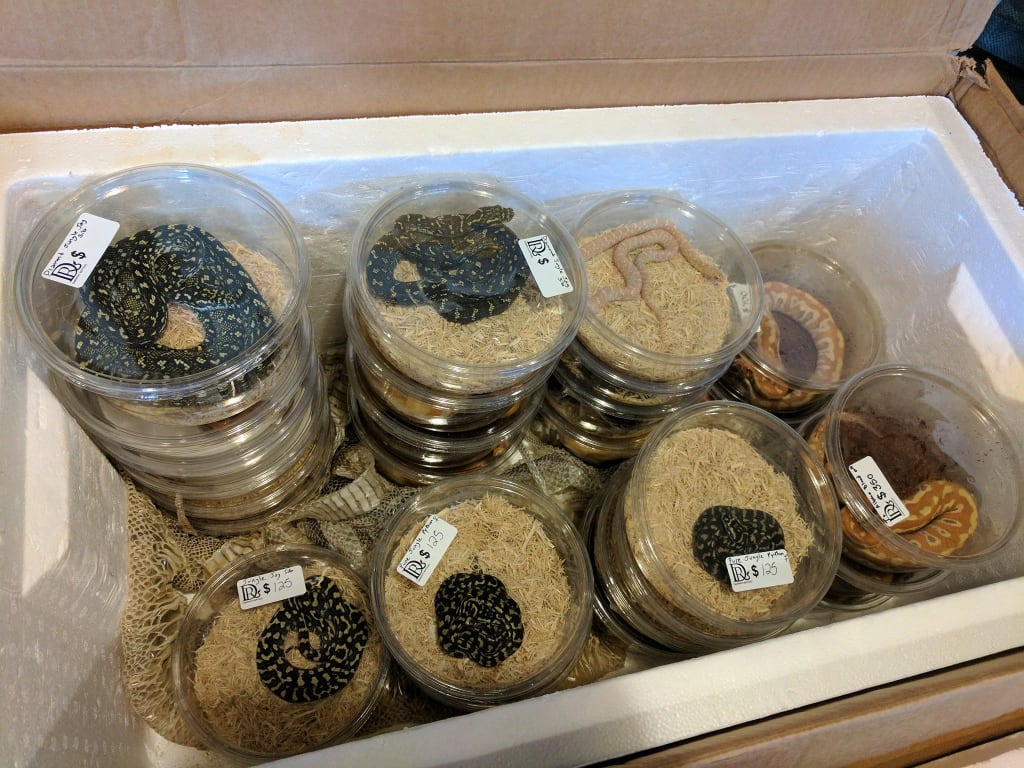 Packing up for a local expo
What is responsible breeding?
Like anything where you are bringing living breathing creatures (humans included) into the world. It's very tough to decide what constitutes ethics and ethical breeding. Generally it classes reptile companies into 2 subsets. You have the make money operations focused on pumping out large numbers of reptiles to distribute often to pet stores, and you have the hobby breeders who love wholeheartedly what they are doing. There are a few odd cases of people who manage to straddle the gap between a make-money and a labour of love, but it remains a tricky balance.
Responsible and ethical breeding to me starts with acquiring high quality, healthy, breeding stock. If you are sourcing the bulk of your animals from kijiji—chances are that you will be producing low grade animals and perpetuating poor genetics. I love to grow up animals from hatchlings whenever possible but many people aren't patient enough to wait many years possibly decades before seeing financial kickback.
If you purchase animals you do not have a clear genetic history on, you often end up with a mixed bag or animals being sold incorrectly. Often reptiles carry recessive genetics that you cannot guarantee if the traits are not visual. Species can be easily labelled incorrectly as well if you choose to work with animals that come through an importer (I will write on my thoughts on wild caught animals in another article).
General rule of thumb when purchasing reptiles as well is if deals seem too good to be true, they often are. There are a few good resources for vetting who you are purchasing from. Take a look on your local Facebook reptile pages for people's names, do a quick google search, and look at breeder reviews. Many breeders if they produce an animal themselves will be happy to show photos of the parents and provide more information on the specific animals you are looking to purchase.
Before anyone commits to breeding or a breeding plan, it's important to look at your local market. Some animals have difficulty finding new homes. The noble normal ball python for example. Mild tempered, easy to care for, inexpensive—but plentiful. At $25-50 they become disposable pets. I recommend ball python breeders to shy away from purposeful production of the wild type normals just because of how they are treated like disposable pets, and how many are currently looking for homes. Breeders are a burden on rescue organisations, regardless of if they want to admit it or not. Any reptile in the sub $100 category unfortunately falls victim to being a disposable pet. It's important to be sure you have homes to move your animals to before you even consider breeding.
Contingency funds are incredibly important if you choose to breed. At any given point, breeders should have liquid access to a chunk of money that can be used for emergency care for your animals. If you don't have a safety net. you are dooming your reptiles. Reptiles do not show sickness like other animals until it is often too late. I recommend frequently handling all of your animals and inspecting them for optimal health. If you are unsure what to look for, reach out to your local reptile society or exotic veterinarian for a consultation. Be sure you have local access to a veterinarian capable of caring for any issues that might arise in your collection.
The last topic I will bring up in this article is quarantine. I beg any new keepers to read up on what quarantine is and make a concise plan on what they will be doing to stop the potential spread of diseases. I hope to go further in depth in the future on some specific cases I have seen over the years, but in a nutshell quarantine practices should mimic as follows:
Animals should be housed alone in a separate enclosure/rack, preferably separate room from any other exotics in the home.
Incoming animals should have a thorough inspection for any visual signs of sickness. From snake mites to excess saliva, illness can manifest in several ways.
You should practice good hygiene all the time, but extra diligence with newcomers. Tools shouldn't be cross contaminated and you should have a comprehensive anti-viral / bacterial cleaner.
Quarantine should be followed for several months upon purchase of a new animal.
Part 2 will be coming in the near future!
Thanks.