Lala The Squirrel
Our Squirrel Rescue Story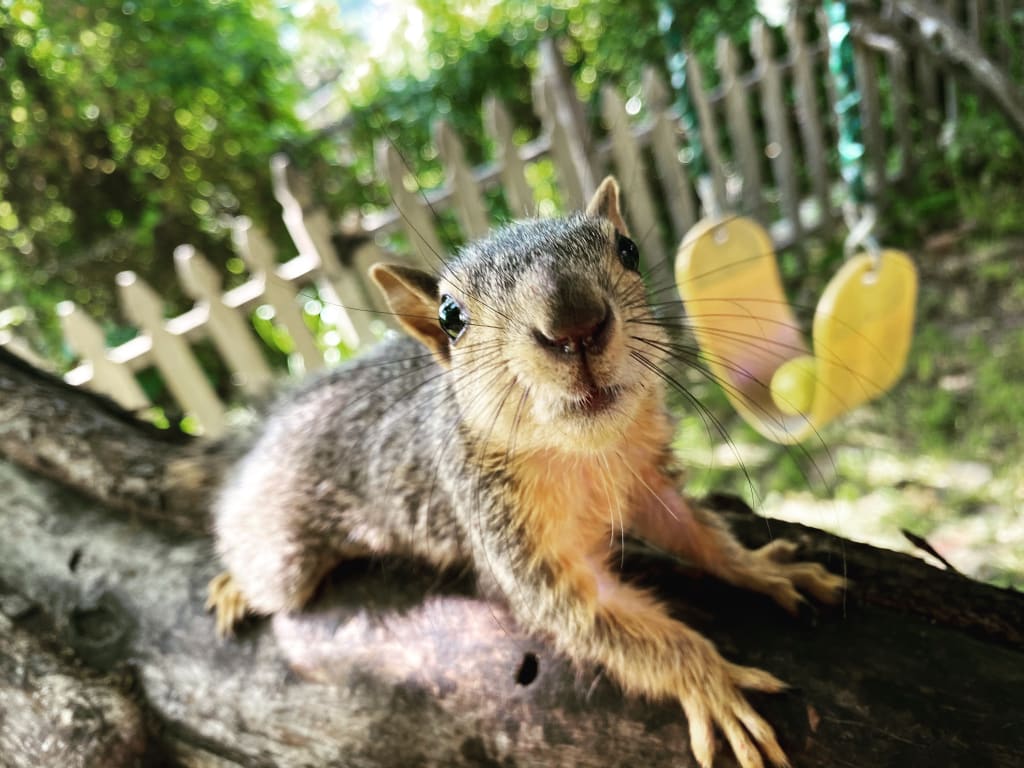 This is the story of Lala the squirrel. It was a spring afternoon when my neighbor text messaged me that he had something for my son Caspian, I told him to come on over. When we opened the door, my neighbor was standing there holding a cardboard box. We peeked inside, to find a baby squirrel resting safely. He told us, "I was in my yard when I felt something tapping on my foot." "I looked down, and it was this baby squirrel!" "So I gave her a pet on the head and walked away." "I turned to see she was following me." "I put her in the box near the tree, but no mama squirrel came, so I figured she has been orphaned and I thought I should give her to you and Caspian because you will take good care of her."
We took the baby squirrel in and went into emergency mode, looking up what we should get her to eat. I found a homemade recipe for formula and headed to Wholefoods. The recipe that I have been making is...
1. 3 tablespoons of organic goat milk 2. 3 tablespoons of organic plain yogurt. 3. 2 tablespoons of Half & Half 4. 1 capsule poured out of colostrum 5. 1 scoop of Fox Valley squirrel replacement formula (Henryspets.com) 6. 2 tablespoons of water 7. 1/2 an egg yolk 8. 1 teaspoon of raw organic honey. I usually warm it up in a small bottle I bought for kittens, but Lala doesn't like bottle nipples, so i bought a package of feeding syringes 3ml on Amazon.com.
You can get squirrel replacement formual from a company called, Fox Valley and mix it with the water, but we had to order it, so I was making the formula above without it, then when it came, I just added it to the recipe.
Lala is now 8 weeks old. We took her out every day looking for her mother. I would go on Youtube and find squirrel call sounds and lots of squirrels would come, but no one ever came for her.
Lala was being supervised every day out in the yard, until she was ready ro play outside on her own. Now she stays out until 12 midnight sometimes later, and will only come out of the trees whenn she's ready, typical teenager. She comes into the house at night, has a little gourmet meal then sleeps in her cozy bed in her cage. Lala's favorite foods are blueberries, sweet peas, raw almonds, pecans, sunflower seeds, broccoli, sweet potatoe, apples, pistachios. She loves granola.
If you rescue a squirrel be sure to google what they can and can't eat.
They are little poop machines, so if you let them run about the house you will have a lot of cleaning to do. I also have been peed on several times by her. Her claws are razor sharp and its best to not let them run across your bare skin, put a towel over lap. I throw a towel over my shoulders when I go outside at night to collect her from the tree, that way when she climbs on me, my neck doesn't get scratched.
Lala likes to climb, and hide under my hair. When she comes in at night, after playing outside all day, she still wants to play. I bought her a couple of small squirrel stuffed animals for her to snuggle and I attack her with them for play.
Its been a joy taking care of her during the quarantine, and she is thriving. If you come across a baby squirrel, its suggested to put them in a box in the tree you found them near and wait for mama squirrel to come for her baby. You should stay clear but keep an eye out for predators. In Lala's case, her mother never came back, so we figured something must have happened to her. It was very easy to take care of her. I had friends freaking out telling me its harder than taking care of twins. It was not, but..we got her when she was around 5 weeks old, so she wasn't a newborn. Lala has her own instagram if you would like to follow her adventures.
She stays in our yard and pops over to our neighbors yard sometimes. She knows her human mama loves her and she can get babied and fed well here. Lala is an Eastern Fox Squirrel, come say hi on Instagram. Lala_the_squirrel
exotic pets
About the author
Writer, managed by Art Rutter at Critical Mass Mgmt. Lead vocalist and main songwriter of The Januaries. Currently shopping a TV pilot, and working on another one. I am also the mother of a young actor, Caspian Diament
Reader insights
Be the first to share your insights about this piece.
Add your insights