KOLBE THE COCKAPOO
He came into my life at such a sad time and helped to brighten my days.❤️
Kolbe, making himself right at home! 🐶
I have already written an article about my beloved cockapoo, Damian, who passed away unexpectedly two years ago at the age of 11. Damian's death was so devastating to me because he was the sweetest, most caring dog I have ever met. I knew he was getting up in age but he was healthy as far as I knew. He wasn't overweight, he didn't have any ongoing health issues and I took him to the veterinarian on a regular basis. Then in about a week's time he passed away from kidney failure. The doctor told me there was nothing that I could have done to prevent Damian's kidney's from failing. I was so shocked and physically sick from his passing. I didn't want to get out of bed but I had three other dogs to take care of so I had no choice. I lost my appetite and I was just a mess.
I understand that different people wait different periods of time before welcoming another dog into the family. I am the type of person that does not wait long before getting a new puppy. I searched high and low for a puppy that looked like Damian and who had a similar laidback personality. I even contacted the breeder from where Damian came from in Missouri. They were no longer in business but promised they would check to see if they could locate any puppies with Damian's bloodline. However, I never heard back from them.
After looking at many different cockapoos I located one that looked very similar to Damian. The only problem was that the puppy was on the bigger side so I decided on his brother, who was a little smaller. The place where I purchased Kolbe was about three hours away from my home so I made the decision without first meeting him. I'll never forget the day I picked him up, it was a beautiful, sunny Saturday! My cousin and her family took me to get him. Most of my family members are not dog lovers but my cousin Missy loves dogs and that made the day even more special! She also has two little girls so they were very excited to meet the new addition as well.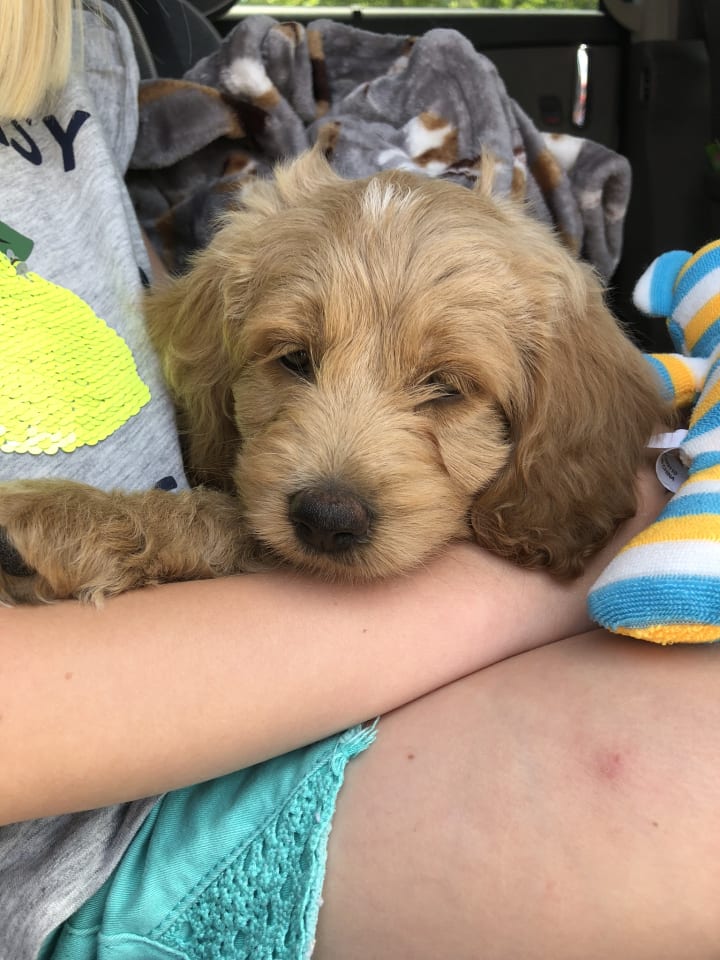 We arrived at our destination right on time and I'll never forget the moment the woman handed me little Kolbe! Nothing could take Damian's place, but it was just a relief to feel a little bit of happiness seeing my new puppy. My cousins were all excited to meet Kolbe too. On our way back home, we made a stop at Petco so that Kolbe could pick out a few new toys. That's my cousin Missy, a good-hearted person who did everything possible to make the day special for me. She knew how sad I was after losing Damian.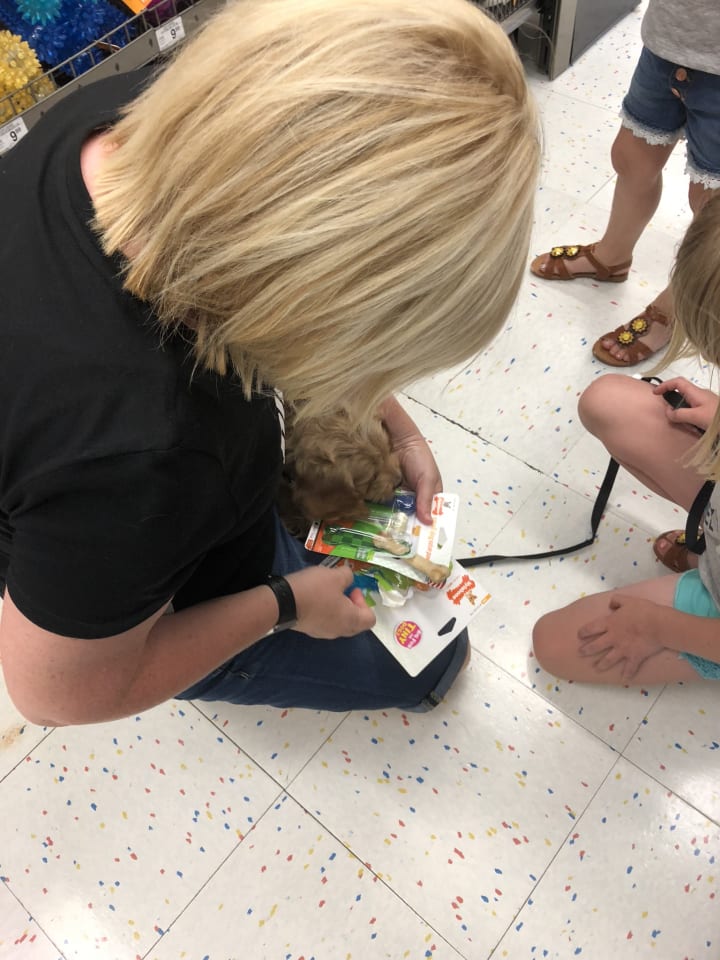 Kolbe has a different personality from Damian. He is a little spunkier and he has a mind of his own! Damian was a lot more passive than Kolbe. He is a good boy though, he stays around the house without having to be tied and he even comes when I call him. I can't say the same thing for my mini Labradoodle, Blaise. Blaise doesn't go far from the house but I have to call his name a few times before he arrives back at the house! Kolbe always seems afraid and I cannot figure out why because I have had him since he was so young. Nobody ever hurt him and I will not tolerate anyone being mean to him. After all, he is my baby! I suppose that is just his personality. If he doesn't know a person, he won't go near them even if they just want to pet him. Blaise, on the other hand, loves meeting new people. I am just happy that Kolbe and Blaise have always gotten along.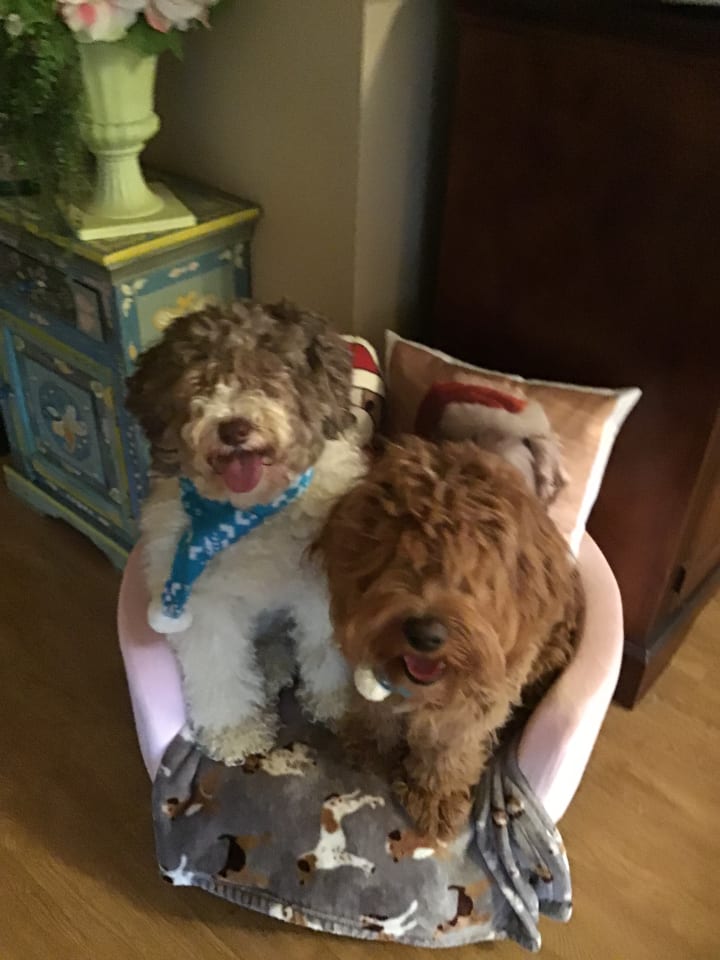 I think it is so funny how when you give some dogs bones they can't wait to eat them while other dogs can't wait to hide them! Blaise likes to eat his bones but Kolbe immediately looks for a hiding spot. And Kolbe gets so mad if Blaise finds his hiding spots!😡 I laugh when we are visiting my father and Kolbe hides his bone in my father's couch. One day I found his bone hidden in the couch and when Kolbe noticed I found it...he marched up to my father's bedroom and came out with another bone. It was almost as if he was saying to me "Go ahead and keep it...I have bones hidden all over the place!"
I know that another dog will never replace Damian but Kolbe really did help me to feel a little better. I love Kolbe and I am so thankful he is part of my family. To all the other people out there mourning your dog, I would just like to say it always hurts and a new puppy will never take your buddy's place but the new addition will help ease the pain. I know this might sound a little silly but I gave Kolbe the middle name Damian to honor a sweet little cockapoo who I will never forget as long as I live and who I cannot wait to meet again.💕.