Kitty in a trailer
How well do animals do in campers?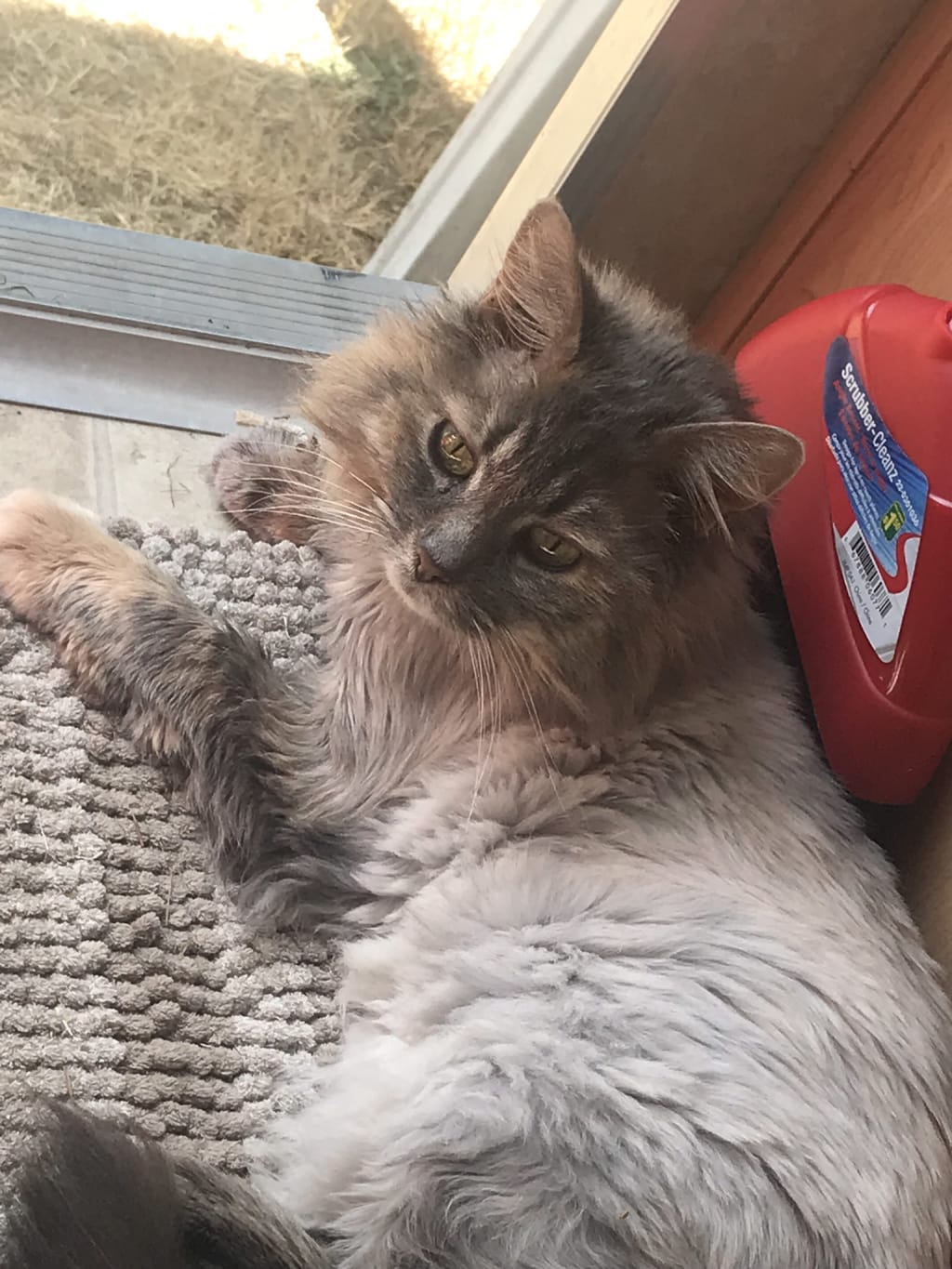 Excuse me? What do you mean my cat got out?" The words I asked my step-dad as he gave me the weekly (or more or less daily) report on my cat.
"Well not so much got out as in she's in the yard." Trying to buy time by lying to me.
"Dad cut the crap. The cat got out didn't she?" I had a headache I was driving from Aldergrove to Mission daily for a dishwashing job that paid peanuts. This was one the many conversations we had daily. Between my mom and my step-dad they would tell me my cat missed me and that I should come home soon.
"Well I went in to go check on her and I guess it was too hot in there for her and she jumped out as soon as I went in." I pinched the bridge of my nose. I'm at work, in Mission, I can't leave and this is a daily thing taking my five to ten minute breaks to check in with mom only to have screaming matches about home life and who was caring for kitty. It became tedious fast.
"Dad I'm at work, just shake the bag of dry treats around and she should come back, in the mean time I have to go." Hang up and go back to work scrubbing dishes.
The reason I got the cat, was because my ex and I were fighting and it came to a point where I wanted to be loved. I moved Elsa into our house into a spare room, it was then that my crazy neighbour said my cat was allegedly his, and demanded that I 'give her back' or he'd get the cops involved. When we called to find out options, the cops, the spca and Langley animal adoption all told us to move her so he didn't try to steal my fur baby. My camper was already at mom's I was just working on saving the damage deposit for the camper to be moved to Langley.
That didn't stop my mom from badgering me at work with texts about how my cat missed me.
It ended with me losing my job.
The guilt didn't stop there, though. When I had enough to move my mom cried, saying she "wished I had spent some time with her" and having no experience with tiny living, she wanted me to live close by in the camper.
A few mornings after while I was in Langley, I got a new jab that has become a career, however my cousin had to help me in the mornings since I was working nights and cleaning a gym part time.
"So how much food does kitty get?" Tracy asked one morning before I headed into my new job.
"Half a can a day, it's a treat, she has dry food, water and treats along with her toys and the radio, she should be ok. I think."
"She'll be fine!" Tracy less like my mother was over the guilt trips. "If anything happens Dave or I will text or call you." I nodded. Famous last words.
~
"Hey Tracy, I'm going to my mom's, let's go kitty!" It was a hot day, the a/c was acting up and it was sweltering, so I was going to take kitty and me somewhere cooler. But kitty had other plans apparently! It more was like a "fuck this, I'm outta here!" And she bolted right out of the trailer and into the yard and under a shady tree! At least she had the right idea! I chased that cat around and around that camper for hours looking for her until she would sashay her little tail half way across the yard like "you were looking for me? Why I have been expecting you too! Give me some food hooman!" Which I had been trying to do! Sigh.
She keeps me on my toes and meows loudly at me when I come in the front door, tonight after a long day at work followed by a bad date she was there, meowing. Saying "Hey! Hooman! My water dish is dry! Fill it please!" She is the love of my life, and I am her rescue mama.
Personally, Elsa is here for a long time, so there will be more stories to tell. Elsa did well in the trailer, she loves the heater, loves the warm bed when I get up from it. She always did fine in a tiny home, animals in tiny homes always do really well, home is wherever you are.
A home is where you closest to the ones you love, and where the other campers are parked. Until next time, Bye for now