Jingle All the Way!
He's joy in dog form!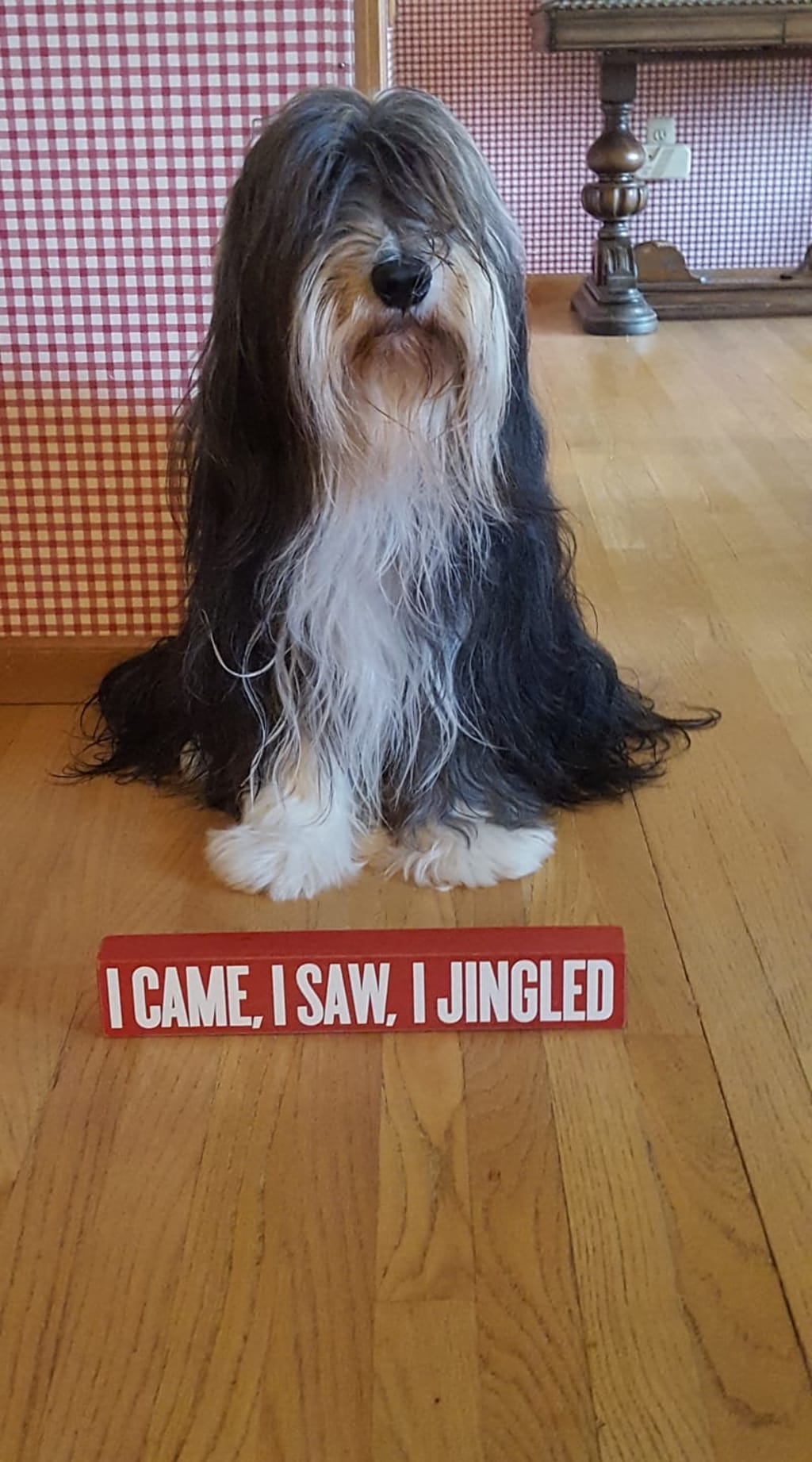 Jingles: My Exuberant, Comical, Mischievous and Loyal Companion
HARK! THE HERALD ANGELS SING
Jingles arrived in this world on December 22, 2014 - and I was there for the grand entrance! I was at the vet's office with Jingles' grandma, Mira for her annual check up. Her daughter, Jennett, was about to have pups and I was told to watch her. In the famous words of Prissy in "Gone with the Wind" I responded, "I don't know nothin' 'bout birthin' no babies!" Claudia, the vet tech and Jennet's owner, told me that Jennett would circle and start whimpering a little. That seems pretty obvious. So I'm good to go - or so I thought. None of that happened.
Eventually I heard some muffled barking, no circling - just teenie weenie barks. I called Claudia into the room. She lifted up Jennet's tail and here was the nose of a puppy presenting itself; announcing his entry into the world. Hark! The Herald Angels Sing - JINGLES HAS ARRIVED!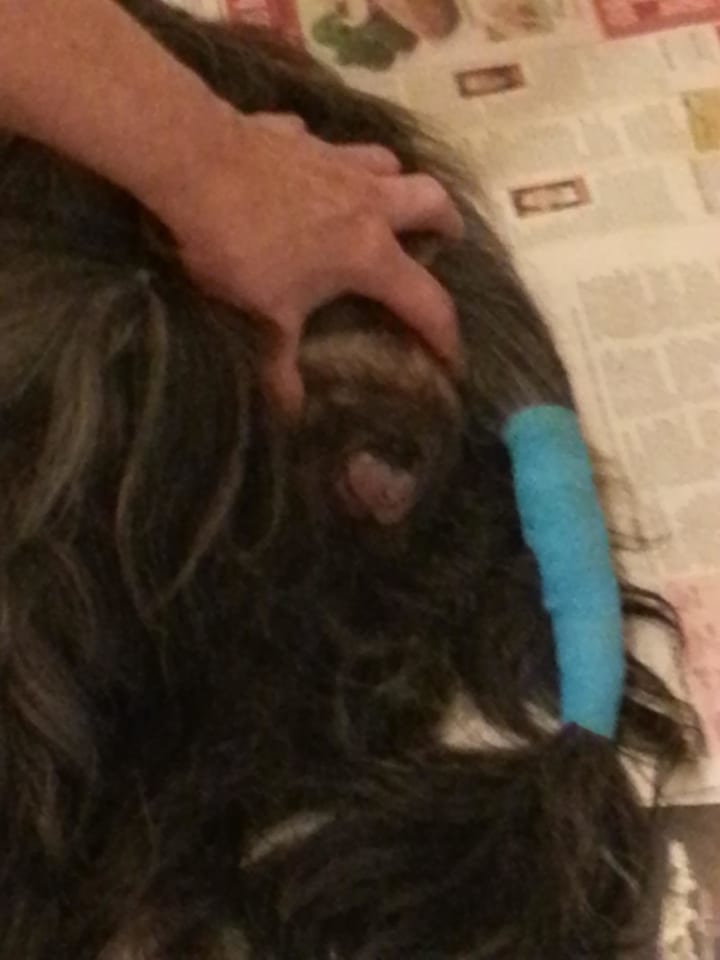 Jingles was cleaned off, weighed and measured and then given back to Jennet to await the arrival of his siblings. The entire litter of bouncing, Bearded Collies was given Christmas themed names. His registered name is Meadows' Jingle All the Way.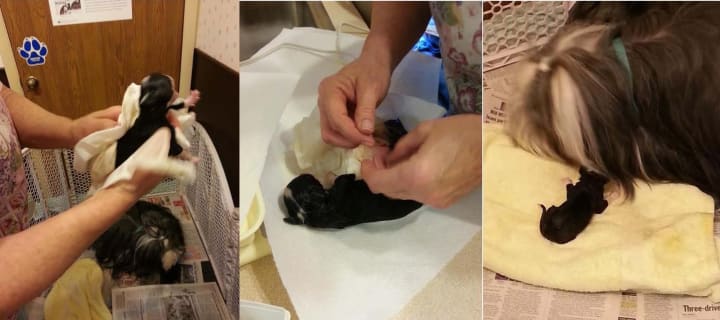 I SAW MOMMY KISSING SANTA CLAUS ( aka Jingles)
We enjoyed visiting the puppies during the next few weeks. Jingles seemed to take a special liking (or should I say, licking!) to me. It was obvious that there was some serious puppy love happening. We had not even considered having a second dog, since Mira was the love of our lives, but when Claudia suggested that we become Jingles' humans well, who could say no?!
WE ARE SANTA'S ELVES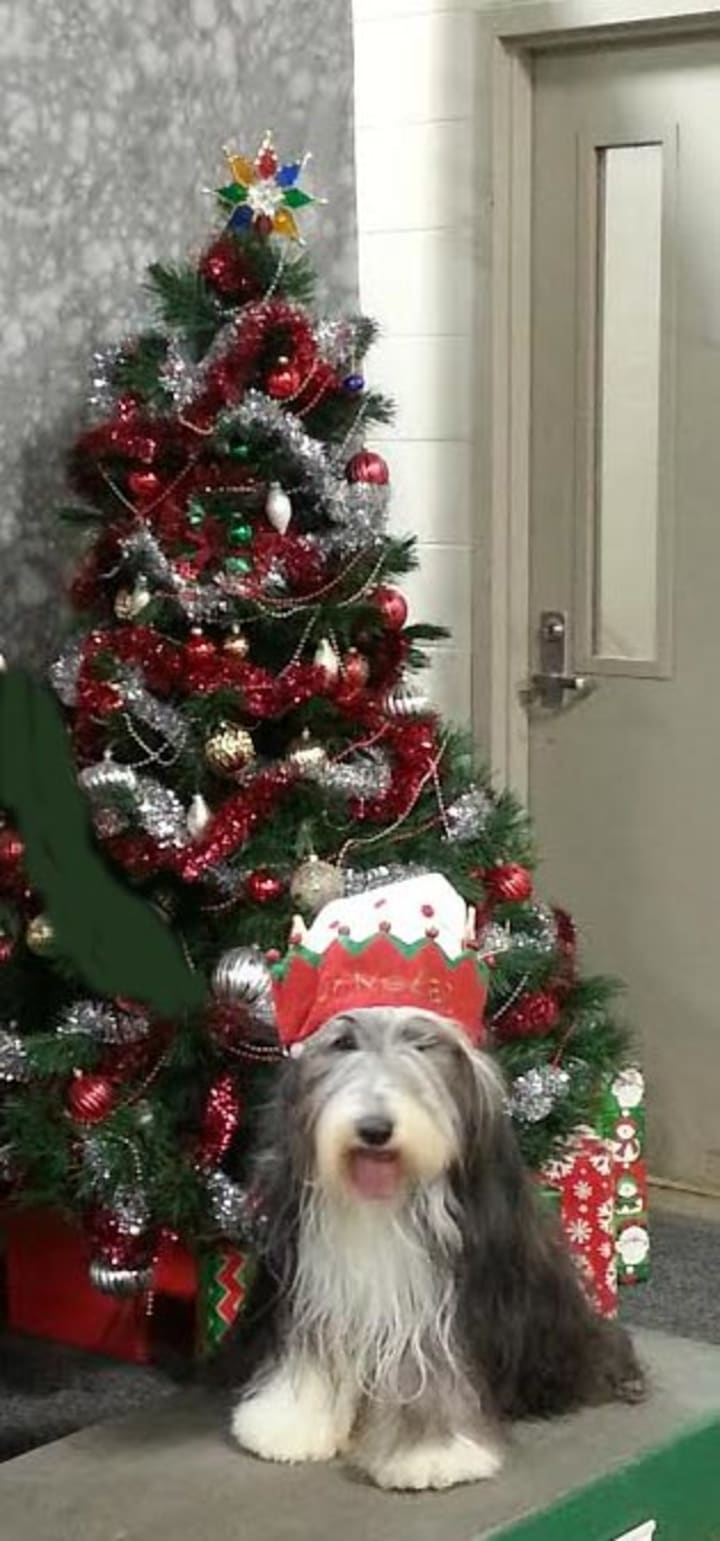 Santa's elves work very hard but as the song says, "We are Santa's elves. We work hard all day, But our work is play. " Jingles' only has one requirement in his job description and that is to bring joy. It is often said that Beardies are " joy in dog form" and Jingles is truly that 24/7/365. When the Beardies come in the ring at Westminster the commentators often call them "the comedians of the show ring."
I'LL BE HOME FOR CHRISTMAS (more like February)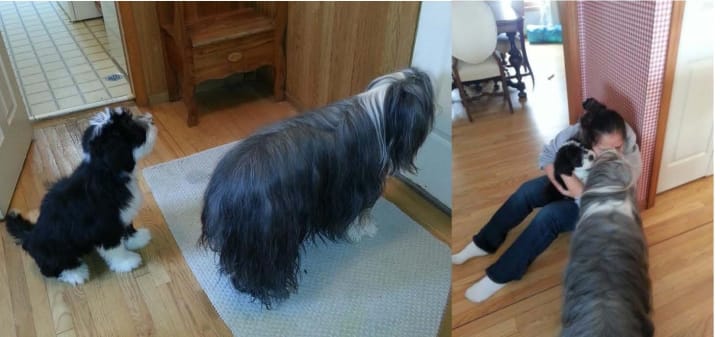 Jingles came home with us in February. Of course you don't tell your daughter who is away at college so when she comes home it's a huge surprise to be greeted by not just Mira but a puppy too!!!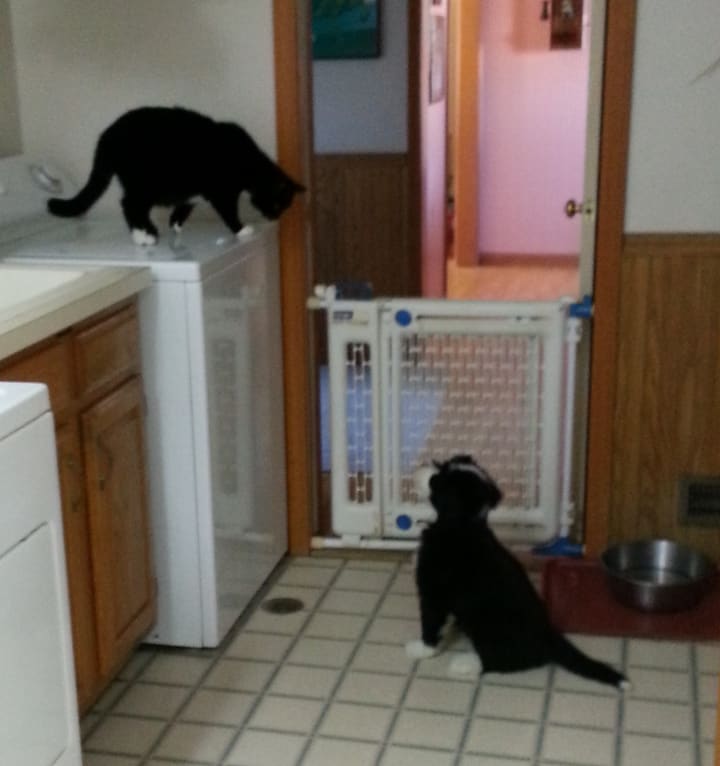 Meeting the rest of the family went well. Zurg, the cat, showed his superiority by being able to tower above Jingles. Imagine his shock however when Jingles was big enough to come nose to nose with him!
SLEIGH RIDE (kind of sort of)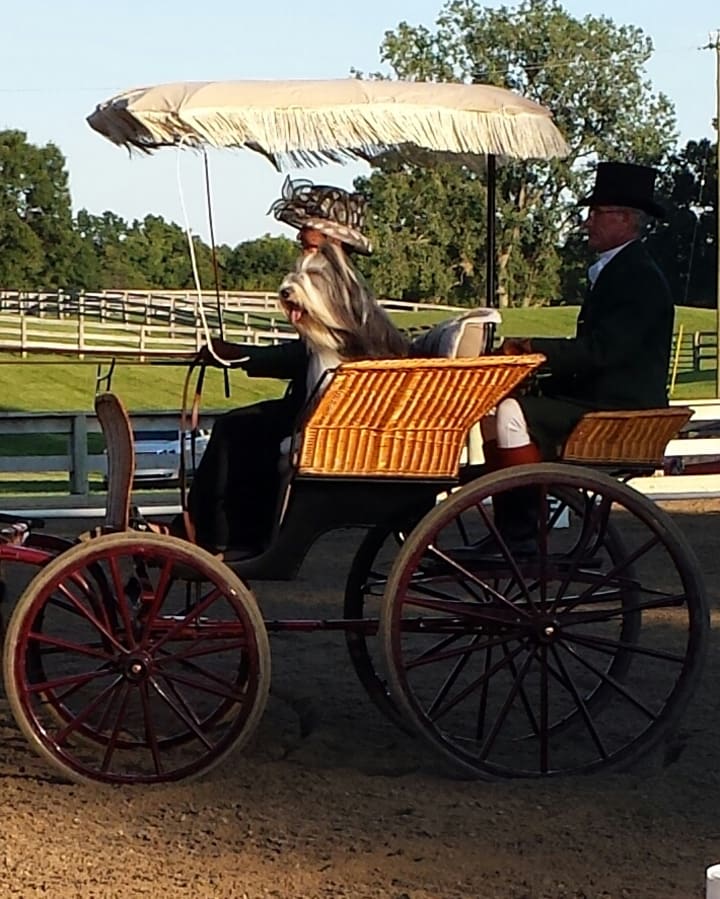 We have horses too so meeting the horses and going to horse shows with us is a must for Jingles. We show at Carriage Driving shows with our antique carriages. They actually have a class called "Carriage Dog". The dog is judged on his behavior and crowd appeal. That's right, crowd appeal. No judge really wants to judge this class lest they face the wrath of the owner; ok you don't like my horse or carriage but my dog?! So the judge will often ask the audience to clap for the one they like the best. So we taught Jingles to look at the audience while we drove around the ring. After all....who can resist a smiling Beardie with that silky, flowing hair?!
WHILE MY SHEEP I WATCHED AT NIGHT
Bearded Collies are herding dogs so, of course Jingles had to meet some sheep too. Either the dog has the instinct to herd or he does not. When testing for it, a handler will stay in the paddock to make sure the dog does not become too assertive with the sheep; they will often use a long whip with a bag on the end to distract the dog or slow the dog down. Jingles jumped the whip with the bag and was so exuberant that his body was going faster than his little feet. He thought this was all great fun...the sheep perhaps did not.
ALL I WANT FOR CHRISTMAS IS MY TWO FRONT TEETH

By the time dogs are six months old all of their puppy teeth should have fallen out and adult teeth should have grown in. In general, adults dogs have about 42 teeth. Dogs grow quickly so we decided to create a photo journal of his cuteness as he grew. We won't talk about HOW we got him in the chair but in hindsight - it was probably not a good idea because now all furniture is fair game for kodak moments or whenever it suits him. He even thinks he is a human and needs to sit at the table with us when it is time to eat. And sometimes he even thinks he is the centerpiece!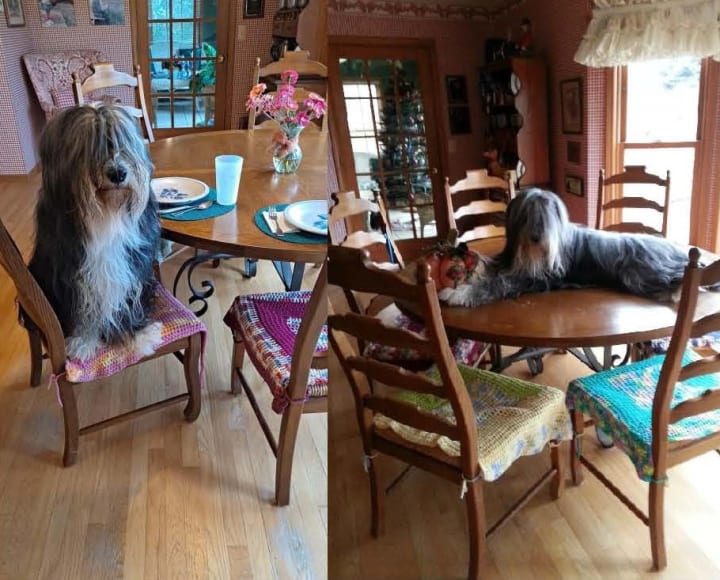 I WANT A PLANE THAT LOOPS THE LOOP. ME I WANT A HOOLA HOOP.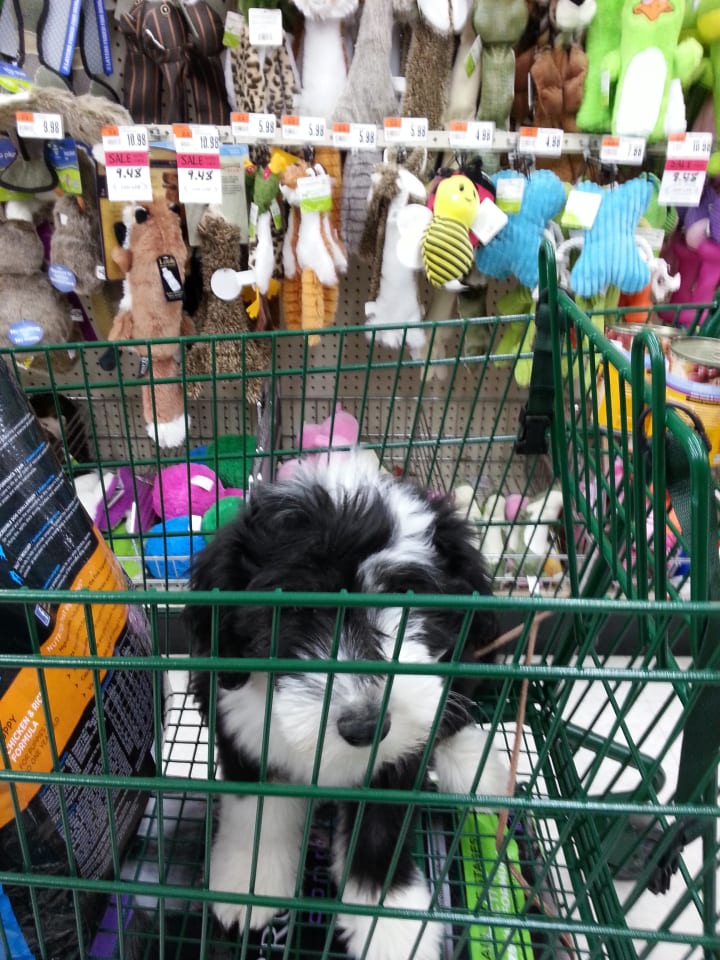 We took Jingles shopping with us too so that he could spread his joy to all. He got free dog cookies at the check out and we bought him a toy because he was so well behaved.
JINGLE BELL ROCK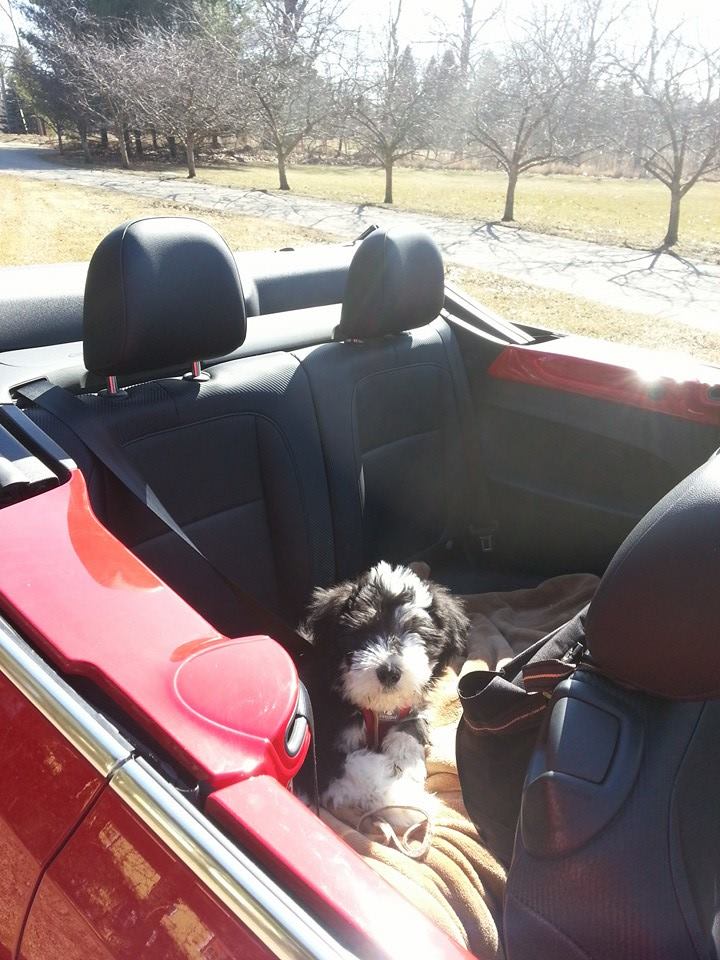 Even if you are a little puppy you need to let the world know how cool you are so a ride in a convertible is a must. Sporting a red seat belt to match, Jingles was ready to rock the town. I never told him that he was so little that nobody saw him .
HERE WE COME A-WASSAILING!

Jingles' breeder, Claudia, decided he should be shown too so why not? Here we come a-wassailing! In true Beardie style he brought his joy with him and let Claudia know just how much he loved her...and the judge...and the other dogs...and ALL of the people at the show. It usually turned out OK though because the judges liked him and he brought home ribbons and best of all, they gave him toys with the ribbons!
JOY TO THE WORLD!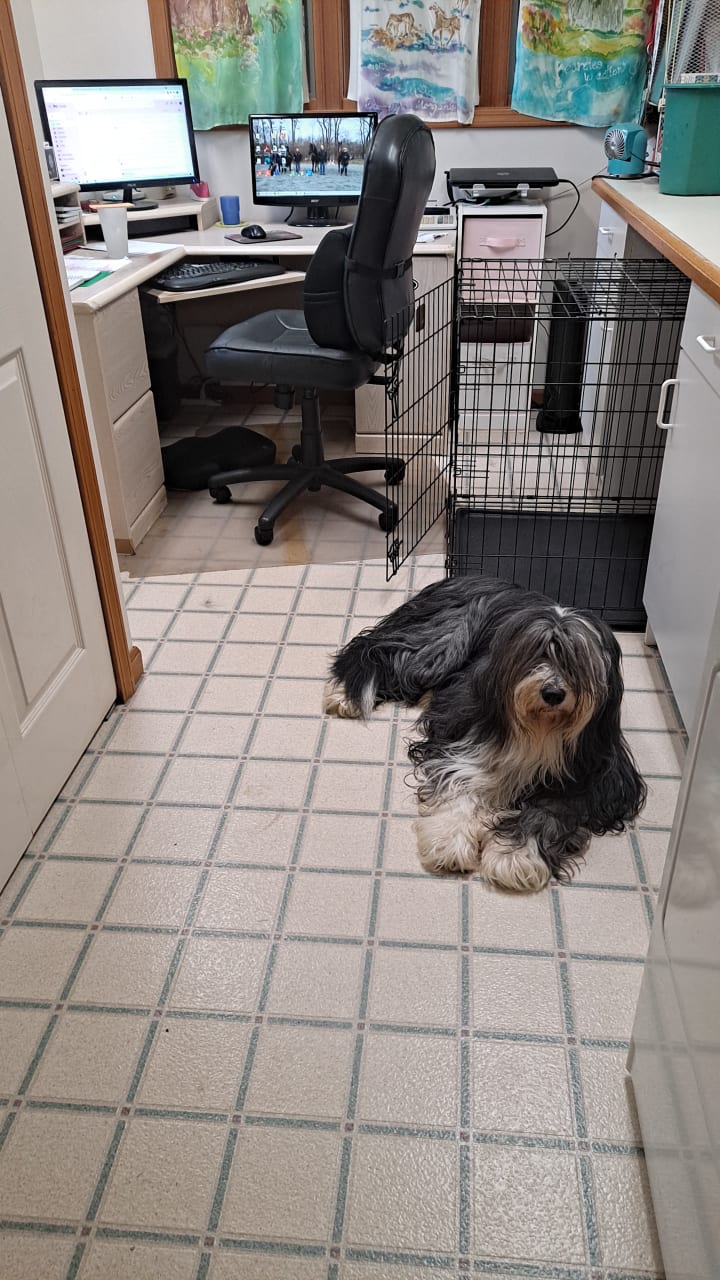 Is Jingles deserving of the title "EmPAWyee of the month"? Well he is for me. He is my constant companion. He IS joy in dog form. The whole time I've been writing this he has been sitting in my office behind my chair. So I got up and took a picture of him and what did he do? He looked at me with that look that says. "I'm here. I'm ready for whatever you want to do. I love you." I love you too Jingles!!!
dog
Mary Chris combines her life-long love affair with horses with a passion for keeping history alive. She is an active competitor at horse shows and is known for her work as a research writer for the Equine Heritage Institute.
Receive stories by Mary Chris Foxworthy in

your feed