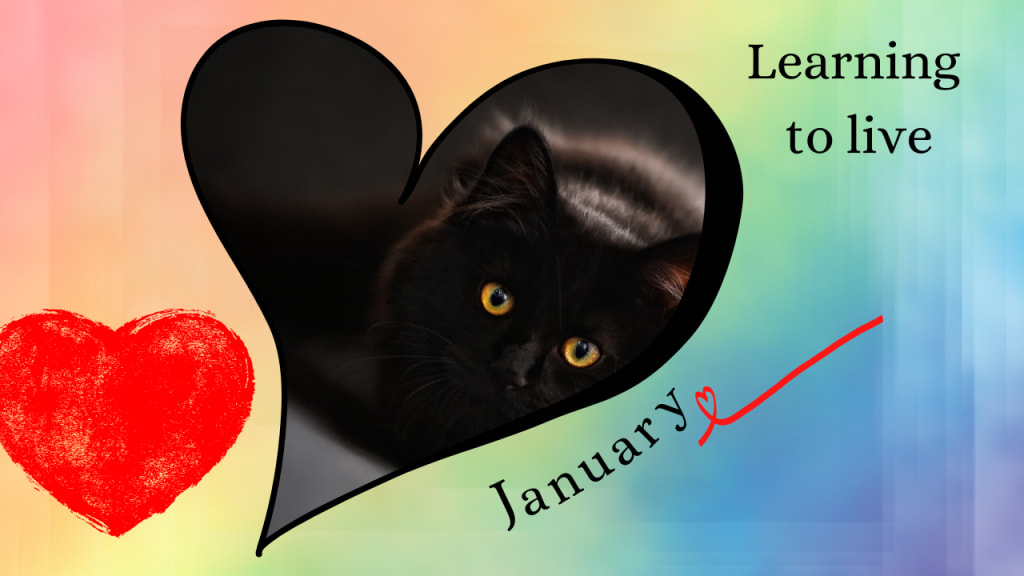 January is not a nice cat. Her predecessor, Voltaire, was also not a terribly nice cat. They say pets take after their owners. That's what love gets you, especially if you're a cat or a dog. They're smart. They remember, have desires, experience qualia, but they're not the greatest at abstract reasoning. A lot of humans aren't either, so that works out fine.
Voltaire had come into the household as a two for one special. My youngest daughter's cat had died suddenly due to death by traffic. So down to the shelter they went and back home with two black cats. One was for me, a calm short haired kitty who would turn out to have an even temper and a passion for frozen mice. The other cat, was much prettier, long fluffy hair and bright eyes. We were quick to learn though that appearances aren't everything and my daughter just as quickly traded cats.
Long haired kitty got her name because I was doing a class on the French Englightenment. It was Voltaire because she's very pretty, but she bites the hand that feeds her. I am not sure that Voltaire ever loved me. I'm not sure I loved me in the ten years that she was with me. That's hard to learn to do if you don't pick it up when you're young.
When my kids were little, I loved them and that was enough. They grow up though and the parenting books stop telling you what to do. Self-help books all have an answer for everything, but sometimes that like trying to buy shoes when your feet are both the same size or one's too wide and one's too long. Great shoes, but sometimes they just don't fit.
With Voltaire,
it was enough.
I would come home from work and she'd be there to eat her tin of kitty food.
She was someone to take care of.
That was enough.
It was December of 2018 that John texted me at work to let me know he'd be picking me up that night. He didn't want to tell me why. I really didn't want to know. I mean, for him to pick me up from work either the house was burned down or someone was dead.
That moment when I got home, and there she lay on his grandmother's crochet blanket and you know that time isn't flexible. You can't go backwards, not even to get one more moment. She'd given me ten years. We'd both been so traumatized by the life before we met. It took her years to warm up to me. I understood. I was still trying to warm up to the world myself. I buried her with grave goods. I felt like her spirit followed me and follows me still.
But I couldn't be alone. I needed a cat.
So the week before Christmas Seth drove me to the shelter. I had ideas of an orange kitten, maybe with floppy ears, someone loveable and sweet and adorable and I was so very excited.
With Voltaire's spirit riding my shoulder, a gift of fifty dollars from each of my sister and my youngest daughter in my account to pay for my new cat, I bounced in like a kid getting their first big box of crayons.
So cats come in three temperament colors at this shelter. Get a green and they're all about you. Get a blue and it might take some time. Get a red and you better know what you're doing.
Did I mention it was the week before Christmas?
They had one kitten.
She was red.
Her siblings had all gone to homes. Her mom had a nice new home. She had a box, a blanket, and more teeth than I bothered to count.
And
I
really wanted an orange cat.
So.
I looked at cats.
There was a room full of cats. None of them are terribly memorable. They were fluffy and furry with long tails and a love of high places.
Then a family came in, also looking for a kitten.
Self-love has never been my strong point. I've always given way to other people, other's needs, other's wants, but in that moment, I popped out of the cat room and announced, "I'll take her."
Exhilaration and guilt, but honestly, those nice little girls didn't need a kitten with a red temperament. I'd say I didn't either, but I really did.
The bill came to half of what I expected, probably for the couple of years I was on disability, but I really didn't have that much money, and soon we were out the door. She was so small and cute. She still had a bald patch from her spay.
I don't know why, but in November and December, I'm always depressed. Tomorrow is often a challenge. It's always hard. One minute into January, and I'm usually fine. I don't know why it works that way. So my new kitty became January, so I'd always have January.
I have scars too now, not horrible scars, just thin red lines because I'm old and she's feisty. She likes her tin of kitty food and she likes her treats well enough to have figured out she can reach between my mattress and box spring and pull out the bag. She's clever and brave and after she stopped teething, she hasn't broken my skin in a year.
She loves on her own terms though, which is something I need to get good at. She likes herself well enough and she won't put up with any nonsense, which is also something I'm learning to be good at. She'll come to me when she wants, crawl up in my lap, lay her head on my shoulder and purr.
January makes me happy. She's not always nice, but she's the cat I need. She's not orange, but she's honest and powerful and sleek. I want to be like my cat, enough claws to have boundaries and enough purr to tell the people I love them, how much I love them. Now it's January all year round.
About the Creator
I write a lot of lgbt+ stuff, lots of sci fi. My big story right now is The Moon's Permission.
I've been writing all my life. Every time I think I should do something else, I come back to words.
Reader insights
Be the first to share your insights about this piece.
Add your insights