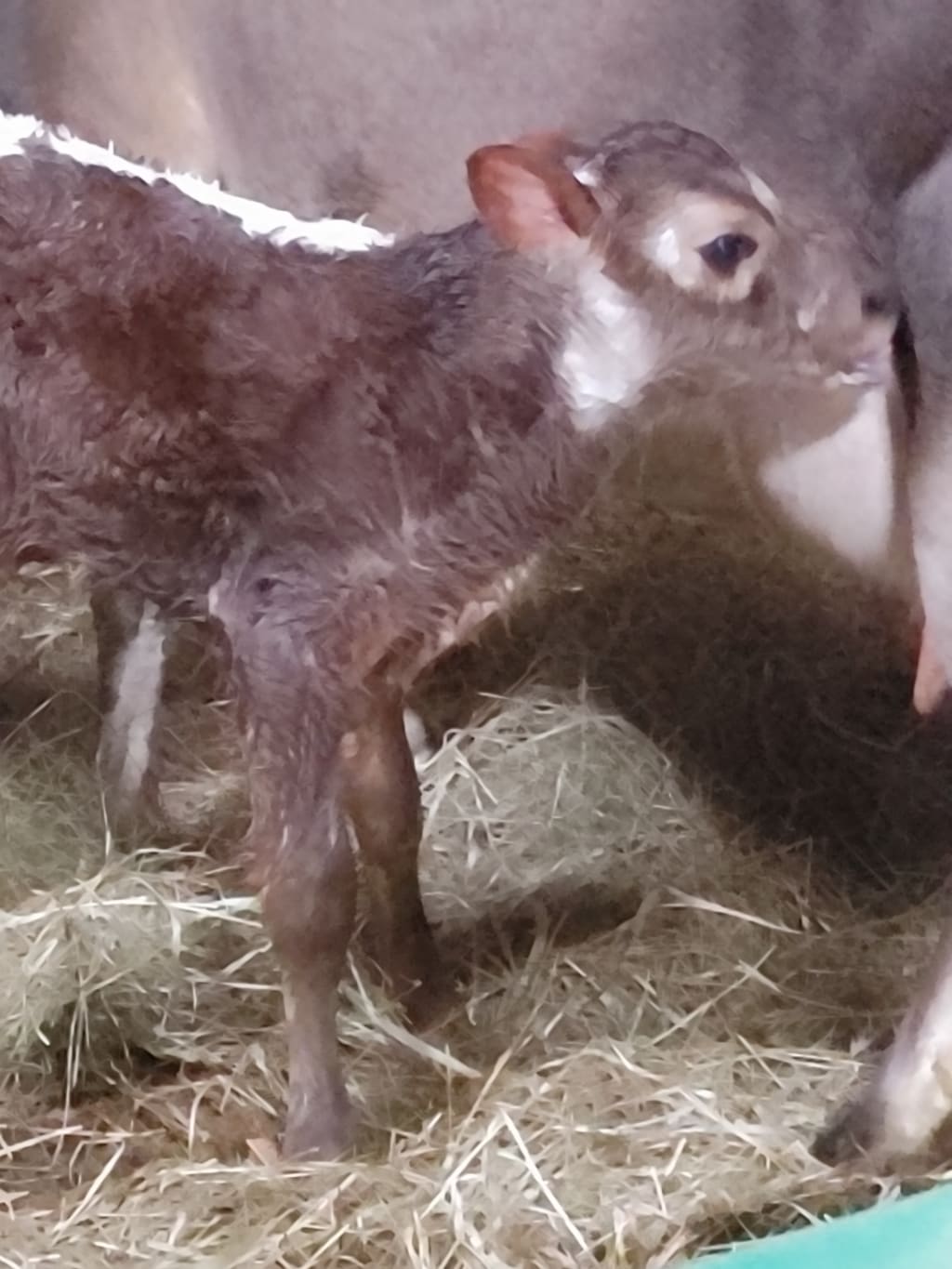 The night the bull was bornrn
It's a Bull
When Rosie came to us we knew she was pregnant. Having a baby calf on our new farm sounded great. We got Rosie on Easter. She was so sweet. We knew she was due in May. Every day she would moo. So my husband and I decided to get her a friend. We got Maggie a Dexter cow and her baby Chestnut. Rosie was amazing with Chestnut. She treated it as her own. Rosie takes care of everybody, the goats, cows, and calf. So as time went on, May approached. We could see Rosie was huge. We were thinking about why she has not given birth yet. Two weeks later my husband and I headed to bed. We heard a moo. We looked at the camera. Couldn't see well but we saw something. We got our shoes on. Went out to the barn at midnight.
Rosie finally gave birth. I kept telling everybody, "I don't want a bull." We couldn't tell if Rosie's baby is a bull or not. So, the next day, we went out to the field to see the new baby. So, they see us, and get to know us. The baby was laying down. Chestnut loved the baby since day one. Now Rosie is a jersey cow. Her baby came out as a Linebacker calf. Which is a rare breed. So my husband and I started petting the baby. I asked my husband if it was a boy or a girl. He said "I'm not sure yet" So I went inside to get lunch ready. I got the text. My husband said, "It's a Bull." Rosie had given birth to a bull. As we research bulls, we found Jersey bulls are the most dangerous ones.
This bull is a Linebacker, but his mom is a Jersey, so still a concern. So as this news was a bummer to me, I knew he still needed a name. It was my husband's turn. I named the goats, the bunnies, and other cows. He could name the bull. He came up with Hank. The bull's name is Hank. He is a very sweet baby but he does have some aggression issues. He uses me as a scratch post. My husband tells me I needed to push him off. I didn't want to do that. Everyone tells me never to trust a bull. Show him, I'm the boss. Not him.
As time went in I told the bull to stay and he did. So I could close everyone in for the night. He was a good boy. He stayed the whole time. One night, Maggie knocked me into the gate. Rosie came and gave Maggie a push on the other side of the gate, so I could get away. She's a good cow that protects everybody. Sometimes I find Rosie cleaning Maggie, or Chestnut and Hank are milking her. We all love Rosie. When it came time to milk Rosie, she was not cooperative. We had to get a friend to help us. So we finally got a little out. We noticed that one of her teats did not look good. So that night for dinner, my husband had enough milk for one bowl of cereal.
He said it was, "Okay." The next day wasn't better. She could be holding back for her baby, or that teats hurt. We don't know. We have stopped milking. As far as the bull goes, we don't know what to do. Maybe raise him for beef or sell him. We could keep him for breeding purposes. For now, our barn is not big enough. We are moving to a bigger place. Our bull may be able to separate himself when he has been weaned from his mom. Hank and Chestnut are best friends. They're always laying in the pasture together. We love the bull and all of our animals. Gotta love farm life with a bull.
By Kelly Vedder
Reader insights
Be the first to share your insights about this piece.
Add your insights