Invisible
A story of overcoming loneliness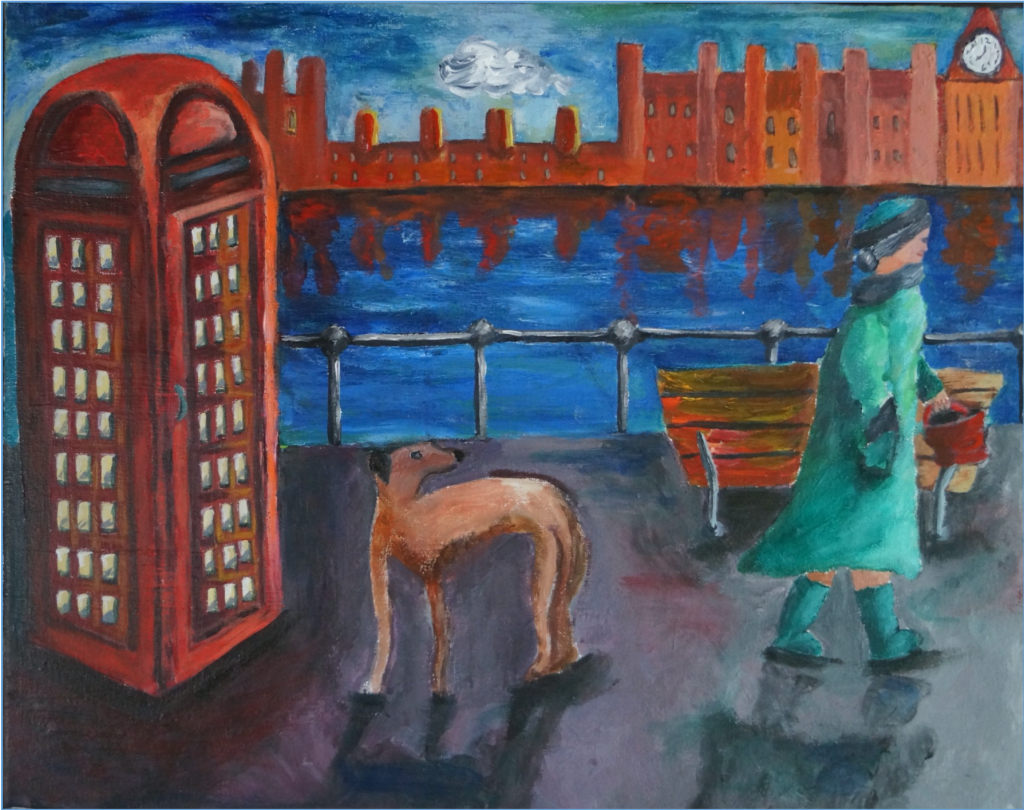 I had a home once, long ago.
My owner went to sleep, and never woke up.
Now, I run the streets.
No one notices me.
I am invisible.
At night, I sleep in a doorway.
A lady shoos me away each morning.
Her eyes never meet mine, but I watch her.
She's always alone, never smiling.
Today, as the light fades, I sense danger.
Flames lick out of her window!
I howl until she comes out.
"My house!" cries the lady.
"What's your name, love?" asks a fireman.
"Dolores," she replies.
"Is there anyone you can call?"
She shakes her head. "I've been alone for years."
The fireman says, "The women's shelter can help you. Come back when everything's cooled off."
My wet nose makes her see me.
"You again," she says. "Now I'm homeless too!"
I bark and stand close.
"Scoot," says Dolores, but I don't.
I follow to keep her safe.
The shelter doesn't allow dogs, so I stare at her.
"I can't look after you," says Dolores. She stops for a second, ruffles my neck, then the door shuts behind her.
I stay.
I wait.
A storm breaks.
Dolores comes out of the shelter.
"Oh, Boy, you're frozen!" She fetches a blanket and we walk to a bench.
"You're very baggy," she says as I nuzzle in close. "I can feel your bones." She rummages in her bag. "Not much but it will have to do."
I gulp down the tastiest snack I've ever had.
Eventually, she says, "I'll call you Baggy Bones."
Time passes as we sit in the rain.
Dolores says, "Why doesn't anyone notice us?" Her eyes water, and she whispers. "I'm sorry I didn't help you sooner."
Dolores shakes.
She sniffs and sneezes.
I have to get her someplace warm.
The blanket falls as I bark and nudge her back to the shelter.
Then I run. Fast.
"Come back!" she cries, but I don't.
Dolores needs the inside.
I survive on the outside.
The storm thunders until dawn.
The sun warms everything.
Back at the shelter, I wait.
And wait.
Dolores doesn't come out.
Where is she?
No sign of her at our bench.
I pace. I bark. I search.
Dolores is gone.
I slink away, invisible again, until …
"Baggy Bones! Wait!"
It's Dolores!
"I couldn't sleep so I went out early," she says. "But I didn't forget you."
I woof and wag with everything I have.
"Come on, I have a surprise."
Dolores walks and I happily bounce to heel.
Her house smells strange.
"The kitchen is damaged but nothing else," she says.
I sit. I stare.
Dolores kneels.
Our eyes lock.
"You saved me from the fire," she says. "Maybe it's time I rescued you?"
A home with Dolores?
No cold?
No hunger?
A friend?
WOOF!
I jump and lick, happy that Dolores and I are no longer invisible.