I Tried the Gismo Leash Holder + System & Here's What Happened
When hiking, you need to trust your gear– especially when it's used to protect your furry friend.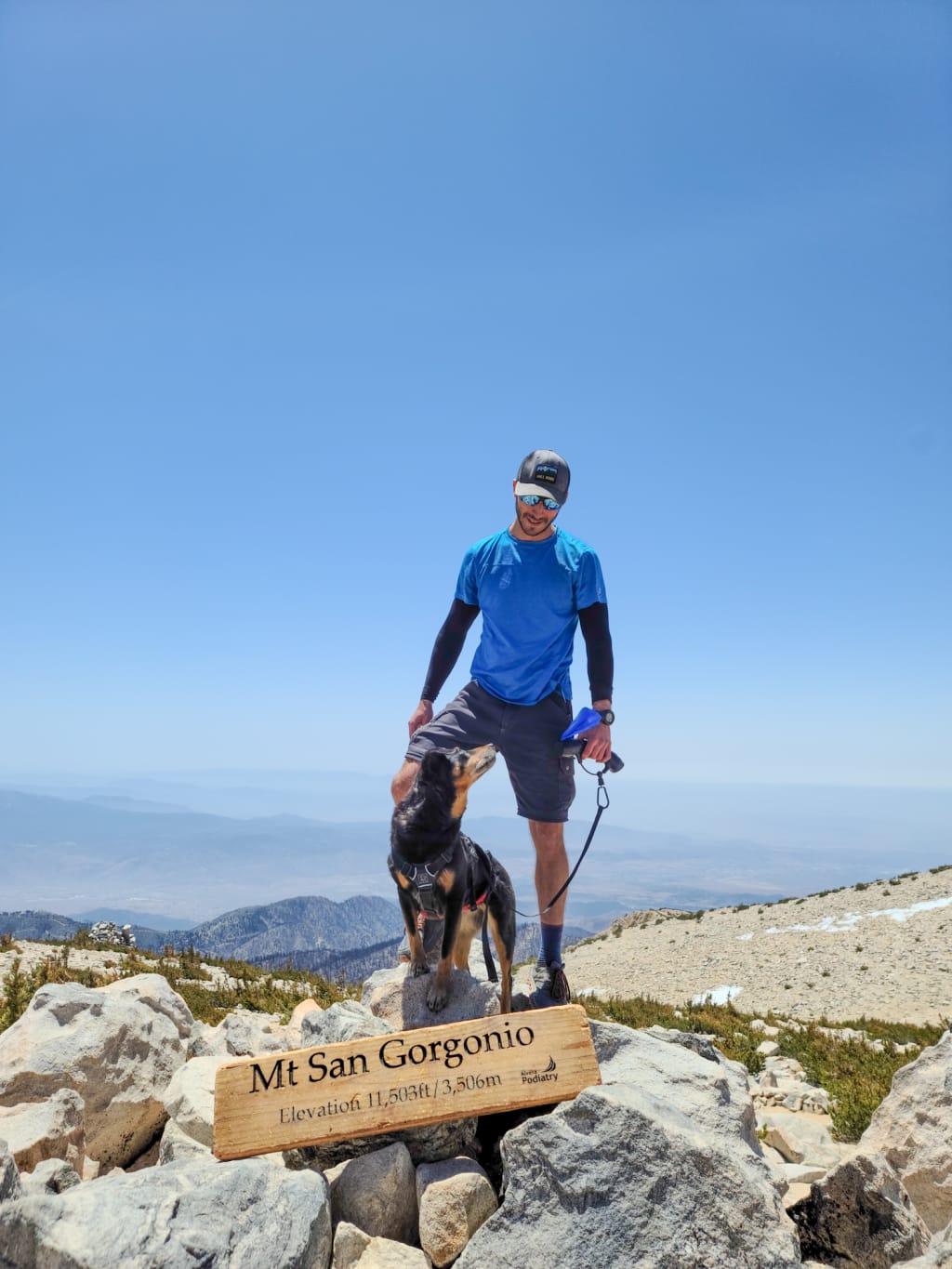 Ever since I rescued her 10 years ago, my dog Lenya has been the most important part of my life. It's been her and I on our own this entire time. People have come and gone throughout the past decade, but Lenya has stuck close by through it all. Through thick and thin we have been a team. That kind of designation means her safety and overall well-being is my number one priority. She deserves the best of the best.
Over the years I have owned many different types of leashes, all serving their own purpose. Some were good and some were not so good. Recently I was approached asking if I would try out the Gismo Leash Holder + System with Lenya. This is a multi-use leash holder, meaning you can use the leash that comes with it, or you can attach your favorite leash if you have one instead! The bundle comes with the leash, dog poop bag dispenser, and flashlight. I saw online that there's even an option for a connectable dog treat container that you can purchase separately from this bundle. I was a little skeptical at first thinking that, since it had so many different capabilities that it might be cheaply made, or on the other end of the spectrum, too heavy for practical use on hiking and backpacking trips. Weight really matters when you're trekking for 20+ miles a day.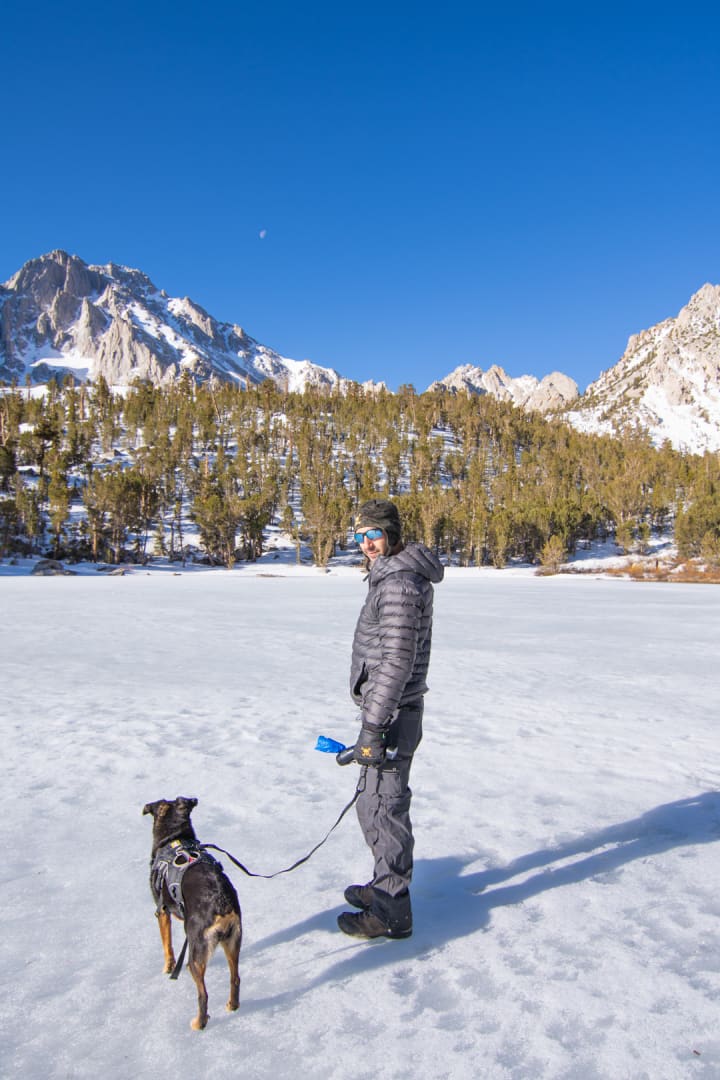 The first test was obviously around my neighborhood. This was a quick simple test for comfort and functionality. What I really liked was that I could use my favorite leash with it, the one I trust. Besides that the grip on the leash holder was extremely comfortable and versatile (Lenya likes to move around A LOT). Also, there's no feeling like seeing your dog squat to poop and not having a dog poop bag to pick it up with. Super embarrassing and irresponsible! Now as long as I leave the house with the leash, I have dog poop bags right there with me. Not only that but if it happens to be nighttime, the flashlight is super handy for finding your dog's business in the dark. The light is super powerful. No endlessly searching around for it or even worse, stepping in it!
The next test was bringing the Gismo Leash Holder + System on a real hike. It was a 15-mile round trip hike up in the Eastern Sierra at over 10,000' elevation. Crossing over frozen alpine lakes and traversing across snowy cliff sides definitely required me to keep Lenya secure and close by. In those types of situations you REALLY need to trust the gear you are using, especially when it's your furry friend's life we are talking about.
We started the hike before sunrise and this is when the flashlight on the Gismo Leash Holder + System really started to come in handy. I had forgotten my headlamp in my friend's car so having the flashlight on the Gismo was a literal lifesaver. It was pitch black so aiming the flashlight at the ground made for a much clearer path. Hiking in the dark in icy conditions is super dangerous so having something to light the way made it a bit safer for both Lenya and I.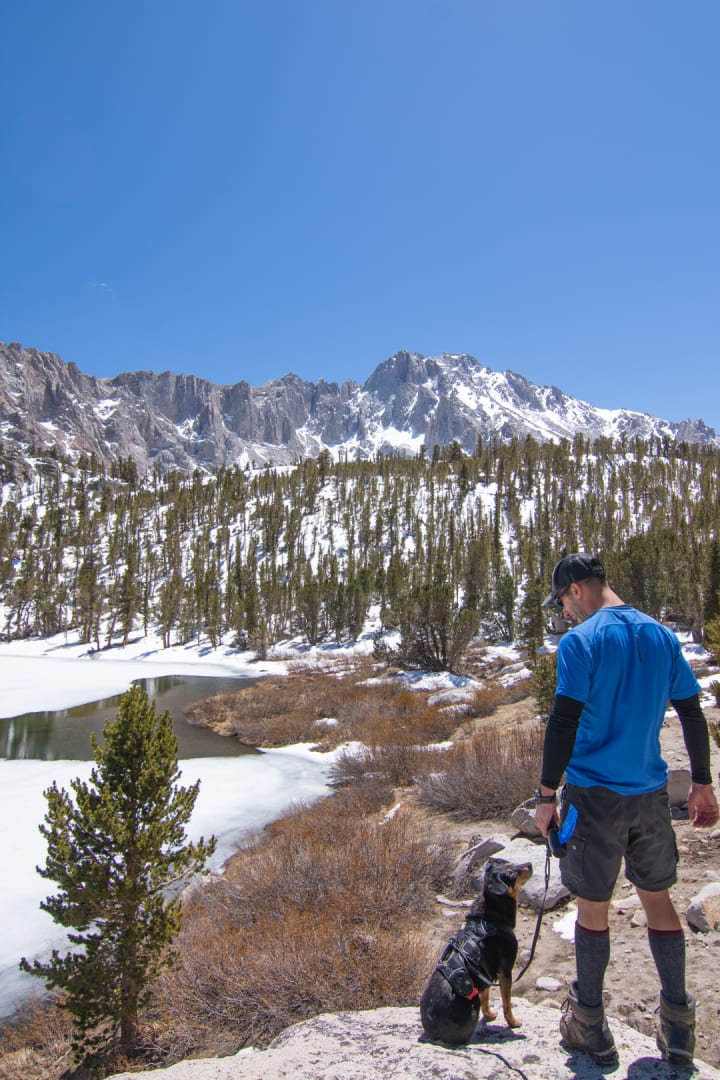 The trail was absolutely beautiful, and before I knew it Lenya was squatting down in the middle of it doing her business. She normally has the courtesy to at least go off trail, but I think this one was pretty emergent. Luckily I had the dog poop bag dispenser ready to go and was able to scoop it up quickly and toss it in my trash bag. Leaving no trace is a very important part of my lifestyle, and the Gismo Leash Holder + System is a really great tool to help with that while in the wilderness.
The biggest surprise to me was the quality of the Gismo Leash Holder + System. With so much functionality I thought that would detract from the overall quality. To my surprise the product is super high quality. The area where you place your hand and grip is comfortable, no matter how your dog moves around. Normal leashes create strain and pressure on your hands/skin. The grip on the Gismo Leash Holder + System has a solid increased surface area to place your hand and is much more comfortable. With Lenya basically pulling me up the mountain, this added comfort was extremely appreciated.
As we approached the 12,000' pass, the trail became a bit more narrow and steep. Soon we were traversing through deep snow, sometimes up to our waist. It got to a point where it was so deep I needed something to stabilize myself. I pulled out my ice axe, put the Gismo Leash Holder + System in the other hand, and trudged on. The durability was tested even further when I removed my pack, grabbing the leash and knocking it out of my hand, which caused the Gismo to fall onto the rocks at the pass. I went to pick it up, almost certain I would find damage to it, or possibly the flashlight wouldn't work. After doing a thorough check, the Gismo Leash Holder + System was totally intact with everything working how it should! Amazing. Lenya and I celebrated with some treats, mine from my pack and hers from the connectable treat container I had filled earlier that morning and clipped to my belt. I had purchased the connectable treat container after doing our test walk around my neightborhood, knowing it would make snack time on the trails easier for Lenya and I.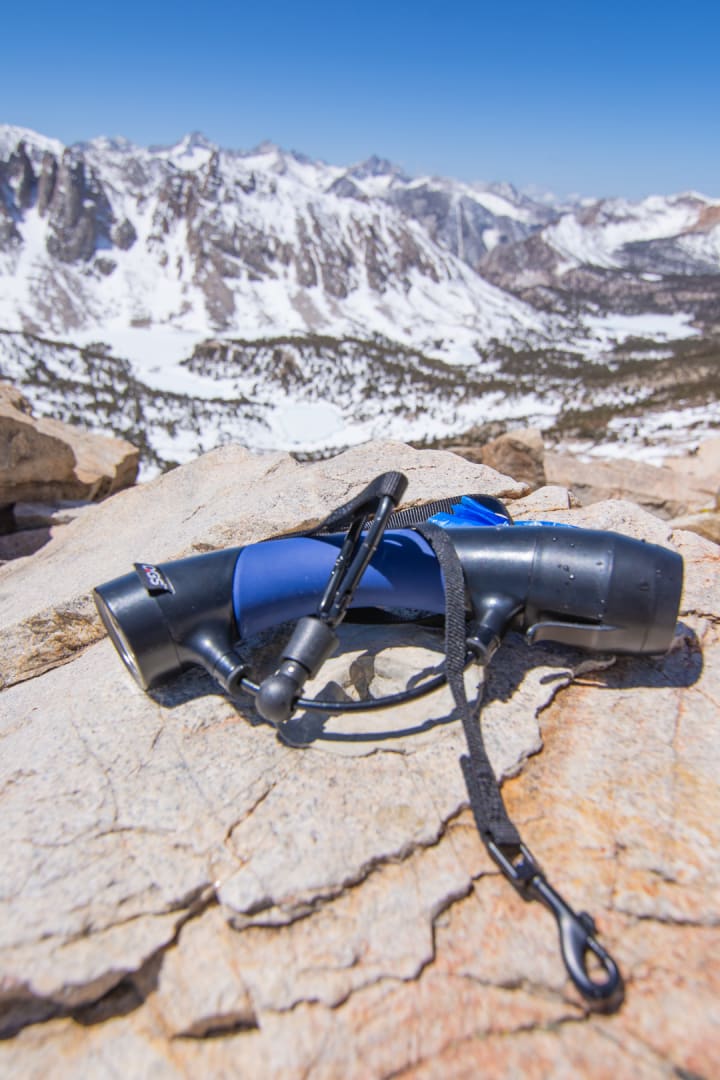 After enjoying the pass views above the many alpine lakes below, and fueling up with some treats, we decided to make our way back down. With Lenya leading the way, and her secured to me, the trek back down was smooth and carefree. The trip was a success, and so was the Gismo Leash Holder + System. The functionality and durability of the Gismo held up to everything our adventuring could throw at it. Not only that but Lenya gets to use her favorite leash with it so everyone is happy! My skepticism about the product has evolved into excitement for further use of it on our adventures.