I Don't Always Spy on my Cats… But when I do, I Get Caught!
They Know We're Watching!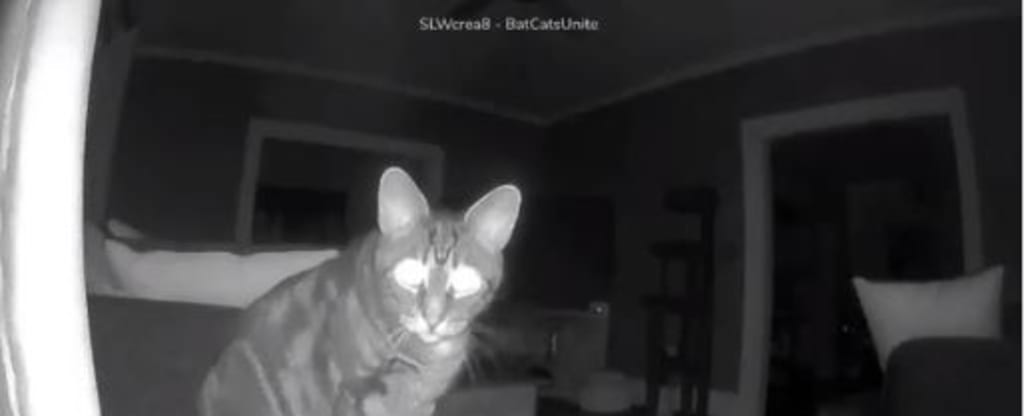 Actual Cat Cam Footage of my Big Boy Bane ~ @SLWcrea8 and @BatCatsUnite
My fiance and I are the proud parents of 5 rescue cats, who are also known as the "Bat Cats". If you haven't already guessed from their "band name" title, I have named them all after the characters of my all-time favorite movie, Batman. The 1989 version of course… old school here!
Who Are The Bat Cats?
Bane
Our first rescue that we found abandoned in the woods. He is bold, spunky, playful, too smart for his own good, the leader of the Bat Cats, and will get along with anyone and anything (people, kids, other cats, dogs, you name it).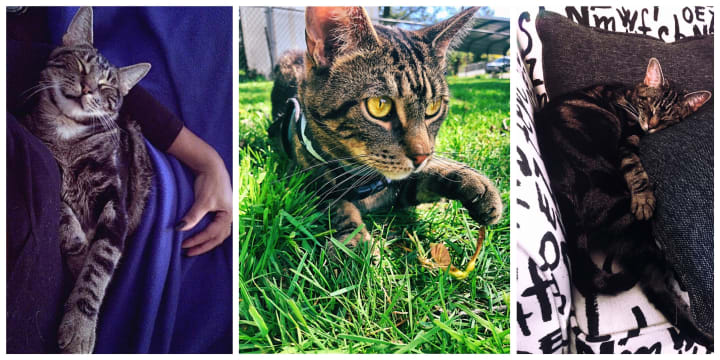 Commissioner Gordon
Our second rescue, this time from an animal shelter. He is the youngest but tallest and largest of the bunch (he is the size of a small dag). He is quiet, loyal, will come immediately when you call his name from anywhere in the house, and his spot on the bed is on the pillows in-between mine and my fiancés head. We usually either get a cat foot in the face or a warm nose by your cheek upon waking.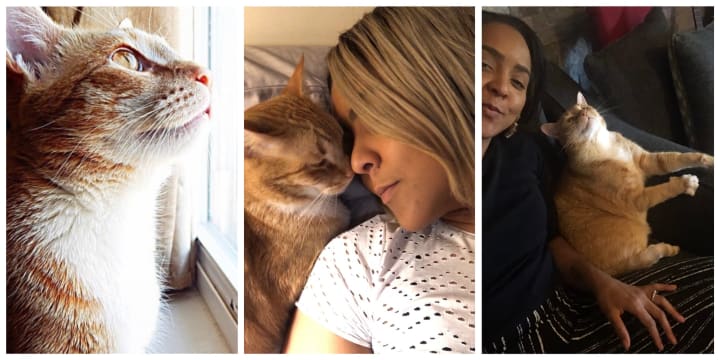 Lucius Fox
Also a shelter rescue. All he wants is to snuggle up on your lap and give you nose kisses and head nuggs (the closer he can get into your personal space the better).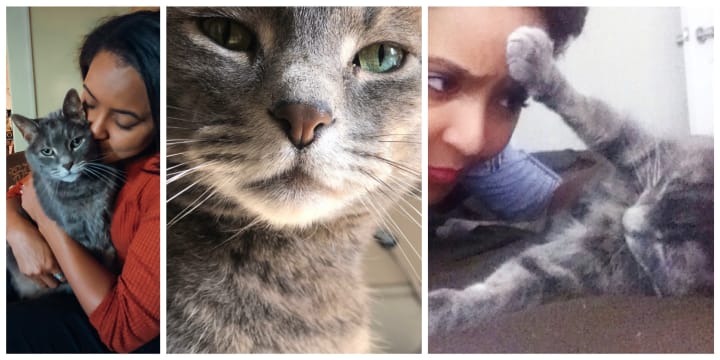 Alfred Pennyworth
Yet another shelter rescue. Before we obtained him, they said he was previously abused. It took me 3 years of patience, time, and endless love to break him out of his shell. Now, 6 years in, you would think he was always the most outgoing and affectionate cat you would ever meet. He follows me everywhere I go in the house, and if you say "give me a hug", he will jump up and wrap his front arms around your thigh and hug your leg.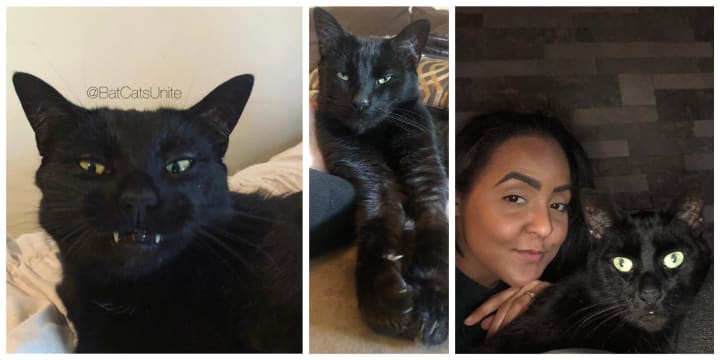 Oswald Cobblepot (aka The Penguin)
Last but not least is Oswald Cobblepot, who we found outside our home and rescued from the brink of starvation. When we took him in, he only weighed about 1 lb. (which at the time we estimated him being around 3 years old). Our intentions were to rehabilitate him and get him comfortable with people and our cats so that we could find him a good home. Long story short… he got along too well with our other 4 cats and was attached to my hip. He had already found his second chance and forever home with us.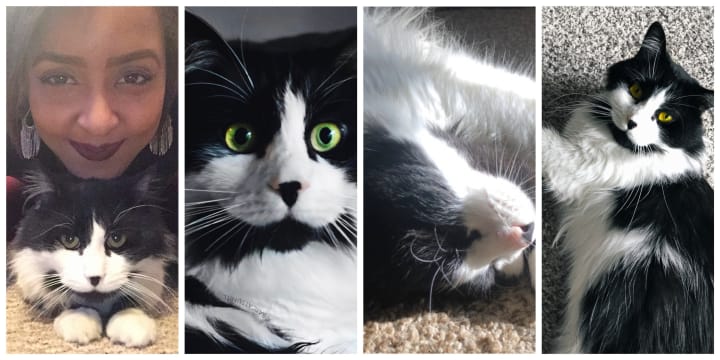 You Actually Spied On Your Cats?
The true beauty of it all is that I don't even have to conjure up any imaginative mischievous scenarios of what my Bat Cats might do when myself and the fiancé are away.
Why you ask?
Yes… You better believe this crazy cat mom spied on her fur kids when we were away. I mean, doesn't everyone spy on their pets?!
Earlier in the year, my fiancé and I planned a quick 3-day trip. Nothing huge, but rather to just get away from the everyday norm. Now mind you, whenever there is a trip in the works, I usually get pretty emotional about leaving my cats behind. Being that it had been over a year and a half since our last "long trip" away from home, my maternal feline instinct really started to kick in. I knew my fur kids were going to be missing us!
A year prior to our trip we had gotten an entire outdoor security system… regardless of the fact that our neck of the woods is the quietest, dull, and uneventful location in the area, but you can never be too careful.
Que "LIGHTBULB"!
That's right, I did it… I took two of my outdoor cams and strategically placed them inside where I knew the Bat Cats would stir up the most activity. One in the bedroom, where they occupy at least 70% of our queen-sized bed, I occupy 25%, and my fiancé gets the last 5% most nights. The battle for bed space is real folks!
The second camera I place in the corner of our living room on one of our end tables with the perfect angle that would view the entire living room, the dining room, and the opening of our foyer entrance. The perfect setup!
The best part about these cameras was that they had two-way sound, so I could hear everything that was going on as well they could hear me if I decided to speak via the security app.
Fast forward to Day 1 of our trip. An hour into our 8-hour drive to our destination, I am on the phone checking in on the Bat Cats. As suspected, Bane, Commissioner Gordon, Lucius Fox, Alfred Pennyworth, and Lucius Fox were all snuggled up on the bed.
When I check back in 2 hours later, you better believe they were still in the same exact spot. The life of a spoiled cat is definitely a good one.
Of course, on the first day of our trip, I would check in on them almost every hour or so. Day 1, however, in its entirety was very uneventful. I was shocked! There is always some kind of playful, funny, or mischief priceless moment going on while we are home. The Bat Cats are usually bouncing off the walls… never a dull moment. I was starting to think that because we were not present that they were not their rowdy selves.
Instead, there was just a lot of walking back and forth to the living room, to the dining room food dish, back to the living room for a nap on the couch, stretching, perching on the cat tree, nap time on the floor, back to the cat dish for a snack, licking of the toosh, back to the living room, and then up to the bed for yet another long drawn out cat nap. Boy of boy, do they have it rough!
Day 2 of the Cat Cam, was pretty much the same, but the real kicker came the morning of Day 3 at 4 AM. My fiancé was the first to check the Cat Cam upon waking up. "Shanice, wake up… You have to see this". I could hear him laughing as I rolled over still in a dream-like state. He hands me his phone, and I see that he has the security cam app on. As I look at the thumbnail image, all I see is two huge glowing eyes staring at me. It was Bane on the night vision cam!
The entire time we were gone, not one of the cats realized the cameras present. Until that very moment. BUSTED! Clearly, he was not amused that we were invading his privacy and personal space.
In the future, if and when we do decide to venture out again on our next trip, I would 100% set the cameras back up. Ultimately it gave me peace of mind that I could check in on my fur babies and make sure they were all safe and accounted for. And it also debunked my theory that when people are not present, that all pets start walking on two legs and speaking in the human tongue. That is unless they knew I was spying on them the entire time!?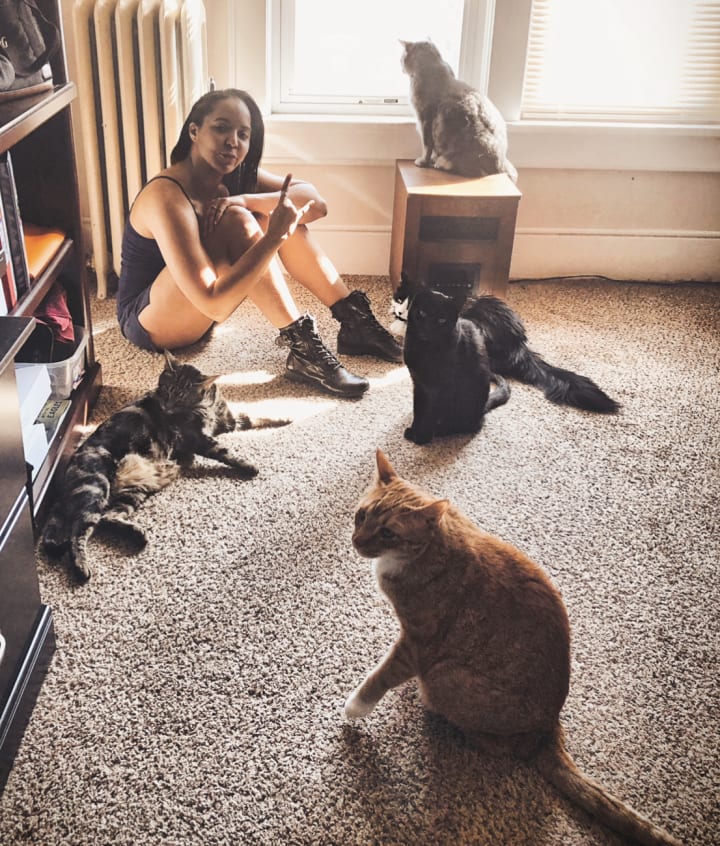 Just for the Heck Of It - It's What Parents Do
You know I can't just end it there right?! Like every proud parent, we love showing off photos and videos of our kids... fur kids that is. Enjoy some more priceless videos of our wonderful, crazy, personality-filled Bat Cats.
Bane in the Box
Who Dat?! - Commissioner Gordon & Oswald Cobblepot
Santa Paws - Lucius Fox
Hugs Anyone - Alfred Pennyworth
All About the Belly Rubs - Oswald Cobblepot
Weirdo - Alfred Pennyworth
Playing with Strings - It's What We Do