I Am Not A Cat Person
Oz and Me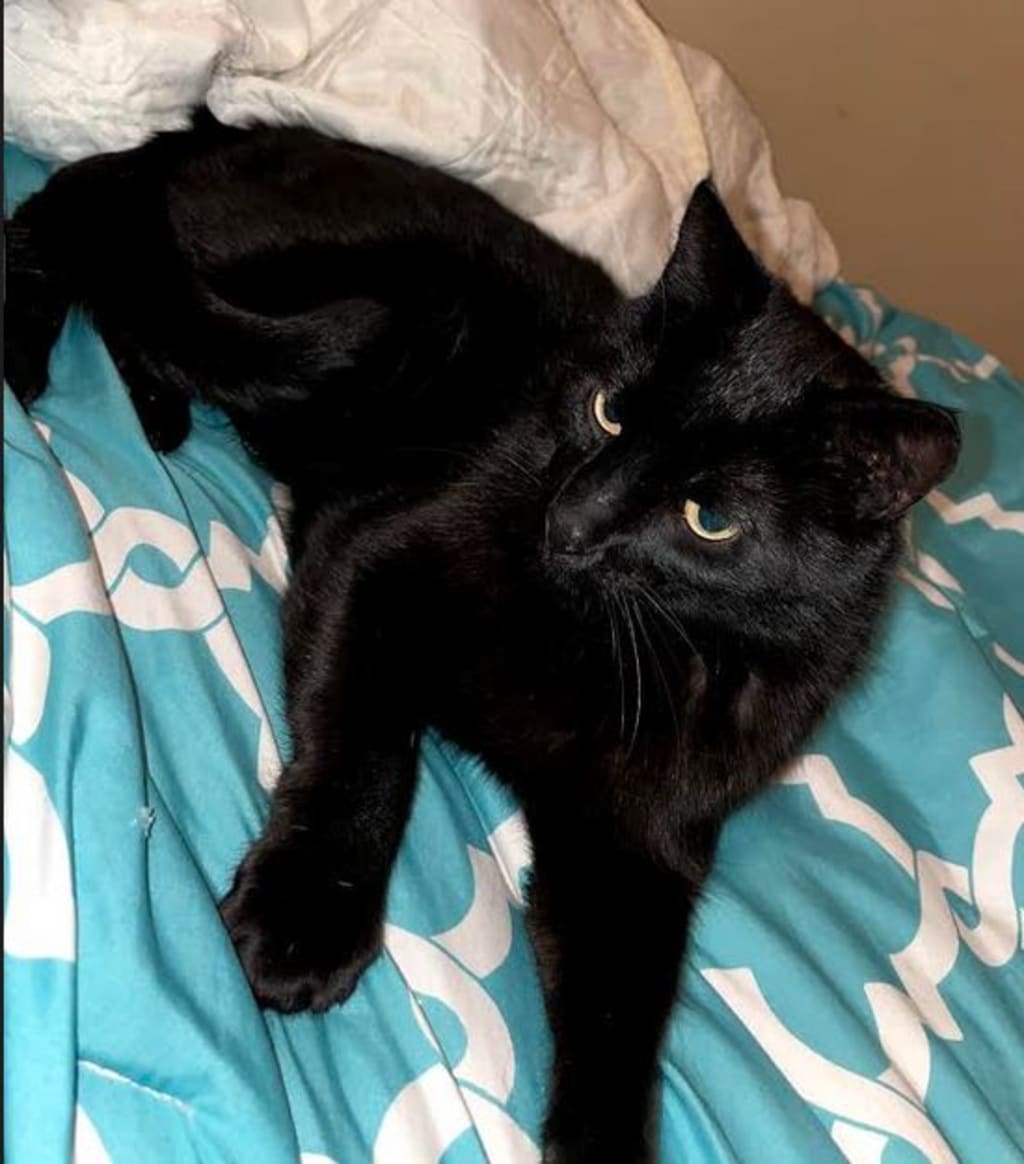 I am not a cat person.
I am also not a rodent person, snake person or ferret person. But my daughter is freaking Snow White and animals are drawn to her. She has a knack for fixing broken, abandoned or unwanted animals and finding new homes for them.
In the past year, two ferrets, four chinchillas, one turtle, two rabbits and two snakes have passed through our home. There have probably been more I'm unaware of or have forgotten. It is easier for me if I ignore the tiny zoo she has going at any given time. All her animals have been nursed back to health and found new and loving homes. We are also the permanent home to two ginormous German Shepherds who have been trained and know to never touch one of her animal guests.
I am not a cat person. I am very allergic to cats. My eyes swell shut, and I have respiratory issues. She has never brought a cat into the house knowing that I would be miserable.
Until five days ago.
My home, in addition to the multitude of animals, also has three teenagers. Each teenager has their own POS vehicle. Our home looks like a used car lot. We have a double driveway and it's illegal to park on the street overnight, so every evening we play car Tetris with five cars, four driveway slots and one garage space. We maneuver vehicles around so that there is minimal movement of cars in the morning.
Five days ago we were moving the vehicles around when a black cat shot out of our garage and hid under one of the cars. My daughter, the animal whisperer, went after it. It took her two hours to coax it out from under the car. He was scared and timid but wanted to trust so much, but it took two hours for her to convince him to give her a chance.
She walked the neighborhood, asking the neighbors if he belonged to them. A few stated that they had seen him around for awhile now and they thought he might be a feral cat living in our sewers.
And then it started to rain. My soft-hearted daughter took him inside, set up a litter box (we had one leftover from the ferrets) and shut him in her bathroom with soft towels and a plate of chicken breast. The next day she took listed him on all the social media sites as a found animal and then took him to the vet to see if he had a microchip.
To our delight, he did! We were happy because this guy so loving, so cute and deserved a good home. I am not a cat person, but I was able to play with him without my allergies flaring. The chip company called the owner and we waited for the phone call.
It did not come. Daughter had to take the ACT test that next morning, so I spent time with the cat and called our local animal shelter. I was advised that the owner had three business days, per state law, after contact to claim the animal before it was considered abandoned. I asked about our options if the owner did not come forward. I was told that they would take the animal, attempt to contact the owner again, and then euthanize after three days if no one claimed him. They were at capacity and did not have the capability to house animals long term.
I dreaded telling my daughter. I am not a cat person, but this loveable, loving, skittish cat did not deserve this. But, I am not a cat person.
My daughter came home from her ACT test excited. She had received a phone call from a local animal shelter regarding the cat. They had also gotten a call from the microchip company.
Eighteen months ago, a man adopted this cat and another. A year ago, the other cat was found by a family. The man was called as well as the shelter. They found out that the man had driven the animals out to our subdivision and dumped them off. He no longer wanted them.
The shelter had contacted this man asking for information on the cat we now had. They had looked for him and asked the man for help, but he had become hostile and uncooperative. They had given up until they got the phone call from the microchip company.
They asked us if we would consider adopting him. We said yes.
We renamed him Oz.
I am not a cat person. But, apparently, I am this cat's person.