Human and Animal Friends to Fight Loneliness for my Autistic Human
(feeding birds and Ghostly visits)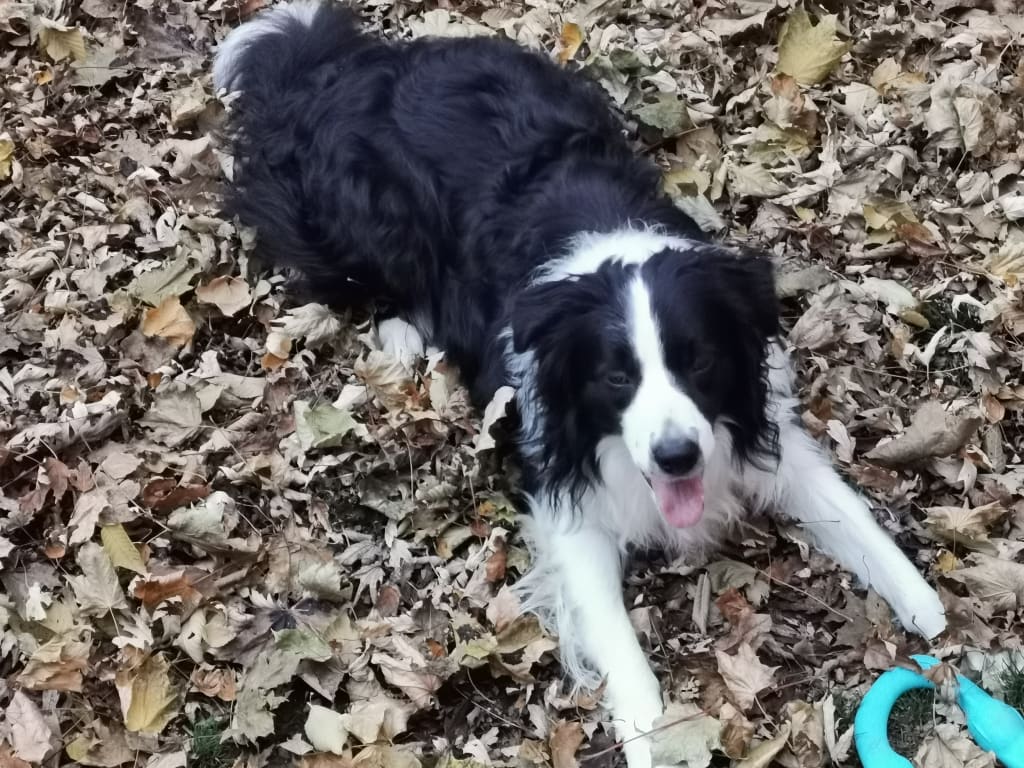 Hi it's me Callum back with another blog. before I start into this week's blog I would like to bark about the gallery page that was added to my blog.
On it you can see pictures of me, no pictures of my autistic human though because she is shy and hates having her picture taken.
I would love to see pictures of your doggies or any other animal family members you have. My human loves animals so she'll be happy to see all the pictures.
Do you love animals as much as my mom does? My human loves animals a whole lot because they don't judge her. It makes me a sad boy when I read about someone staring at an autistic person just because they're different. Doggies like me and other animals are all unique there is something special about all of us just like all autistic people are unique, there is something special about all of them. I love it that my human loves animals so much. She loves having me around to play with and to look after, I give her a purpose. Her bird and squirrel and chipmunk friends that visit her everyday give her a purpose to. I can see how happy it makes her to feed them and if she doesn't have anything to feed them it makes her feel bad. I would gladly share my food with them but birds and squirrels and chipmunks don't eat doggy food.
Speaking of food I wish my human would eat more of a variety of foods. Like a lot of people with autism she is so fussy when it comes to food. The look of some foods other her, the smell of some foods bother her but the biggest problem for her is the texture of foods.
Do you get bothered by the texture of some food? (Are you also Autistic? Maybe leave me a friendly answer in the comment section. I will make sure my Human reads them!
Too bad animals cant leave comments!)
My human always feels comfortable around animals. I think she is like a lot of people with autism out there though, she doesn't feel comfortable around people until she gets to know them.
My human loves it when my Auntie Susan and my Uncle Dave and Auntie Rebecca come to visit. My Uncle Dave is a pawsome photographer, here's the link to his photo gallery if you want to check out his pictures. My Auntie Rebecca is a singer and I think she sounds like an angel. My Auntie Susan is a pawsome photographer too but if my doggy mind serves me correctly I don't think she has a photo gallery. (I guess we just get to keep her pictures to ourselves. )
Now that my human's mom is gone she appreciates their visits even more. They just never seem long enough for my human who has never had to be alone before and I know it is very hard on her.
​I know my human's mom's spirit is here with us though. It is a known fact that kitties and doggies like me can see spirits. Sometimes my human will see my eyes following something when there's nothing there.
​When I do that she knows I am seeing my grandma, my human will then say hi mom I'm glad you're here and she'll talk to her mom. I know my grandma can hear her because
our loved ones love us too much to totally leave us. I know that because I'm a border collie and border collies are very smart we know about those kind of things.
My paws are getting tired from typing so I'll end for now. I'll be back next week to bark at you some more. Don't forget to check out my gallery. I'll be adding more pictures soon. Me and my human would really appreciate it if you shared it with your friends.
If you want to buy me a pup treat me and my human would be very grateful. Just click on the 'buy me a pup treat' button and it'll take you to my 'buy me a coffee' page where you can make
a donation if you wish to. Me and my human know lots of people are having a hard time financially so if you can't donate please don't worry about it. We love you and appreciate you all the same.
​
Bye for now. See you next week,
Your handsome blog writing friend,
Callum the Border Collie
https://callumbordercollie.weebly.com/
dog
About the author
I am a 10 month old Border Collie and not only am I a talented blogger, I am also very handsome.
I am a very good boy.
​I am writing for my mom who is an autistic human.
https://www.callumbordercollie.com/
Reader insights
Be the first to share your insights about this piece.
Add your insights