How to Introduce Your Cat to the RV
How well do you know Mister Whiskers?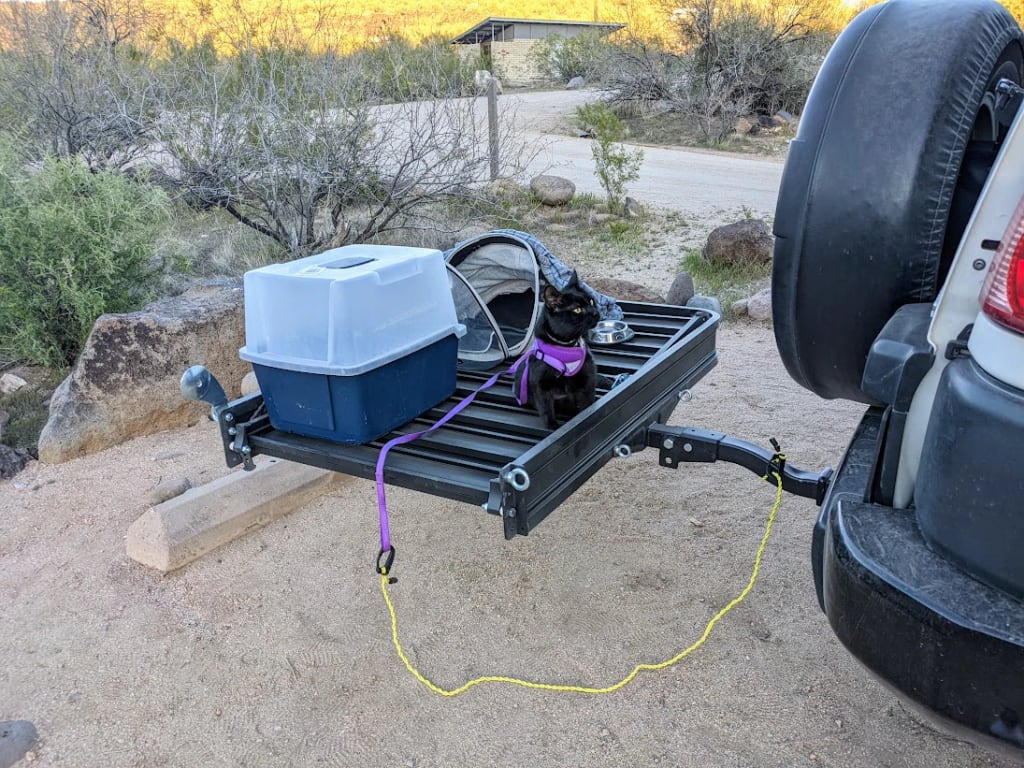 Photo Credit: Shadow the Adventure Cat
If you're thinking of taking Mister Whiskers RVing with you, congratulations! You and your four-legged womb fruit are about to embark on the adventure of a lifetime.
Unfortunately, cats are usually nowhere as excited about car rides as dogs are. Just one look at the crate or pet carrier and you can count on hours of involuntary hide-and-go-seek with a master in stealth.
So, what can you do to ensure Mister Whiskers isn't plotting your demise within 10 seconds of setting foot inside?
Know Your Cat
Some cats love new environments; others take a little more time to adjust. If your cat has never been in an RV before, it's best to start small. Try taking Mister Whiskers for a short drive around the block or park and see how he does.
My missus decided to introduce me when we were already on our way. Why? Because she understands the way I think. I will adjust to anything, especially if there is no other alternative. Given a pre-introduction, however, I would fear it instead.
Calm Your Cat
Another reason you need to know your cat well is that only you know how to calm Mister Whiskers. I'm semi-feral, so I received vet-prescribed sedatives for the first two days. My missus also used Feliway spray and catnip spray. Now, I don't need anything.
Here are some additional calming methods you can try:
Try to create a calm and relaxing environment inside the RV and introduce your cat before moving it.
Consider taking a short test trip to give Mister Whiskers a taste of life on the road.
Bring along Mister Whisker's favorite toys and bedding, and give him plenty of attention — if that's his preference. (Some cats will prefer to hide!)
You may also want to consider getting a harness and leash so Mister Whiskers can explore safely.
Make It Worth It
When I lived in a house, I only got wet food every other day because I have a sensitive tummy. Missus worked hard to find a prebiotic that resolved this issue. So, my big RVing upgrade was that I now get more wet food!
Here are some additional perks I love:
I have more windows in the RV than I did in the house and my missus prioritizes my use of the windows.
The world is constantly changing outside and I enjoy the new views.
We encounter so much more wildlife—squirrels, bighorn sheep, horses, donkeys, birds, lizards—and I love it!
I am a very affectionate kitty, so I love that I get to spend more time with my missus. (I am rarely more than a foot away from her!)
Be Patient
Some cats will take longer than others to adjust. It took me two days to get used to traveling in the truck. It then took me a month to get used to living in an RV because it feels so much more exposed than a house.
Just like people, cats need time to adjust to new environments. So, be patient and keep rewarding Mister Whiskers for good behavior. Hopefully, by following these tips, your cat will quickly adjust to life in the RV and you'll be on your way to many happy adventures together!
Next time, I'll talk about the pros and cons of having an indoor vs outdoor camping kitty, as well as a leashed vs. unleashed adventure kitty. If you'd like to see my probiotics, leash, harness, and other adventure cat gear we use, you can find that info here.
See you soon. Meow!!
Did you find this article helpful? Feel free to subscribe, pledge or tip me, so I can buy tuna and catnip!
cat
About the author
I adventure full-time with my missus in her FJ Cruiser. Airbnbs, tents, RV living—we do it all. Come find out how to adventure with your kitty, or just see what I've been up to on the road. Meow!
I love pledges and tips for tuna and catnip!
Reader insights
Nice work
Very well written. Keep up the good work!
Top insights
Easy to read and follow

Well-structured & engaging content

On-point and relevant

Writing reflected the title & theme
Add your insights