How I met Powder the Deaf Boxer Girl (who stole my heart)
Pawprints on My Heart
Powder (photo taken by Ana Deshpande Photography)
Three months after moving to Texas from Northeast Pennsylvania, I was hired as a dog trainer at a big box store and had settled into the routine of flagging down people with puppies and convincing them of the value of puppy training. Then I took a training phone call that changed my life.
"It's this dog my daughter got," the woman breathily said. "I'm afraid it's going to attack and maul my grandsons. It is jumping on them and biting them already."
I took her information. The dog was a female Boxer that the daughter bought when she accompanied a friend to a breeder to buy a puppy. Twenty-four hours after this impulse purchase they realized the dog was deaf and understood why the breeder had told her to get a collar with a bell for the pup. I made an appointment to evaluate the pup the next morning.
When I got home, I googled "deaf Boxer puppies" and called a local Boxer breeder for the rundown on the breed and deafness. He said he'd never produced any white Boxers because he was well versed in the Boxer genes of his breeding pairs, and certain color combinations produced white puppies, one third of which were deaf in one or both ears and undesirable according to American Kennel Club rules.
The next morning, I was straightening items on the shelf, turning them so the label faced the shopping customer. I had a sudden urge to stop and turn toward the front door of the store which opened for an older woman and a gorgeous little white pup. I was smitten.
I approached the pair and the pup's whole body was wiggling in greeting (the Kidney Bean move). The grandma showed me her arms and described her grandsons' scratches and subsequent fear of the pup. A "Land Shark" had come to live with them.
Using a food lure, I guided the pup to sit, lie down and stand. She walked well on the leash once I motioned to her to follow. Solution: Keeping calm was the best way to stop her jumping and nipping. Grandma replied that it sounded good in theory and reminded me her grandsons were 4 and 5. They tended to try to pet the 12-week-old pup who ended up jumping at them, whereby the boys would run the other way, screaming. Of course, the puppy was excited by the movement as all pups are, so she chased them, knocked them down and chewed on them. Super fun!
I'd been a trainer long enough to know this was going to be a big challenge for the family. Totally doable mind you, but it would take lots of energy and focus.
I showed grandma how to do the gentle sign and reinforce with gentle petting, the thumbs up sign for good girl, the "T" for toilet potty sign to use when the pup squatted, and the index finger wiggle for come here. She promised to work with her grandsons and took the pup home.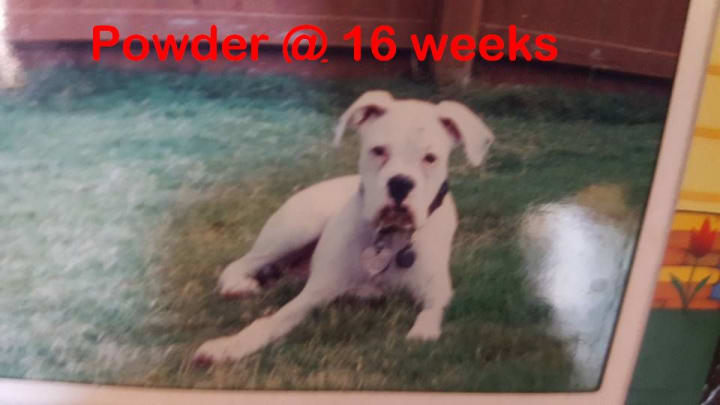 A few days later R— called and vented her frustration with her boys, and I asked her to bring the pup in (and to keep the boys at home with grandma). She agreed and when she came in the next evening I got more of the story. She was recently divorced and having trouble managing money. She paid $250 for the pup and bounced a check at the grocery store. We talked about how kid psychology was the same for puppies. I also told her there was additional expense at 16 weeks with another round of puppy shots and a rabies shot too. I felt sorry for her and wanted them to succeed with the pup, so we practiced, and I offered to come to her house and work with the boys and the pup on my own time.
The next afternoon I went to R—'s house and found the boys were sweet, typical, rowdy kids. They proudly told me Powder was their dog and how they named her because she was soft and white like baby powder. We worked on the training together. Their motor skills were fine, but they kept forgetting when to praise the pup and how to calm her when Powder got excited. It is pretty impossible to keep little boys focused and calm for more than 20 minutes at a time. I saw the dawning in R—'s face that having a deaf puppy was far more involved than she first thought. I mentioned how the pup was going to continue growing quickly, the average Boxer female weighing as much as 65 lbs. Her sons were between 40-45 lbs. each. Right now, Powder was only 20 lbs. and could knock them over easily. She asked if we could work on recall, because the lawn service guys had left the gate open and it took her 30 minutes to catch the pup. We did and it worked well. Making time for mini training sessions throughout the day was also a challenge, and I suggested setting an alarm on her phone to remind her to train.
I could feel her resistance and reminded myself that like many new dog owners R— was looking for a magic wand to make the pup behave. I had previously checked with my husband, so I offered to take the pup home with me for a week of training to help "jump start" her training. She agreed and I was thrilled at the prospect of spending more time with this amazing pup. The boys insisted I repeat that "Yes, I know Powder is your dog," before they let me leash her harness into my car. We set off for home and I stopped at a drive-in for a snack (burger, drink, chicken nuggets and small fries). Powder barked in a loud, demanding tone when she smelled the food. We pulled into a parking spot, and I gave her a couple nuggets.
Once home, we went into the backyard, and I let her sniff around. She was interested in several spots where my two personal dogs had pottied. Louis the German Shorthaired Pointer was 7 years old and Lily the GSP/Lab mix was 6. Lily had been a mama dog, and both were friendly. I put up a barrier in the yard, then let Louis out first. They did the butt sniff greeting, then Louis wandered away to explore the yard and potty. Afterwards, I put him up in the house and brought out Lily. Same friendly greeting and finally, after the puppy pottied, I let her come inside. Louis and Lily were tolerant of Powder who still had her "puppy license" at 15 weeks. She would become an adolescent at 20 weeks and the other dogs would correct her then if she stepped out of line.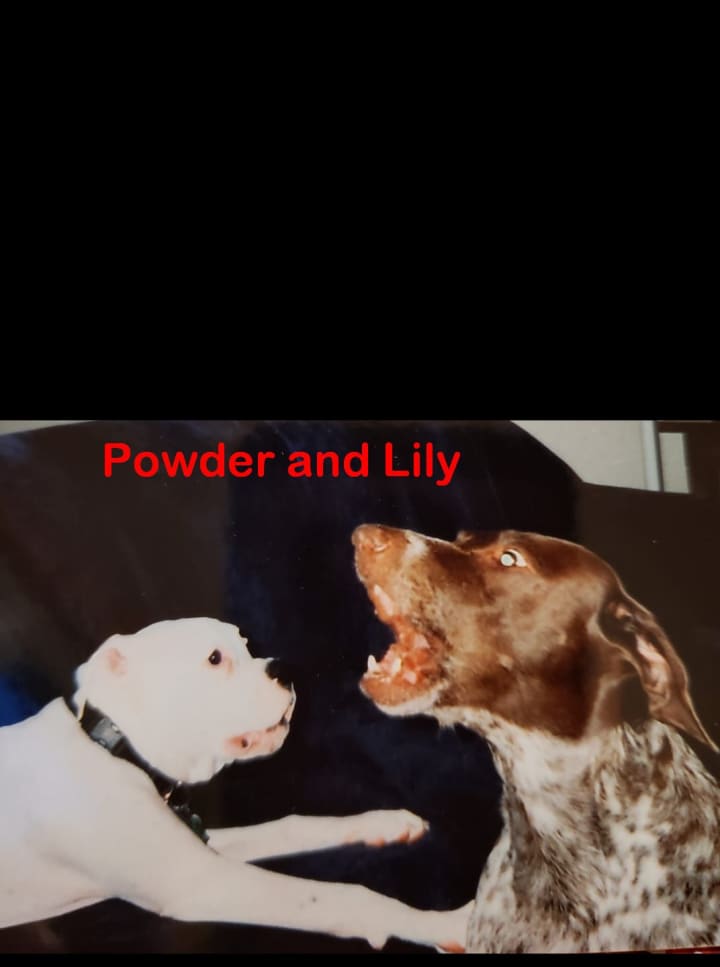 The week went quickly, and I contacted R— every couple of days and sent candid photos to her to share with the boys.
When we spoke on the phone, she said it had been a quiet week with the boys and that her mom was going back home.
"I went over my budget and found my expenses were way too much with the puppy, so I'm going to surrender her to the shelter," R— announced.
Hoping against hope something like this would happen, I had already broached the subject of another dog with my very patient husband. My reasoning was that we had bonded so well and that she could become my "demonstration dog" at the store (all the trainers had a helpful demo dog) and I could write-off some of her expenses on taxes.
"I will take gladly take Powder off your hands," I said. "But what about the boys?"
"Grandma got them bicycles and that took away a lot of the sting," she replied. "I need to recover her purchase price though, to help make up for the money I've spent on her."
We agreed on the $250 transfer price, and I wrote up a bill of sale. When we next met, R— signed the bill of sale and gave me the vet records and I paid her the cash. I definitely got the better end of the deal. Powder lived to the ripe age of 13.5 years and taught me so much. She was great pals with Louis and Lily, and we were recruited into a local Boxer Rescue that changed our lives via fostering and foster failing. Training deaf dogs became my specialty.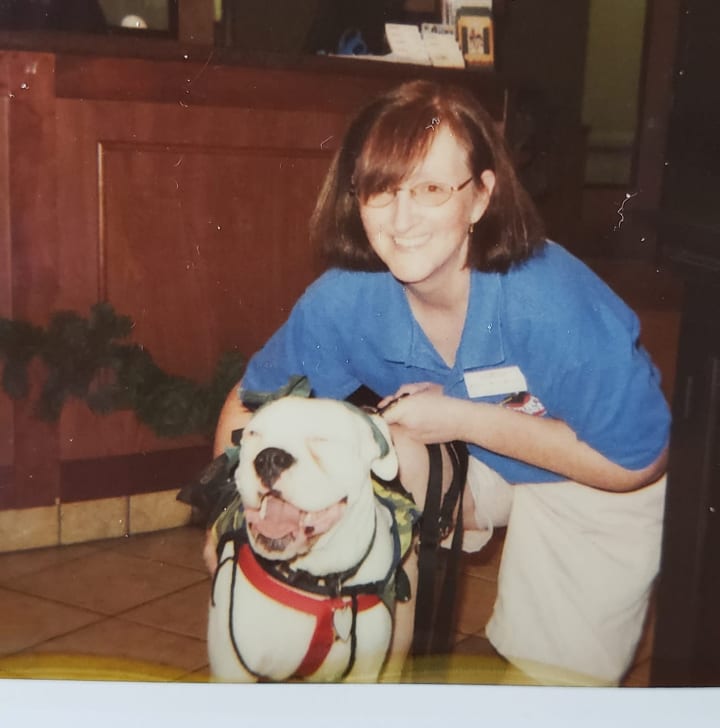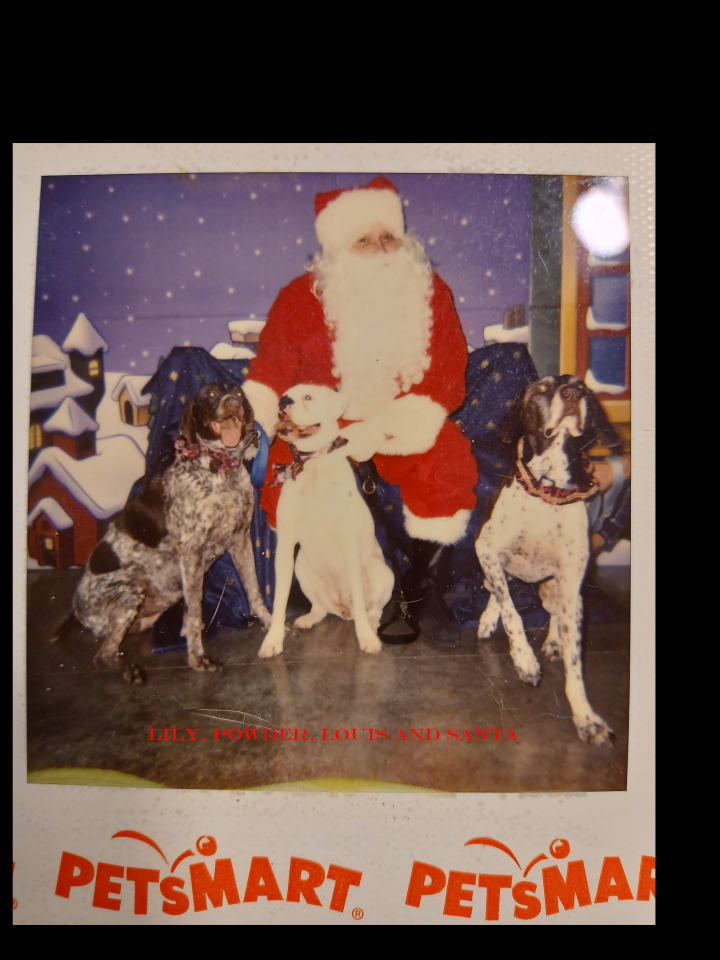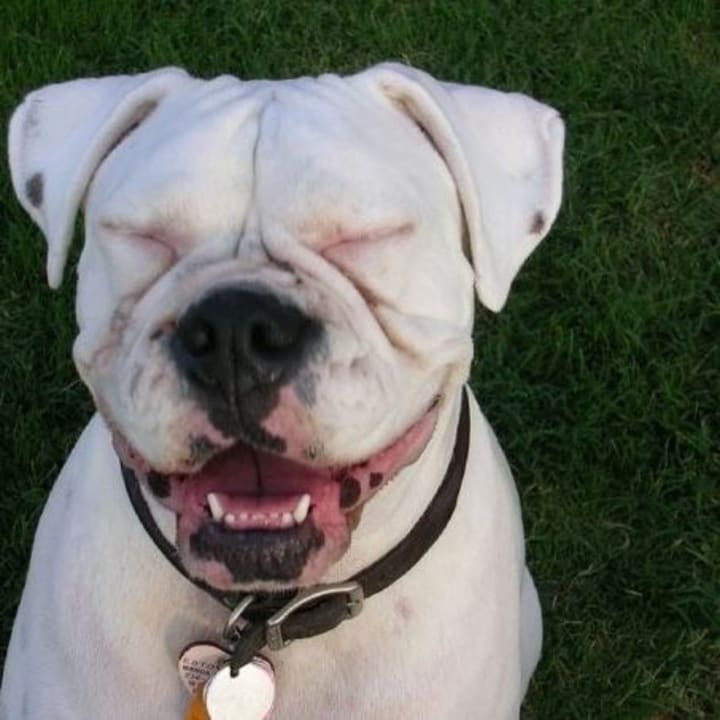 About the Creator
Writer, Certified Professional Dog Trainer, Pet Portrait Artist, Devoted Dog Mom, Gardener, Singer, Amateur Archeologist, Every-Woman. I was an Airforce Brat who threw up over half of Europe. Traveling is my jam.
Reader insights
Outstanding
Excellent work. Looking forward to reading more!
Top insights
Easy to read and follow

Well-structured & engaging content

Excellent storytelling

Original narrative & well developed characters

Expert insights and opinions

Arguments were carefully researched and presented
Eye opening

Niche topic & fresh perspectives

Heartfelt and relatable

The story invoked strong personal emotions

On-point and relevant

Writing reflected the title & theme
Add your insights