Horses: A Passion Left Untamed
An unbridled passion that has nothing but new experiences to give.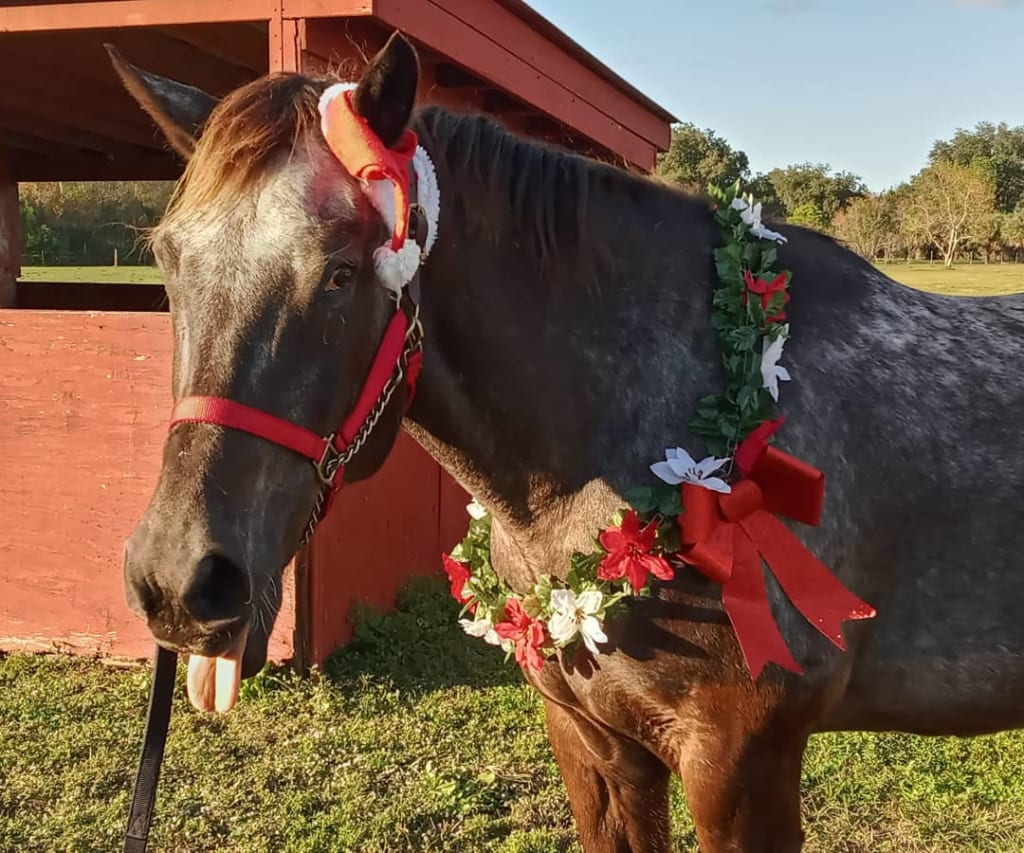 Ever since I was young, horses have always been the center of my life. I collected toys and figurines as a child; then at the age of 9 I was finally able to start my equestrian journey. It didn't matter what I was doing with them, I was just grateful to be there. From the ponies to the draft horses, they all had a special place in my heart from the moment I laid eyes on them. They frightened me, they scared me, they made me proud of myself, there was no end to what could happen with them; good or bad.
I had a lot of people in my life doubt me and my abilities to work with horses. I was too young. I didn't have enough confidence. I couldn't control the horse I was on. I didn't know what I was doing. I cried when I fell off. But it never stopped me. Over time, these horses gave me confidence. Their rescue stories changed my life. I learned that I could connect with them on a different level than most people. I could read them and they could read me. It was a different kind of bond than most people had with them.
My horse Titan changed my life. My dad died when I was 15. I was completely lost. I felt alone. Some of my friends weren't there for me when I needed them the most. But this four year old horse, turned down time and time again from potential adopters, caught my eye. A year he sat in the pasture without anyone riding or working with him. He went to events to get adopted, everyone loved him but no one wanted him. I felt bad for him; horses need a purpose just like we do. So my mom and I decided that he would be a good horse for me to take on. And from then on, he's been my heart horse. The horse that gave me courage, patience, confidence, unconditional love, and a shoulder to lean on through life. He was my first blue ribbon, my first major fall, my first parade, and many other "firsts" in my life. People doubted me because he was so young, they said I could have gotten hurt, because so many young riders get hurt on young horses. Or that I would ruin him because I never trained a horse before. I did get hurt but we still made it together. People envy him. I don't blame them. But I molded him into the well mannered horse he is today.
The skills that Titan has given me makes me want to make a difference in these horses' lives. There are so many horses at auctions, kill pens, rescues, and homes that can't take care of them anymore that need someone to help them. They need a gentle hand. I want to be able to have the room to take these horses in. The horses that no one wants. The horses that are too old to be ridden or shown. The ones that are left at auction because they're too thin to go to a kill buyer, so they end up being put down on the lot. There are so many horses that are thrown away that need a home. I have experienced so many of these horses in the past, and they blossom once they know that they are finally "home".
Max; his owner couldn't take him to college with her. Toby; an auction horse who's summer sores refused to heal. Spring; they just couldn't afford her anymore. Magnus; a hitching accident ruined his career and his owners didn't want him to be considered a "rescue". Ben, an old race horse that needed a place to live out his last months in hospice due to colon cancer. Quiana; he just wasn't wanted anymore. These are some of the very few lucky ones that I had the chance to help. So many others did not make it this far.
My passion for horses often leaves a heavy feeling in my heart because I cannot do more as I do not have my own barn. I have to board my horse locally and there is limited space. Donating money to rescues can only help so much with the little space they also have. One day I will do more. These horses in my past have changed my life. They molded me into who I am today. I hope to pay what they did forward to other horses in dire need. They have no voice, it is time for my to be their advocate.

Rachel Slater
My name is Rachel, I'm 24 years old and I live in Florida. Aside from drawing, painting, horse back riding, mechanic work, and soap making; writing has always been one of my favorite past times.
See all posts by Rachel Slater →