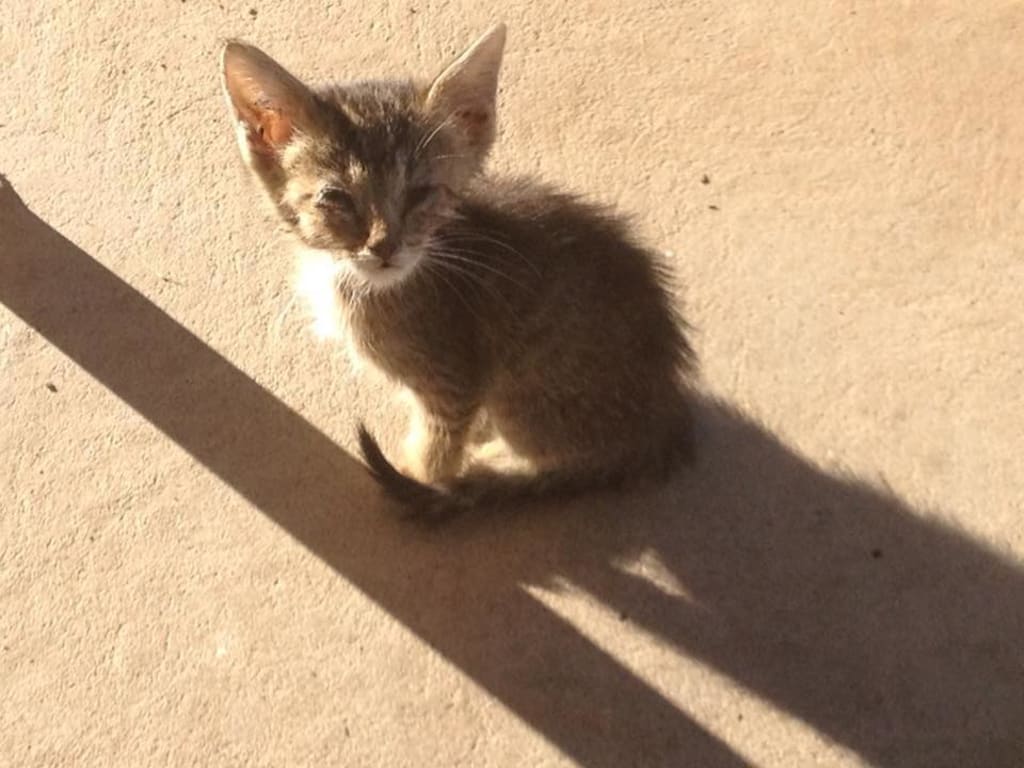 When a parent dies your world is turned upside down. That is what happened to me when my dad passed. He had been sick for a while and I helped him with his final arrangements. We cleared out the furniture and the belongings. It was a trying time for him, my sisters and myself. At the same time, we had to place my mother in a care facility to help with her Alzheimer's.
Six months after the funeral for my father I had fallen into a safe routine. I spent lunch with my mother and the rest processing my new life without my dad. Then I got a call about an abandoned kitten that needed my help. One look at the tiny little thing, I knew she was destined to be mine.
Weighing less than half a pound and skin and bones, she was in desperate need. I could see her spine and her ribs through hair that went every which direction. And then there were those ears! They were bigger than her head. She looked like a bat.
Artificial cat milk and gruel made from baby food, cat food and water helped nourish her. The vet said she was about 1-2 weeks old and gave instructions on how often and how much to feed. Slowly she started to put on weight. She screamed her head off about everything and never sat still. She explored everywhere she could get chose to bounce and run rather than walk. Her spunky spirit made me laugh daily.
She loved the toys I got her and snuggled as close as she could get to me. She was starting to act like a normal kitten in some ways but she didn't seem to know she was a cat since she had not been raised in a litter or with a cat mother. She enjoyed watching cars outside the window and studied the birds. Sounds fascinated her and she listened with those giant ears. One day she surprised me by barking. I suppose she had learned it by hearing the dog next door.
Kittens take a lot of care and attention. They need food often and also need to be contained so they don't hurt themselves in their exploring. This was a very good thing for me. I had this tiny creature to focus on day and night. I could not wallow in my sadness over my father nor worry about my mother's decline. Knowing my mother's life was winding down brought stress and grief to me. Caring for my tiny bundle helped keep myself from wallowing.
I named her Baldrick after the character in "Black Adder" because she was a little brown urchin. She grew at a strong rate.
When my mom passed away eight months later, Baldrick was again a comfort. As I lay on my bed crying, she patted my head and snuggled closer. She seemed very sensitive to my tears. A look of sadness would cross here face.
I know many people attach human traits to their pets, but Baldrick seemed to have picked up a lot form being around me. I was her parent and she mimicked me in her learning. As her vet explained it, her actions were a combination of instinct, what she learned from me or what she made up herself. I made an attempt to teach her cat actions of play and behavior.
Baldrick and I have been together for several years now. She has grown into a very elegant cat. She still seems confused by other cats and the sounds they make – she still barks sometimes. She moves her mouth in ways that mimic mine. If I am late feeding her she will stare at me and make chewing motions with her mouth. If I am up late and she is ready for bed she will tap my arm until I look at her and then gives me a very dramatic yawn. At times it seems as though she is trying to move her mouth to copy my words.
I am so grateful to have her in my life. I know I saved her life by taking her in but I also know that she saved me by giving me a focus and a purpose during what was one of the hardest times of my life. I lost my father and mother and now I am a mother to a cat that loves me. In a simple way, that is the circle of life.
About the Creator
Writing can be therapy, insanity or both. Here is my mind, my dreams, my fears, my thoughts, my life laid bare to share with you. Enjoy the journey into what is at once my blog, diary and world, and don't forget to tip your guide.
Reader insights
Be the first to share your insights about this piece.
Add your insights