Hide Your Hair Ties
How I Almost Lost My Baby Girl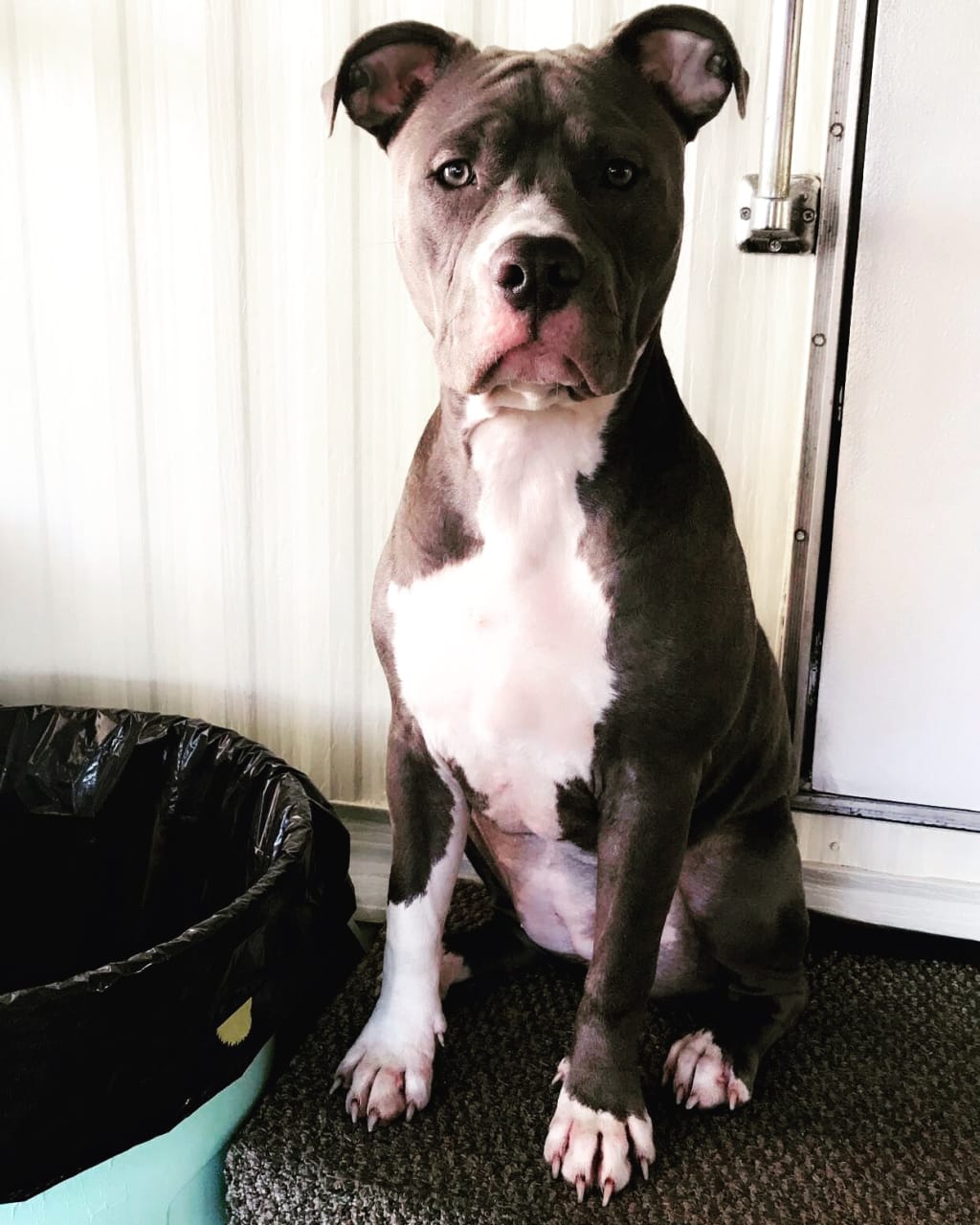 My fiancée and I have had our blue-nose pitbull Corazon, AKA Cora, since she was four weeks old. For a reason stating that the mother was no longer wanting anything to do with the puppies anymore and there being some sort of aggression towards them. She was the most wonderful puppy. Well, some of the time at least. She was a chewer—still is—and she has really bad separation anxiety. When we first got her everything was great.
Once she was around eight months old, we started to see her skin wasn't looking too great. She has severe allergies and we have to give her shots that are a special mixture just for her. She's been doing alright on the shots. We have five more left and that will finish out a year's worth of them. We finally hit the easy spot where it's a shot every 30 days instead of every day, or five, or 10.
January 7th was her second birthday and, at this point, she really was starting to look better overall. She was happy, her skin wasn't bright red, and her hair was starting to grow back. Fast forward almost two months and our lives were radically changed. If not for the quick thinking of my wonderful fiancée, Megan, we wouldn't still have our sweet, blue girl.
March 24th I received a text message from Megan on my way home from work. It said that Cora had thrown up and that she wasn't acting like herself. I asked if she had gotten into anything and Megan said no that everything looked fine when she had gotten home a little bit ago. Cora is overall a very good dog, so we only put her in her crate when we go to sleep at night.
The only time she seems to get into anything is if there is food left out, a stuffed animal, or something that her cat brother Jupiter knocks onto the floor. When he does that it seems like anything is free game to her. It is a constant battle trying to find everything that you think might be missing because the cat knocked it onto the floor somewhere as you're praying the dog didn't get to it already. Trust me, it's a very small window of time you have if you're wanting to recover whatever hit the floor before she gets to it.
Megan was right, when I got home that evening, nothing seemed to be missing or out of place, but Cora was sulking around and wasn't getting excited when she saw me get out of the truck. It's not like her at all to ignore me when I haven't seen her all day. So that night, we left her out of her crate thinking that if she had to vomit again, at least she wouldn't have to lay in it all night.
There were a few spots where she had regurgitated overnight and I cleaned them on my way out the door that next morning for work. Around 1:30 PM, I received another message from Megan saying that there had been no improvements with Cora and that she was going to take her to the vet. They took x-rays and found a blockage in her stomach and something in her intestines that looked like chain link, but they couldn't figure out what the objects were. Next came the emergency surgery.
A three-and-a-half-hour surgery, it was evening by the time they finished, I was already home from work, and the vet called saying that they found two pieces of plastic and 40 (FORTY) hair ties wrapped around her intestines. She stayed in the office in post-op care for almost an entire week. She has a gnarly 11-inch scar from the bottom of her ribcage all the way down—like they just cracked her open down the middle. But most of all? She has her life.
We were informed by the office manager that if we had waited one more day to bring her in, to see if she started feeling better on her own, that she would have passed away. They had never in their careers seen a case like this. But they saved my baby's life. I will forever be grateful for the gift of a second chance the doctor was able to give us.
Today, Cora acts as if nothing ever happened. She is still the rambunctiousness two-year-old that has to stick her nose in everything and dig holes and run around in the sun. She is still finishing her allergy shots and, for the most part, is going great. Megan and I still have a hard time knowing that we almost lost her, and that this is almost 100 precent going to happen to her again.
It's lots of picking up and sweeping and making sure the cat can't knock anything onto the floor. That was the biggest scare we've had, and the fact that we almost lost her really puts everything into perspective. Our animals are our children and we couldn't imagine a life without them.
dog
About the author
Reader insights
Be the first to share your insights about this piece.
Add your insights