Her Name Was Thumbelina
(a gotcha story)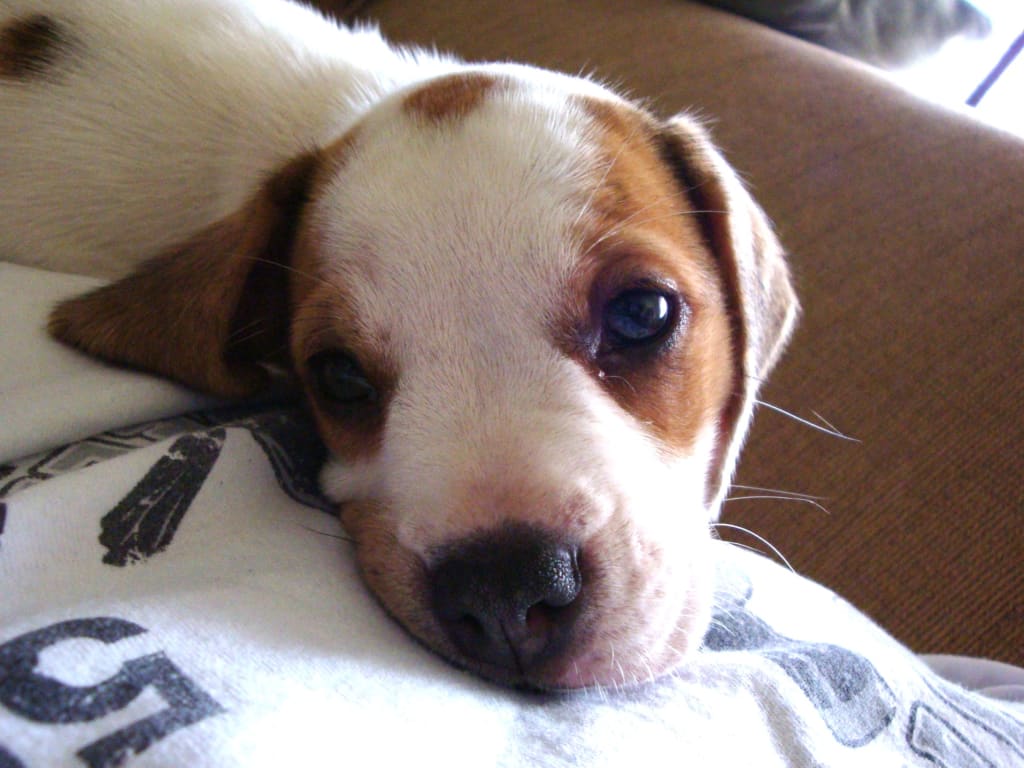 Lola (aka "The Dog Formerly Known as Thumbelina")
Her name was Thumbelina. There she lay, alone, in a high-walled acrylic box. Amid the cacophony of yips and squeaks and the tiniest howls, she stayed silent.
The room was an expanse inside a non-descript building on the wrong side of town. In truth, the entire town qualified as the "wrong" side, but we'd found its one bright corner. And it brimmed with puppies. My husband and I oohed and aahed over the sea of cute. I reached several times to pick up a puppy here or there, but my husband stopped me. "We're here for the puggles, remember?"
Indeed, we were.
My husband was just my boyfriend back then, and we'd been living together a little over a year. I'd brought a cat, Marshmallow, by that time two-years-old, into our relationship. She didn't hate her new living situation, but she also didn't care for it all that much.
To be fair she didn't care for many things too much. She loved me and looking—but not going—outdoors. Her new dad? Well, let's just say she wasn't his biggest fan. And other people? Oh, she hated other people. We certainly were concerned with how she'd react to a furry sibling, but we both were determined to have a dog. He hadn't had one in years, and I'd never been allowed one growing up.
We researched the best breed for us exhaustively. At the time we were renting and didn't want a large dog. But we couldn't quite agree beyond that. A trip to the pet store at the mall and we discovered puggles! A mixed breed of pug and beagle, they are adorable, wrinkly furballs. They're friendly and playful, and we were smitten.
Unfortunately, we learned that the pet store's stock came via a puppy mill. Our hearts broke for all the little lovies there, but in the end we decided we could not support that business. Downtrodden, we moved on.
But then our luck turned. We discovered that one hopeful corner. And we were there for the puggles, indeed.
The puggle puppies were almost all black. Their fur had a sheen like velvet. I snuggled each and every one of them, narrowing down which I thought belonged with us. My boyfriend cuddled a couple and believed he'd found his favorite. I couldn't choose and continued to muse over tickles, kisses, and grunts.
Finally, I felt I could choose just one—well, maybe one of two. Excited to share my [near] decision with my boyfriend, I glanced up, but he wasn't there. He had wandered off; I had to turn a few corners to find him. When I did he was holding a puppy. A non-puggle puppy.
"Her name is Thumbelina," he said.
"Thumbelina?" I laughed. "Why?"
He took his thumb and placed it over a spot on her forehead. A perfect fit.
I wasn't a fan. Who names a dog Thumbelina? Seriously. "I thought we were here for the puggles," I reminded him.
"Well, yes. We were. But just look at her!" My boyfriend spoke and held her so sweetly. If he'd loved the puggles, he'd now fallen head over heels for this new pup. "Look at how calm she is."
It's true. She possessed the calmest demeanor of any puppy in the whole place—and beauty to boot. She was mostly white with a large brown spot on her back accompanied by a nearby smaller one, mostly brown ears, brown around her eyes and snout, and, of course, that brown, thumb-sized spot on the top of her head. Above her nose was pink, as were the pads of her feet; her likewise rosy belly was speckled with tan spots, like a cow. I love cows.
I looked around. The other puppies jumped, wrestled, nipped, bayed—begged for attention. But Thumbelina? No, not her. She reminded me of Eeyore from Winnie-the-Pooh. I loved Eeyore too.
Despite her forlorn appearance, I don't think she felt unhappy. In my boyfriend's arms, she lay serene. She was just the right size to stretch between the crook of one elbow to the other. I took her into my arms and cradled her like a baby. Her rabbit-soft fur blanketed my arms. She gazed up at me with the most endearing expression, her eyes open wide enough to melt into. And I did.
"She does look a bit like a puggle, kind of," I said, "but twice the size and not as wrinkly. What is she?"
A worker had come over and said, "She's half beagle, half English bulldog."
"So we're still getting a half beagle," my boyfriend said, his eyes twinkling.
I looked over my shoulder, back toward where the puggles were cavorting, clumsily tumbling over one another. Then I turned and locked eyes with Thumbelina. Hers welled with devotion. I sighed, held her close, and did not let her go.
On our way home, we discussed names. "Ok, we're not keeping Thumbelina, right?" I said.
"No," he said, chuckling, "unless you want to…"
"No. No. I mean, it's delightful, sure, but it's also…Thumbelina." Yes, too silly. We had to choose a new name.
Now, years later and having named three human children, we know what a headache a proper name debate is, but at the time we struggled. Ultimately, we were down to Lily or Lola.
"You know, if we name her Lola, she comes with her own theme song," I said, looking sideways at my boyfriend and holding our puppy up under my chin.
He smiled. "That settles it. Her name is Lola..."
"…and she's a show girl." I sang and bounced Lola around my lap. We'd not even had her an hour yet, and already we were embarrassing her, poor thing. Eh, it's what parents do, right?
It remained the nature of Lola's face to look mournful, but she joyfully loved everything and everyone. She adored her big kitty sister right away, although the feeling sadly would not be mutual for years. At some point I think Marshmallow realized Lola is a heating pad. After that she tolerated the butt sniffs a tad more.
Lola sincerely has been the best dog. When we started having children, we never worried about what she might do. Even though she weighs over fifty pounds, she doesn't throw her weight around with them. She's had her face stepped on, I don't know how many times, but she still loves her human siblings. In all ways but size and a bum hip, she is the same dog we brought home.
(Sorry, puggles, but you didn't stand a chance against our sweet girl.)
We don't know how long we'll have with Lola. Since she's a mixed breed, the vet told us she can't accurately predict her life expectancy. Beagles can live fifteen years or more, while bulldogs typically tap out by ten. Lola is thirteen.
Earlier this year Marshmallow passed. She had inoperable cancer in her sinus cavity, and we'd run out of options. She'd stopped eating and drinking. It was time. We put her down the day before her fifteenth birthday.
When I came home that day without Marsh, I told Lola the painful news about her sister and held her for a long time. "You are not allowed to die now. Ok? I can't do this again." She sniffed my ear, waddled backward, and licked my leg. I took that as a yes.
Her name had been Thumbelina. The eponymous fairy tale character originated in the early nineteenth century, and yet her story endures—most recently in a movie released in 2009. Thirteen years ago. The year our Lola was born.
I'm not saying she's Thumbelina reincarnated, but I'm not not saying it either. You may draw your own conclusions, but I choose to believe our beloved Lola, our showgirl, will live indefinitely.
Even if that's just a fairy tale.
health
dog
cat
breeds
About the author
Writer; aspiring to be a published author--known preferable. Addicted to words, the Em Dash, and the Oxford Comma. I lean dark but am no stranger to lighter material, incl comedy and romance. Mother of 3 (she/her)
Reader insights
Be the first to share your insights about this piece.
Add your insights