Hearing Dogs Change Lives
These pups are trained in military-style obedience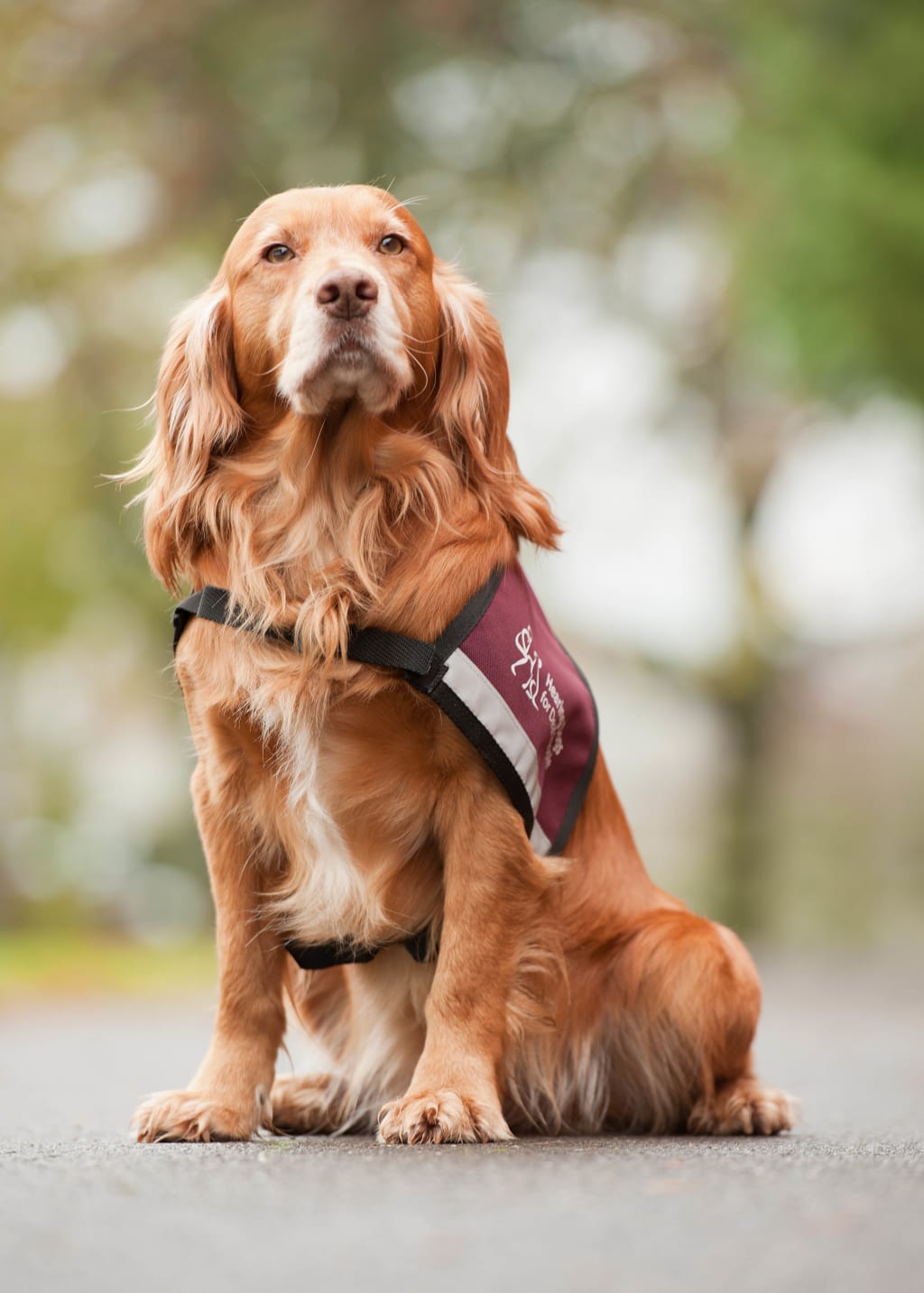 (c) Hearing Dogs for Deaf People
Hearing Dogs for Deaf People is a charity in Buckinghamshire, England, that trains dogs to help deaf people live happy and fulfilling lives.
I booked myself onto the charity's weekly guided tour, a little unsure of what to expect, and was pleasantly surprised to see just how much the dogs transform their owners' lives. Seeing the 'hearing dogs' in action, and meeting the beneficiaries, opened my eyes to the many ways in which a hearing dog improves the life of its owner.
Consider what happens when you lose your hearing…
Whether sudden or gradual, the effect on your life, confidence and relationships can be devastating. People often withdraw from society and become increasingly isolated. Loneliness can become an issue and outside the home, people are not always very helpful because they don't understand that you cannot hear.
A dog trained to alert you to a range of noises, can bring back 'a sense of hearing' and get you out meeting people with really positive results. The dog provides visibility to an invisible disability. When people see a hearing dog by your side they try harder to communicate and are more helpful. It can be very frustrating trying to communicate, when people don't know that you are deaf.
Decades of dedication
Hearing Dogs for Deaf People was launched at Crufts in 1982 and the charity has since trained and partnered thousands of dogs with deaf owners. A hearing dog provides independence, confidence and security, as well as valuable companionship.
The dogs selected for training come from a wide range of breeds. Those favoured for their temperament and characteristics include Labradors, Retrievers, Spaniels, Poodles and some smaller breeds, such as Cavaliers and Shih Tzus. Some cross-breeds, which they call 'Labradoodles', and such like, are also trained.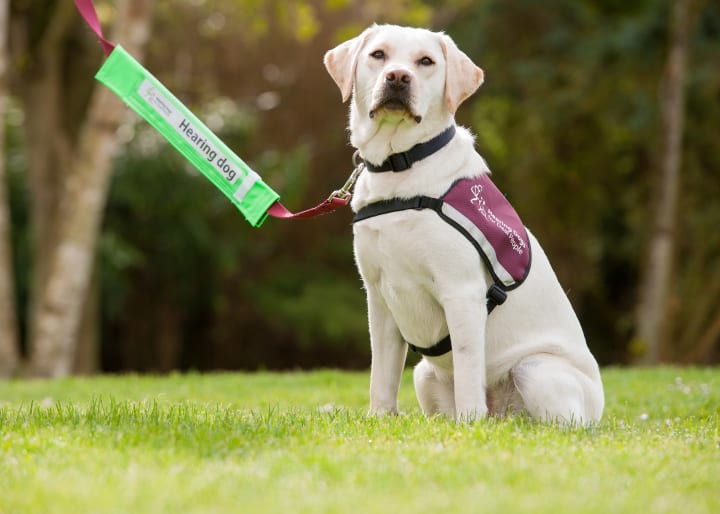 Socialisation training
Creating confident, capable pups who are comfortable around pushchairs, walking frames, and wheelchairs: this is the first stage of training for a hearing dog. It's called socialisation and these pups are trained in military-style obedience. Part of the training involves leaving food on the floor as they walk around — most unintuitive for a peckish dog!
When a trainer is presented with a 6–8 week old puppy, it is hard to tell if they have what it takes to make a good hearing dog, so if the temperament looks good, then the puppy is put on a programme of socialisation.
Volunteer socialisers take ownership of the puppy for the first year. They are teamed with a trainer to teach the puppy basic obedience in house-training, shopping, using public transport, meeting new people and everyday experiences. The dog's reaction enables trainers and socialisers to ascertain if the dog is suitable for the full training programme. Some dogs are taken out of training during this stage, but are found good homes.
The Hearing Dogs' Media and Campaigns Manager, Rob said, "Our goal is to create friendly, well mannered puppies that are happy and confident in all environments. For us to do this, we rely on our volunteer Puppy Socialisers, to give our pups the best upbringing and to expose them to as many different surroundings as possible. Those who get onto the full training programme are confident, enjoy learning, are happy and friendly, and are not too worried by anything. They learn to alert their owners to sounds including an alarm clock, doorbell, telephone and smoke alarm".
Now you might be wondering how a deaf person uses a telephone. The answer is, they use machines which shows the caller's spoken message on a screen. The machine also enables the recipient to type a reply to the caller.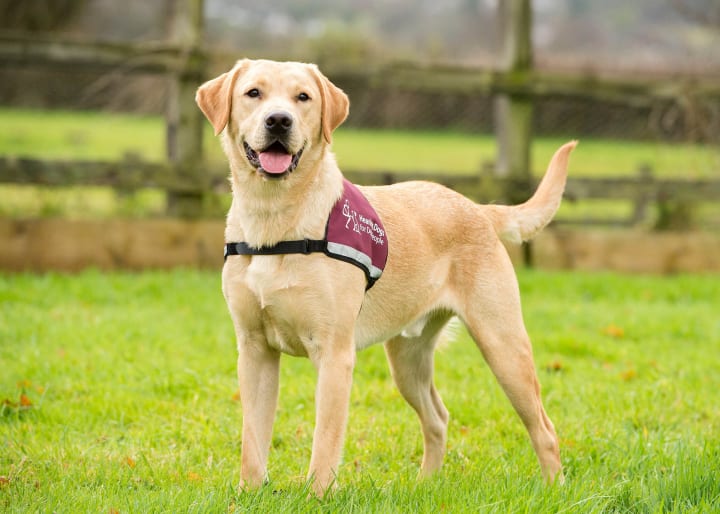 The full training programme
"The training is a process of continual reward and reinforcement", Rob continued, but I wondered how they get the dog to perform once, so that they can reinforce the good behaviour. I asked a trainer.
"To get the dog to alert the owner when the door bell rings, we stand at the door with treats" the trainer told me.
"Doesn't it run towards the treats, regardless of the bell?" I asked.
"No, the dog is held back on a lead until the door bell sounds. Then it is freed and rewarded for running to the door at the sound of the bell. The dog learns to associate the door bell with treats, and quickly learns to make sure that the owner knows when the bell has rung."
This approach is used in all 'sound work' training, which takes approximately 18 weeks.
To alert their owners, the dogs usually touch them with a paw, and then lead them to the source of the noise. Voice and hand commands are also used to communicate with the dog.
On hearing dangerous sounds, like a smoke alarm, the dog does not lead the owner to the source, but instead places a paw on them and then lies at their feet. It is an indicator of danger which means it is up to the owner to investigate a cause, or to vacate the building.
During this period of training, a suitable recipient for each dog is identified. Each dog is trained according to the specific needs of the deaf individual to whom they have been matched. As part of the process, the hearing dog and their intended recipient spend time training together before they qualify as an official partnership. One example is hearing dog Bruce, who alerts owner David when his blood sugar levels are dropping. Bruce's actions have prevented David from falling into a diabetic coma (see the twosome below).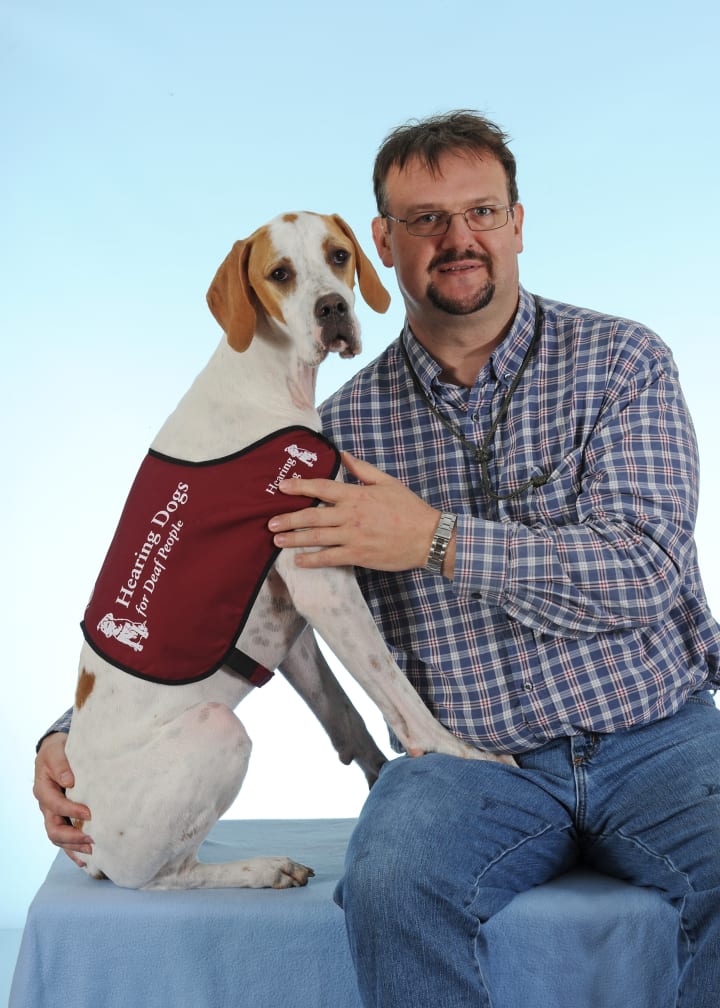 What happens to the rejects?
Dogs who don't pass the training programme, are used as demonstration dogs when a vacancy exists. Those dogs who are rejected at any stage of the training process, are placed in a suitable home. New owners are carefully matched to the dog to ensure they are compatible and both can enjoy a lifetime of happiness. There is a rehoming waiting list because even the dogs who fail to make the grade as a hearing dog, are generally well behaved and well trained, making them desirable pets.
One reject was Teal. He wasn't good enough in training to become a hearing dog, but rather than rehome him, the charity used him as a demonstration dog. Teal's downfall was chasing rabbits. He just couldn't help himself! He was a hard-working demonstration dog for ten years, until he retired.
The breeding programme
Over half the dogs trained, come from the charity's in-house breeding programme. By breeding from the most successful hearing dogs, the charity is assured of promising hearing dogs for future owners.
Donated puppies and those from rescue centres, are not as successful as those from the breeding programme. Specialist staff assess puppies for their hearing dog potential, and records are kept of the success rates of different breeds. They always try to select the pups with the highest chance of succeeding in their training.
Conclusion
The training programmes have continued through the Covid-19 pandemic, and with lockdown restrictions now being eased across the UK, the dogs are again being reintroduced to public spaces.
The public cafe has reopened at the training centre in Buckinghamshire. Dogs Buddy and Biscuit have visited a train station for the first time, to become accustomed to the sights, sounds and smells of the railway. Zippy went to a dentist for humans with his trainer to get used to that environment, and his sister Zenya spent a week living with children, to see how she'd respond to their noisy and boisterous antics!
Every new stage in a dog's training journey is a new and exciting journey, and there are plenty more experiences to come! Not least, meeting their new owners when they are fully trained.
Find out more here: www.hearingdogs.org.uk