Grumpy baby hedgy
EmPAWyee of the Month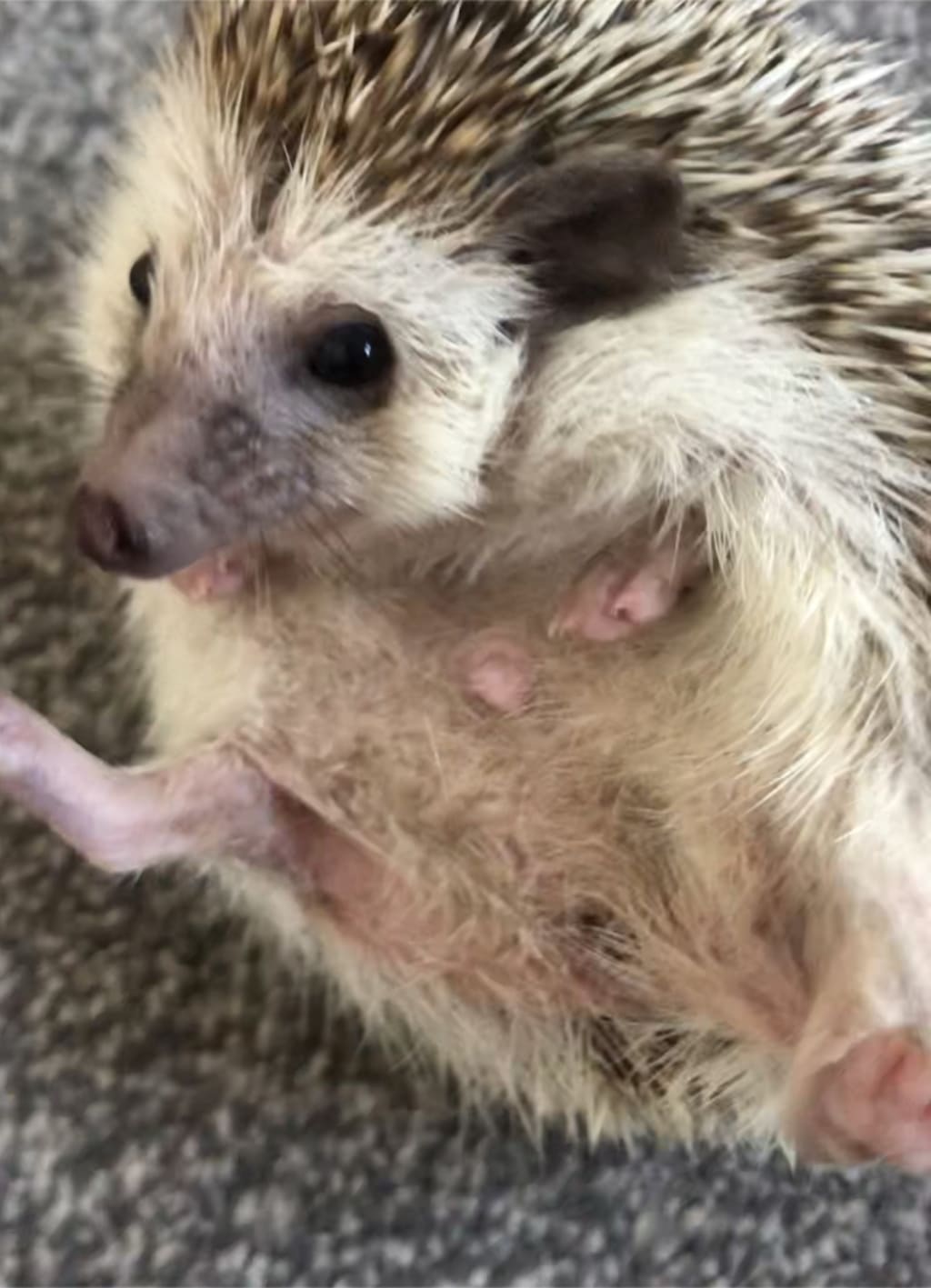 As an estranged human, you became the family I'd never had. Who knew that a creature so grumpy and prickly could win my heart over so daringly and with no shame. Before I knew it, I'd opened my numb heart to you. Your actions were underhanded. With your pink squishy belly and your random pooping habits, you had won over my affections so quickly and completely. I was entirely under your spell. And then - you left.
Little hedgy, you were meant as a present for my neurotic mother-in-law - the only person I knew to fear aging, more than me. My own fear is explained away by my never having had a childhood; growing up all too soon, I lamented the loss of a defining stage of life – a time where we explore and find ourselves. My understanding, of all this, did nothing to lessen the pain of it, similar to the, however well-meaning, suggestion 'to let the past go and just be positive.'
With you, for the first time, I actually did: let the past go. You forced me to be present. And now, you're the perfect present for my mother-in-law, I laugh through tears, acknowledging this ( and my awful attempt at a humour). She turned 50. I just knew – I had to get one of your kind; she absolutely adores hedgehogs. From floor to ceiling, they fill her inbuilt shelves in a shrine-like devotion. It could easily be mistaken for a display of worship, if it weren't for the cute little faces that poked out from their different corners - all posed like religious icons, in a majestic row.
I had no doubt about what I was going to do; I was going to have to get one of you.
A needed distraction, you'll be. Perfect little prezzie, she'll see.
But before I knew it, little hedgy, you'd gone and done something awful. You'd tricked me, in the most villainous of ways.
All balled up and hissing, you went and bit me. As your walls stayed up, mine lowered; I watched you looking for food and mistaking my fingers for some.
The next day, as I fussed over your cage temperature, I lost myself in the complete openness of your being. I felt I was intruding upon your world; something so private; and humbling for me, as an observer. It was like magic. I drank in everything and treasured it all.
I felt that way for your little noises as you ate; the reflexive hissing at almost everything; the tapping noise your feet made, as you ran around; even your glorious pooping was magnificent. The pooping face was shared with all, to my friends' bemusement. No one could understand why I shrieked with excitement at: your wiggling soft bum; the exposure of your rosy underbelly; or your toothy smile, as I award you with some treats; and the chewing sounds that always ensued.
Eventually, hedgy, you bestowed the highest honour of them all: you let me hold you.
It's something I feared that you wouldn't let me do, as the day before, I'd given you a bath. I was fairly certain, you hadn't enjoyed it, as you'd pooped in it an astounding FOUR times, before I gave in, and fished the poopies and you out. Who knew a small hedgehog, could carry in him so much poo; as a first time owner, it made me anxious. Were you really that upset about the bath or did the sensation just happen to provide perfect pooping conditions? I also had a growing suspicion that you were dirtier than at the start of the 'cleaning procedure'. Needless to say, I thought that incident marked the end of your trust in me. You'd never let me near you, let alone hold you – unless of course, I used thick gloves as a barrier from your disapproving spikes.
I used the towel, then, to get you out. But the next day, and one beer later, I was holding you in the palm of my hand. We both seemed stunned for a minute at the event. You'd forgotten to hiss and I just held my breath, staring at you in amazement.
I set you down, as you'd recovered from our moment, your natural restlessness returning full-force.
You'd then decided to explore every nook and cranny of the bedroom that we were in. This included the very thin space behind a storage box – an impressive feat, as it was pressed tightly against the wall, leaving only millimetres of room. Slave to instincts, you wedge yourself into the small space to hide and no sooner had a second passed, that I saw your pink fleshy bottom, wriggling out first, followed by the rest of you.
Witness to this incredible act of instinctive oblivion, I was entranced and fully present with you. I realised then, how that whole week of me taking care of you , was really, you taking care of me.
How for the first time in years, maybe ever, I felt fully here. For a moment, I was free of my mental disorders, that plagued me for much of my life and left little joy in their wake. I was free of my past and free of my 'ageing' fears.
The week had passed , bringing with it my mother-in-law's birthday. I watched you, and then an exchange between hands, observing as if from a far distance – it was the first time that I felt 'the ache'.
I had been mentally preparing in fear that she wouldn't accept you, hedgy. It hadn't entered my mind, to prepare for the loss of you.
humanity
About the author
My dream of becoming a writer carried me through my darkest moments. After a lifetime of silence, I promised myself I'd break it. Storytelling is my way of connecting with the rest of the world. Vocal has been a great place for this.
Reader insights
Be the first to share your insights about this piece.
Add your insights