Goodbye to my best friend
They're never "just pets". They're family.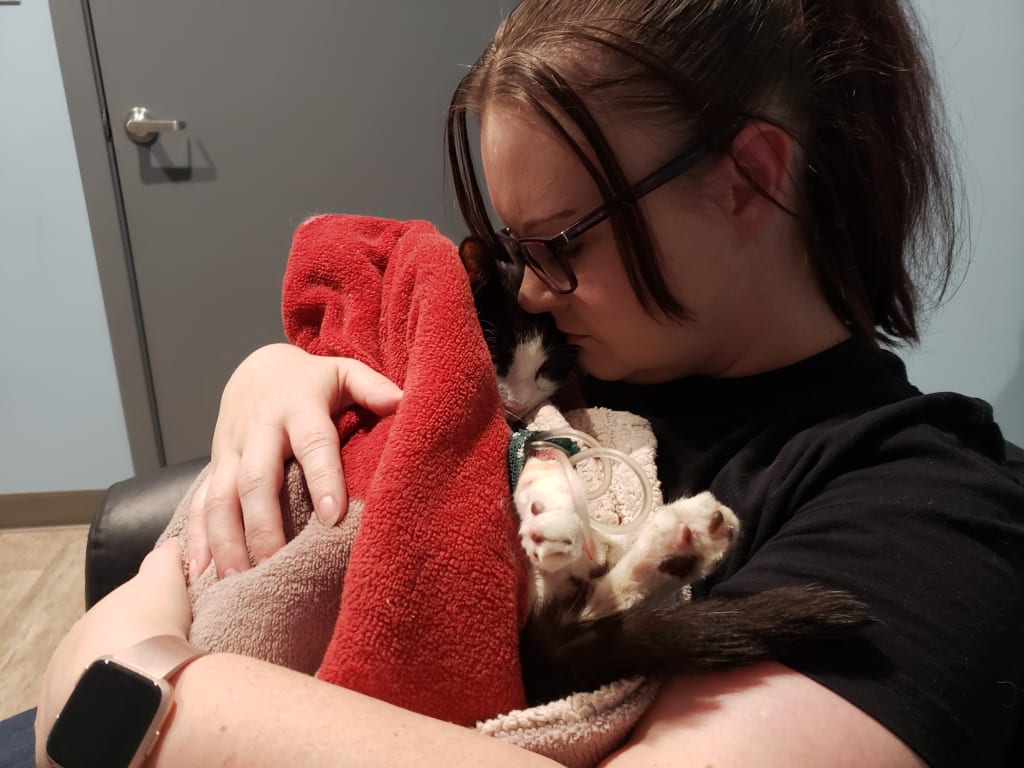 Saying my final goodbye
This is extremely difficult for me but I was told that writing about it could be therapeutic.
So, here it goes.
It was the summer of 2003. My then boyfriend and I already had a cat at the time (who seemed to like him more than me). We went into a pet store to get a few things for him.
We had no intention of getting another cat.
In the back of the store was a small, fenced area with 2 kittens. One of these kittens was less playful and active than the other. He was the one that was drawn to me, and me to him.
The lady that worked there noticed this and picked him up. She held him out to me and asked him "Is this mommy?"
That was it. Tears welled up in my eyes. I knew this was meant to be.
That was when my amazing 16 year relationship was forged.
I named him Saku, after the Montreal Canadiens player. (Yup, that's my team). And we were instantly bonded for life.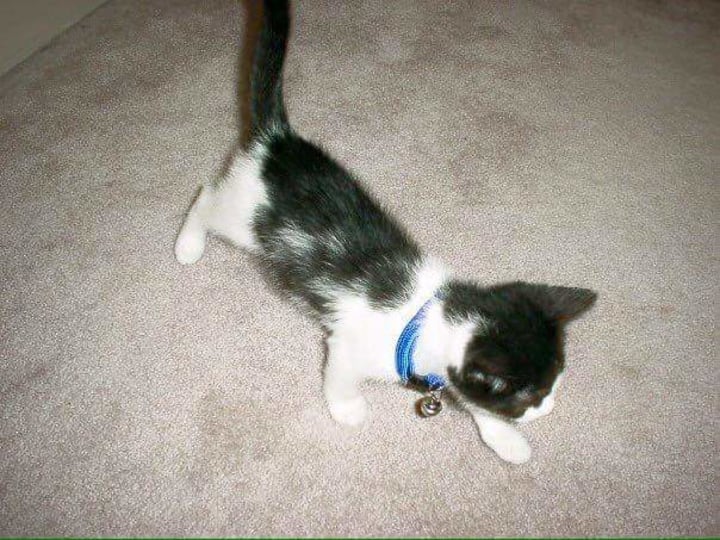 We went through so much together. 3 long term relationships, we moved to many different places, went through many hardships. At times, all we had were each other.
He never really like any of my boyfriends (or my ex husband!). That is until I met my current boyfriend Chris in 2015. The two of them instantly became bros! They grew to love each other so much, it made my heart smile!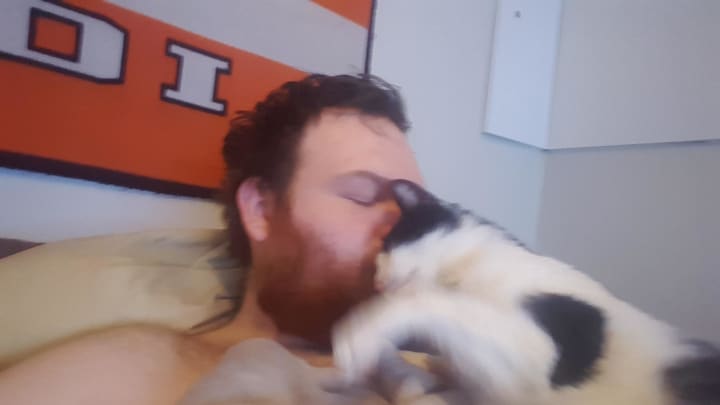 Saku gradually lost his hearing over the past couple years, but never lost his youthful spirit. He was always so loving, so happy.
Before the summer, he got a blood clot in his leg which made it difficult for him to walk. The vet put him on blood thinners which seemed to make a difference eventually. He was also found to have hyperthyroidism and kidney issues.
My gut was telling me we were nearing the end. Each day I'd come home from work and I was so relieved when he would come greet me. My mind wouldn't let me stop worrying.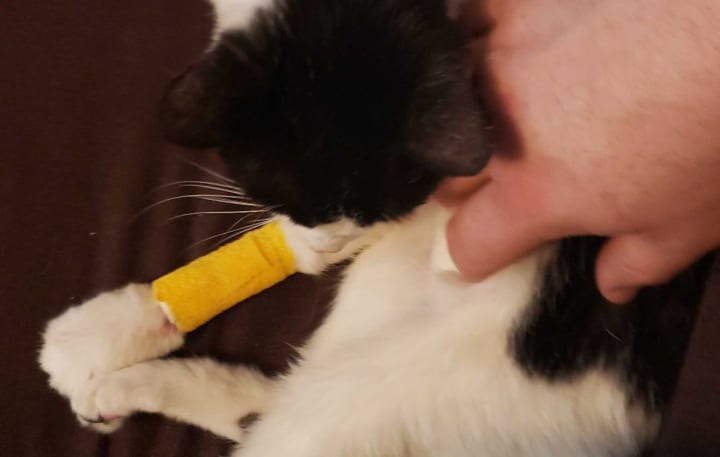 Sunday morning, July 28th, I woke up and looked for him. Most nights he slept in a pillow behind my head but he wasn't there. I looked everywhere.
Our place is quite small so it was strange I couldn't find him. Finally, I noticed he was in a cubby in one of our shelves.
He was barely responsive. I tried picking him up, he didn't want to move.
I started to panic. I went into the bedroom to wake up my boyfriend and he immediately jumped up to investigate.
Saku finally got up on his own. He started to walk to his litter box. He was staggering, almost walking into the walls.
Once he got to his litter box, he stopped. He peed outside the box - something he's never done before.
We took him to the emergency animal clinic.
They did blood tests and xrays and we were told he possibly had a stroke. His lungs had fluid on them. He was not doing well.
We were told we may have to put him down if his condition did not improve.
My heart sunk. I lost it. I couldn't stop crying.
They keep him overnight for more tests and to monitor his condition.
The next morning I went to work. I told my manager the news and he told me if I needed to go then I could. I tired to go about my workday normally.
At 11:11am, my boyfriend calls me. Saku had a seizure, his condition worsened drastically. I knew what was coming and I was hysterical.
We got to the emergency clinic before noon. They sat us in a separate room with literature about memorial services and cremation. It was difficult to sit there.
Then they brought Saku in for us. He was wrapped in a blanket. He has IVs sticking out of him. He was limp, and weak and barely aware of anything.
They told us he was "head pressing", which is apparently a sign of damage in the nervous system.
I couldn't bare to see him like this. My heart hurt and I couldn't stop crying. I was losing my baby.
They told us it would take a miracle for him to recover. His quality of life would never be good. We had to make a decision.
After about 2 hours of holding him and crying, we made that agonizing decision.
At around 2pm, Monday, July 29th, my very best friend and companion of 16 years passed away peacefully in my arms.
Part of me was lost that day. I will never fully recover. How can I?
He comforted me when I was down. He made me smile with his quirky personality. He truly was one of a kind.
Some people don't understand, they say they're "just a pet".
Wrong.
He was my baby. My companion. My best friend.
I miss you every day, Saku. You will always be in my heart and I will always love you.
Until we meet again, my friend.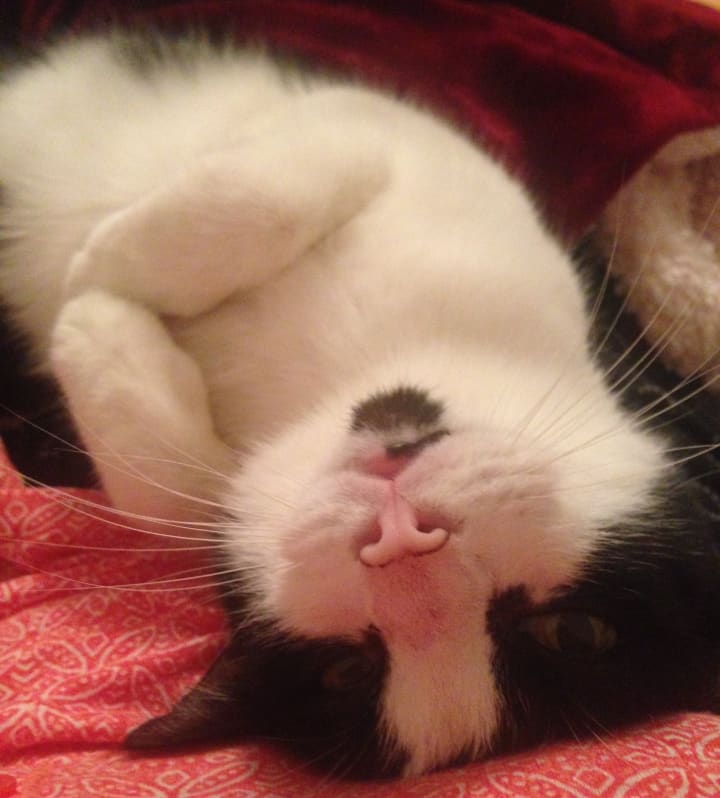 RIP Saku (May 3rd, 2003 - July 29th, 2019)