Golden Isles of Georgia
Making travel memories with my dogs, Heidi and Ruffles, in Saint Simons and Jekyll Island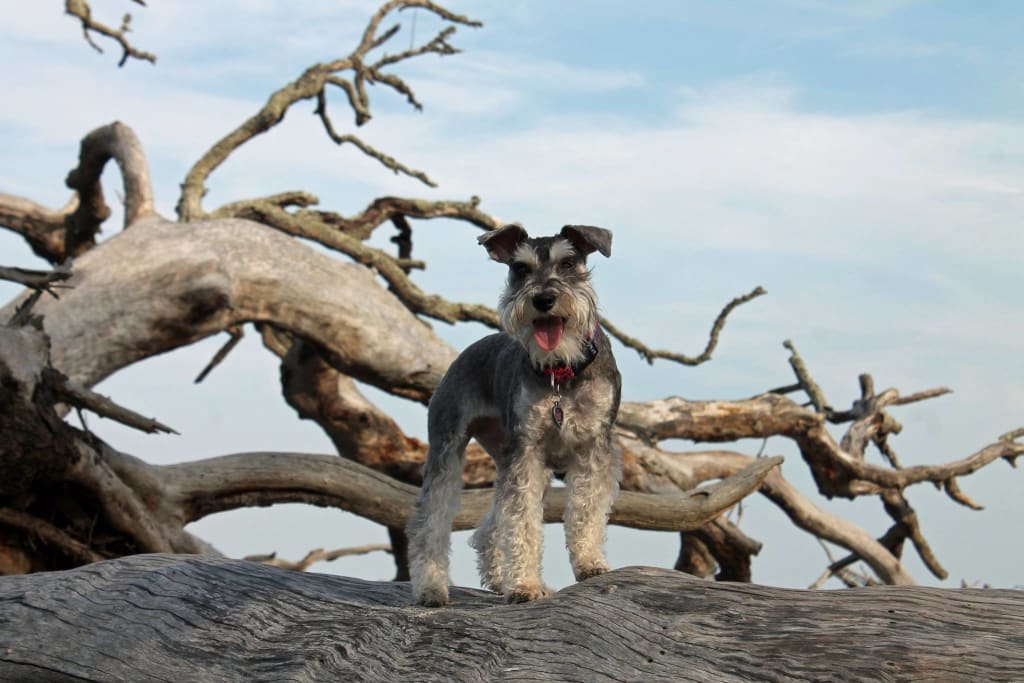 Ruffles, Jekyll Island (photograph taken by author)
Travel and dogs. These two passions of mine don't always intersect, but when they do, magical memories are formed.
Sometimes my two miniature schnauzers, both brazen barkers, are left with a pet and house sitter while we travel to far off destinations. Not only am I uncomfortable with having them on an airplane, but I sometimes believe that Heidi and Ruffles prefer to stay in the security of their own house. Leaving them is hard (for me), and I sometimes think that they are the only reasons I come home from some locations - well, that and my wallet.
"In life it's not where you go, it's who you travel with." Charles Schultz
Living on the East Coast, however, gives us ample opportunity for some dog-friendly, roadtrip vacations that make us all howl with happiness. Some of our top memories feature the area of Georgia known as the Golden Isles.
"Mutt enjoyed traveling by car, but he was an unquiet passenger. He suffered from the delusion, common to dogs and small boys, that when he was looking out the right-hand side, he was probably missing something far more interesting on the left-hand side." Farley Mowat
We have been lucky enough to visit Saint Simons and Jekyll Island a few times, either for vacation or while passing through for a night or two before traveling to another destination. These towns, only a few minutes across a bridge from each other, can also be found near the top of my retirement shortlist.
"There are only two rules. One is from E. M. Forster's guide to Alexandria; the best way to know Alexandria is to wander aimlessly. The second is from the Psalms; grin like a dog and run about through the city." Jan Morris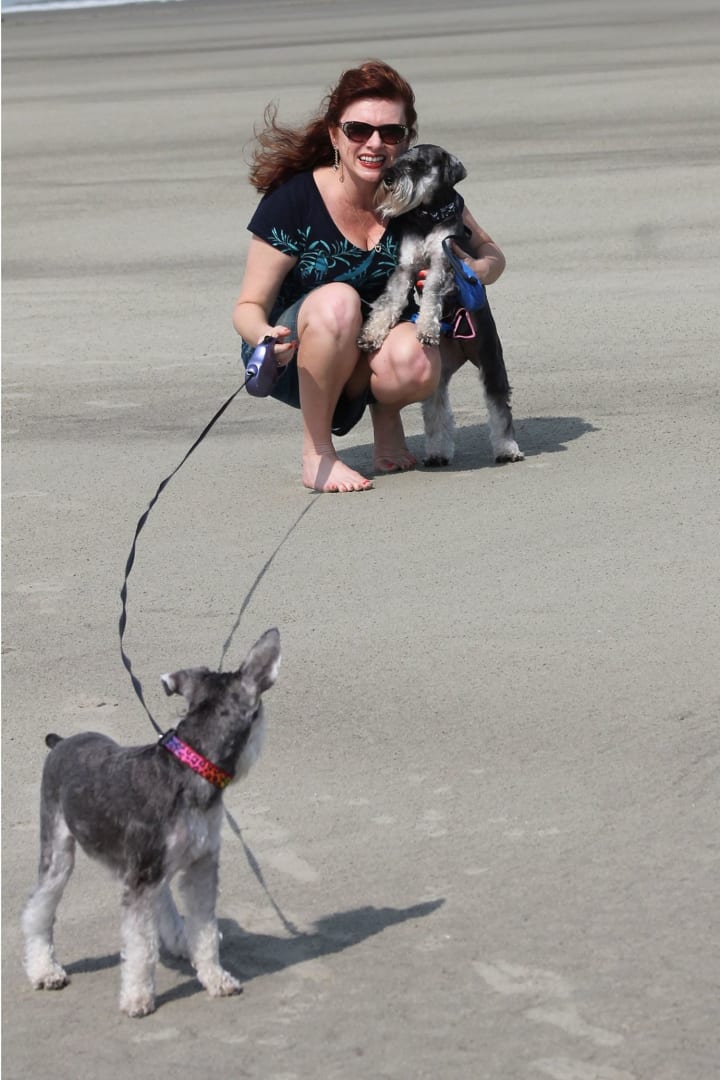 Accommodations
We stayed in two different pet-friendly hotels during our visits (although there are more) and a condominium available on Vrbo and/or AirBnb. There is an extra fee when staying with your dog.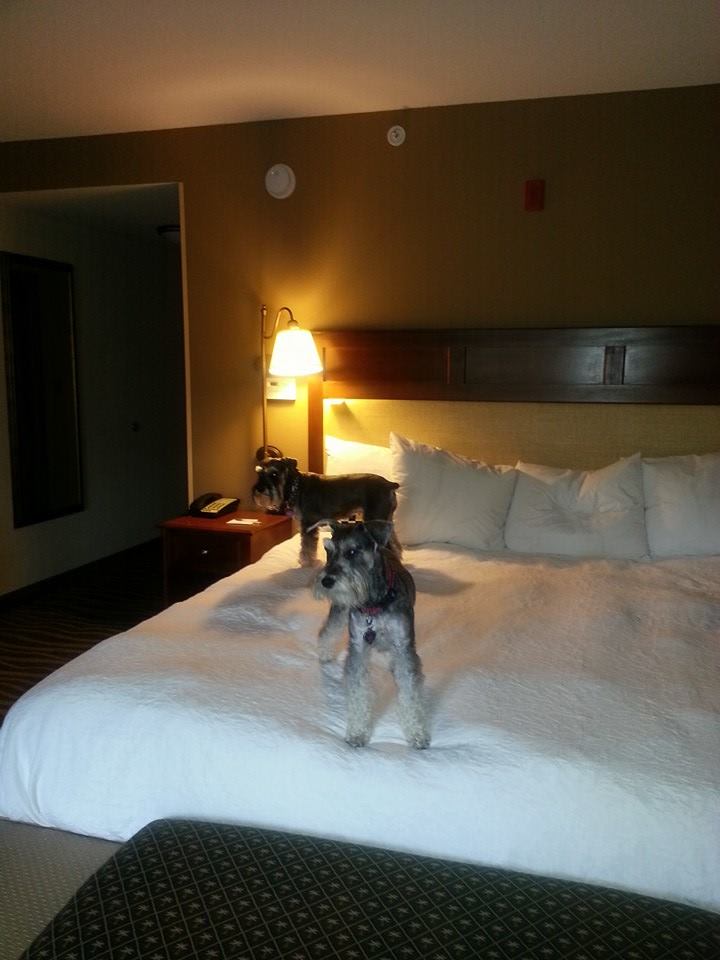 Hampton Inn & Suites is a good budget-friendly choice in Jekyll Island that includes free breakfast, but you can't beat the panoramic views of the Atlantic Ocean from the Holiday Inn Resort. The allowed rooms for dogs are on the ground floor with back doors that lead directly out across the grounds to the sea and sand.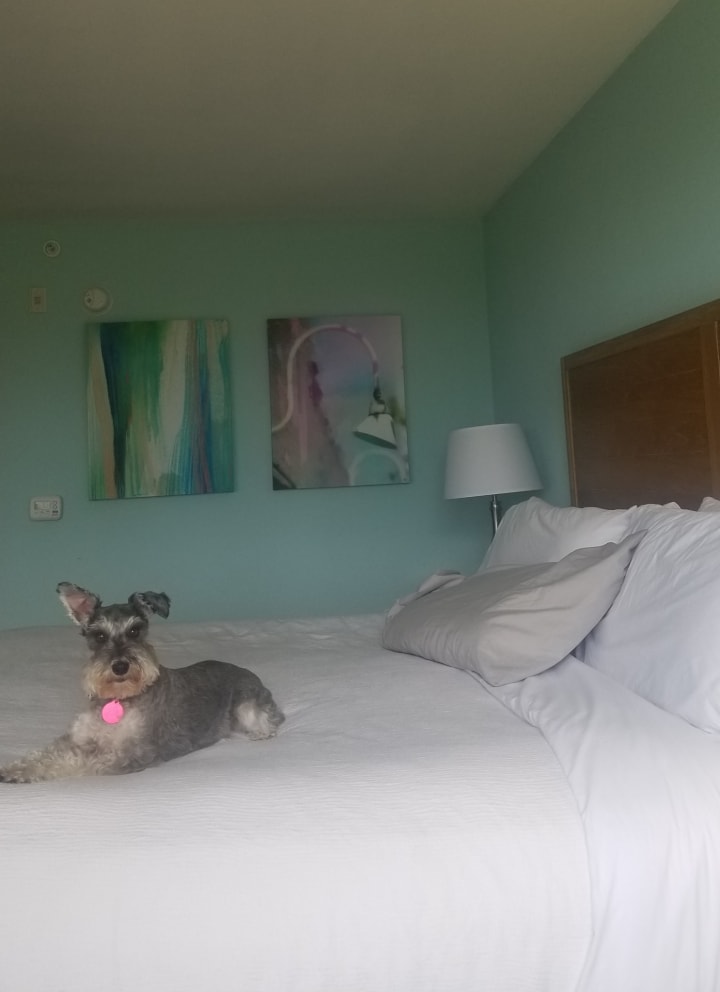 The Holiday Inn also has a full-service restaurant, the Beach House, where you can dine with your pups at the outdoor tables. In season, The Anchor is located poolside and serves lunch, dinner, and your favorite drinks.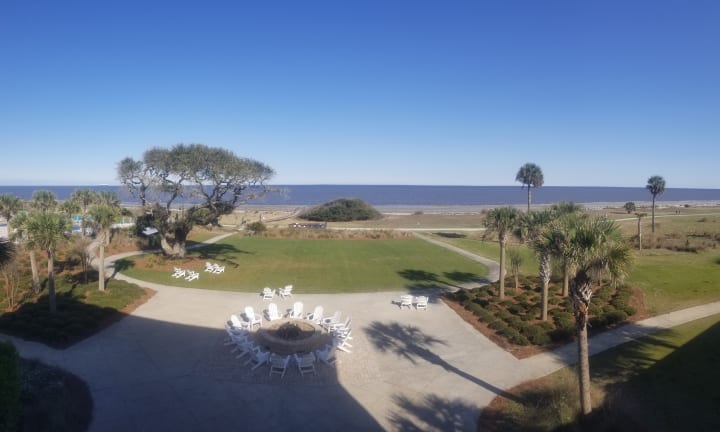 And we did duck up to the third floor to Northside Coffee and Cocktails for free, happy-hour wine and spectacular views, but the dogs were not allowed to accompany us.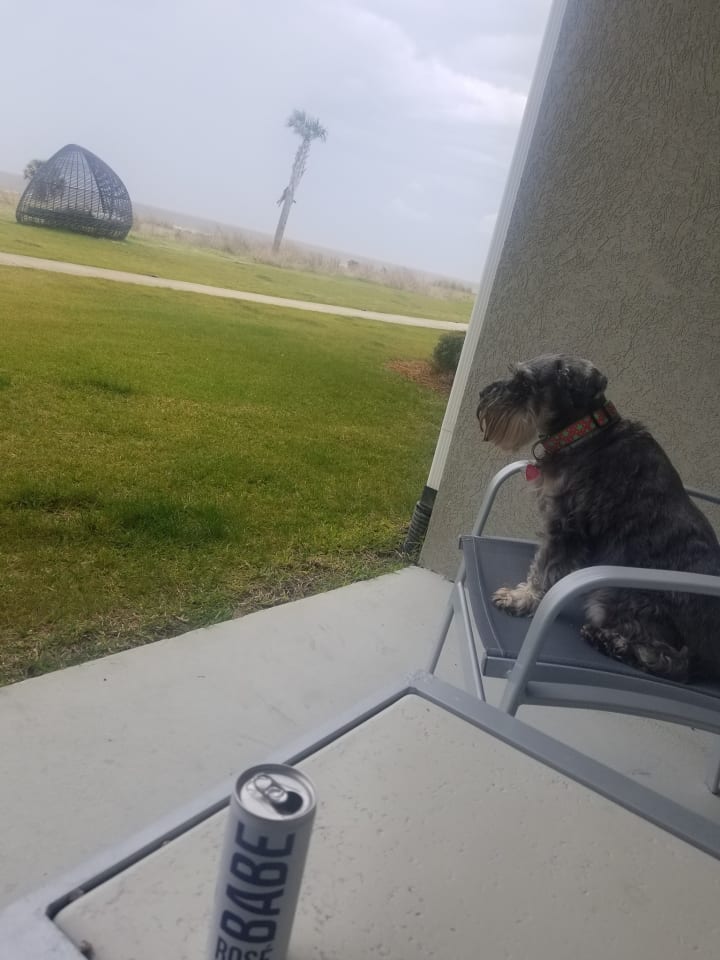 Really, the only negative thing I can say about both of these hotel options is there is a lack of environmentally-friendly utensils, plates, and straws - especially at breakfast. In fact, we purchased kits of reusable utensils and straws shortly after our visit.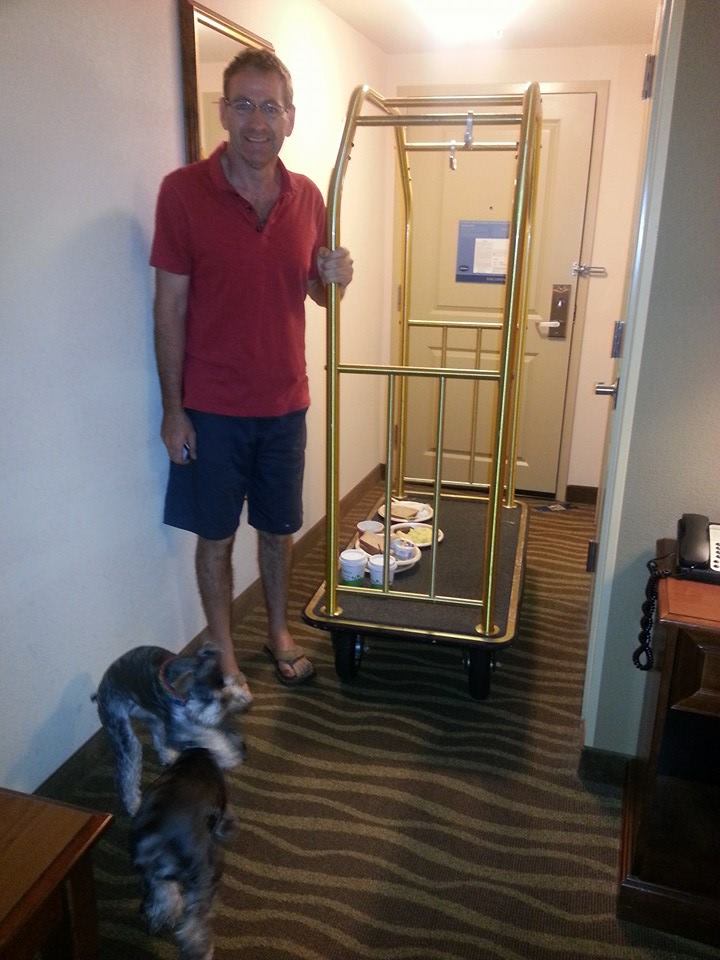 When we chose to stay on Saint Simons, we decided upon a unit at Ocean Walk available on Vrbo. Of course, having your own full kitchen is a convenient option while vacationing. And although the building is a few blocks away from the restaurants and shops, it is a pleasant stroll where you may even catch sight of one of the tree spirits. The tree spirits are faces carved into the oaks, immortalizing the sailors who lost their lives at sea aboard the sailing ships that were once made from trees on Saint Simons Island.
Restaurants
If you're there in nice weather, many of the restaurants allow your furry friend to join you at outdoor tables, but here are some that we visited.
Iguanas Seafood Restaurant, located in the village of Saint Simons Island, is a great seafood place with award-winning fried shrimp. They have an outdoor patio where your pet may receive a special treat and a bowl of water.
Barbara Jean's is a popular favorite, with amazing Southern Fare and seafood. They are known for baking three kinds of fresh bread every day – pumpkin bread, homemade wheat rolls, and sweet jalapeno corn bread. Their outdoor seating is located on the sidewalk, so be sure to keep your pups secure as you dine.
Palm Coast, another dog-friendly establishment on Mallory Street, is an island-favorite for fresh, casual food and drink. Open for breakfast and lunch only, they offer everything from Huevos Rancheros to salads and sandwiches.
For a festive, Mexican-style option, Tortuga Jacks is the spot to be on Jekyll Island for food, drink specials, and live music. And, if you stay at the Holiday Inn, it's an easy walk down a paved pathway along the beach.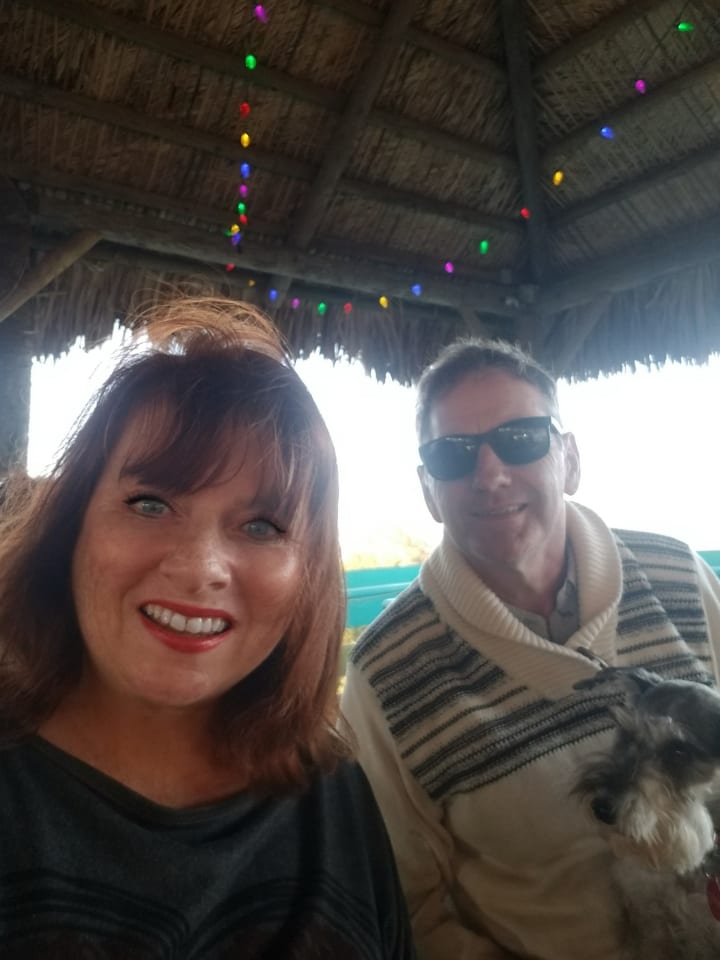 Also on Jekyll Island, do not miss eating at The Wharf. This nautical-themed restaurant also specializes in seafood and sometimes has live music on the pier. Make sure to bring your camera or phone for the breathtaking sunset over the water.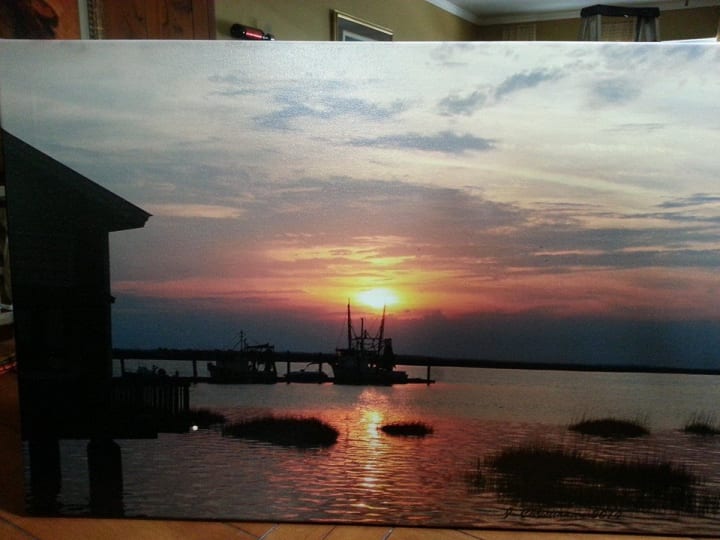 Favorite Spots
Of course, the beach is our favorite spot to be. While Saint Simons prohibits dogs from the beach between Memorial and Labor Day from 9 to 6, Jekyll Island is dog-friendly all year (except at Driftwood Beach - which we later found out). Jekyll Island is always a relaxing place. While I prefer to read, however, Heidi likes to explore and chase crabs and Ruffles likes to dig holes in the sand.
Our favorite beach walk is on Saint Simons, beginning at the Coast Guard Station. There is plenty of public parking, and it is interesting to see the historic Coast Guard Station that still stands at the entrance – of course the dogs are more interested in chasing the sea birds running in and out of the salty waves.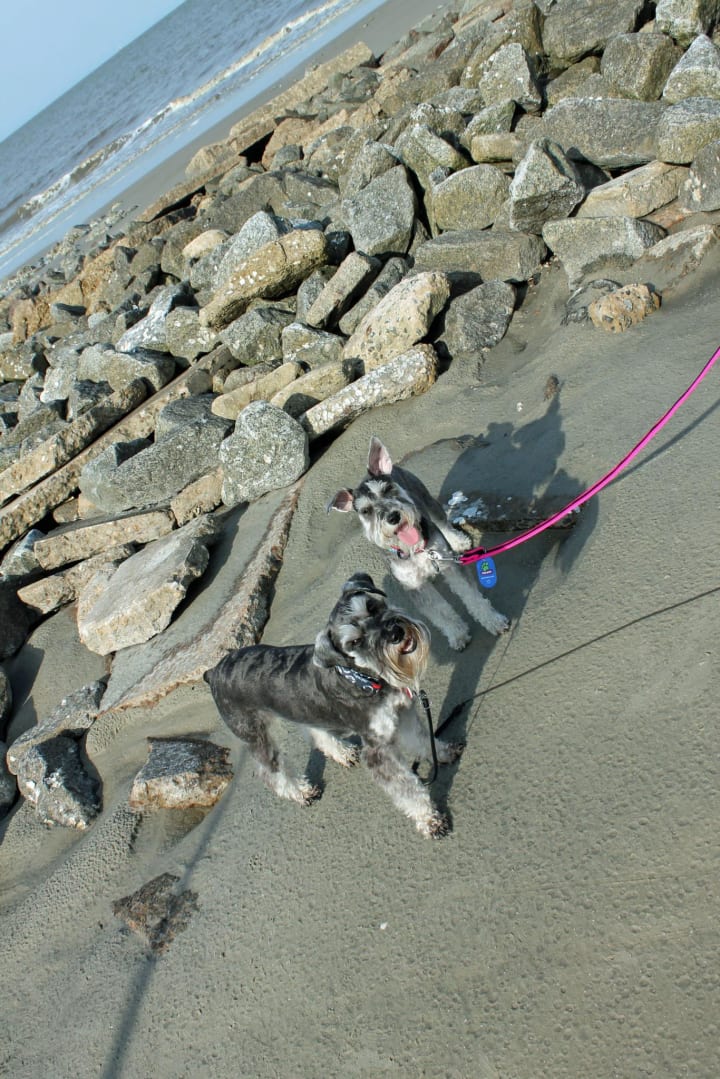 If your dog wants some socializing time, check out Frederica Park's dog area on the north end of Saint Simons Island. There are also several hiking trails in the Golden Isles. Our favorite is Cannon's Point Preserve Trail, which passes maritime forest and marshes and the site of 19th century plantation ruins located approximately two and a half miles into the trail.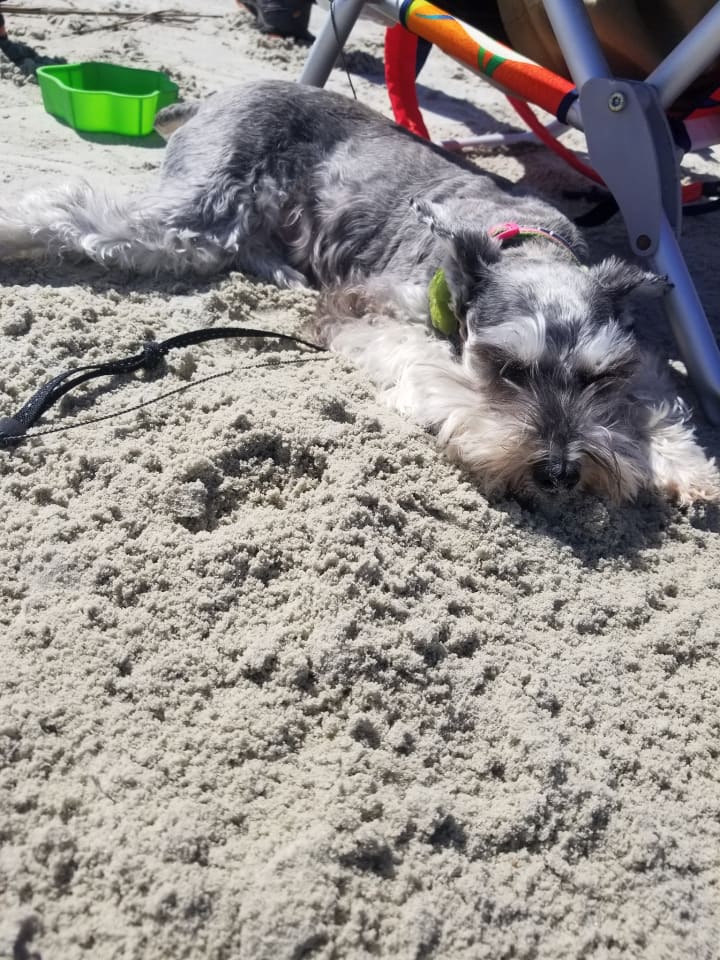 For a special treat, or if you forgot something you need for your pet, make a pit stop at locally-owned Island Dog. Not only does the boutique have items such as food, leashes, and grooming supplies, but you can find specialty nautical and college team collars and bandanas for souvenirs.
Hands down, one of the coolest things I've ever done with my dogs was the Saint Simons Lighthouse Trolley Tour. Heidi stood up on my lap in the open-air trolley, happily viewing the majestic live oaks and historic sights. After returning to the trolley from the Christ Church and cemetery stop, we giggled and breathed a sigh of relief, however, when neither dog decided to defile the grounds.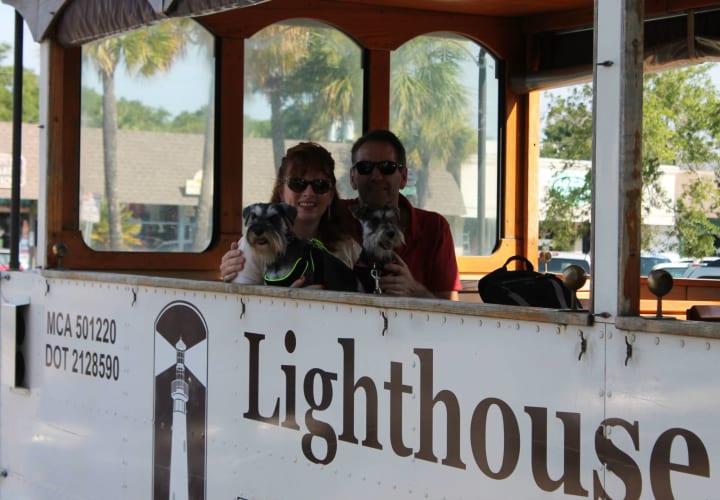 "Number one way life would be different if dogs ran the world: All motorists must drive with head out window." David Letterman
Saint Simons and Jekyll Island truly are the perfect places to vacation with your furry family members. Between the sun, sand, marshland, and charming village atmosphere, it's easy to get swept up in the beauty and ambiance of this dog-friendly, coastal destination.
travel
About the author
Animal advocate, traveler, and bibliophile. Lover of all things dark and romantic.
Reader insights
Be the first to share your insights about this piece.
Add your insights