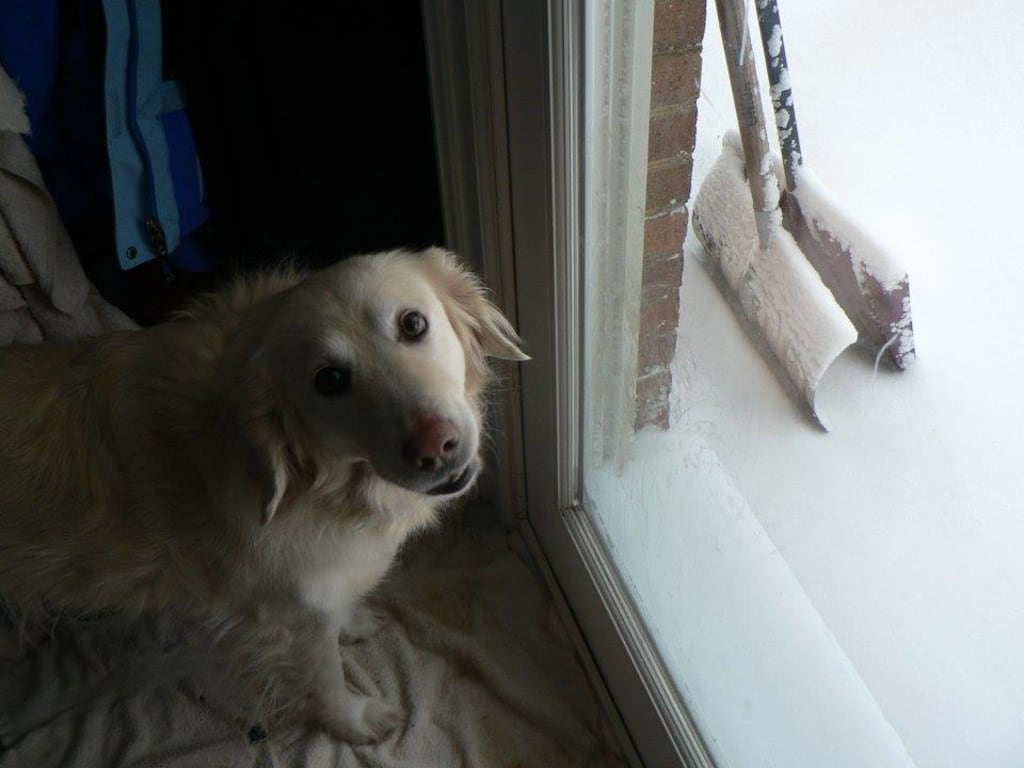 In June of this year we had to put the family dog down. Her name was Roxy, and she was a mix of golden retriever, saluki, and probably a few other breeds. She was the sweetest thing. My mom used to tell the story of when we first brought her home to see if we could adopt her, and how Roxy lay perfectly still as my then 2 year old sister crawled and climbed all over her. Roxy lay on the kitchen floor unbothered while this toddling force of nature used her like a jungle-gym. My mom knew that this was the dog for us, she had to come home for good. So we adopted her and made her a part of the family. Pretty quickly she decided her dominance over our border collie Pepper, and any time a strange dog visited Roxy had to be the boss. But through all the years she never tried to be dominant over us. I don't know if I'd go so far as to say she respected us completely, but she knew who was in charge. People, Roxy, Pepper, all the other dogs.
I still don't know if she was an airhead, a genius, or a little bit of both. There was the time my brother took her to obedience classes to try and train her, and they got to a test where the dogs had to run out, retrieve a hot dog, and bring it back to their partner. One dog ate it right away, one reportedly brought it back halfway and then ate it, and Roxy completed the task flawlessly. Again, I don't know if she understood, or if she simply didn't understand that the hotdog was beef that she could eat. None of the obedience tricks stuck with her and we pulled her from the class. She knew how to escape our fenced in backyard, either jumping over or crawling under the fence at specific spots, but if we didn't bring her back she would just come back on her own, and stand there happily at our front door. She was willful, stubborn, and she seemed to always only do whatever she wanted to do.
As she got older she started slowing down, and slept more. I didn't realize it until I saw old pictures of her, but she had gotten old. Her eyes weren't as bright anymore. I had thought of her for so long as a puppy but she wasn't anymore. She was still sweet, and still stubborn, but so much had changed. She began to have trouble walking on the hardwood floors without help so we had to get her special shoes. The conversation started amongst my family; it was almost time to say goodbye. It wasn't often, but every now and then she'd break into a run in the backyard and I'd see the young dog I once knew again, and she'd seem to smile as she raced around. It didn't last, and she was herself again, showing her years and her age. Roxy's time was almost here. The week she had to go the whole family came over for dinner and to say goodbye.
I was visiting my parent's house last night, just playing around on their computer with my little brother. I heard the sound of an animal struggling to get into the room and tripping over something in the doorway. I looked over, expecting to see Roxy climbing on the clothes bags, struggling like she did in her later years, but it was the cat. It was strange, to look up fully expecting to see her coming into the room with that sad look on her face and then suddenly remember that she was gone. Realizing I'm never going to see her again. I saw this challenge on here and decided she deserved to be commemorated, to be celebrated. Writing this I've realized I miss her. She was a good dog-- the best dog, actually-- with personality and love and most importantly tolerance for babies and toddlers. She was best friends with my sister, the same who crawled on her that first day. You've never seen a kid and a dog more in love. That's Roxy.