For The Love Of Skinny Pigs
My anchors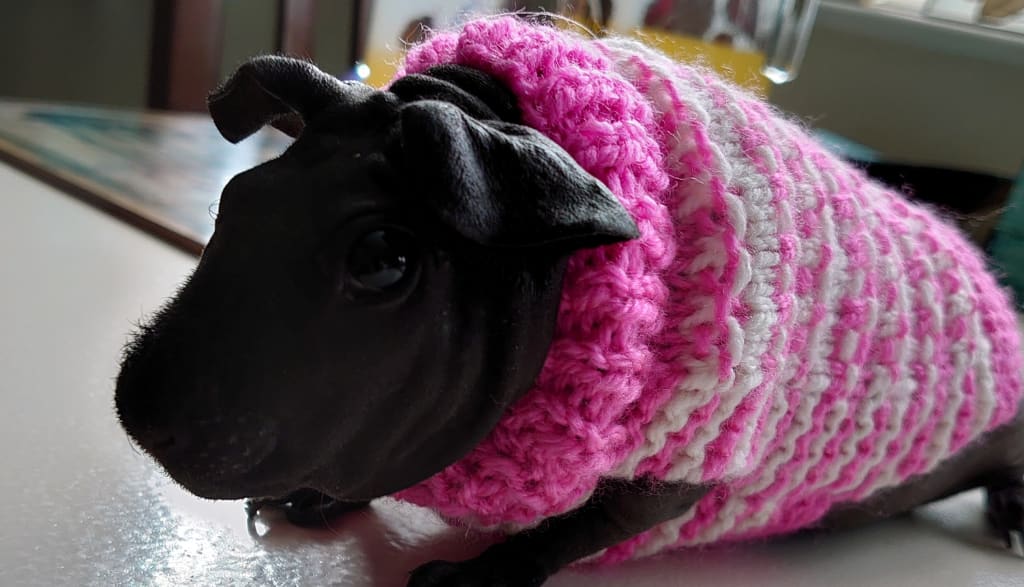 Matilda
My Skinny Pigs bring me inner peace. Whenever I'm feeling exhausted, lethargic, poorly or sad, just a few minutes with Mabel, Doris and Matilda make me feel better.
I originally took possession of my Skinny Pigs during the first Coronavirus lockdown. I live alone and my daughter-in-law asked me if I'd like to look after her Skinny Pigs for company. Later on she and my son fostered and adopted rescue dogs and I kept hold of the piggies. We are all agreed that they are mine now and I am certainly not complaining about that!
Apparently Skinny Pigs were bred specifically for laboratory purposes in Canada - they are essentially Guinea Pigs without the nuisance fur after all. They have made their way into the mainstream pet world and, unfortunately, at approximately £100 per pig are popular with breeders (not all of them scrupulous).
My Skinny Pigs are utterly gorgeous and have such funny personalities. Mabel is black (a self red) with a ginger fuzzy nose. She is brave and is always the first to investigate anything that's going on. Doris is also black (tortoiseshell with dark gold) and has a black fuzzy nose. She is the biggest but she is also the most gentle of the three and Matilda is the smallest. She is also black (self black) and only has a little bit of black fuzz on her nose. (Apparently Skinny Pigs who have fuzz running down their backs as well are called Werewolves!) All of them have flappy ears and hairy feet. Recently, Matilda had an ear infection which brought on a stroke. Shortly after that she developed a major infection behind her eye which subsequently had to be removed. At one time Matilda was on half a dozen different medications but now she's down to just one. She'll have to take that for the rest of her life to stave off another stroke. To see her you would think nothing had been wrong - she runs about with her sisters and only when she's tired do you see her head sway.
When Matilda was first recovering she had to sleep separately from Mabel and Doris in case they accidentally pulled out her stitches. During the day they were free to socialise because I was around to supervise things. To begin with Mabel was a little hostile to Matilda, perhaps because she could sense that she was poorly. More often than not I would find lovely Doris snuggled in with Matilda, keeping her company.
Everyday my girls have fresh water, plenty of hay and fresh food. They usually have a treat each day too. They love cabbage and broccoli, apple and carrot (although apple and carrot are very sweet so they can't have too much of that!). Skinny Pigs can't absorb vitamin C very well so each week they have a Friday orange. I have extended their habitat so that they have a sleeping area and a fifteen feet long run with tubes and igloos to play in. Each day I clean out their poos. Since they don't have fur they have to eat more to generate heat which means that they poo more than normal Guinea Pigs. I don't mind. Their poo is odourless but their wee is eye-wateringly strong!
In the winter the Skinnies have woolly jumpers to wear. Mabel's is an orange and brown stripey one, Doris has a bright blue one and Matilda's is pink and white stripes. Of course I don't leave them in their jumpers too long in case they overheat.
You would be forgiven for thinking that the author of this essay is a young person but I am not. I am fifty-two. When I nurse Mabel, Doris and Matilda I think about their funny ways, their teeny-tiny hearts beating and the way they consider me with their bright black eyes. They rely on me to make their lives as good as possible, which I do. It makes me aware of the desire and need in me to care for a helpless animal. When Matilda was poorly I'd syringe-feed her with liquid food three or four times a day and give her her numerous medications. Almost every time she would fall asleep on my chest, such was the trust she had in me. I believe that if all humans could care for one another the way that some people care for animals the world would be a better place.
The relationship I have with my Skinny Pigs always brings a smile to my face whether it's when I share a cabbage leaf with one of them or listen to the very cute 'farting' sound when they shake their flappy ears or even if it's the chorus of squeaking that greets me when I say 'Good morning', 'Who wants some cabbage?' or 'Come and get your Friday orange!' I am a creature of the planet just as they are and they ground me every day.
guinea pig
About the author
I'm an avid reader, writer and pianist. I have written on a variety of subjects and in various genres from children's stories, poetry and history to adult short stories. My three Skinny Pigs and I live by the sea, where I grew up.
Reader insights
Be the first to share your insights about this piece.
Add your insights