For the Love Of Sid
Our adopted cat stole our hearts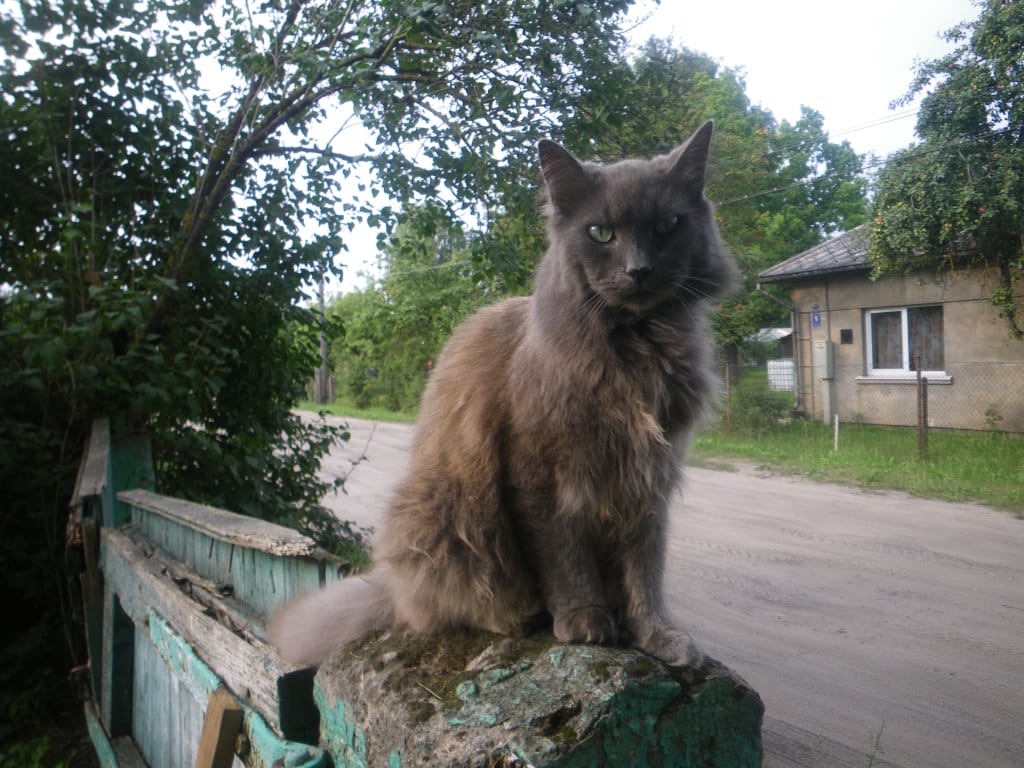 In January 2009, my husband and I lived in the suburbs of Riga, Latvia, in a two-story house with our then fur baby, a darling girl cat named Cha-Cha. January 2009 started off badly for us. Cha-Cha had respiratory problems, and at the age of 12, she died in my arms. It seemed that sometimes the heartache would suffocate as the days went on, and there was no loving furry face to make us smile. Finally, as March drew near and the spring was getting closer, my husband agreed to adopt a cat. We had found Cha-Cha in a friend's garden, but now we would go online and see what the animal rescue services in Riga, Latvia offered for adoption. As I looked at the photos suddenly, there he was with dark and light grey fur and so very handsome I got very excited. We made the arrangements and went to see if we could adopt this boy cat.
Rescued animals are placed in homes where volunteers keep them so people can take a look at them and choose the cat or dog they want to adopt. The house we went to had many different cats, but sitting on top of a shelf was the one I was interested in adopting. Due to his silver-grey fur, they had given him the temporary name in Latvian of Sidrabins, so hearing this, I already thought of calling him, Sid. He was handsome enough to have such a name. Over the years with us, the name varied from Sid to Siddy and so on.
Anyway, his story was a sad one. He had spent the first three years of his young life being abused. We never found out what kind of people he lived with, but he had been neglected, but at least fed enough to survive. Then at the start of his fourth year, he was thrown out onto the street. People in the neighborhood where he was found said he had been a wet, soggy mess lying by the side of the road, looking up at people in the hope of being rescued. The animal rescue service took him, and he was groomed and checked by a vet and fixed, so he was ready for adoption. When we saw him, he was so afraid and unsure. I did not know if we could turn his life around, but we would have a cat with adoption papers for the first time, and we were willing to give it a try.
When Sid arrived at our house, I had already filled him in on the details while driving back home with him in a carrier. I hoped he heard the love in my voice when I told him he would now have a Mama and a Papa and that there was a large house and garden for him to enjoy. At the house, we carried him in and let him out in the living room or what we called the big room. He did what he had done at the rescue house, jumping on the windowsill to look outside. I knew we should give him time to adjust, so we left him there and seeing that everything was just fine, the rescue people left.
The following day I went downstairs to see how Sid was doing and no cat. We looked everywhere imaginable and knew he had not come upstairs during the night. I told my husband that we should call the rescue services and ask them what they think we should do. He could not have gotten out of the house into the garden and was just not there. Then finally, my husband went down into our cellar, and there was Sid on top of the coal in the coal chute. Poor baby was still scared and had no idea what the future held for him. So we left food and water near him on the cellar floor and hoped that he would come upstairs.
It took a whole week of Sid staying in the cellar. At that time I instructed people in English and I had work to do when people came for lessons. It was on March 17, 2009, St, Patrick's Day, when I was telling my student about Sid and how we hoped he would come to join us when suddenly she said, "You mean the cat behind your back?" I turned around in my chair, and there was Sid on the arm of the sofa behind me. He batted my arm, and I understood he was ready to join our family. Since we had no idea about his birthday, we decided that he must be partly Irish and made this day his "adopted birthday."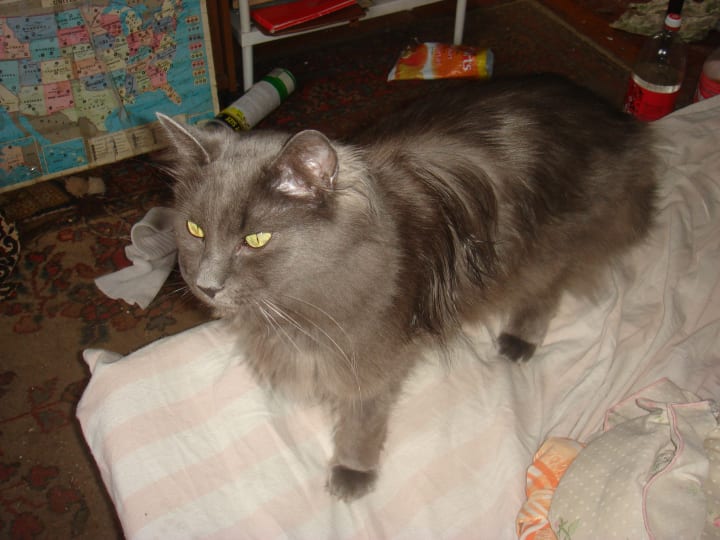 After that, Sid quickly adjusted to his circumstances and began venturing into the garden. In the first photo we took of him, he was still uncomfortable standing on our bed, but I got a nice shot. Little by little, he became the Prince of the house and began enjoying himself.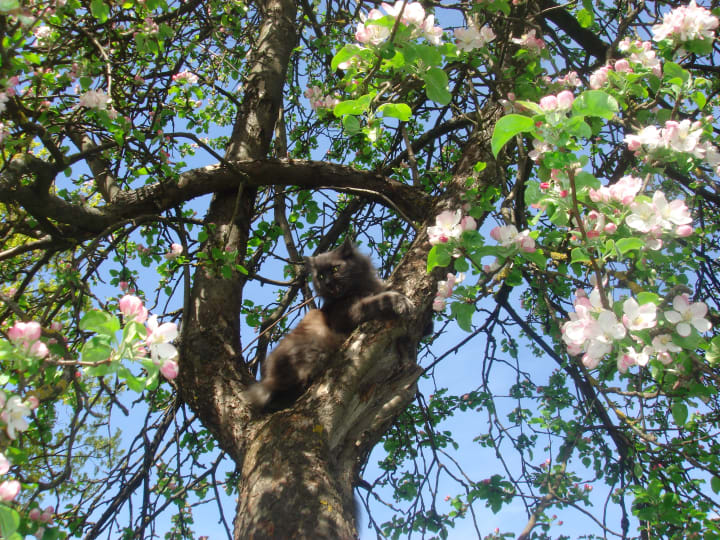 By May of 2009, he was climbing our blooming apple trees and having a wonderful time. Later, when the lilacs began to bloom, he enjoyed sitting on the windowsill upstairs in the house, looking at the lilacs and smelling their fragrance in the breeze.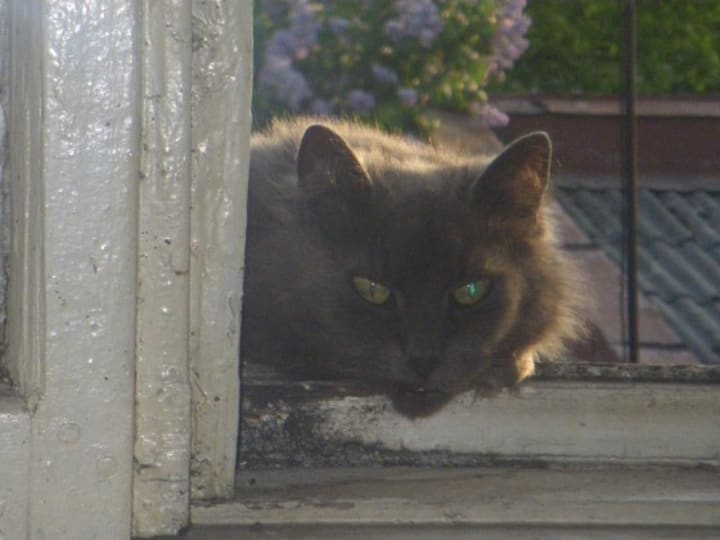 Time went on, and he grew to love his Papa. Papa was everything to him, from roughhousing to just being with him. I know he cared for his Mama too, but he was a male cat, and the males in our house sided together. It was a joy to see him watching everything his Papa did, and he always enjoyed the attention Papa lavished on him as you can see in the photos with him and his Papa. Mama did get one photo with him, but he was not into cuddling too much.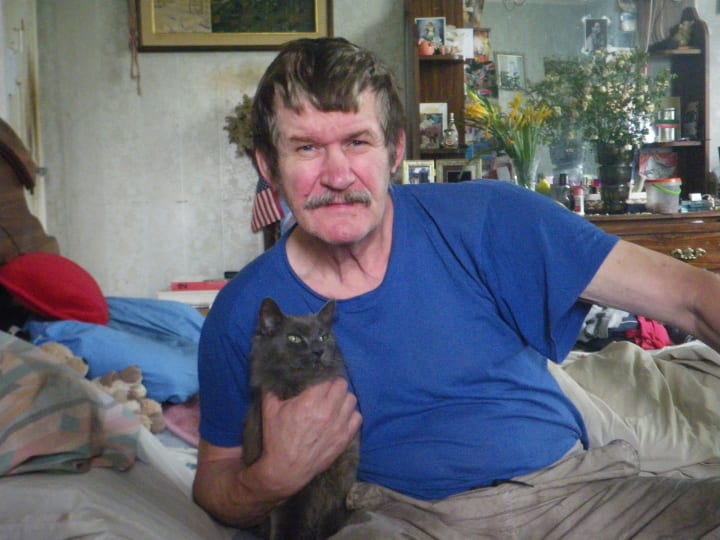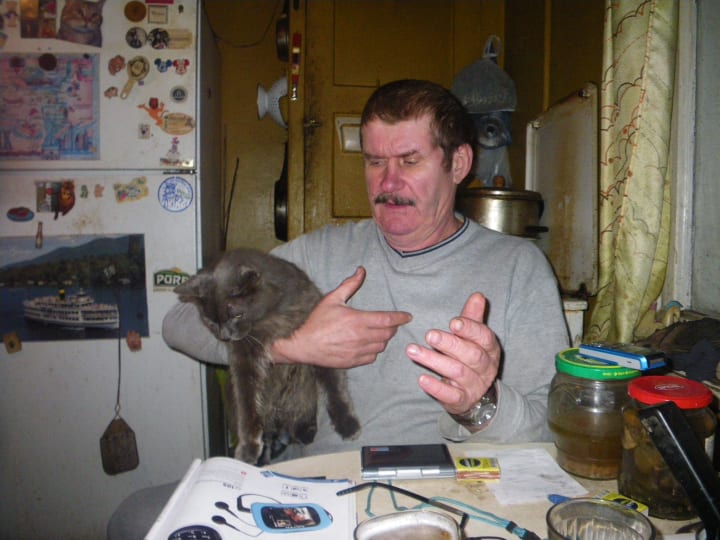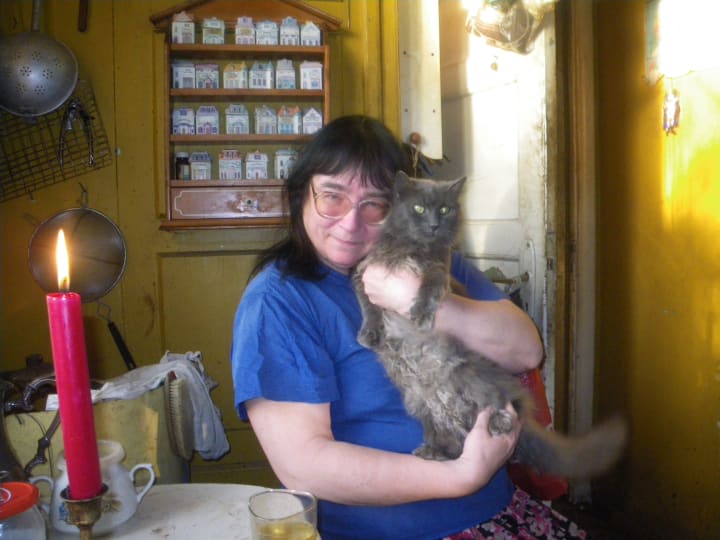 Sid discovered his favorite places, like inside, sitting in the window enjoying nature from way up high.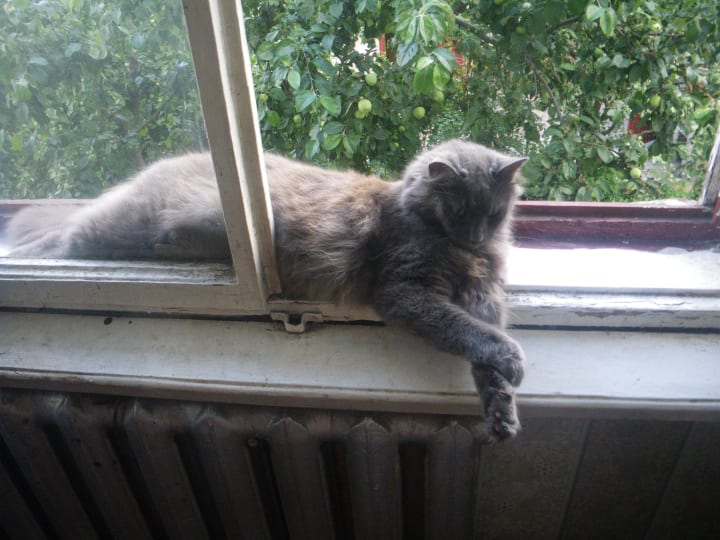 Outside he enjoyed two spots. One was always sitting on the fence where he could see the front garden and the activity on our suburban street, which was usually quiet except for neighbors coming and going. Also sitting by the ferns that grew in our garden every summer.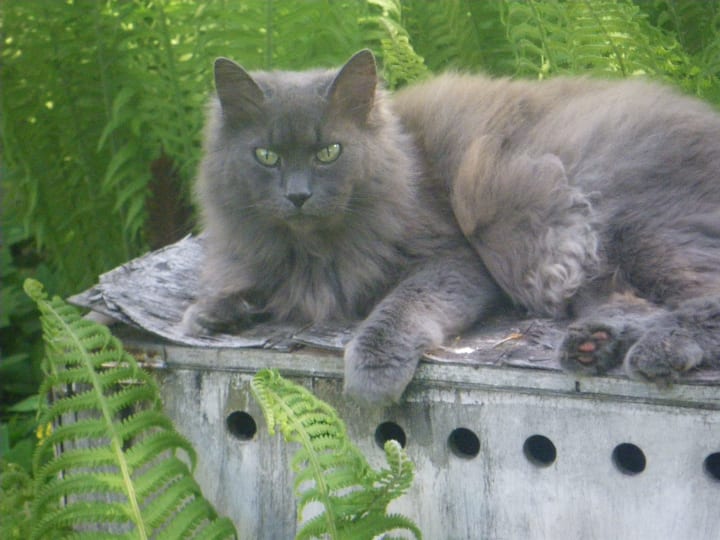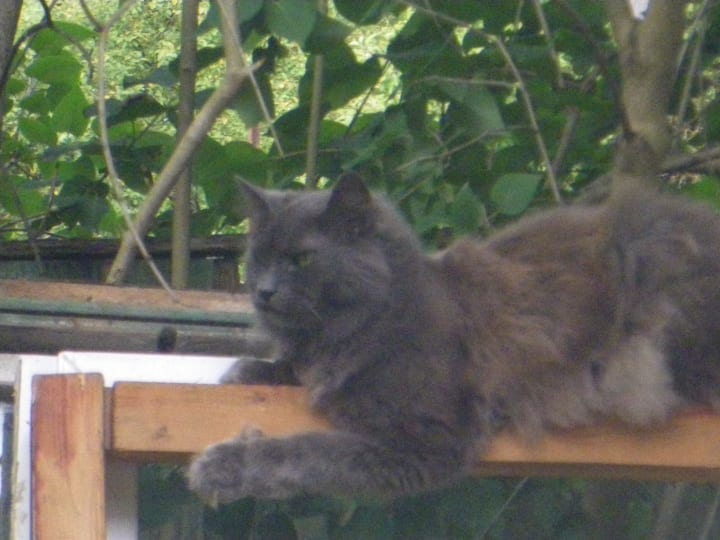 We had birds and crows of all kind coming to visit, and we would put out food for them, but Sid did not touch them. I guess he understood that we were being kind to the birds, but he did enjoy watching them. Time went on, and I had an animal blog on WordPress and made Sid my "editor." Sid became rather famous online, and I began putting in special Sid quotes. Knowing my cat well by now, I could figure out what he might like to say if he could. It was very enjoyable sharing his exploits and his thoughts with everyone.
Sid poetry and quote with a little help from his Mama
Best Days
Best days in my life,
are when I can be dreaming,
the sweetest dream I have.
No matter what the season,
come rain or shine,
my days go along just fine.
In the spring I love to run about to see,
all the flowers in bloom
and migratory birds returning.
Summer days just fly by,
till autumn comes again.
Then my days sleeping in the sun,
out in the garden are done.
Moving on indoors,
my best days are spent dreaming,
far from the winter chill.
Sid quote: When the weather outside is cold and dreary the best days are when you sleep and dream.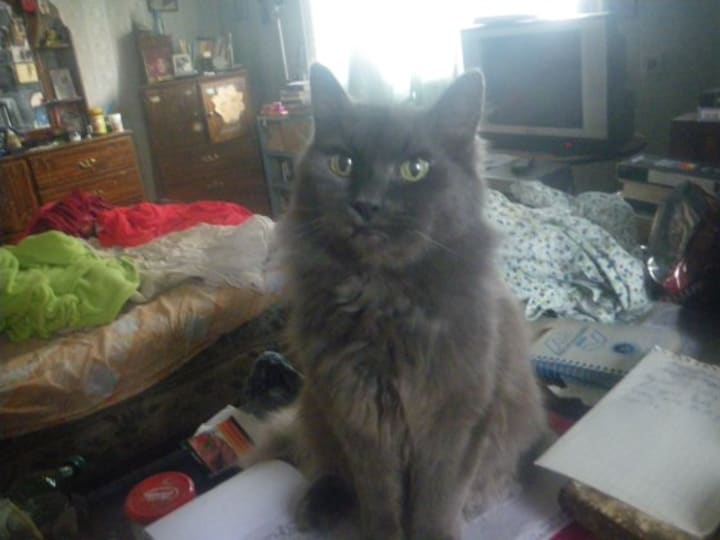 All too soon, the years just flew by, and suddenly, I lost my husband in August 2017. It was not only hard on me but extremely hard on Sid, who could not understand where his beloved Papa had gone. Cats are such incredible animals that they see spirits, and soon he realized that now he was seeing his Papa in a new light and I felt comforted when my husband came to check up on us in spirit because Sid would suddenly meow with pure joy. He stayed closer to me now, often laying down near me as I worked on the computer.
My mama tells me Papa has gone away,
he could no longer stay.
I don't understand how it all works,
in this world,
but to me, it seems a sad thing.
So I prefer to take my days real slow
and dream of when we were all together.
Sid quote: When someone leaves us we must never be sad but remember all the good times we had.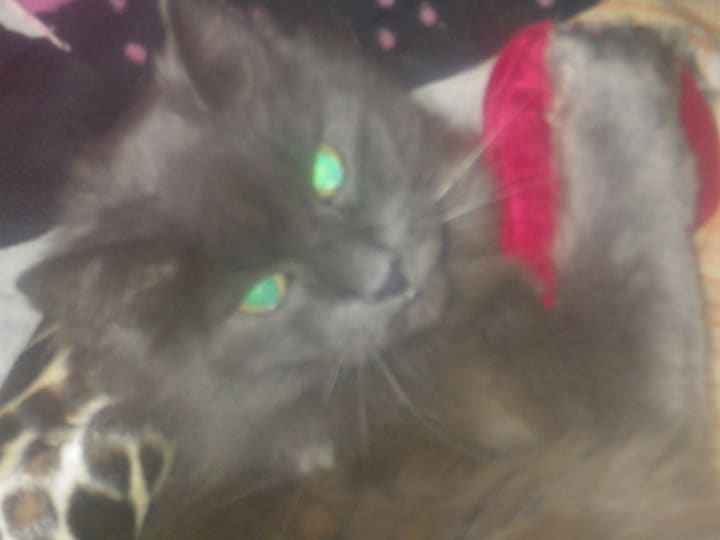 To help him with the transmission Sid found he liked to sleep on Papa's side of the bed. Then for our first Christmas alone, I won some catnip toys for him, and it was the frist time in a long time that Sid showed some joy and clutched onto a red plush heart. I could not stand all the memories, so I sold the house, and of course, where I went, Sid went, and we journeyed to Florida where my friends lived. I carried my darling Sid through three airports, and I can tell you I had proof that his Papa in spirit traveled with us, and Sid made the journey in his soft, comfortable carrier very well.
For a cat who was born in Latvia, he made the transition quite well. He found new places to like in my apartment but being a cat who always had ventured in and out and done as he wanted, he was not too much a happy camper. Of course, in his heart, he still held that special place for his Papa. Soon he discovered that he could venture out of my window and walk about the roof, and then at night, he would sit on the edge of the roof and meow to the skies. I knew he was calling his Papa. However, being a resourceful cat, he soon learned to love his new rooftop world.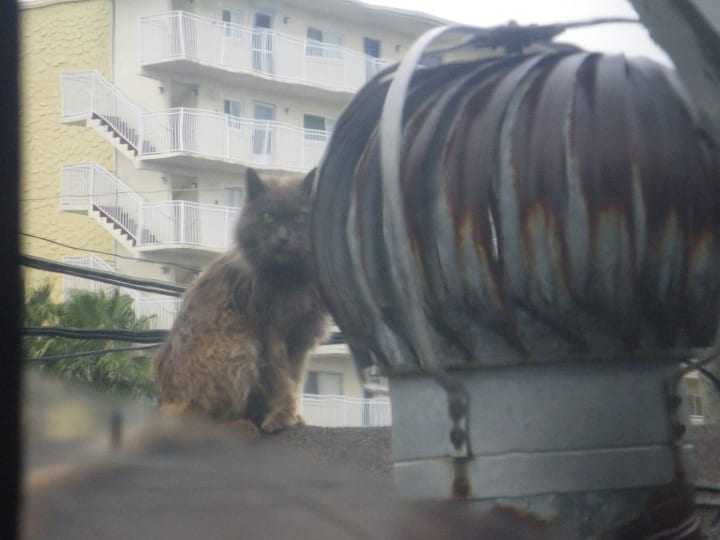 And having enjoyed climbing apple trees and oak trees during his time with us in Riga, Latvia, for a cat how had never seen a palm tree before he even learned how to climb in one and sleep there, It was truly amazing.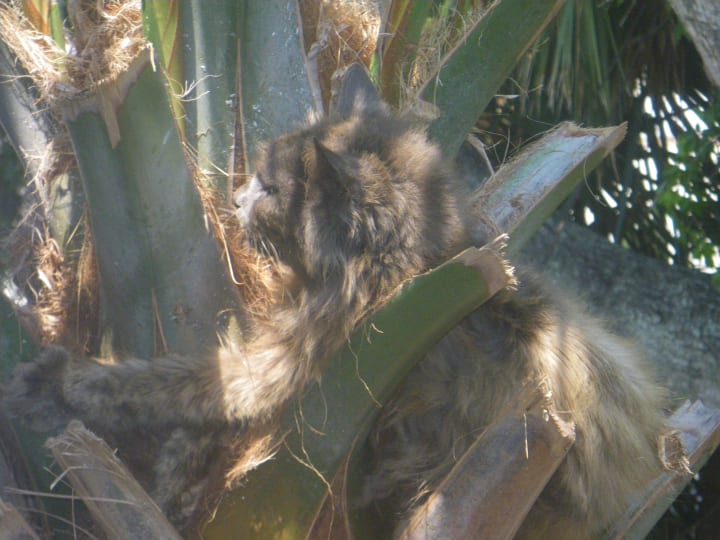 Time went on, and Sid was 13 when he finally went to join his Papa. It comforted me to know they were together, and it was all Sid had really wanted at the end to be with his Papa. The only thing left for me to do was to walk out on my front porch and look up toward the heavens and say, "Hey, guys, thanks for leaving me here all alone." But I know they watch over me.
Some Sid Quotes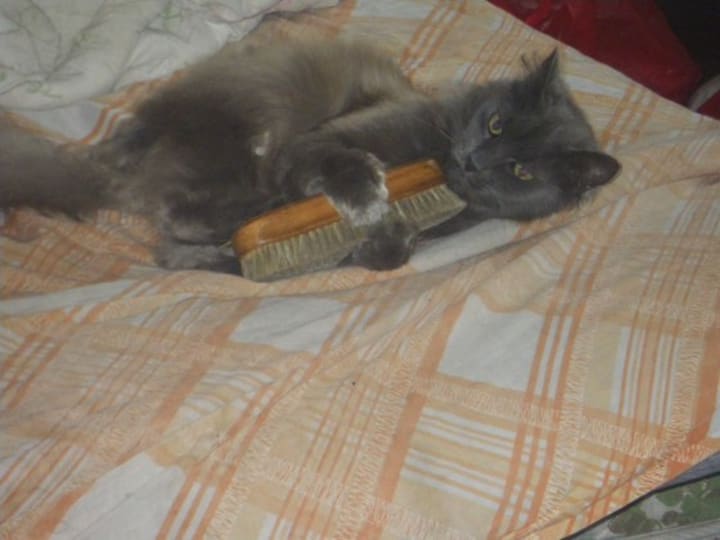 Sid quote: It's always best to be at the top of your world
Sid quote: When enjoying a summer night if storm clouds roll in don't forget to light some lanterns.
Sid quote: If a summer morning brings the rain, find your most comfortable spot and daydream till the sun comes out again.
Sid quote: When summer comes always take the time to delight in all the flowers that grow because summer goes by so quickly and flowers fade away when autumn arrives.
Sid quote: It is best to always seek comfort because comfort will give you contentment and happiness.
Sid quote: Always remember if there is love, you can call it home.
Sid quote: Whenever you look deeply into someone's eyes make sure the love lights are shining there.
My Ode to Sid
Your love came to me,
in a small furry package –
that purred contentedly.
Your fur as soft
as the softest cotton –
as gleaming as the sparkling sun.
Your eyes so full of love and wonder,
I know you love me as I love you,
your unconditional love,
makes me know,
that as long as I'm good to you
and loving and kind,
no matter what silly things I do,
you will love me always.
Your head as it bats my arm
and your tongue laps,
on my hand tell me so,
you come to me on soft,
pussy paws so quietly,
meow I believe means –
the same as I love you.
You are mine
and I am yours,
you captured my heart,
I love you my cat,
my darling Sid.